321gold founder Bob Moriarty has been calling for a broader market crash to occur in October for the last few months. With the turmoil we've seen across global markets in the last couple of weeks it looks like Bob's prognostication is playing out according to script. Energy & Gold caught up with Bob Moriarty at the end of last week to discuss topics ranging from gold & silver mining shares to what's going on with Novo Resources to the Saudi assassination of Jamal Khashoggi in Istanbul. Without further ado here is Energy & Gold's October 2018 conversation with Bob Moriarty…

Goldfinger: Great to talk to you again Bob. Since we last spoke a lot has occurred across markets including a substantial drop in the major equity indices and a bit of an upside breakout in gold and gold mining shares. What are you seeing out there right now and do you think markets are still on the brink of a crash?
Bob Moriarty: I think we just saw the start of the crash and we are now getting a classic dead-cat bounce. I think we're going to get the start of the real crash shortly.
Goldfinger: We've had a little bit of a dead-cat bounce. You think there's more to this bounce or do you think we're headed lower pretty soon?
Bob Moriarty: I don't think i'm a market timer and I think there's a lot of people who are better at market timing than I am. You're certainly better at market timing. I think we're going to get a dead-cat bounce and once it starts to roll-over again I think it's going to keep going down for a while.
Goldfinger: The last time we spoke you were pretty bullish on gold and silver miners, since then we've seen some upside in the sector. Are you still as bullish now as you were then?
Bob Moriarty: Honestly I'm even more bullish than I was in September. I want to take a moment to talk about Westhaven (TSX-V:WHN, OTC: WTHVF) because you absolutely nailed that one. Let me ask you a question when did you write up Westhaven the first time and what was the price of the stock?
Goldfinger: I first wrote about Westhaven in early April of this year and the stock was about C$.14 at that time.
Bob Moriarty: I wrote about them in late May and the stock was C$.19 at that time. Now this is very important for your readers to understand, when nothing else changes with the company other than the price it's not a bad thing, it's a good thing. In early June Westhaven shares dropped to C$.13 but nothing had changed with the company other than its share price and as it turned out that was a tremendous buying opportunity. They went out to Shovelnose and drilled again later in the summer and they delivered outstanding results as we saw last week.
Goldfinger: Westhaven has been quite a story and I love how things have come together the way they have. This is a company that has really done things the right way and it's been a long process, and not always an easy process. They have systematically explored the Shovelnose Project and they are finally honing in on what appears to be a broad epithermal alteration system.  
Westhaven was the biggest percentage gainer on the Venture last Wednesday and it has been consolidating around C$.80 since then. Westhaven still has three holes from their last drilling program at Shovelnose to report, including hole SN18-15 which showed considerable visible gold and which the company is very excited about. Westhaven also intends to get back out to Shovelnose within two weeks to start drilling again, and the company has already identified five targets they want to drill. The fact that Westhaven can drill year-round at Shovelnose is a very nice feature because they will be able to keep the market's attention and generate a steady flow of news.
Bob Moriarty: You should look at the chart of Great Bear Resources (TSX-V:GBR), they just stumbled along month after month between C$.50 and C$.60 a share while they were drilling their project in the Red Lake District of Ontario and then in August they delivered a big drill intercept. The stock went from C$.58 to over C$2.00 and then consolidated for a bit before jumping up to over C$3.00. I would expect Westhaven to do the same thing. It popped up to C$.92 then dribbled back to around C$.70, and I would expect WHN to jump up over C$1.00 when they release the next results. They've got a lot of potential and there will be a steady flow of news for months. So for shareholders willing to be patient the results will be there.
Goldfinger: Great Bear and Westhaven have something in common and that is they both have relatively tight share structures. Both GBR and WHN have moved really well for two reasons: 1. Great news 2. Tight share structures. GBR has 35 million shares outstanding and 46.3 million shares fully diluted, meanwhile WHN has 78 million shares out and 92 million fully diluted. And in the case of Westhaven insiders own ~40% of the shares (ownership by insiders & close associates probably amount of ~70% of WHN total shares outstanding) which means that the actual trading float is probably well below 40 million shares. Less supply of stock available for sale in the market means that when a company delivers outstanding news the percentage gains in their share price will likely be considerably larger than a company with a larger supply of shares outstanding.
Bob Moriarty: I wrote about Westhaven on October 2nd and the share price was C$.22. It has moved very well and you're right about the tight share structure making a big difference.
WHN.V (Daily)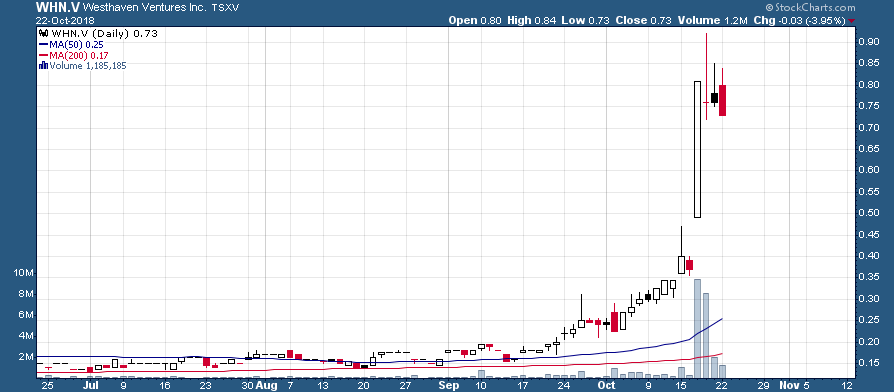 Goldfinger: Yeah there have been some nice catalysts for Westhaven this month including: 1. First bonanza grade gold intersection ever at Shovelnose 2. News that Sable Resources basically staked up the entire Spences Bridge Gold Belt 3. Last week's exceptional news that hole SN18-14 intersected 24.5 grams/tonne gold and 107.92 grams/tonne silver over 17.77 meters.
It feels like Westhaven has definitely caught some attention in recent weeks, however, I think there's still plenty of more investors who have yet to pay attention to the story. This next set of assays might change that if they can pull out another hole like SN18-14.
2018 hasn't been kind to the high-flyers of 2017, both Garibaldi and Novo have performed very poorly this year. You've been right by being bearish on Garibaldi but you haven't been so right on Novo this year after watching its share price increase more than 1000% in 2017. Is this simply a case of expectations getting out of hand or is there something wrong with these stories now? More specifically what is going on with Novo?
Bob Moriarty: You raised an interesting point and i'm glad you did. When nothing changes with a stock except that the price is lower it's usually a good opportunity to buy more. I've not been negative on Novo but I have now pointed out for 14 months that the nugget gold in the Pilbara is impossible to measure. It's as simple as you cannot measure it, you can only mine it. The company has come to this realization and they've started bulk sampling, which is basically bulk mining. A bulk sample is mining. When you have things like alluvial diamonds or big nugget gold you cannot measure it, you can only mine it. SGS has unfortunately completely screwed the pooch, they were supposed to set up a small processing plant beginning all the way back in December of 2017 and we're now in October 2018 and I don't think they have anything yet.
Now it's important to note that Pacton has gotten in bed with Artemis and Artemis has a plant at Radio Hill that they're in the process of recomissioning. The problem is that we've got all these geologists scratching their heads wondering what the grade is because Novo has only had 5 results in total from SGS in the last year. Here's what everyone who's interested in Novo should do, they should go back and look at the video from the Denver Gold Show last year and see that they had 300 pieces of gold in a 10 meter by 15 meter area. That's a lot of damn gold. The gold is there and whether you can measure it or not doesn't matter. Novo just needs to get into production and show everyone that the gold is there. Pacton has been smart enough to realize that they should do an end run around SGS and simply process their own gold.
Goldfinger: We now know from Garibaldi that no news is usually bad news in the junior mining sector; Garibaldi didn't put out an NR for three months while they were drilling the crap out of Nickel Mountain and then they delivered some underwhelming results which has led to the stock getting nearly cut in half. I am concerned that the lack of meaningful news from Novo is also actually bad news. What is it going to take for Novo to turn the share price around?
Bob Moriarty: Well there will be news and there will be results out shortly and I believe that will do it (turn the share price around). But you need to go back to my book and remember that everything goes up and everything goes down. If a company has a really good set of projects and the shares are now 50% cheaper than they were a couple of months ago it's not a bad thing, it's a good thing if you're an investor because now you've got an opportunity to buy it cheaper. You want to sell and take some profits when the mob is rushing into a story and you want to buy when nobody cares about the story anymore and the weak hands are getting shaken out.
I was writing about Novo when it was C$.45 per share and I said it was going to go up ten-fold and maybe even a hundred-fold and I was absolutely correct. If some guy wants to buy into the story at C$6.00 and then complain when it drops back to C$2.50 well screw him and the horse he rode in on. Judging by the number of people complaining on the Novo chat boards we're probably pretty close to a tremendous buying opportunity.
Goldfinger: It's an interesting dynamic to see Pacton get into bed with Artemis considering that Novo and Artemis aren't on the best of terms, and both Novo and Pacton are heavily bankrolled by Eric Sprott.
Bob Moriarty: Eric Sprott is behind both Novo and Pacton through Kirkland Lake and through his own personal investment fund. I know that Eric Sprott, Greg Gibson, and some people from Kirkland Lake just flew to Australia and I highly suspect that they were very upset with what was going on and what wasn't going on. I would be upset too if I was running Novo in Australia and SGS was telling me "we'll get to you in 6-8 months", I'd jump over the wall and pull a bull whip out and say "let me show you a trick with this bullwhip i've got, bend over!"
How do you take ten months to set up a small processing facility that should take a couple of months? SGS absolutely dropped the ball and it has cost Novo shareholders hundreds of millions of dollars in equity. Now I think there's a real difference between what Garibaldi has and GGI's lack of news and what Novo has and the situation that has caused Novo to not have more bulk sample results out to the market. I know that Novo has the gold and the market will eventually come to this realization as well, however, I don't think anything Garibaldi has put out during the last 15 months is of substance and they need to either put up or shut up. I'm not gonna be surprised if Garibaldi doesn't have sufficient tonnage for an economic deposit at Nickel Mountain.
Goldfinger: If you can't measure the nuggety gold in the Pilbara then how can Novo determine whether it's economic to mine it or not?
Bob Moriarty: When I was in the Pilbara last year we drove past a pit that the roads department had gone in and blasted to get gravel out for the roads. Now two of the guys who were working for the roads department realized that there was gold there and they went back to where the gravel came from with a metal detector and they took out more than 200 ounces of gold in a weekend. It is not a question of is there gold there, yes there is gold there and it is impossible to measure. But if you can make $10,000 in a day with another fool and a metal detector you're not going to have any problem mining at a profit.
The funny thing is that Keith Baron and I are the only two guys who have been over there who understand placer mining. Keith says it can be mined for US$100/ounce and I say he's crazy, it can be done for ½ of that. Kirkland Lake has tracked the gold from Comet Well to Egina and that's 125km away. We're talking gold at surface and it's going to be easy to mine, hey I don't know if it's 2 oz/tonne or 2 grams/tonne but either way it's going to be very profitable. Novo just needs to get a resource together for the mines department to issue a permit. The gold is there.
Everybody wants to make this shit way too complicated. The whole point of exploration is to figure out whether or not we have a mine. If you don't have a mine you can stop spending money and go look somewhere else, but if you do have a mine then you put the damn thing into production. Everybody wants to know with precision what the grade is but that's bullshit you don't need to know the exact grade, what you need to know is whether it's economic or not to mine. If Keith Barron who's one of the top geologists in the world and a placer miner says it's US$100/ounce to mine the conglomerate gold in the Pilbara then he's absolutely correct and all the whiners and naysayers are full of shit.
Goldfinger: Turning to geopolitics this Saudi/Khashoggi story has captivated the world during the last couple of weeks. From my perspective as a dumb American who tries to think for himself as much as possible it seems to me that the US is losing all legitimacy and moral high ground by being in bed with Saudi Arabia as they continue to carry out evil activities on a daily basis.
Bob Moriarty: The US isn't losing its legitimacy and moral high ground, it has lost it already. The US has no moral high ground left to stand on. Did you read about the mercenary hit squad that was sent to Yemen and paid for by the UAE?
Goldfinger: No I didn't read about that.
Bob Moriarty: The UAE is a part of a coalition with the US and Saudi Arabia fighting a proxy war against Iran in Yemen. You want to talk about evil empire and the evil triumvirate of the US/Israel/Saudi Arabia, it doesn't get much more evil than the stuff these countries are carrying out. What on earth did the Crown Prince (MBS) think was going to happen? Khashoggi would go into the embassy and nobody would notice that he didn't leave?
This is a dangerous precedent to set, a guy disagrees with you so you whack him on foreign soil using a 15 member hit squad. For a government to use mercenaries to carry out their dirty work is also stepping over a red line; the Geneva Convention does not apply to mercenaries because mercenaries aren't working for anyone but themselves.
Goldfinger: I don't know how Mohammed Bin Salman (MBS) can claim any legitimacy after this murder was carried out in the Saudi Embassy in Istanbul and clearly he knew about it and likely ordered it to happen. Add that to the list of atrocities Saudi Arabia has carried out in Yemen and we have a brutal modern day dictator who is perfectly comfortable ruling by force and murder if need be as one of the United States' greatest allies. There's a saying that a man is known by the company he keeps, if the US counts Israel and Saudi Arabia as its two closest allies then how can the US possibly continue to proclaim itself as the leader of the free world? How can the US consider a regime like the one in Saudi Arabia to be legitimate?
Bob Moriarty: The US lost any moral high ground a long time ago. You can't have any moral high ground when you're attacking Iraq, Afghanistan, Sudan, Somalia, Syria, etc. and engaging in wars all over the world. To go out and put a hit on some guy because he disagrees with you is a gangster move and we need more people to stand up and say that this is wrong and that we can't be aligned with governments that carry out such actions.
Goldfinger: Any closing thoughts on the markets Bob? Did you notice that cannabis stocks peaked last week and have entered into a violent correction? Could cannabis be the canary in the coal mine so to speak?
Bob Moriarty: We talked about cannabis last time. It's a classic bubble and it just burst. When your favorite stock makes front page news, it has become yesterday's news and it's time to bail out. Weed had a great run and it's time for the next bubble to start forming.
HMMJ.TO (Daily)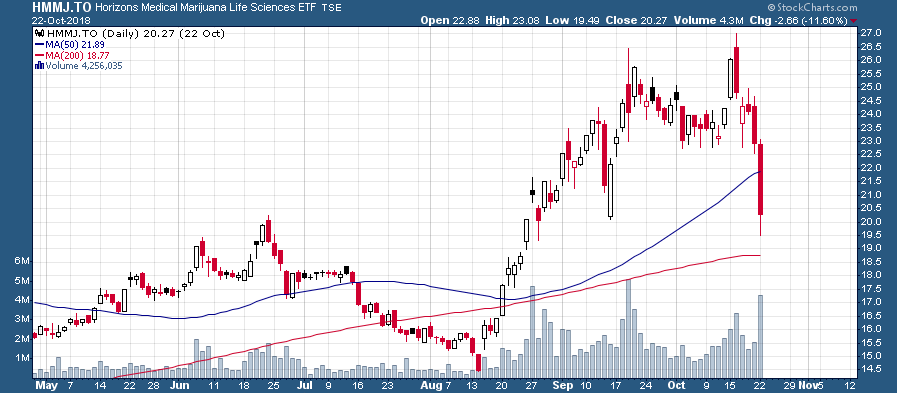 I think we're entering into a very favorable phase for resource stocks and I think we're going to see the major stock indexes head much lower. The only safe haven will be things that actually have a real value and don't rely on debt to trade at inflated valuations.
We live in interesting times and with the recent market volatility it's more important than ever to keep things simple and remember that the name of the game is buying cheap and selling dear. Bob does an excellent job of reminding us of this time and time again while having an encyclopedic memory for financial markets. As always we'd like to thank Bob for his time and insights.
Disclaimer:
The article is for informational purposes only and is neither a solicitation for the purchase of securities nor an offer of securities. Readers of the article are expressly cautioned to seek the advice of a registered investment advisor and other professional advisors, as applicable, regarding the appropriateness of investing in any securities or any investment strategies, including those discussed above. Westhaven Ventures Inc. is a high-risk venture stock and not suitable for most investors. Consult Westhaven Ventures Inc.'s SEDAR profile for important risk disclosures.
EnergyandGold has been compensated for marketing & promotional services by Westhaven Ventures Inc. so some of EnergyandGold.com's coverage could be biased. EnergyandGold.com, EnergyandGold Publishing LTD, its writers and principals are not registered investment advisors and advice you to do your own due diligence with a licensed investment advisor prior to making any investment decisions.
This article contains certain forward-looking information and forward-looking statements within the meaning of applicable securities legislation (collectively "forward-looking statements"). Certain information contained herein constitutes "forward-looking information" under Canadian securities legislation. Generally, forward-looking information can be identified by the use of forward-looking terminology such as "expects", "believes", "aims to", "plans to" or "intends to" or variations of such words and phrases or statements that certain actions, events or results "will" occur. Forward-looking statements are based on the opinions and estimates of management as of the date such statements are made and they are subject to known and unknown risks, uncertainties and other factors that may cause the actual results, level of activity, performance or achievements of the Company to be materially different from those expressed by such forward-looking statements or forward-looking information, standard transaction risks; impact of the transaction on the parties; and risks relating to financings; regulatory approvals; foreign country operations and volatile share prices. Although management of the Company has attempted to identify important factors that could cause actual results to differ materially from those contained in forward-looking statements or forward-looking information, there may be other factors that cause results not to be as anticipated, estimated or intended. There can be no assurance that such statements will prove to be accurate, as actual results and future events could differ materially from those anticipated in such statements. Actual results may differ materially from those currently anticipated in such statements. The views expressed in this publication and on the EnergyandGold website do not necessarily reflect the views of Energy and Gold Publishing LTD, publisher of EnergyandGold.com. Accordingly, readers should not place undue reliance on forward-looking statements and forward looking information. The Company does not undertake to update any forward-looking statements or forward-looking information that are incorporated by reference herein, except as required by applicable securities laws. Always thoroughly do your own due diligence and talk to a licensed investment adviser prior to making any investment decisions. Junior resource companies can easily lose 100% of their value so read company profiles on www.SEDAR.com for important risk disclosures. It's your money and your responsibility.