As I mentioned in my post on lessons investors learned in 2018, most investors will want to forget 2018. However, the turmoil we are experiencing now across markets could be planting the seeds of opportunity for 2019. I sat down with 321gold founder Bob Moriarty for a Christmas conversation to get his thoughts on current market conditions and his favorite stock picks heading into the new year. Without further ado here is Energy & Gold's last conversation in 2018 with Bob Moriarty…
Goldfinger: 2018 has been a dreadful year across financial markets, the TSX-Venture Composite is down 37% year-to-date and junior mining investors haven't had a lot to cheer about in a while. What do you say to investors after such a bad year and what are you looking forward to in 2019?
Bob Moriarty: That's a good question but it infers that the market going down is a bad thing. Markets go up and markets go down. So if that's true what happens after the market goes down?
Goldfinger: Well eventually it will go back up. However, the timing of the turn is what matters. More importantly if you own stocks and they go down it's that much harder to get back into profit.
Bob Moriarty: Well that's true and that's why I say when you have some profits you've got to take some off the table. I would love if silver went down below $14.00 an ounce so that I could buy some more. What do you get after high tide?
Goldfinger: After high tide you get low tide.
Bob Moriarty: Exactly. I look at the price of gold, the price of silver, and the prices of the GDX and GDXJ and I think to myself "Wow! What a wonderful opportunity this is. 2019 looks to be a great year for the precious metals sector."
There are some stocks that I think are absurdly cheap that were down 25% last week and nothing has changed with their fundamental stories other than people are afraid and selling stocks that are down for tax loss purposes.
Goldfinger: Don't you think there are times where something does change with the stock when the stock price drops? I mean as investors sometimes we find out what changed well after the fact and well after the stock has dropped significantly.
Bob Moriarty: Yes, that's true. However, when every stock in a sector is down 50%+ it's not due to the individual stock stories, it's due to the sector being out of favor and investors simply selling mindlessly. When you look at how well gold & silver stocks have held relative to everything else in 2018 it's telling me that we are going to have an absolutely brilliant 2019 in the junior mining sector. Moreover, there are still so many cheap stocks out there even though we have been seeing M&A accelerate across the mining sector and gold/silver have entered uptrends and look like they're about to blast off!
Goldfinger: I know that you're bearish on large cap U.S. equities and negative on most aspects of the global financial system, however, the S&P 500 is at fresh 52-week lows and most equity sectors have been absolutely obliterated in the last few weeks. We're seeing things that haven't happened in years, or have actually NEVER happened. Do you think we're getting pretty close to a major snapback rally here as we enter 2019?
Bob Moriarty: While I think the markets still have a lot farther to fall nothing moves in a straight line and I think there is a good chance of a relief rally starting very soon. Even bitcon could have a relief rally even though it's going to eventually fall below $1,000, or even down to zero. It's not going to get there next week but it will get there eventually.
Goldfinger: I know you like platinum and silver relative to gold right now, however, everyone talks about gold and thinks about precious metals in terms of gold. Last Wednesday I noticed that gold fell about 1% and the Daily Sentiment Index (DSI) fell to a 10 reading. That indicated to me that investors are still not committed to gold and they are looking for any reason to be bearish. So they sold into the rate hike which we knew was coming and they turned bearish on our favorite yellow metal. Gold proceeded to make back its losses and make new multi-month highs but sentiment is still barely in neutral territory. From my vantage point this is exactly the sort of scenario that I want to see in a market/asset that I am bullish on; price is rising but investor sentiment is still skeptical.
Bob Moriarty: Another sentiment indicator that I think is important are the premium/discounts in the PHYS and the PSLV. Do you follow those?
Goldfinger: Yes I do.
Bob Moriarty: I follow a whole slew of sentiment indicators and many sentiment indicators for platinum and silver have been at all-time lows in the last month. Gold bottomed in sentiment and price in August, but silver/platinum sentiment has remained depressed.
Pierre Lassonde gave a great interview recently and in it he said that hedge funds have gone short on gold for the first time in a long time – there's a lot of buying power potential there as they cover short positions which could lead to a potentially explosive move in gold. We are in another 2008-type market environment driven by a liquidity crisis.
Will it have counter-trend rallies? Yes, absolutely.
Will it continue to make new lows over time? Yes, absolutely.
I think this is the big one. I think there are going to be banks going under and Deutsche Bank is a prime candidate. We're going to have a very interesting 2019 and I think precious metals and junior mining shares are going to do very well.
Goldfinger: How high can gold go in 2019?
Bob Moriarty: I am incapable of predicting that but it can certainly rise above US$1500 an ounce. We're going to see things that are a lot scarier than 2008. Look at what Trump is doing, he just said we're going to bail out of Afghanistan and Syria. Now, while I agree with these moves the people in Washington are freaking out. There are some really scary things happening right now and they are not good things. China just arrested a 3rd Canadian business person in retaliation for Canada detaining the Huawei executive.
Goldfinger: The thing that worries me the most about 2019 is Trump and the potential for Trump to be impeached. A civil war is not good for this country, and it's not good for the world. Meanwhile, Trump appears to be committed to throwing out all the norms and continuing to do everything his way. He has also managed to run out every single sane, intelligent person in his Cabinet. The last thing I want is an unstable President whose days in office are numbered. I feel like he would be capable of doing just about anything at that point.
Bob Moriarty: That's absolutely right. We have a civil war/revolution going on around the world. The 'yellow vests' have spread their movement to Taiwan. Thousands of people are protesting about the level of taxation and government spending all the way in Taiwan! This is a very big movement and it seems to me that it's just getting started.
Everyone who passed economics 101 knows that all of this debt around the world is unsustainable and it is coming to a head. Taxing the lower middle class and continuing to allow the ultra-wealthy to have a free lunch is unsustainable and coming to an end, and it could be a violent end in some countries.
Goldfinger: Let's talk about some of the hot topics of the day. You've written a lot about Novo Resources (TSX-V:NVO, OTC:NSRPF) and we've recently seen the stock jump up about 30%. Would you say you're as confident as you've ever been on Novo from a shareholder investment standpoint?
Bob Moriarty: Yes.
NVO.V (Daily – One Year)
Goldfinger: Are there any other stocks that have your attention and that you might buy more of as we enter 2019?
Bob Moriarty: There are two that stand out from the crowd and Quinton Hennigh is involved with both and they are both about to drill. The first one is Irving Resources (CSE:IRV, OTC:IRVRF), they are going to drill in Hokkaido, Japan beginning in January. The second one is Miramont Resources (CSE:MONT, OTC:MRRMF) and they're going to drill a very attractive target in Peru beginning at the end of January. Irving has a market cap of about C$80 million and Miramont has a market cap of about C$15 million and these are both very high quality juniors that have tremendous potential to deliver game changing news to shareholders in early 2019.
IRV.CA (Daily – One Year)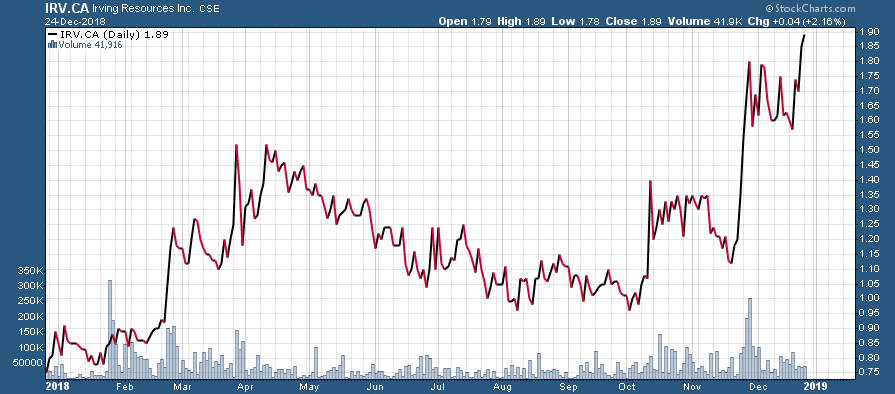 However, I want to make a point here. Shares are so cheap now that the quality of the stocks you buy right now matters much less. The $.04 and $.05 penny dreadfuls will turn into triples and quadruples in early 2019 as the rising tide lifts all boats. You're also going to see some 10-baggers and some of them might be in the biggest piece of crap stocks out there.If you're smart enough to take profits when you have a big gain in 2019 you no longer need to invest based upon quality.
Goldfinger: So you're thinking 2019 is going to be like 2016?
Bob Moriarty: No, it's going to be more like 2009-2011. People are staring at a generational buying opportunity and they're complaining about how beaten down their stocks are, when they should be thanking the market for giving them the opportunity to load up more at these levels.
Goldfinger: Did you happen to read the NR from Westhaven Ventures last week and my post summarizing the news?
Bob Moriarty: Yes, I sure did. I think you've nailed it and you're doing a great job of covering that story. Everything you've written is true, you're doing a great job and it's an attractive story.
Goldfinger: Thank you Bob, it's an exciting story and one to really watch in early 2019. Switching back to the macro, what are your thoughts on the Fed raising rates again even though the President and the stock market were clearly not happy about it?
Bob Moriarty: I don't think it matters what the Fed does, I think the Fed is totally trapped. There are some things you can say are absolutes: Deutsche Bank is going under, the Fed has painted itself into a corner, the euro is going to fall apart, etc.  We're going to see some massive changes over the next few years and the Trump impeachment is just an appetizer.
Goldfinger: Has the dollar peaked or does it matter? Can gold & silver still rise even with a strong dollar?
Bob Moriarty: I think the dollar could even go up a bit more but I don't think it matters. Precious metals will rise just the same, and if the dollar really does start to roll-over hard then that will just add rocket fuel to the rise in precious metals.
Goldfinger: Final question, what's the smartest thing you've read in the last week?
Bob Moriarty: There was an interview that we posted last week called "The Intelligent Investor's Guide to Gold, Central Bank Manipulation & The 'Future of Money'" and it is absolutely brilliant. We don't know what's going to happen to the future of money but gold is going to play a big part in it.
I agree with Bob that 2019 is shaping up to be a year abundant with opportunity for precious metals & junior mining investors. Although I must admit that I will be sticking with higher quality names in the junior mining sector as the protection of having less potential downside is worth missing out on some potential upside in my estimation. I'd like to thank Bob for his time and insights and wish all of our readers a very merry Christmas and a happy New Year!!

Disclaimer:
The article is for informational purposes only and is neither a solicitation for the purchase of securities nor an offer of securities. Readers of the article are expressly cautioned to seek the advice of a registered investment advisor and other professional advisors, as applicable, regarding the appropriateness of investing in any securities or any investment strategies, including those discussed above. Westhaven Ventures Inc. is a high-risk venture stock and not suitable for most investors. Consult Westhaven Ventures Inc.'s SEDAR profile for important risk disclosures.
EnergyandGold has been compensated for marketing & promotional services by Westhaven Ventures Inc. so some of EnergyandGold.com's coverage could be biased. EnergyandGold.com, EnergyandGold Publishing LTD, its writers and principals are not registered investment advisors and advice you to do your own due diligence with a licensed investment advisor prior to making any investment decisions.
This article contains certain forward-looking information and forward-looking statements within the meaning of applicable securities legislation (collectively "forward-looking statements"). Certain information contained herein constitutes "forward-looking information" under Canadian securities legislation. Generally, forward-looking information can be identified by the use of forward-looking terminology such as "expects", "believes", "aims to", "plans to" or "intends to" or variations of such words and phrases or statements that certain actions, events or results "will" occur. Forward-looking statements are based on the opinions and estimates of management as of the date such statements are made and they are subject to known and unknown risks, uncertainties and other factors that may cause the actual results, level of activity, performance or achievements of the Company to be materially different from those expressed by such forward-looking statements or forward-looking information, standard transaction risks; impact of the transaction on the parties; and risks relating to financings; regulatory approvals; foreign country operations and volatile share prices. Although management of the Company has attempted to identify important factors that could cause actual results to differ materially from those contained in forward-looking statements or forward-looking information, there may be other factors that cause results not to be as anticipated, estimated or intended. There can be no assurance that such statements will prove to be accurate, as actual results and future events could differ materially from those anticipated in such statements. Actual results may differ materially from those currently anticipated in such statements. The views expressed in this publication and on the EnergyandGold website do not necessarily reflect the views of Energy and Gold Publishing LTD, publisher of EnergyandGold.com. Accordingly, readers should not place undue reliance on forward-looking statements and forward looking information. The Company does not undertake to update any forward-looking statements or forward-looking information that are incorporated by reference herein, except as required by applicable securities laws. Always thoroughly do your own due diligence and talk to a licensed investment adviser prior to making any investment decisions. Junior resource companies can easily lose 100% of their value so read company profiles on www.SEDAR.com for important risk disclosures. It's your money and your responsibility.