Bob Moriarty is a unique human being by any standard; he was a pilot who served two tours during the Vietnam War, and he is also a Patriot who believes that the United States is fighting wars and arming people that it shouldn't, around the world. Moriarty is also a world class investor who has accumulated a treasure trove of investing wisdom throughout his nearly fifty years as an investor.
In our latest conversation Moriarty lays out what he sees for precious metals and mining shares this summer. In addition to discussing topics ranging from the Federal Reserve to the Middle East and radical Islamic terrorism. Without further ado here is Energy & Gold's June 2017 conversation with 321gold founder Bob Moriarty:
CEO Technician: Gold made its 2nd highest weekly close of the year last Friday, nearly within 1% of its highest level in 2017, yet the gold miners seem to be stuck in mud. What do you think is going to unfold this summer and at what gold price will the miners and junior explorers finally begin to rally?
Bob Moriarty: I would like to see the dollar rally and gold/silver drop over the next several weeks. I think we will get a tradable low in the precious metals mining sector at some point during late June, early July. The sector has a fairly predictable seasonal pattern and there is nothing i'm seeing that convinces me that this pattern won't play out again this year.
Gold Bugs Index (Seasonal chart 1996-2016)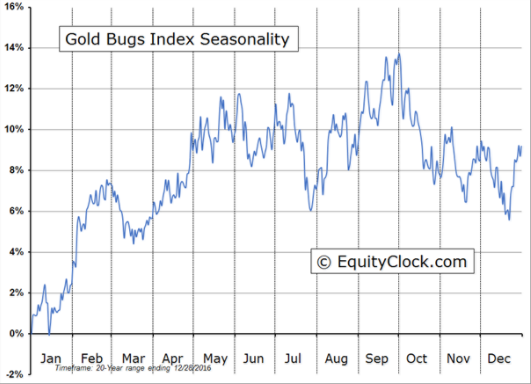 CEO Technician: With commercial traders in euro futures heavily net short and bullish sentiment on the euro at aggressive levels (DSI above 80) a counter-trend move in the US dollar in the near futures makes a lot of sense.
What are your thoughts on the GDXJ rebalance? I shared an article by The Macro Tourist last week which basically stated what i've been saying for the last few weeks; the rebalance is already largely priced in and the risk could be to the upside.
Bob Moriarty: I think that's right. This has been known about for three months now and the market has had plenty of time to get in front of it. However, if the price of gold drops the miners will get sold just the same.
CEO Technician: What do you make of the flattening yield curve in the US and US equities in the stratosphere?
Bob Moriarty: It is not a good sign for the economy but the most important fact is that we have seen real yields continue to move lower since the beginning of the year (the real yield on 5-year US Treasury note went negative last Friday).
CEO Technician: Do you see the Fed hiking rates next week? And does it matter?
Bob Moriarty: Yes, I think the Fed will raise the Fed Funds Rate again. And no it doesn't matter what the Fed does.
CEO Technician: We're seeing a tremendous surge in homegrown terrorism throughout Europe, particularly in the UK and France. Is there a solution to this problem or is this going to become the new normal in Western Europe?
Bob Moriarty: If one refugee in 10,000 decides to become a terrorist and you have 65 million refugees, then you will have 6,500 terrorists who can strike anywhere, anytime they want. The solution isn't a war on terrorists, you can't conduct war on an idea and you can't put a dead body on trial. The only solution is to stop fighting stupid and meaningless wars that create more refugees. The US, Israel, Saudi Arabia, England and France have been waging war on various countries in the Middle East for 30 years.
They are all being fought on behalf of Israel, that is the only country who benefits from the total destruction of the Middle East. That has been a stated goal of theirs for 35 years. Fighting wars for Israel is really stupid and expensive.
When the UK has had another 30-40 attacks, perhaps they will start to question just what it is they are doing in the world that pisses people off. Putin said it best when he spoke to the UN in October of 2015. "Do you realize what you have done?" That's a great question and one we should all demand an answer for.
CEO Technician: We are also seeing the Islamic State on its last legs in Syria and Iraq. What will Syria and Iraq look like a few years from now? Does Assad/Russia regain all lost territory including territory now held by US and Turkish backed forces?
Bob Moriarty: Assad was elected president of Syria by a margin of 88% of the voters. It's their country; they should pick who runs it. If you notice it, all of the countries who are sponsoring the terrorists, the US, Israel, Saudi Arabia and Turkey, none have any suggestions for that should run the country; they just want to destroy it. That's pretty stupid. Russia supports Syria, not Assad and Russia is not going to allow Syria to be turned into another failed state such as Libya or Iraq or Afghanistan.
CEO Technician: What are your thoughts on the Trump/Comey situation? Could President Trump be impeached?
Bob Moriarty: The deep state has declared war on Trump and so far they are winning. If they think they can get away with it they will try to impeach him or just whack him. Harvard did a study that concluded that 98% of the reporting on Trump is negative. Now I will grant he is a fool but he's not nearly as big a crook as Hillary and ought to be given a chance. But since January we have had him tap dancing through the china shop busting things left and right. This whole twitter thing is getting bizarre.  What makes Trump think the world gives a shit about every thought that goes through that tiny brain? He has put all these former generals in charge of Defense and the State Department and all they ever did on active duty was lose wars. Why on earth would anyone listen to guys who lost every war they ever fought and now want to start more?
Comey has tried to be a fence sitter for many months now and all you get from sitting on fences is a bunch of splinters in your butt. Comey has always been a 5th column on behalf of Hillary Clinton and is justifiably despised by both sides of the isle. When he let Hillary Clinton off the hook on charges that were clearly criminal he wrote his epitaph. At the end of this farce he will be recognized as the Queen's Fool.
CEO Technician: What about the President's Middle East trip and the $350 billion arms deal with Saudi Arabia? Are we talking out both sides of our mouth by "fighting a war on terror" while arming the most oppressive dictatorship in the world?
Bob Moriarty: I'm not sure you are using the correct terminology. Saudi Arabia does sponsor the most extreme Muslim radicals. Handing the Saudis $350 billion in arms is good for the Deep State, they never saw a war they couldn't profit from but all we have done is contribute to the instability of the region. The US has never participated in a War on Terror. After all there were no terrorists in Iraq until our troops showed up. We have invaded Syria and occupy territory there. We are the ones arming and training the terrorists. We always pick the most repressive and radical dictators to support. It's democracy we fear. We are against it in Gaza and Iran and Syria. They never seem to pick our thugs as they are supposed to.
Saudi Arabia is a dangerous country to be handing $350 billion worth of weapons. The country is run by a 30 year old who doesn't seem to have much more sense than the fat little toad running North Korea. You don't want to encourage the nut cases.
CEO Technician: What are your best investment ideas right now? Do you have any updates on some of the stocks we have discussed before?
Bob Moriarty: Bonterra Resources (TSX-V:BTR) has done well and held up in spite of a weak resources market. Someone will take them out. I read your report on Ceylon Graphite (TSX-V:CYL) and it was excellent. I follow them as well as DNI Metals (CSE:DNI) and I like both stories. Graphite and cobalt are about to come back to life but investors need to be looking for those ready to go into production, not those trying to find graphite or cobalt. You and I talked about Silvercorp (AMEX: SVM, TSX:SVM) in January of 2016 and I said it was a steal at $.60. Well, it ran to $5.90 and anyone who listened and took action made a lot of money. We have seen a big correction in SVM and many other great juniors and the next move higher is going to be interesting indeed. Novo Resources (TSX-V:NVO) remains a favorite of mine, they just picked up what could be a world class gold field in Western Australia. I expect a big and important drill program from them in the next 3-4 months. Novo is going to surprise everyone with what they have. With perhaps the exception of you and me. And your readers.
NVO.V (Daily)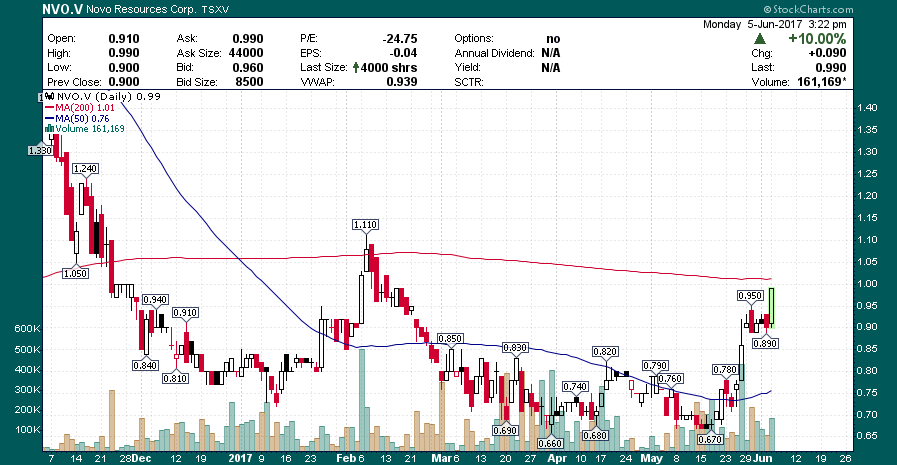 CEO Technician: So if I'm hearing you correctly you expect a move lower in precious metals and mining shares as the US dollar index rebounds over the next 4-8 weeks. Then an important low will be put in place in the precious metals sector at some point during July?
Bob Moriarty:  In the June/July time frame. The next major move should be a lot higher but I'd like to see the perma-bulls washed out first. You don't get any bull market when everyone sees it and bulls hate riders. I think the real surprise soon will be the dollar index going a lot higher.
As always we would like to thank Bob for his candid commentary and investment wisdom. Bob mentioned some stocks which I believe are still below most people's radar (TSX-V: CYL, CSE:  DNI, TSX-V: NVO) and also explained several points regarding the Middle East and the homegrown terror situation in Europe which I believe most people are not aware of. Until next time.

Disclaimer:
The article is for informational purposes only and is neither a solicitation for the purchase of securities nor an offer of securities. Readers of the article are expressly cautioned to seek the advice of a registered investment advisor and other professional advisors, as applicable, regarding the appropriateness of investing in any securities or any investment strategies, including those discussed above. Some of the stocks mentioned are high-risk venture stocks and not suitable for most investors. Consult the companies' SEDAR profile for important risk disclosures.
EnergyandGold.com, EnergyandGold Publishing LTD, its writers and principals are not registered investment advisors and advice you to do your own due diligence with a licensed investment advisor prior to making any investment decisions.
This article contains certain forward-looking information and forward-looking statements within the meaning of applicable securities legislation (collectively "forward-looking statements"). Certain information contained herein constitutes "forward-looking information" under Canadian securities legislation. Generally, forward-looking information can be identified by the use of forward-looking terminology such as "expects", "believes", "aims to", "plans to" or "intends to" or variations of such words and phrases or statements that certain actions, events or results "will" occur. Forward-looking statements are based on the opinions and estimates of management as of the date such statements are made and they are subject to known and unknown risks, uncertainties and other factors that may cause the actual results, level of activity, performance or achievements of the Company to be materially different from those expressed by such forward-looking statements or forward-looking information, standard transaction risks; impact of the transaction on the parties; and risks relating to financings; regulatory approvals; foreign country operations and volatile share prices. Although management of the Company has attempted to identify important factors that could cause actual results to differ materially from those contained in forward-looking statements or forward-looking information, there may be other factors that cause results not to be as anticipated, estimated or intended. There can be no assurance that such statements will prove to be accurate, as actual results and future events could differ materially from those anticipated in such statements. Actual results may differ materially from those currently anticipated in such statements. The views expressed in this publication and on the EnergyandGold website do not necessarily reflect the views of Energy and Gold Publishing LTD, publisher of EnergyandGold.com. Accordingly, readers should not place undue reliance on forward-looking statements and forward looking information. The Company does not undertake to update any forward-looking statements or forward-looking information that are incorporated by reference herein, except as required by applicable securities laws. Always thoroughly do your own due diligence and talk to a licensed investment adviser prior to making any investment decisions. Junior resource companies can easily lose 100% of their value so read company profiles on www.SEDAR.com for important risk disclosures. It's your money and your responsibility.