The Federal Reserve finds itself in a tricky situation heading into Wednesday's FOMC announcement. There has been a considerable build-up over the past several weeks (primarily from strong employment reports) which has led to the market anticipating a 25 basis point hike the Fed Funds Rate. However, the shakeout in the crude oil market has led to increased stress in the already wobbly high-yield corporate and emerging market debt segments of the market.
Things are already beginning to look like 2008 in emerging markets: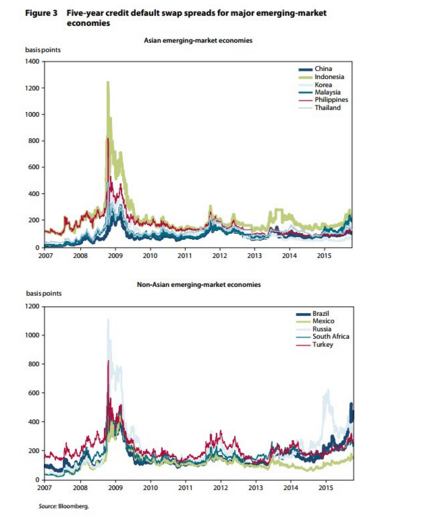 And global equity correlations are soaring through the roof, a phenomenon which has often preceded periods of market turmoil: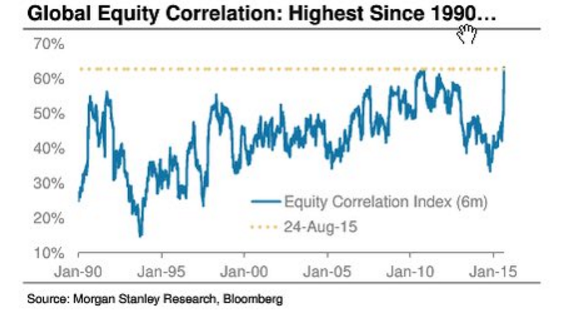 The Fed finds itself between a rock and a hard place; A continued pause along with a dovish tone on Wednesday would likely cause weakness in the US dollar and a rally in risk assets such as high-yield and emerging market debt, however, staying on hold could cost the Fed more of its credibility given the extent of posturing for a rate hike that Fed members have carried out during the past several weeks.
It seems that the most likely scenario at this point is a symbolic 25 bps hike along with a dovish statement and a dovish press conference from Janet Yellen. If all things go smoothly this scenario could lead to the Fed not losing face, US dollar weakness, and a relief rally in risk assets.
Next week is shaping up to be very interesting for market participants and close attention should be paid to crude oil and the US dollar. Fresh lows in oil in combination with new highs in the dollar could be a toxic recipe for global financial markets, surely the Fed is paying attention to this…