The chart of 30-year fixed mortgage rates dating back to the early '70s is a sight to behold: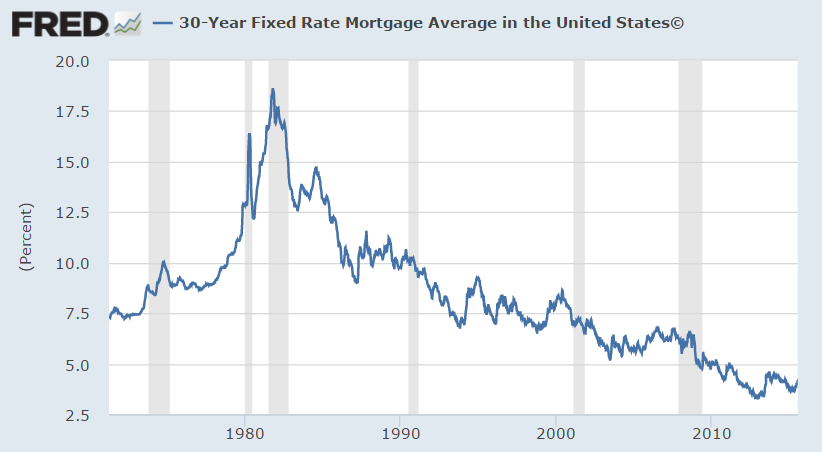 For the last several years American borrowers have been blessed with the good fortune of historically low Treasury Bond yields which have in turn translated into historically low 30-year fixed mortgage rates (a good general rule is to add 170 basis points to the current 10-year Treasury Note yield to derive the 30-year fixed mortgage rate).
However, judging by some recent technical developments in the charts of Treasury yields this period of good fortune for borrowers may soon be drawing to a close:
US 10-year Treasury Note Yield (Daily)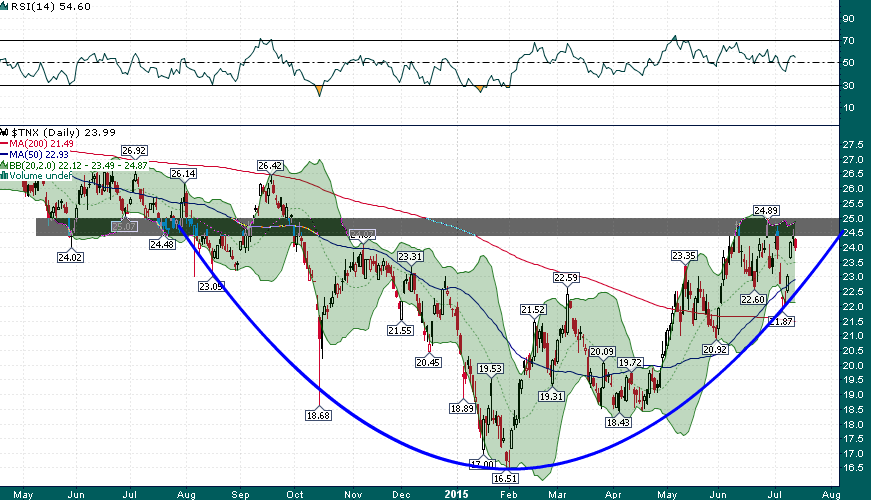 US 30-Year Treasury Bond Yield (Daily)
The charts of both the 10-year and 30-year Treasury yields highlight a similar mature bottoming pattern. In fact, yields have been bottoming for a full year and are now poised to rocket higher. A breakout above 2.50% on the 10-year and 3.25% on the 30-year would cinch completed bottoming patterns with targets above 3% on the 10-year yield and above 4% on the 30-year yield.
A real estate investor friend of mine saw a recent analysis of Treasury yields that I had done and asked me the following question, "should I borrow more money?" 
Frankly I could not give a responsible answer to his question. However, I can say for certain that if you are seriously considering buying a home and wondering if you should wait, I would say don't wait unless you are prepared for a significantly higher interest rate on your mortgage.
Clever readers may point out that real estate prices could fall in the event of a sharp spike in interest rates. While this is true in general, one must also realize that a 100 basis point higher mortgage rate costs the borrower more than $50,000 on a $250,000 mortgage over the life of the loan. That's a very high price to pay for trying to time the market!
My advice: In stable, supply constrained markets such as Miami (where the authors of this post live) buyers should forget about trying to time prices and instead lock-in historically low mortgage rates before they vanish.
While the Miami property market has been a bit of a roller coaster during the last decade, the long-term trend remains strongly upward and the future continues to look bright for this gateway to Latin America:
Miami real estate agent Maggie Sadowska of MegaLuxHomes had this to say about the current conditions and outlook for the Miami real estate market:
"Strong international buying (predominantly from Europeans and Latin Americans) combined with geographic constraints (Miami is sandwiched between the Atlantic Ocean and the Everglades and they aren't making any new land) have helped the Miami real estate market rebound impressively from the Global Financial Crisis. The future continues to look bright as the number of cash buyers from vastly different backgrounds and nationalities who are all in love with Miami never ceases to amaze me. I follow the saying 'Don't wait to buy real estate, buy real estate and wait'….."