This is the 2nd consecutive Sunday night that equity futures are trading significantly lower than where they ended the previous Friday:
 E-mini S&P Futures (30-minute)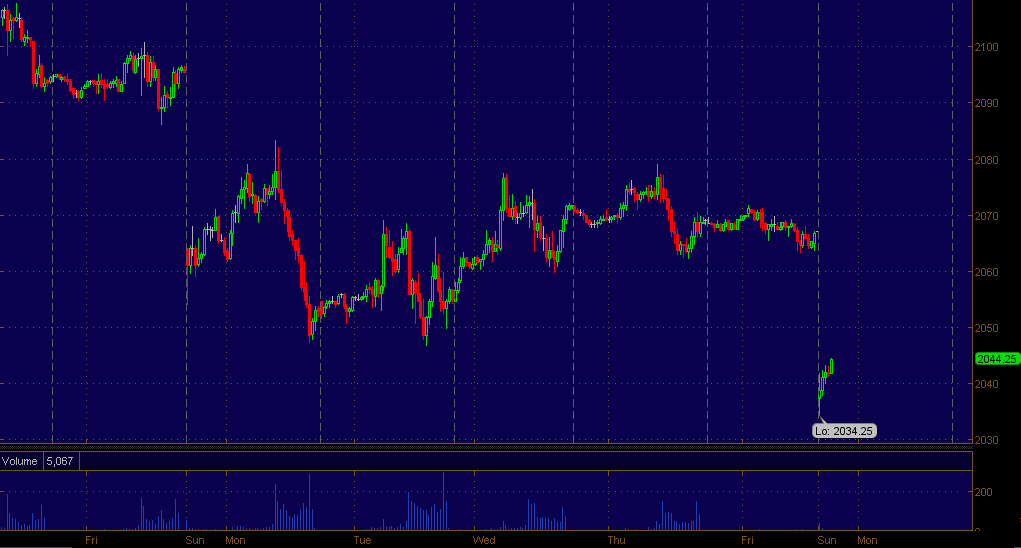 The proximate cause of the large gap lower in equity futures is Greece and its peoples' willingness to finally exit the eurozone and flip the 'troika' (EU/IMF/ECB) the bird. I have little interest in the details of what will transpire over the coming days/weeks after today's 'NO' vote in Greece, however, I do have an interest in common sense.
The markets have known Greece was gone from the eurozone for 5 years, it has simply been a matter of how/when exactly this would formally occur. Now that it's a virtually certainty that it will occur within a very short period of time, I view this progression as a net POSITIVE for both Europe and Greece. Markets don't like uncertainty and today's NO vote in Greece creates some short term uncertainty. However, in the long term this is the best alternative for the eurozone and for Greece.
An excerpt from Mark Dow's post on Greece from earlier today sums it up quite nicely:
"What is unsustainable will, ultimately, not be sustained. Greece needs to stop clinging to the anvil disguised as a lifeboat and get past its fear of floating. Europe should get over the sunk cost fallacy, swallow its pride and take the hit."
Given that US investors were already firmly in a state of fear on Friday, I view tonight's large gap lower in S&P futures as a tremendous buying opportunity:
We entered a long position in the E-mini S&P 500 futures earlier this evening in real-time over at the CHAT.CEO.CA 'Trading Room' and we will be monitoring/updating this trade in real-time as it evolves.