With the release of the March non-farm payrolls report it has become plainly evident that the US economy has not reached 'escape velocity' regardless of what the perma-bulls might lead us to believe. Equity futures responded by spilling nearly 1% in the minutes following the release setting up a 'Manic Monday' for investors due to the Good Friday/Passover market holiday:
 E-Mini S&P futures (4-hour)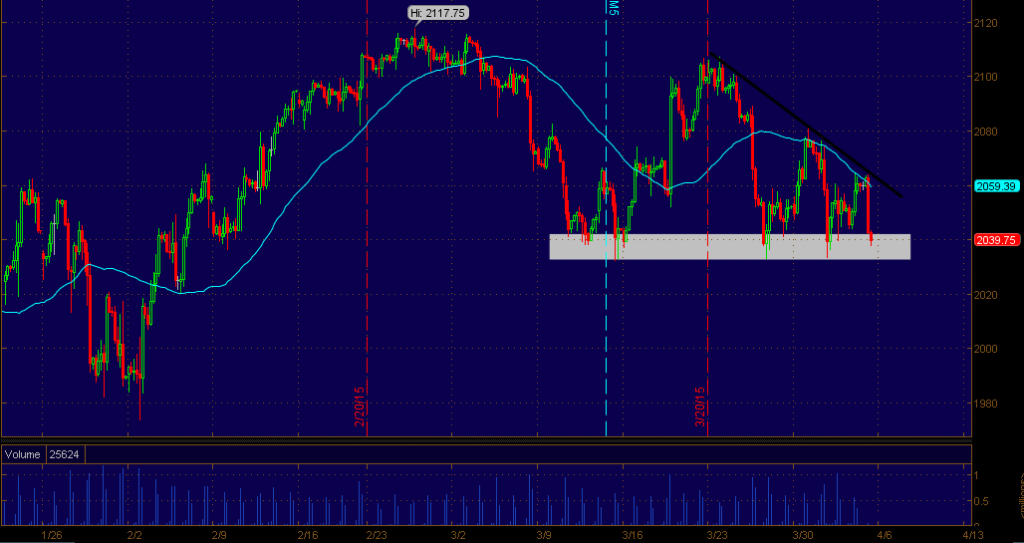 There is a lot to gather from the above chart – most importantly:
A series of lower highs has formed since the February all-time high
The 2030-2040 support level has been tested on numerous occasions in the past few weeks
The recent bounces have become increasingly shallow
It is a simple fact of technical analysis that the more times a level is tested the more likely it is to break. Moreover, this is the 5th test in the last 7 trading sessions which from my vantage point makes a breach of support a probability, not just a possibility. The fact that the 2030-2040 support has been visited so many times recently also adds potential energy to any eventual break; the 1980-2000 zone is a minimum downside target in the event of a breakdown.
All of this sets up a crucial make or break trading session on Monday after investors have had 72 hours to stew over the data. And while I am certainly not invoking an analogy to Black Monday 1987, the parallels cannot be ignored (Middle East turmoil, Iran upset, big Friday sell-off, equity market that had risen a lot in the preceding years, etc.)…