On Friday, precious metals staged a rally that stands out as one of the biggest and most impressive single-day moves in our lifetimes. In fact, gold was up nearly $100/oz for the week, and many precious metals mining stocks were up double-digit percentages for the week. With gold soaring and a major conflict brewing in the Middle east, who better to speak with than 321gold founder Bob Moriarty?
Mr. Moriarty is not only a Vietnam war veteran but also an expert in precious metals and mining stocks. He is also one of the most outspoken commentators in terms of geopolitics and holds an ardent anti-war stance. Moriarty believes we are entering a period of massive instability, and gold's enormous upside move last week is a signal that this period of instability is just beginning. Without further ado, Energy & Gold's October 2023 conversation with Bob Moriarty…
Goldfinger:
Bob, what a day we chose to have a conversation! Gold is up more than $50/oz and there also appears to be a short squeeze playing out in crude oil. So first I want to talk about gold. Have you ever seen gold do such a strange U-turn falling from $1969 to $1823, and then going from $1823 to $1943 in less than a week?
Bob Moriarty:
Yes, I have seen a similar U-turn. In 2008.
Gold (Weekly)
Twitter: @CEOTechnician
Goldfinger:
Yes, that's the only analog that comes close. Is this 2008?
Bob Moriarty:
No, it's 1929.
Goldfinger:
That reminds me of something that Dan Oliver from Myrmikan Research wrote recently. It was really an incredible five page piece published yesterday called "On The Other Hand" – this is the conclusion, I'll read it to you:
"Benjamin Anderson wrote of the 1929 crash: "[T]here is no point to assigning any particular cause for the break's coming at the particular time it did. It was overdue, and long overdue." The collapse of the financial system that has been in place since 1980 is long overdue. Gold investors are the bond bulls of 1980."
Bob Moriarty:
Yeah, you sent me part of that. I will tell you that it is some of the most brilliant writing I have ever read. And he was absolutely correct. Of course, this is the message that you and I have been talking about for months or years, and everybody's poo-pooing us, saying, well, it hasn't crashed yet. Well, it hasn't crashed yet. It's not the same thing as it's not going to crash. It is going to crash, it is crashing, and it's going to be ugly.
Goldfinger:
In the Daniel Oliver piece, he basically says that it's a near perfect setup because gold investors are frustrated and fatigued. Yet everything needed for the gold breakout investment thesis has either occurred already, or is occurring as we speak. And perhaps it's the combination of the massive federal deficits in the US with a three front war shaping up. Already, we have Russia and Ukraine, obviously what happened with Israel and Hamas last weekend and the potential for a wider conflict in the Middle East. And then whatever's happening with China and Taiwan, a three front war. The US cannot possibly engage in war on three fronts, nobody can.
Bob Moriarty:
Well, here's what's interesting. And because you've been doing this as long as I have, and you've got a good memory, remember back in 2015 when somebody came out the piece saying, gold is a chia pet?
Goldfinger:
Yes, I remember that. In 2015, gold is a chia pet (laughs). And then 2017, it was John McAfee saying that gold was completely worthless because of the new crypto mathematics.
Bob Moriarty:
Yeah, well, the Globe and Mail came out with a great piece a week ago called The Case for Leaving Gold in the Ground: 'We already have plenty of this precious metal for its practical uses, but we pay a heavy environmental and social price to extract more. Could we agree that enough is enough?'
And, of course, this is what you are always going to see at bottoms. I have said many times, at every top, there are 100 reasons to buy, and at every bottom there are 100 reasons to sell. That's what marks tops and bottoms. And yes, Robert, I'll take credit. My call on September 28th was brilliantly timed.
Goldfinger:
I hadn't seen that Globe & Mail article. That is a contrarian indicator if I've ever seen one! The DSI for gold got down to 8, and I think silver got down to the same level. This is what you wrote on September 28th:
"The markets I have identified above (gold, silver, euro, etc.) are going to reverse direction in the next month. You can write that down on a piece of paper and take it to your local bank and cash it."
So you got the low in gold and silver within a week.
Bob Moriarty:
A couple of days. But literally, I think this is very important to say, one of the things Quentin Hennigh and I have talked about many times is what would the world be like with $5,000 gold? And we concluded that would not be a world you would want to live in. So it's one of those good news, bad news stories. The entire economy of the west is about to blow sky high, but alternatively, gold is going up.
Goldfinger:
A higher gold price isn't a great consolation prize for the end of civilization, but as you said gold is a hedge against chaos. So if we think back to the day you wrote that piece, at the end of September, treasury yields were soaring almost every day. The 30 year yield rose to above 5% during the first week of October, and that lined up exactly with the low in gold. Obviously, there is a strong negative correlation between US Treasury yields and gold.
U.S. 30-Year Treasury Yield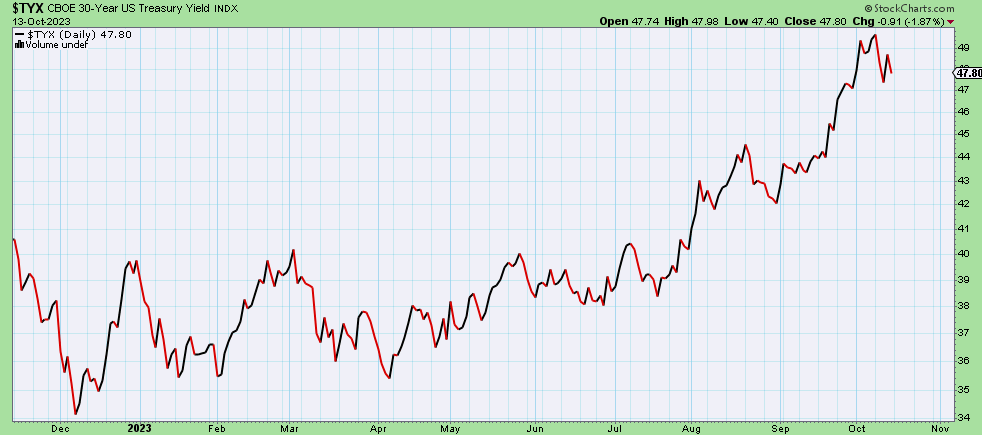 Today, yields have moderated. But it's not like they've crashed or anything. They've pulled back a little bit; the 10-year has declined from 4.90% on October 6th to about 4.60% today. Gold seems to be moving completely on its own today. If you look at the dollar, if you look at stocks, if you look at treasury yields, none of those markets are making the kind of outsized move that gold is making.
This move in precious metals really stands out, money is flowing into gold and silver as a hedge against chaos. What do you make of today's move? Is this inflow to precious metals out of concern that a wider conflict is about to break-out in the Middle East?
Bob Moriarty:
Yeah, I think so. Here's the deal. There was an attack in Israel a week ago Saturday. There were about 1200 Israelis killed, including women and children, who were shot in cold blood by Hamas gunmen. And certainly the world agrees that was barbaric. So in response, Israel is bombing and shelling defenseless civilians in Gaza. And they've shut off the food, and they've shut off the water, and they've shut off the power. And frankly, I can't see the difference between Hamas being barbaric and Israel being barbaric, other than in one case you've got a large, very powerful government, totally behind supporting war crimes.
Goldfinger:
Yeah, I don't want to go off the deep end on that topic, but obviously it's a very difficult one and the Israeli-Palestinian conflict is older than I am. In fact, it's older than you are, and it doesn't seem like there's a good solution. I saw an excellent video on Bloomberg about the Gaza Strip, the Gaza Strip is a small corridor of land that is still held by the Palestinians and it extends all the way to the border with Egypt. Now, obviously, it's densely populated. I think the video said 2.2 million people and about 140 square miles, so it's densely populated.
I believe Israel has a right to defend itself, they have to get the terrorists, they have to get rid of them so this doesn't happen again. But in the process of doing that, the Hamas terrorists are within the population, so there is going to be a lot of collateral damage. And so how do you get rid of the terrorists without killing children and women? It seems impossible. One person said, well, can't they just go to Egypt? No, Egypt doesn't want them. Egypt closed the border to Gaza.
Bob Moriarty:
Egypt didn't close the border. Israel bombed the border.
Goldfinger:
Egypt said it cannot take all the Palestinian refugees from Gaza.
Bob Moriarty:
Right, they can't take 2.2 million people. But the reason the border was closed was because Israel bombed it. Let me remind you something, and this comes from the Balfour Declaration. How familiar are you with that?
Goldfinger:
Not at all.
Bob Moriarty:
The Balfour Declaration was presented to Lord Rothschild in 1917 to get the support of the Jews behind Britain in World War I, and essentially it gave Palestine to the Jews. Now, part of that document says it is clearly understood that nothing shall be done which may prejudice the civil and religious rights of existing non Jewish communities in Palestine. Now then you ask, how do you get rid of the terrorists? And actually, because I was in the military, I know exactly how to get rid of them. And the way to get rid of them is don't create them in the first place because you run into this conflict when you start creating terrorists faster than you can build bullets, then you lose the conflict.
And even one of the major Israeli newspapers just said that the burden of blame for this war is solely on Israel for not giving Palestinians any rights. Now, if you go back to 1947, the UN wanted to partition Palestine into two entities, one being Jewish and one being Palestinian, and Israel has fought that ever since without being anti Semitic, even though I will be accused of this. Israel's been murdering Palestinians and stealing land ever since. Now, you get into this incredible problem. How do you kill Hamas terrorists in Gaza today with somewhere between 2.1 and 2.3 million mostly innocent civilians? And Israel's answer is easy. You kill them all. Let God sort them out.
Goldfinger:
Obviously, this is a very controversial topic. People are very sensitive on this topic and there are a lot of emotions on both sides. The reality is, as you said, people are entrenched in their positions on either side. Both sides are entrenched in religious ideology, and there is no seeing past that. I'm standing in the middle saying I am neutral, but I can see atrocities on both sides. I can see women and babies being murdered, and unarmed civilians attending a music festival being murdered in cold blood. This violence is wrong. It's evil. But both sides are so entrenched in their positions, it seems that there's no solution that doesn't involve a lot of death. And we both know that violence begets more violence.
As Gandhi once said "An eye for an eye makes the whole world blind."
Unfortunately, it's a very sad situation. Maybe we have to sink deeper into conflict in order to see a brighter day in the future. But it sure is hard to see the light recently.
I've been around long enough that I've lived through many terror attacks, both in the US, in Israel, Europe, even India. I've seen the public responses over the years, I've seen the media response to various terror attacks. And I notice some things that stand out about this Hamas attack on Israel. First of all, the magnitude, the scale of the attack, the killing, the barbarity is unspeakable. It's one of the worst attacks I've lived through in my lifetime. Yet it's interesting to see throughout the capitals of Europe, Paris, Stockholm, even Toronto. There were large pro-Palestinian demonstrations. The face of the west, of Europe, of North America, has changed such that there's so many Muslims in these major cities. They're sympathetic to the Palestinian cause, and they're not afraid to let it be known, even after the horrible atrocities perpetrated by Hamas.
Bob Moriarty:
Well, yeah, but you run into this issue. The first thing you hear from the Israeli side is, does Israel have a right of self defense? And I think we can absolutely agree, yes. But implied in that statement is also, do the Palestinians have a right of self defense? Now, Gaza is an open air prison. It's a concentration camp. There was a really interesting comment from the former head of the Israeli Air Force, and he says that he thinks Iran has set a trap for Israel. And the reason the attack was so barbaric and we totally agree on this, it was a barbaric act of terrorism. The reason that it took place and it was so evil was to blind Israeli leaders into mass genocide. And if that is so, Hezbollah will come in, Syria will come in. Lebanon will come in.
Iraq will come in. Iran will come in. Turkey will come in. Pakistan will come in. I think this is the most dangerous thing that I've ever seen, because it could either lead to mass genocide, which is what Israel thinks it's going to get away with, or it could lead to the demise of Israel. The really interesting thing to me is all the rhetoric. There are only two countries talking about diplomacy, and that's Russia and China, and they're saying we need to have a diplomatic solution. Some of the stuff, like, I think there are 65 hostages held by Hamas and the United States that sent over Delta Force and Special operations people. You can't rescue those people. You will never locate them. How do you locate 65 people in 2.2 or 2.3 million? The answer is you can't.
We are trying to find a military solution to a problem that can only be solved through diplomacy. And if everybody would pull back and stop being so barbaric, it's a problem that could be solved. This could lead to peace in the Middle East. But the monsters, the crazies, have to be stopped. And that's the crazies on the Hamas side and the crazies on the other side.
Goldfinger:
Yeah, it's a scary time, and I couldn't help but notice that both Paul Tudor Jones and Jamie Dimon, they both sounded an alarm earlier in the week. They said that investors face a very challenging and dangerous time in terms of geopolitics. Both guys said this is maybe the most dangerous period in their lifetimes. And I know that you feel exactly the same way, and you're even older than either of them. So how does an investor navigate this, Bob? I mean, it seems so treacherous. How do you avoid a financial catastrophe?
Bob Moriarty:
Okay, that's a really good question, and that's something everybody should be thinking about. How familiar are you with the concept of entropy?
Goldfinger:
I think I have a basic understanding of it.
Bob Moriarty:
I'll define entropy as, over time, chaos increases. And there's two different analogies that I use. One is a spinning top, and the other is the predictability of a bullet when it leaves a rifle barrel. When the top has just started spinning, it's very stable and very predictable. As time increases, it becomes more unstable until it finally collapses. Likewise, the velocity and direction of a bullet when it leaves the barrel is very predictable. But when you go out 100 meters or 500 meters or 1000 meters, the bullet starts getting wobbly and you cannot predict its behavior. The financial market is like a spinning top or like a bullet leaving a rifle in that it's very stable initially and becomes more unstable over time. I think that what Gold is telling us is that somebody just kicked the top.
And when you do that, you go into massive instability immediately. The piece that you sent me and that you just quoted a few minutes ago, that's absolutely some of the most brilliant stuff I have ever heard. And it is that simple.
We don't care why the financial system of the west collapses, we just know that it's going to collapse. So my message for years has been to protect yourself as best you can. Do not go into speculative ventures, own some gold and silver, don't go into debt. And right now, literally, I would tell people, fill their car up. One of the things that I think is exceptionally predictable is Iran closing the Gulf of Hormuz. And that's one of those things. There are three aircraft carriers either there or on the way there.
And if Iran decides to close the Gulf of Hormuz, how do you force them to open it? The answer is you don't, because you can't. So even while Israel is threatening Iran, and Israel wants to drag Iran into the conflict, whether they're guilty or not, they're setting something up. We could see $300 barrel oil in a week or ten days. And I'm not predicting that, I'm just saying it's certainly possible.
Goldfinger:
$300 oil?!! That seems like a pretty outlandish call.
Bob Moriarty:
No, it's not. I'll guarantee it. Okay, here's why.
Goldfinger:
Guarantee what? $300 oil?
Bob Moriarty:
No, I'll guarantee that should Iran get involved in this thing, they will shut the Straits of Hormuz. And oil going from $90 to $300, it's not even much of a stretch. They could shut the world's economy down overnight. When were you born? What year? Okay, you're like six years too late. Do you remember what happened in 1973?
Goldfinger:
I'm not that old, Bob. But I know there was an oil crisis around that time, '73 or '74.
Bob Moriarty:
No. There was the Yom Kippur war, exactly 50 years ago, almost to the day, where Egypt, Jordan, Syria, Lebanon attacked Israel and it went on for about ten days. And Israel did a brilliant job of defending itself, but the Arabs shut the flow of oil off. And the oil embargo of 1973, you'd have to go stand in line three or 4 hours to fill your car. It almost destroyed the economy of the United States. And will that happen again? Sure, of course. The odds are exceptionally high of them doing that because they're something they can do without killing anyone. They don't have to shoot anybody. All I have to do is say, look, if you go through the Straits of Hormuz, we're going to sink your tanker. Insurance companies will not insure oil in a combat zone.
Goldfinger:
So when I asked for financial advice, you said, fill your tank up. But that's a very short term thing. What else can investors do?
Bob Moriarty:
Well, it's a good time to keep spare cash, it's a good time to load up, and have a year's supply of food. When the financial collapse occurs, and I'm not predicting that in terms of time. It could be next week, it could be next month, it can be five years from now. We know it's coming, we just don't know when. When it comes, we are going to go into total chaos. So protecting yourself? I keep six months to a year's food just because I know I'm going to eat it anyway. I've got enough fuel stored up that I can drive for two or three months. No matter what happens, bad things are going to come. And this is a great time. If you turned on the Weather Channel and they said they've got a Force 15 hurricane coming, it would be a good time to prepare.
Goldfinger:
How do precious metals play into the preparations?
Bob Moriarty:

Gold and silver are insurance policies against chaos. I am not a gold bug in that I worship gold. There are people who do. Gold and silver are an insurance policy against financial chaos. So if you see financial chaos on the horizon, it's a good idea to have some gold, silver. Certainly the rise in the price of gold today supports that.
Goldfinger:
So turning to the junior mining sector, it's been a very rough few months. A lot of companies are canceling conference attendance plans, maybe even cutting drill programs short, just trying to conserve capital. A lot of share prices are at 52-week lows this week. Even after gold's run up today, many juniors aren't really moving up. Why should an investor care at all about the junior mining sector today?
Bob Moriarty:
Because when they go up, they're going to go up a lot. We haven't seen quite as much negativity as we saw in December of 2015, but the HUI and the XAU actually went up like 200% in the next six months. Of course, that's when silver went down below $12 an ounce. I was buying silver at $11 an ounce in December of 2015. I'm sorry, that was in March of 2020. But the lower a commodity goes, or the lower the DSI goes, or the lower stocks go, that's where you make your money. The amazing thing about the DSI of gold and silver at eight, was that the actual price of gold and silver didn't decline that much. I mean, a 10% move, it's not like it's a big deal, but the junior resource stocks are cheaper in relative terms than they've been anytime in history.
GDXJ (April 2015 – July 2016)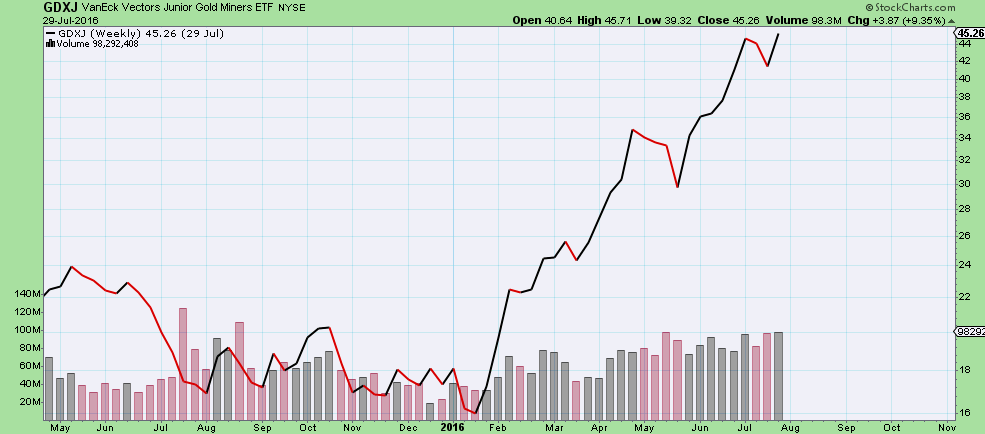 So the way to make money is to buy stuff when it's cheap and sell it when it's expensive. And everybody thinks that's too simple. I don't think it gets any better. There are stocks that are being given away. I'm just absolutely staggered at how cheap they are. Lion One is in production. Snowline keeps coming up with great results. New Found Gold (TSX-V:NFG, NYSE: NFGC) keeps coming up with great results. There's so many stocks out there selling for pennies. Literally, it was like stealing.
Goldfinger:
Silver is a little over $22 an ounce today, and if you zoom out the chart several years, to let's say 2019, $22 an ounce is a pretty good price for silver. It's been as high as $30, but it's also been as low as $11, as you mentioned, for a brief period of time in 2020. Yet if I pull up a few silver exploration companies, share prices have rarely been lower than they are today; Summa Silver is $0.44, very close to an all time low. Blackrock Silver is $0.29, down from $1.30 in 2022. Dolly Varden Silver is $0.72, down from a peak of $1.20 earlier in the year. So a lot of the silver juniors are really beaten down. Yet the silver price is not exactly low, It's above its average price for the last few years. 
And it seems that there are a lot of investors who love silver, there's definitely a sort of cult following for silver. And there's not many real silver companies out there. Is this a real opportunity here in the silver space, or do these stocks have further to fall?
Bob Moriarty:
I don't think they could fall any further. There is no connection between the price of silver and the price of these stocks. I mean, it's just been broken. The sentiment for these stocks is absurd given the fact that the price of silver is above $22. Silver. Hell, $20 silver is no big deal. Why is everybody acting like silver is $0.22 an ounce? It's not, okay. And again, it goes back to what's the purpose of owning gold and silver? It's to protect yourself against financial chaos. And the very best way to do it is to buy it the cheapest way possible and buy something like Dolly Varden (TSX-V:DV, OTC: DOLLF) at its price today. If you can keep them from throwing you in jail for stealing, it's a great deal.
Goldfinger:
Yeah, it's true. I name those three companies because they all have great CEOs and very good projects. In the case of Blackrock, they just published an updated inferred resource totaling 100 million silver equivalent ounces in Tonopah, Nevada. And then Dolly Varden with the Kitsault Valley Project in the Golden Triangle. I don't know if anyone truly knows how much gold and silver they have in the ground there at Kitsault, but it's got to be a very large number. Dolly Varden has been very busy this year and they've just finished drilling for the season. Assays have begun to come back from the lab, and we've only seen less than 20% of the results so far (10,000 meters out of more than 50,000 meters of drilling in total). I've been impressed with the first two sets of assay results from Dolly this year, drilling continues to demonstrate the continuity of the high-grade silver mineralization at depth and along strike.
DV.V (Daily)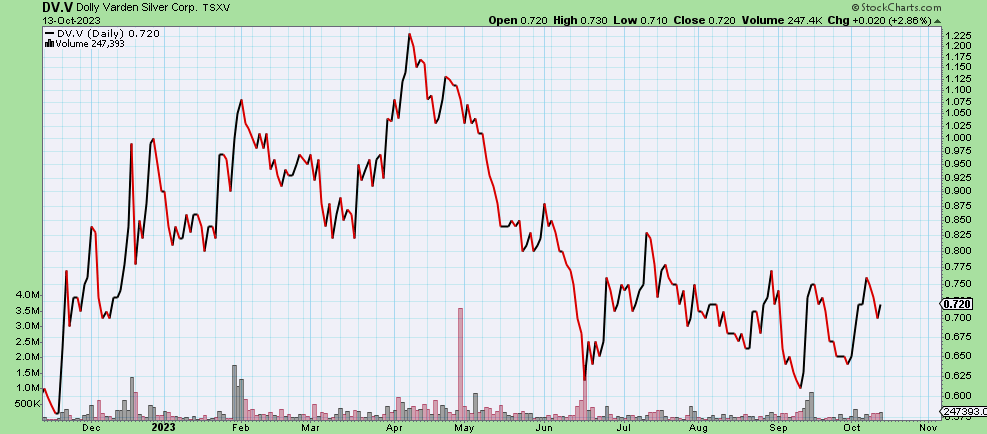 Bob Moriarty:
Well, strange enough, and I'm glad that you brought that up, because I'll clarify one thing, and I'm very close to Shawn and a big fan of Dolly Varden Silver. Dolly Varden is a switch hitter. It has a giant gold resource as well. Now, have you physically been to Blackrock? Have you seen their deposit? Yes, that is a flipping brilliant deposit. Great management. You got a stock that was $1.60 a share in 2020 and $1.28 a share in 2022. God, it's down 80% and nothing has changed.
Okay, if you walked into a BMW dealer and you saw a car that was $60,000 a week ago and they had a special on it for $12,000. What would you do?
Goldfinger:
Buy it?
Bob Moriarty:
I'd pop out my American Express card and say, give me two.
Goldfinger:
You said nothing has changed, but that's not true. Sentiment has changed.
Bob Moriarty:
Yes, sentiment tells you when to buy shit. Buy when it's cheap.
Goldfinger:
So if nothing has changed with the fundamentals of a company, it's just sector sentiment and the sentiment has gotten really bleak, then that's the buying opportunity.
Bob Moriarty:
Well, here's the key, and let's define the junior resource market as 100 guys who write about gold, silver and resource companies. I don't know if there's 100 or whether there's 20 or whether it's 200, and I don't care. But 90 out of the hundred are going to talk about interest rates and they're going to talk about the value of the dollar, and they're going to be talking about Lebanon, and they're going to be talking about a lot of stuff that frankly, I don't think means anything. And what I'm trying to do is give my readers advice that they can profit on. And I climb right out on a limb and I start sawing that branch off behind me.
Okay, now, on the piece that I wrote on September 28th saying gold and silver could turn I could look like a blithering idiot if I was wrong, but I wasn't wrong. I was correct. And for anybody that needed a little nudge to get into gold and silver, they had an article that said, this is why they're going to go up and this is how they're going to go up. Likewise, what you and I are doing right now, if you go buy Blackrock Silver, or if you go buy Newfound Gold or if you go buy Dolly Varden, right now your only danger is getting arrested for stealing. They're giving the stocks away. It doesn't get any better than that.
Goldfinger:
Yeah, I agree there's an opportunity here. But as we know, there is a scenario that an investor could lose, and that is if these companies don't get their permits and time goes on, years roll by and dilution eats away at the share price. I mean, there's definitely risk. There's always risk, especially in the junior mining sector, and permitting is a big risk.

Right?
Bob Moriarty:
Well, you just raised a really good point. If risk is one side of the coin, what is the other side of the coin?
Goldfinger:
Opportunity.
Bob Moriarty:
Reward.
Now, if Blackrock Silver was $.60 in January and it's $.30 now, is it a better deal now than it was in January? I think the answer is obvious. I will say I have never seen any measure that it's quite as valuable as the daily sentiment indicator. It's always correct. Frankly, people buy and sell shit because of sentiment. They don't sell it because of interest rates or the value of the dollar or Lebanon. They buy and sell shit because of how they feel about it.
Goldfinger:
Yeah, it's true. And there's a lot of feelings day to day, and feelings are usually going to lead us astray as investors. So, yeah, I think that's a great place to wrap up, Bob. There's a lot of feelings out there today, a lot of uncertainty, a lot of fear. And as we know, bull markets climb a wall of worry. We are entering this tax loss silly season, we have a wall of worry to climb in the junior mining sector. Sentiment couldn't be much worse and a lot of investors have given up on mining stocks – add it all up and this dynamic could lead to a lot of potential reward for investors.
As always, thank you very much for your time and insights. Until next time.
Disclosure: Author owns shares of Dolly Varden Silver at the time of publishing and may choose to buy or sell at any time without notice. Blackrock Silver and Dolly Varden Silver are advertisers on 321gold.com so naturally Mr. Moriarty is biased. Dolly Varden Silver is a sponsor of Goldfinger Capital.

_____________________________________________________________________________
Disclaimer
The article is for informational purposes only and is neither a solicitation for the purchase of securities nor an offer of securities. Readers of the article are expressly cautioned to seek the advice of a registered investment advisor and other professional advisors, as applicable, regarding the appropriateness of investing in any securities or any investment strategies, including those discussed above. The companies mentioned in this article are high-risk venture stocks and not suitable for most investors. Consult company's SEDAR profiles for important risk disclosures.
EnergyandGold.com, EnergyandGold Publishing LTD, its writers and principals are not registered investment advisors and advice you to do your own due diligence with a licensed investment advisor prior to making any investment decisions.
This article contains certain forward-looking information and forward-looking statements within the meaning of applicable securities legislation (collectively "forward-looking statements"). Certain information contained herein constitutes "forward-looking information" under Canadian securities legislation. Generally, forward-looking information can be identified by the use of forward-looking terminology such as "expects", "believes", "aims to", "plans to" or "intends to" or variations of such words and phrases or statements that certain actions, events or results "will" occur. Forward-looking statements are based on the opinions and estimates of management as of the date such statements are made and they are subject to known and unknown risks, uncertainties and other factors that may cause the actual results, level of activity, performance or achievements of the Company to be materially different from those expressed by such forward-looking statements or forward-looking information, standard transaction risks; impact of the transaction on the parties; and risks relating to financings; regulatory approvals; foreign country operations and volatile share prices. Although management of the Company has attempted to identify important factors that could cause actual results to differ materially from those contained in forward-looking statements or forward-looking information, there may be other factors that cause results not to be as anticipated, estimated or intended. There can be no assurance that such statements will prove to be accurate, as actual results and future events could differ materially from those anticipated in such statements. Actual results may differ materially from those currently anticipated in such statements. The views expressed in this publication and on the EnergyandGold website do not necessarily reflect the views of Energy and Gold Publishing LTD, publisher of EnergyandGold.com. Accordingly, readers should not place undue reliance on forward-looking statements and forward looking information. The Company does not undertake to update any forward-looking statements or forward-looking information that are incorporated by reference herein, except as required by applicable securities laws. Always thoroughly do your own due diligence and talk to a licensed investment adviser prior to making any investment decisions. Junior resource companies can easily lose 100% of their value so read company profiles on www.SEDAR.com for important risk disclosures. It's your money and your responsibility.