In the last month, I have learned more about helium than I ever thought I would know. Who knew that helium is an integral gas used in hospitals, space exploration, and scientific research?
After learning about helium and the unique role of the United States in the global helium market I made my first ever purchase of a publicly traded company that is producing helium today.
Few are aware that helium is a major growth market with the global helium market forecast to grow ~50% over the next five years. Meanwhile, there is a shortage of helium gas that began in early 2022. This shortage arose in part due to long-term pandemic supply chain failures, the Russian-Ukrainian war, as well as disruptions at various facilities in Russia and Qatar. The shortage, which saw the cost of helium almost double since 2021, has caused major helium providers to ration supplies, and in the summer of 2022 made institutions like Harvard stop some of their scientific research as helium became unobtainable.
Most people are aware of helium due to its uses for providing buoyancy for balloons and airships. However, helium is a versatile, colorless, odorless noble gas with various industrial, scientific, and medical applications.
Here are some of its main uses:
MedTech: Helium is commonly used as a cryogenic coolant due to its extremely low boiling point (-268.93°C or -452°F). It is used to cool superconducting magnets in magnetic resonance imaging (MRI) machines, particle accelerators, and other scientific research equipment.
Welding and Leak Detection: Helium is an inert gas, making it useful for shielding in welding processes, especially for non-ferrous metals like aluminum. It is also used for leak detection in various industries, as its small atomic size allows it to escape through even the tiniest openings.
Electronics and Semiconductors: Helium is employed in the production of semiconductors and fiber optic cables. It is used to purge and protect sensitive equipment from moisture and impurities during fabrication processes.
Breathing Mixtures: A mixture of helium and oxygen, known as heliox, is used in deep-sea diving and medical applications to reduce the risk of nitrogen narcosis and decompression sickness.
Research and Scientific Studies: Helium plays a critical role in various scientific experiments, such as cooling magnets in nuclear magnetic resonance (NMR) spectroscopy and providing an inert atmosphere for certain reactions.
It's important to note that helium is a finite resource, primarily obtained from natural gas deposits. The supply of helium is limited, and perhaps most importantly, its extraction and purification process are complex and expensive. The demand for helium has been steadily increasing over the years, driven by growing applications in technology, healthcare, and research.
While it's one of the most abundant resources in the universe, Helium is a scarce non-renewable resource on the Earth. Helium's lightness allows it to escape into the atmosphere and beyond.
Almost all Helium produced in the world and used in industrial applications is trapped beneath the Earth's surface. Due to its national security implications, its supply and storage has been tightly regulated by the U.S. Government for a long time. In the early 1900s, major powers around the world understood and invested in the unique properties of Helium, principally as an inert lifting gas.
The U.S. Government tasked the U.S. Bureau of Mines to study and produce Helium during World War I. The success of German military zeppelins and Cold-War excitement around Helium's use in high tech applications, rockets and more led to the U.S. Government establishing and enlarging the Helium supply and reserve network today known as The Federal Helium Reserve.
Today, the Federal Helium Reserve, managed by the Bureau of Land Management (BLM), is the only significant long-term storage facility for crude Helium in the world.
While the United States has historically been the largest source of supply for Helium, a significant portion of this supply has been satisfied through auctions of the Federal Helium Reserve.
The Helium Privatization Act of 1996 directed that almost all the federally owned Helium and the Federal Helium Reserve infrastructure be sold by the end of 2021.
As part of the Helium Privatization Act, the last federal auction was finalized in 2019.
During the last federal auction, prices for crude Helium (80% purity) reached $280/Mcf with spot prices for end-users reportedly going past $1,000/Mcf.
The mandated sale and depletion of federal Helium take a sizable portion of the global supply out of the market, creating major supply concerns for the domestic and global users.
With mounting helium supply concerns, and the shift towards onshoring of critical natural resources supply chains, the US and Canada are focusing on developing domestic sources of helium extraction. Arizona is one of the areas of the US that offers an abundance of potential helium supply. In fact, Arizona is sometimes referred to as "the Saudi Arabia of helium" thanks to its high helium concentrations.
While helium experiences strong and growing demand, there are few publicly traded ways for investors to get exposure to this nascent bull market. A recent Canadian IPO, Total Helium (TSX-V:TOH, OTC:TTLHF), has moved to quickly secure a 20% interest in two producing wells and a 50% working interest in eight additional wells awaiting pipeline connection. Total Helium's Pinta South Project is located in the prolific Holbrook Basin of Arizona, where its wells produce 5-8% helium concentrations. Looking around at other junior helium companies, Total Helium appears to be the only publicly traded company among its peer group that is actively producing helium today.
Total Helium has partnered with Linde, a $170+ billion market cap multinational industrial gas and chemicals manufacturing company. Linde is the world's largest industrial gas company by both market share and revenue. Linde has committed to fund the pipeline expansion on the Pinta South project and to pay $500/Mcf for the first 10 wells – all other wells have spot market pricing upside.
With Linde's funding, the pipeline is being constructed to connect 8 wells to the processing facility:
Total Helium's joint venture partner Pinta South Operating Company (PSOC) consists of experienced operations professionals. PSOC owns drilling rigs, cementing equipment, trenching equipment, etc. This operational expertise and logistical command allows the partnership to control costs, schedule, and production without relying on outside contractors. The partner team has extensive geological and operational expertise in the Holbrook Basin. The established and experienced operating team enables Total Helium to rapidly develop the project without additional staffing costs.
In addition to the 10 wells that Total Helium initially acquired, in the last two weeks an additional 3 wells have now been drilled and are awaiting completion. The TOH/PSOC partnership plans to complete more than 150 wells in the next three years, this aggressive expansion is forecast to generate a substantial increase in cash flow to TOH:
The idea is to begin with roughly a dozen wells, and then utilize the cash flow generation in order to aggressively expand the wellfield. Decreasing the well space from 160-acres to 80-acres will increase the number of wells that can be drilled, and thus increase the production at Pinta South. Furthermore, there is the potential to decrease the well spacing to 40-acres if it is deemed to be economical.

Total Helium and its partners are also engaged in ongoing discussions to increase land holdings in the Holbrook Basin. However, perhaps the biggest growth opportunity exists in testing deeper formations, including the Coconino Sandstone, Fort Apache Dolomite, Big A Butte, Granite Wash and Basement at (3,800ft):
In summary, Total Helium is a high-growth company focused on capturing a slice of the US domestic helium market opportunity. The company has a strong management team and board of directors with extensive experience in oil & gas exploration and production. At today's C$.50 share price Total Helium has a C$40 million market cap.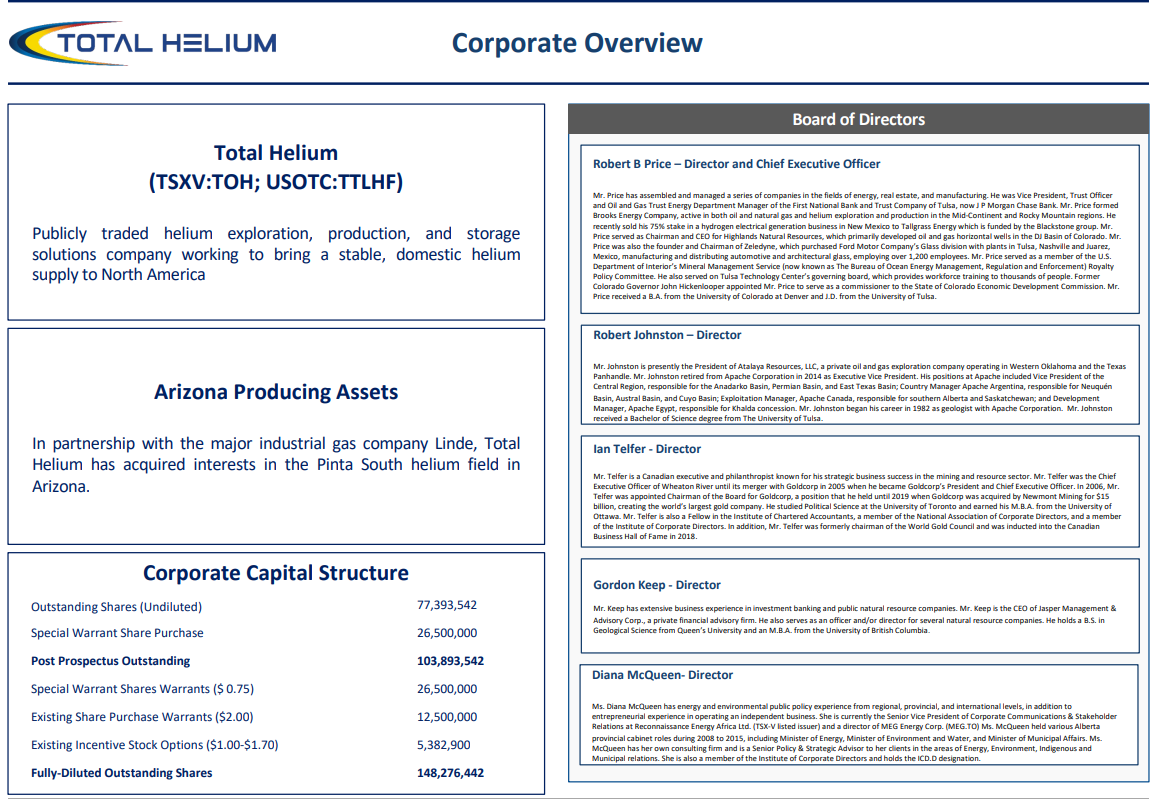 I have purchased TOH shares and look forward to future catalysts of additional well completions and pipeline hookups at Pinta South.
Disclosure: Author owns Total Helium shares at the time of publishing and may choose to buy or sell at any time without notice.
_______________________________________________________________
Disclaimer
The article is for informational purposes only and is neither a solicitation for the purchase of securities nor an offer of securities. Readers of the article are expressly cautioned to seek the advice of a registered investment advisor and other professional advisors, as applicable, regarding the appropriateness of investing in any securities or any investment strategies, including those discussed above. Total Helium Ltd. is a high-risk venture stock and not suitable for most investors. Consult Total Helium Ltd's SEDAR profiles for important risk disclosures.
EnergyandGold has been compensated to cover Total Helium Ltd. and so some information may be biased. EnergyandGold.com, EnergyandGold Publishing LTD, its writers and principals are not registered investment advisors and advice you to do your own due diligence with a licensed investment advisor prior to making any investment decisions.
This article contains certain forward-looking information and forward-looking statements within the meaning of applicable securities legislation (collectively "forward-looking statements"). Certain information contained herein constitutes "forward-looking information" under Canadian securities legislation. Generally, forward-looking information can be identified by the use of forward-looking terminology such as "expects", "believes", "aims to", "plans to" or "intends to" or variations of such words and phrases or statements that certain actions, events or results "will" occur. Forward-looking statements are based on the opinions and estimates of management as of the date such statements are made and they are subject to known and unknown risks, uncertainties and other factors that may cause the actual results, level of activity, performance or achievements of the Company to be materially different from those expressed by such forward-looking statements or forward-looking information, standard transaction risks; impact of the transaction on the parties; and risks relating to financings; regulatory approvals; foreign country operations and volatile share prices. Although management of the Company has attempted to identify important factors that could cause actual results to differ materially from those contained in forward-looking statements or forward-looking information, there may be other factors that cause results not to be as anticipated, estimated or intended. There can be no assurance that such statements will prove to be accurate, as actual results and future events could differ materially from those anticipated in such statements. Actual results may differ materially from those currently anticipated in such statements. The views expressed in this publication and on the EnergyandGold website do not necessarily reflect the views of Energy and Gold Publishing LTD, publisher of EnergyandGold.com. Accordingly, readers should not place undue reliance on forward-looking statements and forward looking information. The Company does not undertake to update any forward-looking statements or forward-looking information that are incorporated by reference herein, except as required by applicable securities laws. Always thoroughly do your own due diligence and talk to a licensed investment adviser prior to making any investment decisions. Junior resource companies can easily lose 100% of their value so read company profiles on www.SEDAR.com for important risk disclosures. It's your money and your responsibility.