With the global population expected to reach 10 billion by 2050, there is an ever-increasing need to hike food production.
That much is obvious to those who follow commodities. Greater populations also demand more oil, gas copper, lumber, cotton, steel, etc. For crops like wheat, rice, beef and soybeans, greater numbers of people results in more urbanization and less available farmland, leaving farmers no choice but to increase yields.
Farmers use synthetically created fertilizers to supplement natural soil nutrients, as they have been proven to produce much larger crop yields than organic sources for over a century.
It should thus come as no surprise that as the cost of synthetic fertilizer rises, higher food prices inevitably follow.
What is potash?
Simply put, potash is a type of fertilizer. The term refers to potassium compounds and potassium-bearing materials, and can also include potassium chloride, a salt-like mineral. Most potash comes from salt left over from ancient evaporated seas. 95% of world potash supply is used to grow food.
The two main types of potash are sulfate of potash (SOP) and muriate of potash (MOP). SOP is used on high-value crops like fruits and vegetables, nuts, tea, coffee and tobacco. The more common MOP is typically applied to vegetables such as sugar beets, corn, celery and Swiss chard.
Top potash producers
The five top potash producers are, in descending order, Canada, China, Russia, Belarus and Germany. Potash production in Canada (16 million tonnes) grew by 180,000 tonnes last year compared to 2021 levels. The world's largest potash company, Nutrien, is based in the Canadian province of Saskatchewan. The fertilizer giant was created in a 2018 merger between Potash Corp and Agrium, with the combined companies now worth CAD$43 billion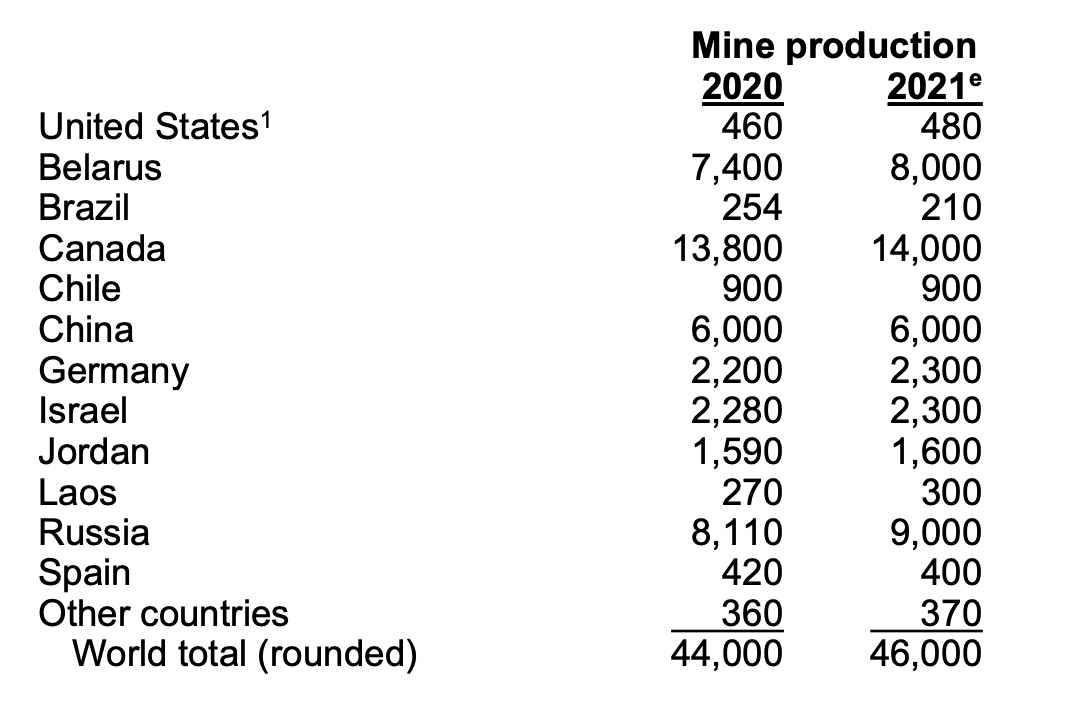 World mined potash production. Source: USGS
China, the second largest producer @ 6Mt, is the world's largest potash buyer, accounting for about 20% of global consumption. The country produces less potash than it needs, making it reliant on potash imports, especially MOP.
Number three Russia mined 5Mt in 2022, which is a whopping 45% less than its 9.1Mt of production in 2021. After Russia invaded Ukraine in early 2022, the European Union slapped imports quotas on Russian potash, and US sanctions limited the amount the US could import. Russia responded by suspending fertilizer exports to countries it deemed "unfriendly". Uralkali is Russia's top potash company.
Belarus' support of Russia's war with Ukraine also limited its potash production through import bans. The country produced just 3Mt in 2022, a 61% drop from 2021 levels. Belaruskali is its largest potash company, with six mines and four processing facilities.
Finally, number five Germany produced 2.8Mt last year and in 2021, a fall-off from 2019's 3-million-tonne total. One of the country's largest potash miners is K+S, which operates six mines.
Fertilizer and food
As mentioned, when fertilizer prices rise, it has a knock-on effect on the prices of agricultural commodities and food.
In 2022, the war in Ukraine was a major disruptive force in the global food market. Both Russia and Ukraine are major producers of grain, for example, but the Russian military's blockade of Black Sea ports for five months brought Ukraine's exports to a halt.
The war contributed to a sharp food price increase worldwide, with the UN's Food and Agriculture Organization (FAO) Food Price Index reaching a record high during March, 2022. The cost of fertilizer raw materials, including ammonia, nitrates, phosphates, potash and sulfates, shot up the most since the financial crisis of 2008.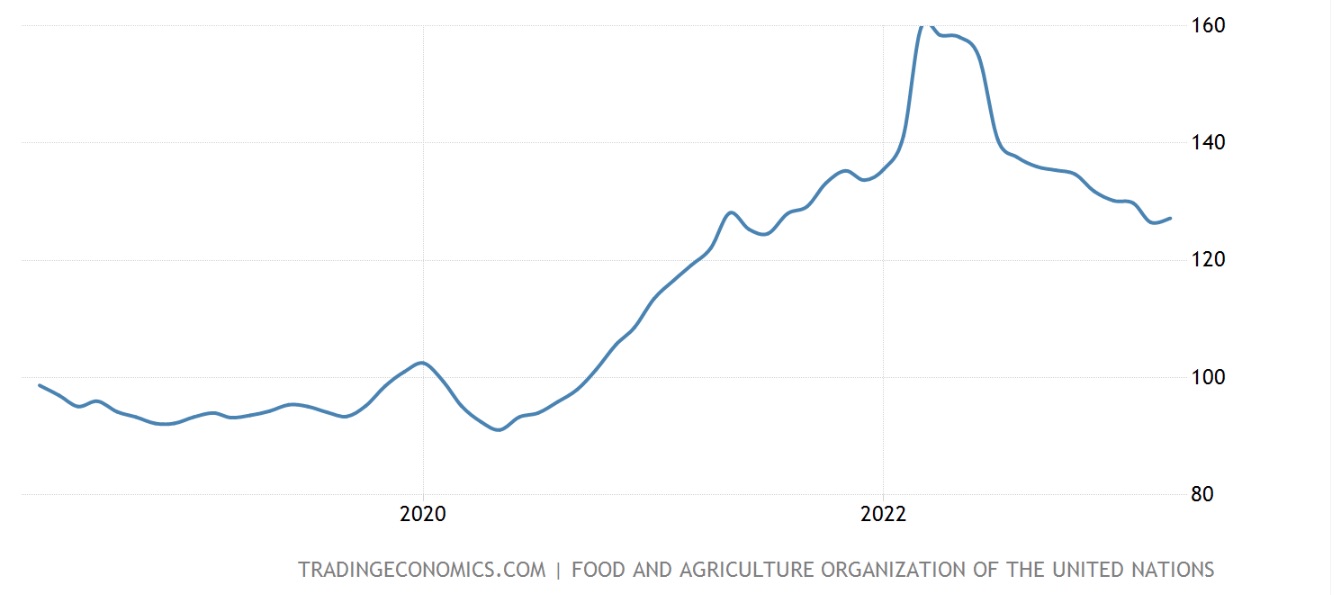 World Food Price Index. Source: Trading Economics
One of the main factors behind soaring fertilizer prices was natural gas, which skyrocketed as a result of the Ukraine conflict. This is because natural gas is used to produce ammonia, the building block for all nitrogen fertilizers, which account for the most of the world's fertilizer consumption. Typically 60 to 80% of ammonia production costs are natural gas.
US natural gas futures hit a 14-year high of USD$9.53/MMbu in August, 2022. The climb in EU natural gas prices was even steeper.
EU natural gas prices. Source: Trading Economics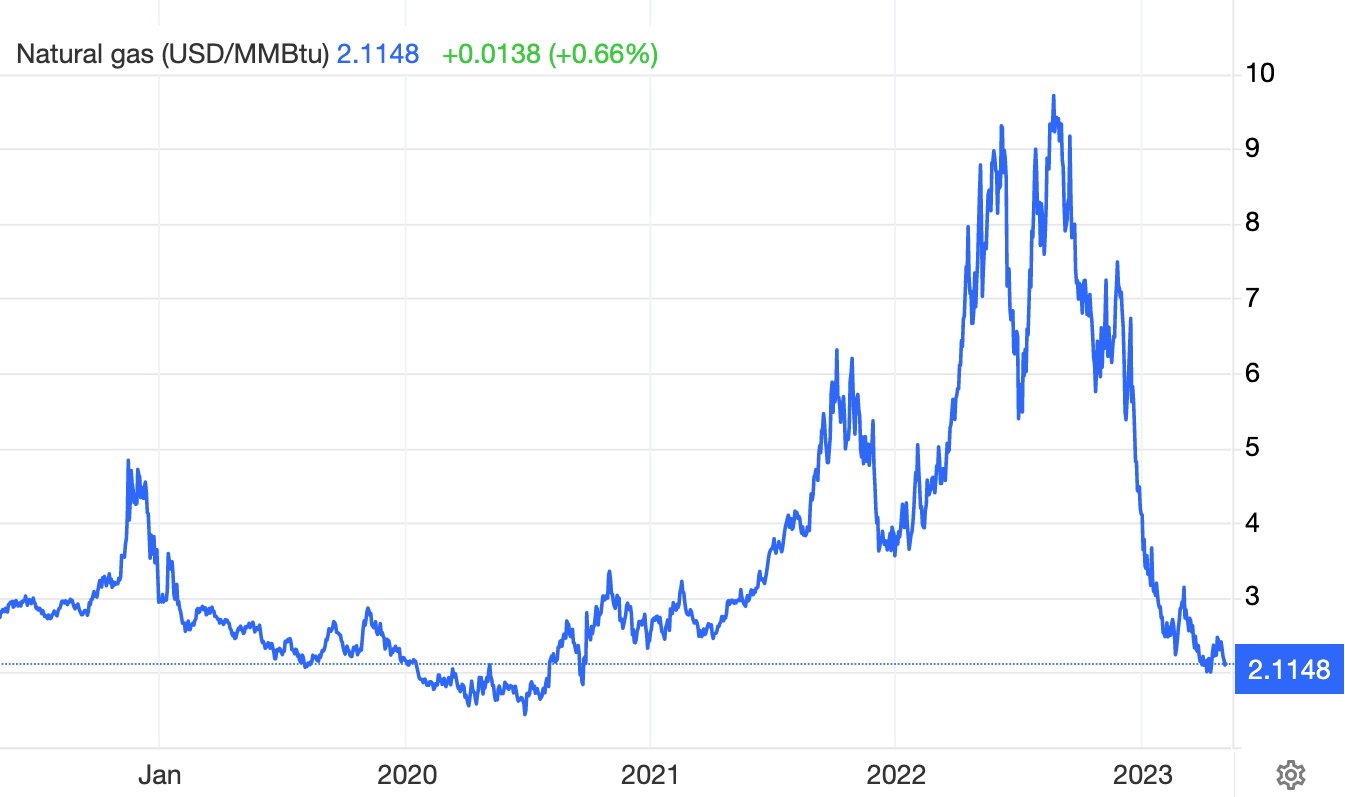 US natural gas futures. Source: Trading Economics
While the prices of fertilizer and natural gas have since come off the boil, food prices remain elevated. A May 5 Reuters article found that world food prices are rising for the first time in a year, though they are down 20% compared to last March's record high.
April's rise in the FAO price index reflected higher prices for sugar, meat and rice, which offset declines in the cereal, dairy and vegetable oil indices. For example the sugar price index hit its highest level since 2011 due to expectations of tighter supplies, resulting from lower production forecasts for India and China.
More expensive rice is of particular concern.
"The increase in rice prices is extremely worrisome and it is essential that the Black Sea initiative is renewed to avoid any other spikes in wheat and maize," Reuters quoted FAO Chief Economist Maximo Torero. He was referring to a deal to allow the export of Ukrainian grain via the Black Sea.
Food inflation in Canada and the United States remains persistent. Although US food prices are almost three percentage points lower than last August's peak (8.5% compared to 11.4%), cereals and bakery prices were 13.6% higher in March than they were 12 months ago. Non-alcoholic beverages were 13.6% more costly, dairy products were up 10.7%. meat, poultry, fish and eggs all rose 4.3%, and fruit and vegetables were 2.5% more expensive.
Canadian food inflation was 8.9% in February compared to a one-year high of 10.4% in January, when food price increases were at a level not seen since the 1980s.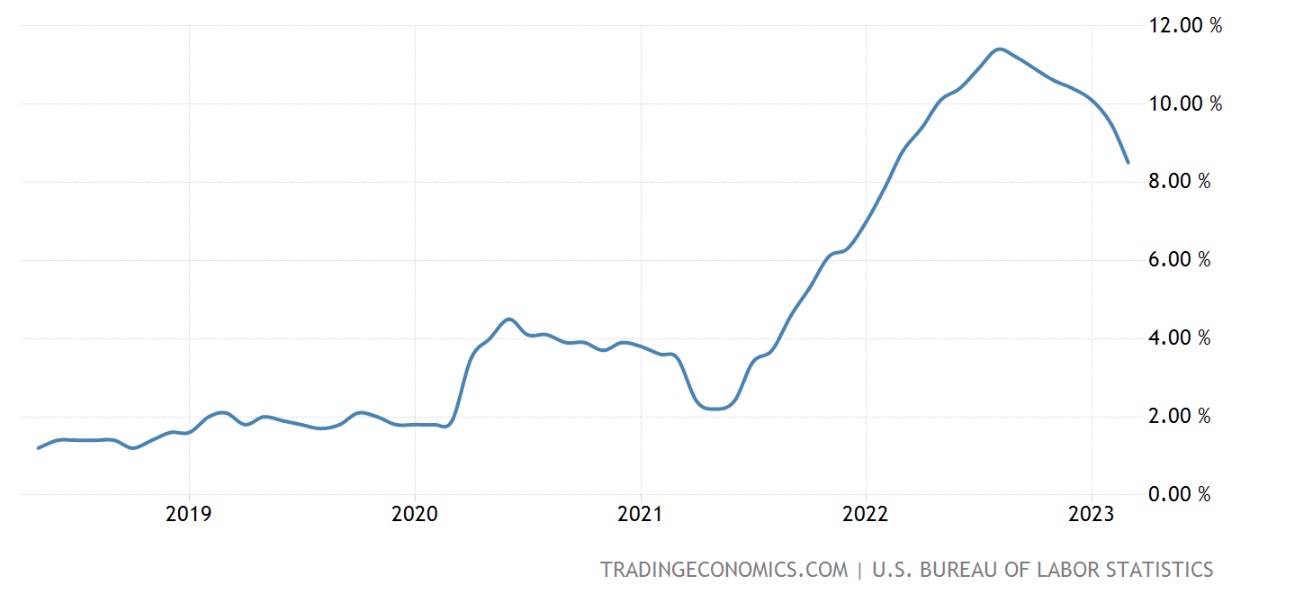 US food inflation. Source: Trading Economics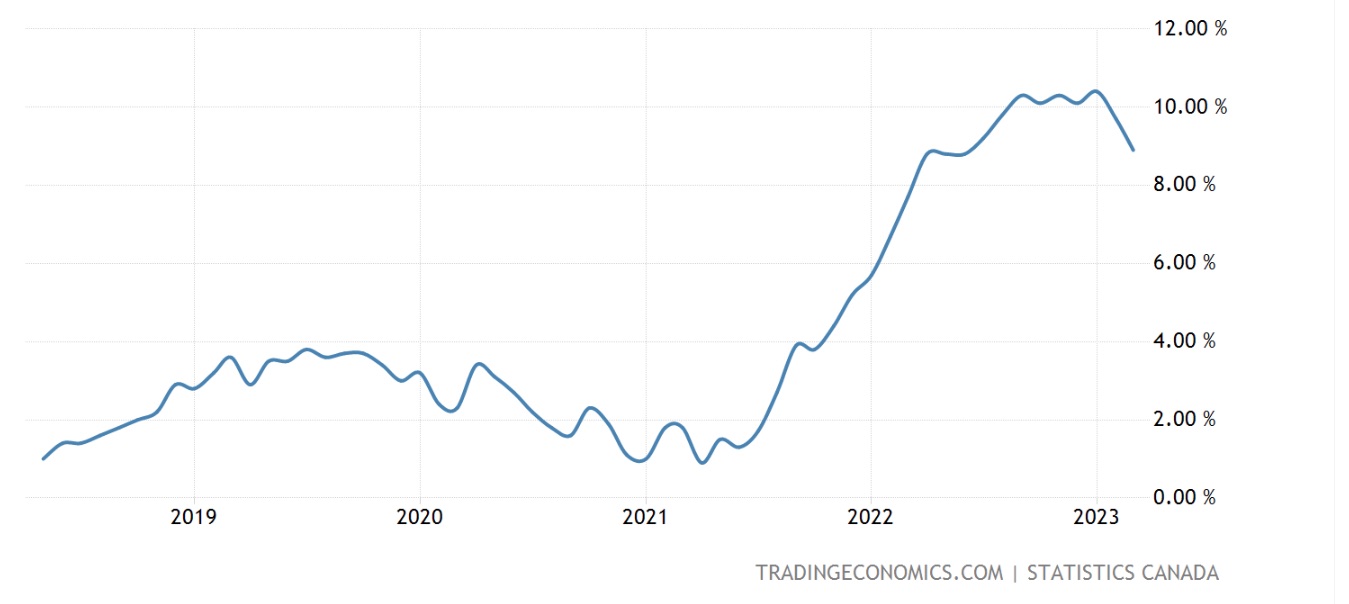 Canadian food inflation. Source: Trading Economics
Potash market
The global fertilizer market was valued at $163.2 billion in 2021 and it is expected to reach $203.5B by 2027, representing a compound annual growth rate (CAGR) of 3.9%, according to Visual Capitalist.
High demand for potash pushed prices to a 13-year high in 2021, and that trend continued in the first half of 2022 due to supply chain concerns triggered by the war in Ukraine.
Potash is considered the most exposed to disruption from Russia and Belarus when compared to other major fertilizers.
However, more expensive fertilizer led to demand destruction during the second half of 2022. Because of record-high prices, farmers cut back on nutrients like potash, which caused demand to fall.
"World potash supply was affected by economic sanctions on Belarus and Russia and resulted in higher prices and lower consumption," states a report by the US Geological Survey. "World potash consumption in 2022 for fertilizers was estimated to have decreased to between 35 to 39 million tons from 40.6 million tons in 2021."
Continues weak potash demand and prices are cutting into producers' profits. Mosaic Co in February became the latest fertilizer maker to miss fourth-quarter profit estimates amid lower demand for potash and other crop fertilizers, Reuters said.
The CEO of Nutrien recently said global potash supplies are likely to stay lower this year, with shipments out of Belarus and Russia still constrained and a lot of alternative outlets having been exhausted.
The USGS forecasts world potash capacity is projected to rise to 66 million tonnes in 2025 from 64Mt in 2021. Most of the increase will come from new MOP mines and project expansions in Belarus, Canada and Russia — the big three MOP producers. Looking past 2025, new MOP mines are expected to come online in Brazil, Canada, Ethiopia, Morocco, Spain and the US. As for sulfate of potash, new mines are planned in Australia and Eritrea.
Potash prices
Demand destruction in the potash market has certainly taken its toll on prices, however there is hope for the future from an investment perspective.
The Global Fertilizer Outlook from DTN's 'Progressive Farmer' says the fertilizer industry is watching closely the continuing war in Ukraine and its effect on supplies. Russia and Belarus account for 41% of the world's potash trade and are the third and fourth largest producers.
An escalation of the conflict could impact supplies, resulting in higher prices. On the other hand, Canada, the world's largest potash producer, responded to export cuts from Russia and Belarus in 2022 with increased production — although with weak demand, Canadian producers were unable to take advantage of the supply gap.
Progressive Farmer says with more supply on deck in 2023, potash prices should push lower, and they have. According to sellers surveyed by DTN, most average retail fertilizer prices continued to be down from the previous month in the fourth week of April. Potash is now 29% lower compared to a year ago at $624/ton.
However, that doesn't mean it will stay low. It's important to remember, that while fertilizer prices have softened in 2023, they are still higher than pre-pandemic levels.

Among the bullish indicators for potash prices going forward, are: China, which continues to restrict fertilizer exports; continuing high natural gas prices in the EU; continued elevated sea and land freight costs from Europe; uncertainty regarding the Russia/Ukraine conflict; and strong agricultural commodity fundamentals.

Fertilizers Price Index for April, 2023. Source: YCharts

Muriate of potash spot price for April, 2023. Source: YCharts
Conclusion

As long as the world needs food, it requires fertilizer, and that, of course, includes potash. Indeed it is impossible to separate the evolving world food crisis from the demand for potash and other crop nutrients.

The Ukraine-Russian war has upended the export of crops important to the developing world. Before the war, Ukraine was the world's top exporter of sunflower seed oil, the third highest for barley, number four for maize and fifth for wheat.

Source: European Council
A UN report in 2022 revealed that the number of severely food-insecure people has doubled over the past two years, from 135 million pre-pandemic to 276 million. More than half a million people are experiencing famine conditions, according to UN figures, representing an increase of more than 500% since 2016.
Compounding the global food crisis is the continued threat of extreme weather, which, according to the World Food Program, contributed to most of the world's food crises three years ago and was the primary cause of acute food insecurity in 15 countries.

While the Western world's focus is on the Ukraine, there are many other regions suffering from hunger and food insecurity. According to the WFP, the top 10 are the DRC, Afghanistan, Yemen, Syria, the Sahel, South Sudan, Sudan, Somalia, northern Ethiopia and Haiti.
The global population is on track to hit 10 billion by 2050 and there will be many more mouths to feed and an increasing amount of farmland lost to urbanization and climate change.
Arguably the need to increase crop yields with high-quality synthetic nutrients like potash has never been greater.