In his latest missive titled "War and Peace", Credit Suisse analyst Zoltan Pozsar introduces a shattering revelation. Pozsar believes the 60/40 portfolio (60% bonds and 40% equities) is a thing of the past, and investors need to adopt a 20/20/40/20 portfolio allocation. This new portfolio strategy includes 20% commodities consisting of what Pozsar calls the "3 types of gold":
~ Yellow gold (gold bars)
~ Black gold (crude oil)
~ White gold (lithium)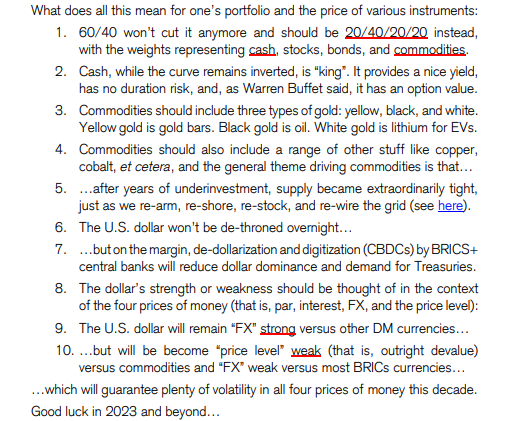 While gold and oil are nothing new, it is unusual for a well respected market analyst to recommend generalist investors have an allocation to these commodities in their portfolios. Furthermore, it is unprecedented to recommend that lithium constitute a piece of investors' portfolios.
The vast majority of investors do not have a clue how to invest in lithium. Unlike gold and oil, there is no ETF for physical lithium. The LIT exchange-traded fund holds lithium mining companies, many of which do not have a producing lithium asset. There is also no lithium futures market. This leaves investing in lithium mining companies as the only practical way for regular investors to gain lithium exposure.

Investing in mining companies can be tricky and fraught with risk. However, with outsized risk comes the potential for life-changing returns. Recently, The Inflation Reduction Act (IRA) passed into law a commitment to increasing the domestic U.S. supply of critical minerals. These minerals include lithium, nickel, manganese, and graphite, among others. The IRA mandates an unprecedented increase in the domestic production of materials necessary for a vast expansion in electric vehicles (EVs), batteries, and renewable power production infrastructure.
Canada is a key ally of the US, and our northern neighbors' natural resource wealth will be integral in securing 'friendly' supply of battery metals. Canada is also preparing to shelter Canadian production of electric vehicle batteries by subsidizing the production costs of large electric vehicle battery producers. In March of this year, LG and Stellantis announced a joint venture that will see a total investment of over $5 billion CAD ($4.1 billion USD) in a facility to manufacture batteries for EVs in Canada.
This makes it an opportune time for the exploration and development of U.S and Canadian critical minerals. The companies that are able to make large scale economic lithium discoveries in 'friendly' jurisdictions could reap enormous rewards for early investors.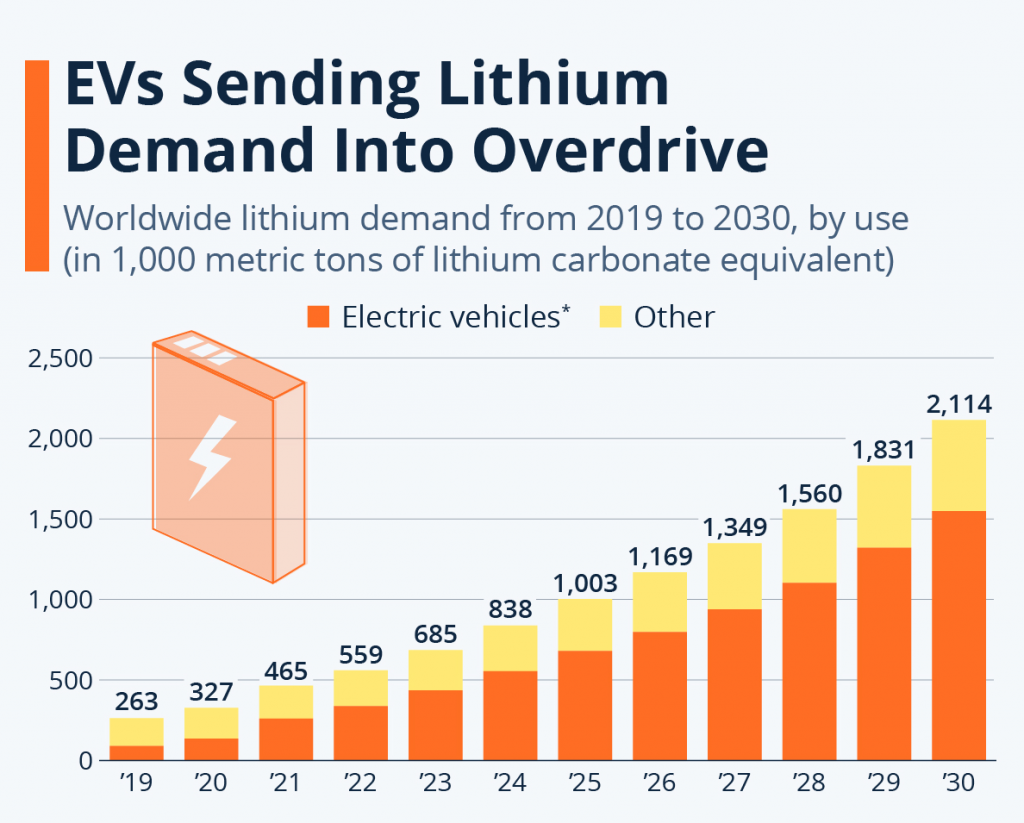 One of the more ambitious early stage lithium exploration companies is Tearlach Resources (TSX-V:TEA). Tearlach has been moving aggressively to assemble a portfolio of lithium assets across eastern Canada. However, the company recently made an announcement that they have entered the elite mining state of Nevada with a commitment to being a multi-jurisdictional lithium exploration & development company.
Yesterday, Tearlach announced that it has entered into an option agreement with Blackrock Silver (TSX-V:BRC) to acquire lithium mining claims near Tonopah, Nevada. Tearlach has been granted the option to acquire, in two stages, up to a 70% interest in the lithium minerals in certain unpatented mining claims forming a portion of Blackrock's Tonopah North project.
Tearlach is calling this area of Tonopah North the Gabriel Project. Gabriel boasts lithium values up to 1,217 ppm lithium and the average thickness of the lithium-bearing zone is 28.1 meters.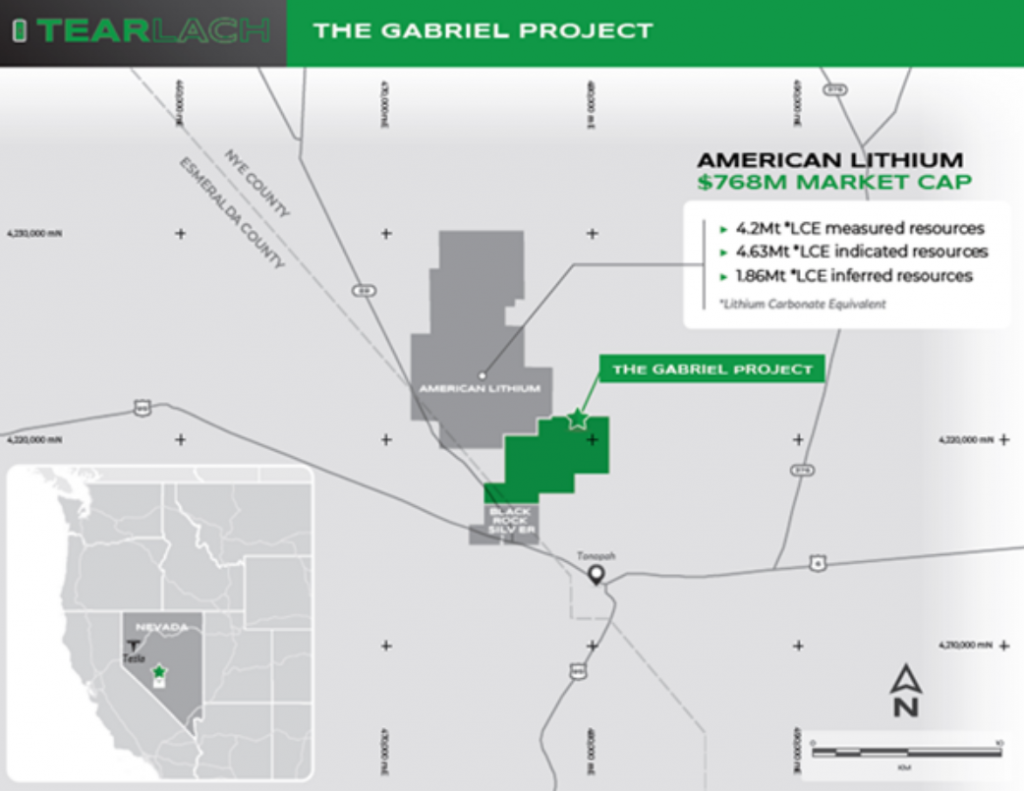 Tearlach can earn a 51% interest in Gabriel through US$5 million of exploration expenditures within 3 years. To earn the maximum 70% interest Tearlach is required to expend an additional US$10,000,000 and bear the costs of preparation of a NI 43-101 compliant bankable feasibility study for the development and construction of a lithium mine on the Tonopah North Project.
Nevada is known as the "Silver State". However, Nevada not only hosts an impressive endowment of lithium, but the Tesla Gigafactory near Reno makes it a special place for the future of the Electric Vehicle battery industry. There couldn't be a much better location to make a new lithium deposit discovery.
Tearlach is underpinned by its strong management team and team of advisors. In the last month, the company has announced a series of key management additions that form the basis of the Tearlach growth story:
December 8th, 2022 – Tearlach Resources Limited announces the appointment of Morgan Lekstrom as its new CEO and Director
"Mr. Lekstrom has 16 years of mining and industry experience in progressively senior roles in executive management, project management, operations, and engineering management. Prior to joining Tearlach, he was President & CEO of Silver Hammer Mining Corp. and a co-founder of a uranium company, Kraken Energy Corp. Mr. Lekstrom has an established track record of delivering successes across numerous projects, capital raises and defining of strategic direction for multiple companies. He had senior technical roles at Freeport McMoran's Grasberg site in Indonesia and Rio Tinto's Oyu Tolgoi Project in Mongolia, and he co-led the design, construction and commissioning of a new steel grinding media plant for Arrium (Moly-cop) in Canada and Peru.
January 3rd, 2023 – Tearlach Announces Appointment of Dr. Julie Selway as Vice President, Exploration
"Dr. Selway has co-authored twenty-two scientific journal articles on pegmatites. She completed a Ph.D. thesis on Tourmaline in Granitic Pegmatites in 1999 at the University of Manitoba under Dr. Petr Černý, a world-renowned expert on pegmatites. Dr. Selway's Ph.D. thesis studied tourmaline in petalite-, lepidolite- and elbaite-subtype from 15 different localities from Ontario, Manitoba, California, Sweden, and the Czech Republic, including Tanco pegmatite mine, Manitoba."
January 5th, 2023 – Tearlach Announces Appointment of Ryan Weymark as Technical Advisor Regarding Growth Projects and Engineering Evaluations
"Mr. Weymark is the former Vice President of Technical Evaluation for NexGen Energy, a publicly traded company with a market cap of $3B, where he supported various corporate and technical initiatives, including the management of the feasibility study for the Rook I Project in Saskatchewan.
Mr. Weymark holds a B.A.Sc. from the University of British Columbia in Mining and Mineral Processing and is a registered Professional Engineer with Engineers and Geoscientists of British Columbia (EGBC). Mr. Weymark has extensive experience working on projects as a consultant, contractor, and owner's representative at various stages, including technical due diligence, economic studies, permitting, construction and operations. His project experience spans the mining and energy sectors. "
Catalysts for growth (Q1 2023):
– More project acquisitions in Canada and the US.
– On-the-ground execution of projects, including accelerating to drilling.
– Results from fall 2022 exploration programs.
– Fostering strategic partnerships.
In particular, exploration results from Tearlach's Pakwan/Margot lithium projects in the prolific mining jurisdiction of Red Lake, Ontario will be notable. Advancing drilling at Gabriel will also represent a significant catalyst for Tearlach in 2023.
With the EV revolution reaching escape velocity, lithium mining is becoming a high growth industry. In its latest quarterly earnings report, top lithium producer Albemarle Corp (NYSE:ALB) delivered its most profitable quarter ever. Tearlach is a company committed to moving quickly and intelligently to help the world meet the critical minerals demand of the next decade. 
Tearlach Resources (TSX-V:TEA) Share Structure:
Shares Outstanding – 78,693,557
Warrants – 7,785,900 @ $0.90
Options –  5,040,000 @ $0.60, 400,000 @ $1.37
Fully Diluted – 91,919,457
________________________________________________________________
Disclaimer:
The article is for informational purposes only and is neither a solicitation for the purchase of securities nor an offer of securities. Readers of the article are expressly cautioned to seek the advice of a registered investment advisor and other professional advisors, as applicable, regarding the appropriateness of investing in any securities or any investment strategies, including those discussed above. Tearlach Resources Ltd. is a high-risk venture stock and not suitable for most investors. Consult Tearlach Resources Ltd.'s SEDAR profile for important risk disclosures. EnergyandGold has been compensated for marketing & promotional services by Tearlach Resources Ltd. so some of EnergyandGold.com's coverage could be biased.
EnergyandGold.com, EnergyandGold Publishing LTD, its writers and principals are not registered investment advisors and advice you to do your own due diligence with a licensed investment advisor prior to making any investment decisions. This article contains certain forward-looking information and forward-looking statements within the meaning of applicable securities legislation (collectively "forward-looking statements"). Certain information contained herein constitutes "forward-looking information" under Canadian securities legislation. Generally, forward-looking information can be identified by the use of forward-looking terminology such as "expects", "believes", "aims to", "plans to" or "intends to" or variations of such words and phrases or statements that certain actions, events or results "will" occur. Forward-looking statements are based on the opinions and estimates of management as of the date such statements are made and they are subject to known and unknown risks, uncertainties and other factors that may cause the actual results, level of activity, performance or achievements of the Company to be materially different from those expressed by such forward-looking statements or forward-looking information, standard transaction risks; impact of the transaction on the parties; and risks relating to financings; regulatory approvals; foreign country operations and volatile share prices. Although management of the Company has attempted to identify important factors that could cause actual results to differ materially from those contained in forward-looking statements or forward-looking information, there may be other factors that cause results not to be as anticipated, estimated or intended. There can be no assurance that such statements will prove to be accurate, as actual results and future events could differ materially from those anticipated in such statements. Actual results may differ materially from those currently anticipated in such statements. The views expressed in this publication and on the EnergyandGold website do not necessarily reflect the views of Energy and Gold Publishing LTD, publisher of EnergyandGold.com. Accordingly, readers should not place undue reliance on forward-looking statements and forward looking information. The Company does not undertake to update any forward-looking statements or forward-looking information that are incorporated by reference herein, except as required by applicable securities laws. Always thoroughly do your own due diligence and talk to a licensed investment adviser prior to making any investment decisions. Junior resource companies can easily lose 100% of their value so read company profiles on www.SEDAR.com for important risk disclosures. It's your money and your responsibility.