Silver is having a nice start to 2022 (+10%) and threatening to break free from its 18-month range between $22/oz and $30/oz:
Silver (Weekly)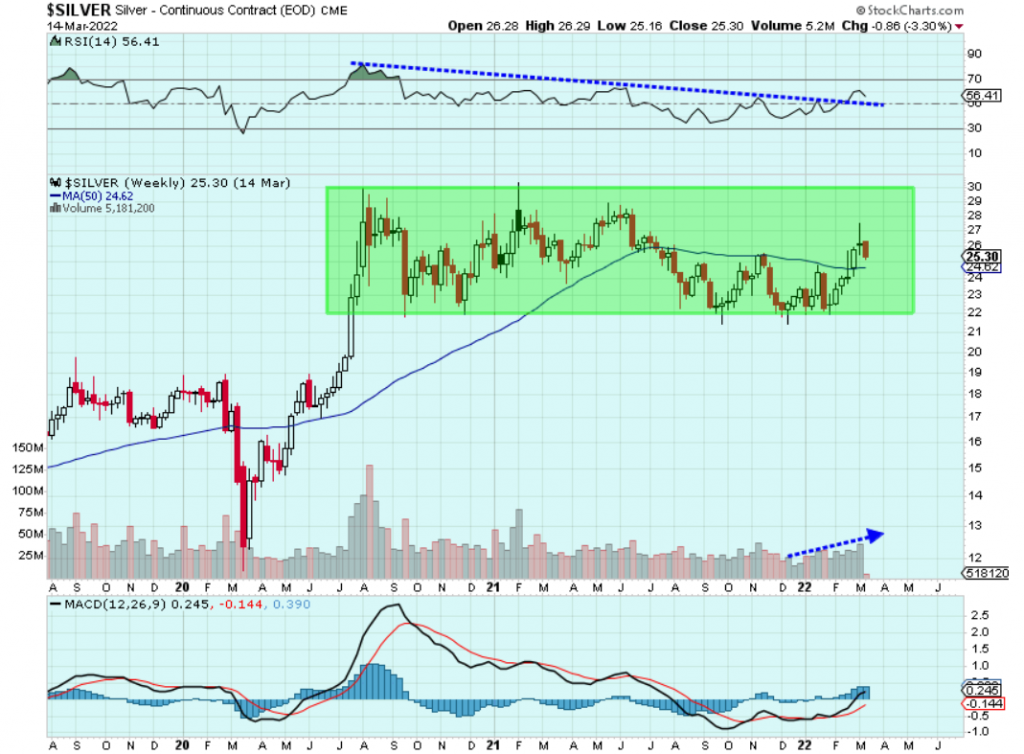 Volume has increased as the silver price moved back above its 50-week moving average. Significant overhead resistance exists at $27.50 and then the big round number $30 level. The $24.00-$24.50 now becomes important downside support, followed by $22.
If we turn to the monthly chart of silver we can see that the recent consolidation between $22 and $30 has formed a bullish flag pattern:
Silver (Monthly)
If this pattern resolves to the upside with a weekly close above $27.50 it will project a further rally to $35+ in silver.
If silver rallies 40%+ (from $25 to $35+) over the coming months, it's likely we'll see generalist fund flows into the tiny silver mining sector. These fund flows could trigger outsized rallies in many silver juniors that could send them to multiples of their current share price. During the August 2010 to April 2011 silver bull market run, many silver junior mining stocks experienced share prices increases of 5x, or more.
First Majestic Silver (July 2010 – April 2011)
First Majestic Silver shares rose more than 500% between August 2010 and April 2011
I have compiled a list of five silver junior mining stocks that all have bullish technical chart structures and a slew of fundamental catalysts lined up in 2022. In honor of the beginning of the NCAA March Madness Basketball Tournament, I present my "Fab 5" silver juniors with technical analysis of their respective charts and a brief summary of potential fundamental catalysts in 2022.
Blackrock Silver
BRC.V (Weekly)
Blackrock Silver (TSX-V:BRC, OTC:BKRRF) is attempting to break-out to the upside from an extended consolidation pattern. Price is above rising 50/200-week simple moving averages (SMAs) and the Relative Strength Index (RSI) on the weekly time frame is poised near the 60 sweet spot level.
Blackrock is expected to deliver a maiden resource estimate (MRE) for its Tonopah West Silver-Gold Project in Tonopah, Nevada by the end of this month. Around the same time the MRE is expected, Blackrock anticipates receiving final assays from their step-out drill program, targeting the DPB vein system a full two kilometers beyond the resource area.
The MRE for Tonopah West is an important catalyst for Blackrock, with the "Hail Mary " step-out drill holes representing what could be a substantial one-two punch for the market. Given the amount of drilling they've done, I suspect they may surprise us with the inclusion of the Victor Vein Zone (one of six primary vein zones at Tonopah West) in this resource estimate. And if that were to happen, it could deliver a resource totaling in the neighborhood of 50,000,000 high-grade silver-equivalent ounces. A maiden resource of that size in the premier mining jurisdiction of Nevada carries a lot of weight and is likely to attract a great deal of interest from larger mining companies. It's notable that billionaire investor Eric Sprott and senior silver producer First Majestic Silver (NYSE:AG) have both increased their positions in Blackrock in recent months. 
Dolly Varden Silver
DV.V (Weekly)
Dolly Varden Silver (TSX-V:DV, OTC:DOLLF) has seen its share price double from last September's low at $.43. DV continues to exhibit good Relative Strength as price grinds higher and every dip finds bid support. Yesterday's 8.33% decline brings a test of the uptrending channel draw from the September 2021 low.
Dolly Varden recently completed an all-share acquisition of Homestake Ridge that gives DV combined resources of 137 million silver-equivalent ounces and an enormous property package (163 square kilometers) at the southern end of the Golden Triangle. DV boasts combined 43-101 compliant resources totalling 64 million ounces of silver (34.7 million ounces indicated and 29.3 million inferred) and 983,000 ounces of gold (166,000 ounces indicated and 817,000 ounces inferred).
DV is in the middle of raising C$10 million via a flow-through financing at $1.02 per share. This financing will give Dolly Varden ample funding for both infill and step-out drilling across its combined property package in 2022. DV's goal is to find another Torbrit Deposit on its property package that would vault the silver resource to more than 100,000,000 ounces, making the 1+ million ounces of gold as a sweet icing on the cake.  The existing Torbrit Deposit holds 35 million ounces of silver with past production of 19 million ounces of silver. 
Dolly Varden has 15 kilometers of strike extent along the Kitsault Valley Trend, and the heart of this trend (between Homestake Silver and the Wolf Deposit) is relatively unexplored:
Similar to Blackrock, it is notable that a much larger silver mining company (Hecla) has continued to increase its position in Dolly Varden. Hecla currently holds a slightly more than 10% stake in DV:
Finally, DV shares exhibit a strong bullish seasonal tendency between June and August (summer exploration season in the Golden Triangle):
An average annual gain of 46% between June 1st and August 31st is nothing to sneeze at, and worth keeping in mind if we see investors "sell in May, and go away…." this year.
Guanajuato Silver
GSVR.V (Weekly)
From the depths of the March 2020 covid market meltdown through to March 2021, GSVR delivered one of the best 12-month share price performances (+2400%) I have ever seen in the junior mining sector. However, periods of incredible market performance are often followed by extended periods of consolidation. This is what we have experienced in GSVR shares during the last year as the company has focused on ramping up its mining operations at the El Cubo Mine & Mill in Guanajuato, Mexico.
Guanajuato Silver (TSX-V:GSVR, OTC:GSVRF) is focused on utilizing El Cubo as a platform to expand within the Guanajuato Mining District. GSVR is a catalyst heavy stock with no shortage of impactful news flow expected over the coming months:
As GSVR completes the ramp-up at El Cubo, I envision improving grades and rising recoveries that will improve cash flow from operations.
I anticipate GSVR will achieve production of around 1.8 million silver equivalent ounces for 2022; by the end of the year, I expect the run-rate will pass 2 million AgEq ounces per year.
I expect GSVR will pursue a London-based listing due to the fact that the company has a lot of European investors.
GSVR expects to have the drill program at Pinguico completed in Q2; it is possible that GSVR could define a maiden resource before year-end.
In April, GSVR plans to drill the intersection point where the Pinguico vein collides with the famed Veta Madre vein; GSVR is planning to drill three holes targeting the Veta Madre Vein and this could be a BIG catalyst if the company has some luck with the Truth machine here.
Summa Silver
The other half of the Tonopah Mining District, Summa Silver (TSX-V:SSVR, OTC:SSVRF), has been climbing higher from a multi-month rounding bottom pattern:
SSVR.V (Weekly)
SSVR spent much of 2021 forming a well defined rounding bottom pattern with strong support in the $.80-$.90 area. SSVR shares are up more than 20% in 2022 as investments by Eric Sprott and First Majestic Silver (just like Blackrock Silver) have helped to increase investor confidence in the value of Summa's silver projects in the Southwest US.
Summa is in the midst of drilling at both its projects; Hughes (Tonopah, Nevada) and Mogollon (New Mexico). In particular, Mogollon has recently begun to receive increased investor attention due to news releases that have included drill results and core pics from the first holes drilled by Summa at Mogollon.
In its latest news release, Summa reported that hole MOG 22-04 intercepted 11.6 meters grading 450 g/t silver-equivalent, including 0.9 meters grading 1,940 g/t silver equivalent. Summa also noted that holes 22-05 and 22-06 at Mogollon both "intersected significant zones of quartz-carbonate veins, stockworks, and breccias commonly featuring visible silver sulfide minerals. This is a strong indication that the core is mineralized."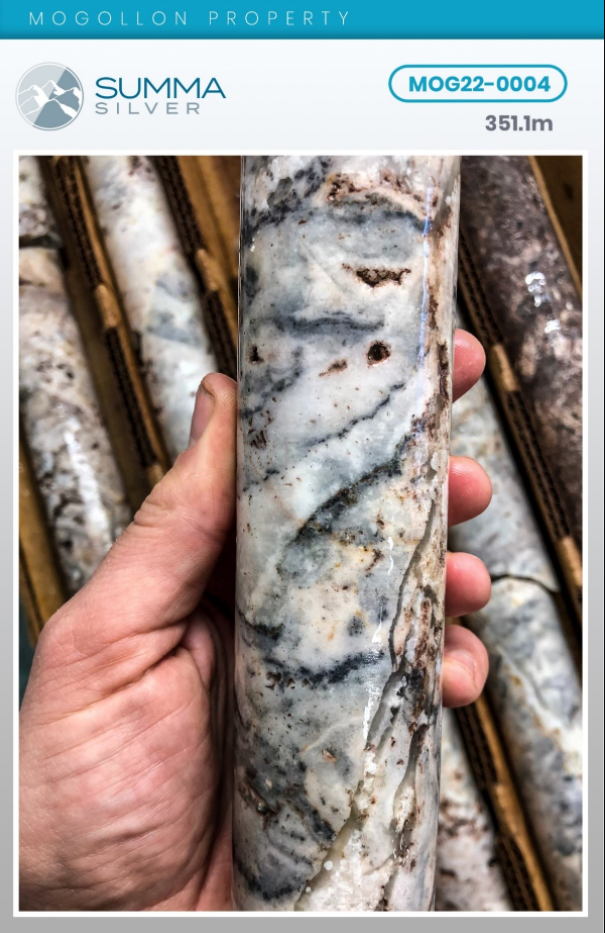 A steady flow of drill results and updates from Hughes and Mogollon will be punctuated by the delivery of maiden resource estimates for both projects by the end of this year. Considering the average grade (506 g/t silver-equivalent) and thickness (12 meters average length) of historic drilling at the Main Queen Vein at Mogollon, it's not difficult to see how Summa will be able to build ounces quickly at Mogollon.
Vizsla Silver
VZLA.V (Weekly)
Vizsla Silver (NYSE:VZLA, TSX-V:VZLA) is one of the most successful silver exploration stories of the last few years. Since launching in the fall of 2019, Vizsla has rapidly advanced to delivering a maiden resource estimate for its Panuco Project that topped 100,000,000 silver-equivalent ounces.
2022 is poised to be a transformative year for VZLA, as the company strives to prove that Panuco is a district scale silver project with the sort of scale that puts it up there with some of the largest and most profitable silver mines in the world. Based solely on the first pass resource estimate that VZLA produced two weeks ago, Panuco already stands to produce 10,000,000 silver-equivalent ounces over a 10+ year mine life. As the company aggressively expands Panuco, there is potential to reach the vaunted 200,000,000 ounce threshold that sets world class silver deposits apart from the rest.
Vizsla management have been consistent buyers of VZLA shares on the open market. And after the release of the MRE, they took advantage of the sell the news dip to add more than 130,000 shares to their already large positions.
With 13 drill rigs conducting both infill and exploration drilling across the Panuco Property in 2022, investors will receive a steady dose of drill results and news flow throughout the year. An updated resource estimate in the second half of this year could deliver an upside surprise as newly discovered vein zones like the Copala Vein (VZLA recently intercepted 2,142 g/t silver-equivalent over 7.81 meters at Copala) are incorporated into the resource estimate.
All five companies included in this article are well positioned to flourish during the next stage of the silver bull market. Yesterday's heavy sell-off in precious metals and mining shares has offered good entry points in all five of the Silver Fab 5. I own shares in all of the companies mentioned in this article, naturally that makes me biased. Do your own due diligence, it's your money and your responsibility.
Disclosure: Author owns shares of BRC.V, DV.V, GSVR.V, SSVR.V, and VZLA.V at the time of publishing and may choose to buy or sell at any time without notice.
_________________________________________________________________________________
Disclaimer:
The article is for informational purposes only and is neither a solicitation for the purchase of securities nor an offer of securities. Readers of the article are expressly cautioned to seek the advice of a registered investment advisor and other professional advisors, as applicable, regarding the appropriateness of investing in any securities or any investment strategies, including those discussed above. All companies mentioned in this article are high-risk venture stocks and not suitable for most investors. Consult company SEDAR profiles for important risk disclosures. EnergyandGold has been compensated for marketing & promotional services by Blackrock Silver Corp. and Summa Silver Corp. so some of EnergyandGold.com's coverage could be biased. EnergyandGold.com, EnergyandGold Publishing LTD, its writers and principals are not registered investment advisors and advice you to do your own due diligence with a licensed investment advisor prior to making any investment decisions.
This article contains certain forward-looking information and forward-looking statements within the meaning of applicable securities legislation (collectively "forward-looking statements"). Certain information contained herein constitutes "forward-looking information" under Canadian securities legislation. Generally, forward-looking information can be identified by the use of forward-looking terminology such as "expects", "believes", "aims to", "plans to" or "intends to" or variations of such words and phrases or statements that certain actions, events or results "will" occur. Forward-looking statements are based on the opinions and estimates of management as of the date such statements are made and they are subject to known and unknown risks, uncertainties and other factors that may cause the actual results, level of activity, performance or achievements of the Company to be materially different from those expressed by such forward-looking statements or forward-looking information, standard transaction risks; impact of the transaction on the parties; and risks relating to financings; regulatory approvals; foreign country operations and volatile share prices. Although management of the Company has attempted to identify important factors that could cause actual results to differ materially from those contained in forward-looking statements or forward-looking information, there may be other factors that cause results not to be as anticipated, estimated or intended. There can be no assurance that such statements will prove to be accurate, as actual results and future events could differ materially from those anticipated in such statements. Actual results may differ materially from those currently anticipated in such statements. The views expressed in this publication and on the EnergyandGold website do not necessarily reflect the views of Energy and Gold Publishing LTD, publisher of EnergyandGold.com. Accordingly, readers should not place undue reliance on forward-looking statements and forward looking information. The Company does not undertake to update any forward-looking statements or forward-looking information that are incorporated by reference herein, except as required by applicable securities laws. Always thoroughly do your own due diligence and talk to a licensed investment adviser prior to making any investment decisions. Junior resource companies can easily lose 100% of their value so read company profiles on www.SEDAR.com for important risk disclosures. It's your money and your responsibility.