DOES NOT CONSTITUTE AN OFFER OF THE SECURITIES DESCRIBED HEREIN
Brossard, Quebec – TheNewswire – June 9, 2021 – Windfall Geotek (TSXV:WIN), (OTC:WINKF), (FSE:L7C2) a leader in the use of Artificial Intelligence (AI) with advanced knowledge-extraction techniques since 2005 in the mining sector is pleased to announce additional staking of high probability gold AI targets North of AurCrest Gold's Ranger Lake Property. Windfall Geotek's proprietary AI system analyzes large data sets to find exploration targets that lack visual outcroppings and have been undetected using traditional exploration methods.
Dinesh Kandanchatha, Chairman of Windfall Geotek commented: "We are very excited to see our partners in the field validating our technology. Red lake is a prolific camp and we continue to expand our holdings based on the outputs of our technology. Positive drill results for Aurcrest Gold will be accretive to all our holdings in the area."
AurCrest Gold (TSX-V: AGO)  Highlights and Activities
– Actively exploring their 1,010 ha Ranger Lake Property in Red Lake, Ontario

– Recently staked another 654 claims or approximately 13,210 additional ha in the East Red Lake Gold Camp

– Commissioned Windfall Geotek for its use of the CARDS AI analysis, which provided excellent high probability gold targets on the Ranger Lake Property that have been underexplored

– A Spatiotemporal Geochemical Hydrocarbon ("SGH") survey has validated both geological units and Windfall AI CARDS targets with values up to 706 ppb Au¹ (Figure 1 & 2)

– Recently commenced their maiden drill program on the Ranger Lake property utilizing high probability CARDS targets²

– AGO has drilled 8 holes on Windfall Geotek Targets at Ranger Lake³

– AGO initial drilling observations have intercepted intervals with polymetallic sulphide mineralization (up to 80 %) extending from surface to 184 metres downhole³

– Rollout of AurCrest's Forest Carbon Offset with the incorporation of Big Tree Carbon Corp
Chris Angeconeb, President and CEO of AurCrest Gold commented: "It is very significant that both the CARDS modelling and the subsequent SGH interpretation independently categorize this target within a high probability percentile . . . [helping de-risk the drill campaign]. We are very excited to have this additional layer of geochemical validation to support our nascent geologic and structural model and are eager to advance a broader understanding of the potential of our Ranger Lake gold property."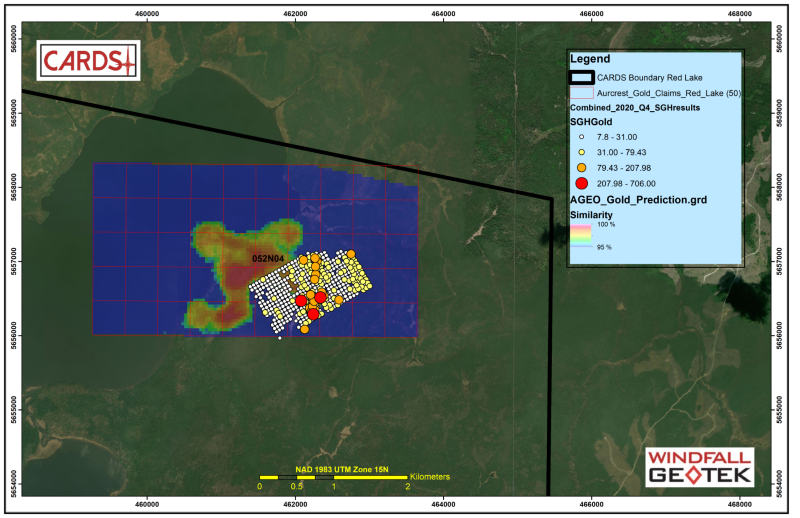 Click Image To View Full Size
Figure 1: Windfall Geotek AI targets on AurCrest's Ranger Lake Property with Satellite Imagery and SGH Soil samples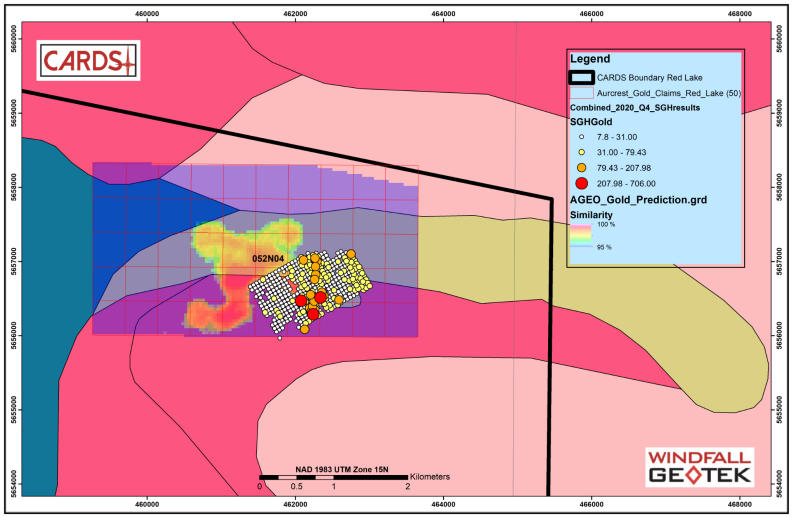 Click Image To View Full Size
Figure 2: Windfall Geotek AI targets on AurCrest's Ranger Lake Property with Local Geology and SGH Soil samples
The scientific and technical data contained in this press release was reviewed and prepared under the supervision of Grigor Heba, Ph.D., P.Geo., Principal Geologist and a Qualified Person as defined by National Instrument 43-101.
About AurCrest Gold
AurCrest is a mineral exploration company focused on the acquisition, exploration, and development of gold properties. AurCrest has a portfolio of properties in Ontario, which include the Richardson Lake, Ranger Lake and Bridget Lake gold properties.
About Windfall Geotek – Powered by Artificial Intelligence (AI) since 2005
Windfall is an Artificial Intelligence company that has been in business for over 15 years developing its proprietary CARDS analysis (AI) and data mining techniques. Windfall Geotek can count on a multidisciplinary team that includes professionals in geophysics, geology, Artificial Intelligence, and mathematics. It combines available public and private datasets including geophysical, drill hole and surface data. The algorithms designed and employed by Windfall are calculated to highlight areas of interest that have the potential to be geologically similar to other gold deposits and mineralization. The Company's objective is to develop a new royalty stream by significantly enhancing and participating in the exploration success rate of mining and to continue the Land Mine detection application as a high priority. Windfall has played a part in numerous past discoveries utilizing its methodology as described at: https://windfallgeotek.com/.
For further information, please contact:
Simran Kamboj
President and CTO of Windfall Geotek
Email: simran@windfallgeotek.com
Website: www.windfallgeotek.com
Additional information about the Company is available under Windfall Geotek's profile on SEDAR at www.sedar.com. Neither the TSX Venture Exchange nor does its Regulation Services Provider (as that term is defined in the policies of the TSX Venture Exchange) accept responsibility for the adequacy or accuracy of this release.
FORWARD-LOOKING STATEMENTS: This news release contains forward-looking statements, which relate to future events or future performance and reflect management's current expectations and assumptions. Such forward-looking statements reflect management's current beliefs and are based on assumptions made by and using information currently available to the Company. Investors are cautioned that these forward-looking statements are neither promises nor guarantees, and they are subject to risks and uncertainties that may cause future results to differ materially from those expected. These forward-looking statements are made as of the date hereof and, except as required under applicable securities legislation, the Company does not assume any obligation to update or revise them to reflect new events or circumstances. All forward-looking statements made in this press release are qualified by these cautionary statements and by those made in our filings with SEDAR in Canada (available at WWW.SEDAR.COM).
Copyright (c) 2021 TheNewswire – All rights reserved.