Sheldon Inwentash's ThreeD Capital (CSE:IDK, OTC: IDKFF) is a unique investment vehicle that provides investors with significant exposure to ground floor opportunities in small cap stocks in their very early stages and in disruptive industries, such as:
Esports
Electric Vehicles
Blockchain
Artificial Intelligence
Internet of Things
Junior Mining
Nanotechnology
Psychedelics
The last year has been good to ThreeD with its share price rising more than 2,000% and assets under management reaching more than C$50 million.
IDK.CA (Daily – One Year)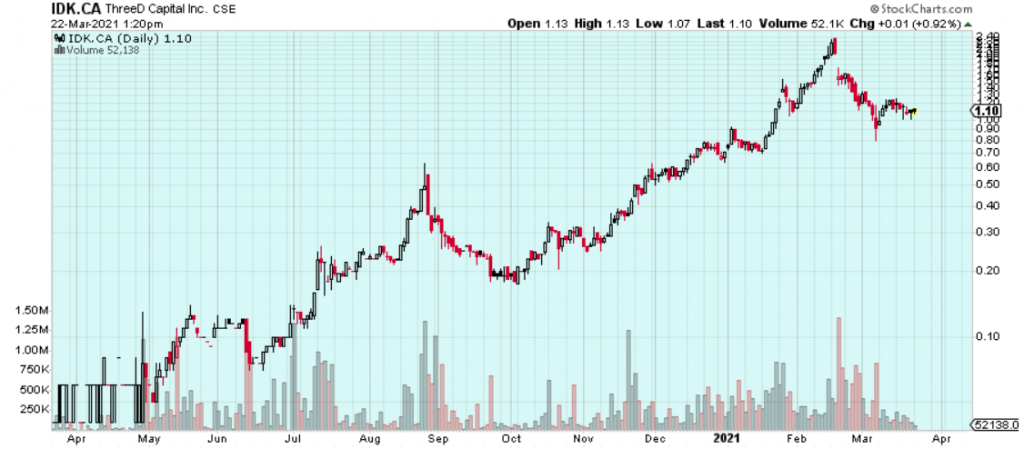 ThreeD Capital utilizes a merchant banking model with a strategy that is fluid, agile, and industry agnostic. ThreeD is usually the lead financer in disruptive or leading technologies and is actively involved with investees by leveraging ThreeD's powerful network. Therefore, it wasn't a huge surprise when ThreeD announced in mid-February that it had acquired more than 8,000,000 shares of Windfall Geotek (TSX-V:WIN, OTC: WINKF) on the open market. ThreeD has continued accumulating additional shares in recent weeks, including acquiring 1,000,000 shares in the $.35 financing which closed last week.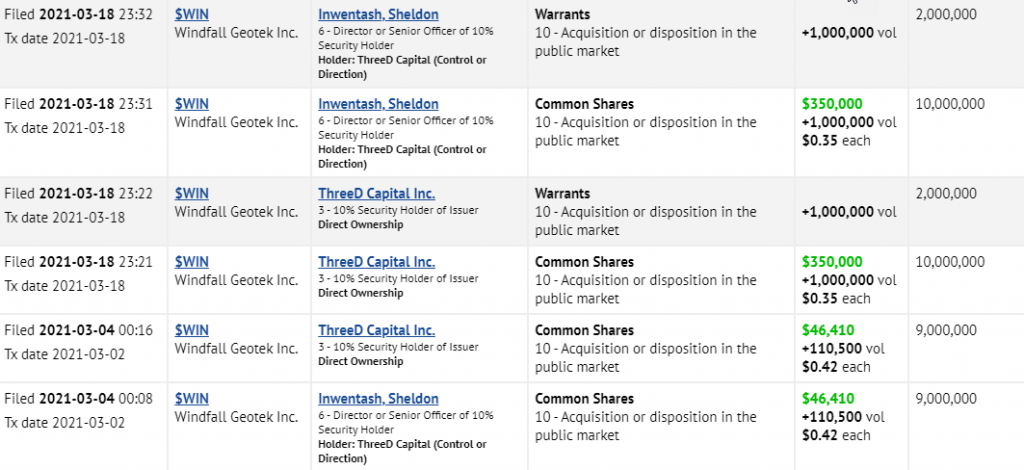 I recently had the opportunity to speak with ThreeD Capital Chairman & CEO Sheldon Inwentash to discuss ThreeD's investment in Windfall and the opportunities he sees not only in junior mining, but also in land mine detection technology.
Goldfinger: It's good to speak with you today Sheldon, you've recently taken a large position in shares of Windfall Geotek (TSX-V:WIN), it's actually a more than 10% stake now and you are filing your transactions on SEDI. What attracted you to Windfall and how big is this opportunity in your estimation?
Sheldon Inwentash: I've been involved in AI before as it relates to technology, and then as it relates to mining. I'm a big believer that technology is very much needed when you're looking for, let's call it the proverbial needle in the haystack. I believe that Windfall's CARDS tool has been effective, and the only way you know that is through track record, obviously through implementation and results.
So I've been watching this for a number of years, I know the company, I think they've needed capital to put more money into the technology to update it, and to expand it. Other companies are now coming onto the radar that are trying to do similar things. I think that they have a very effective tool that reduces risk of mining companies in exploration in the sense of narrowing it down to highly qualified areas.
And then obviously you still need your logistical team and your geological team and geo-physical team, and all the other aspect type of analysis tools before you drill and so forth. So I felt that in today's world Windfall's CARDS technology would be more acceptable to companies. A lot of geologists like to take credit for their discoveries and like to be the heroes, if you will. And there's been, I know, historical pushback by geologists and geological teams to use technology and to rely on technology when they have limited capital budgets, but the proof's in the pudding and I think the Windfall Geotek tool is effective and I wanted to invest in a company that could do what they're doing and that was a big reason why I got involved. I think the time is right and like I say, I'm familiar with the landscape.
Goldfinger: I know that large mining companies like Rio Tinto are using artificial intelligence and data mining in their analysis of projects. Do you think of Windfall as an acquisition target for a major, because it might just be cheaper for them to buy out WIN and acquire their technology and their experience and all the data that they've managed to accumulate over 15 years?
Sheldon Inwentash: Well, you know what, a lot of them have used IBM Watson as a tool. I think that a lot of them have had limited success from whatever they've used. I'm not sure how much belief they have in technology. You just have to presume that they're all doing some work internally to invest in this sort of space, and obviously entrepreneurs and innovative companies are normally the ones that innovate, not big companies.
So would Windfall be an acquisition target? They could be, but it's often a decision; a build versus buy decision with major companies that they like to do things on their own internally. And unless something was really a game changer, I've not really seen any of the big mining companies acquire black box technologies before. I know they've put money into developing them, and the way I look at it with some limited results, but if this proves that it could be widely used and very accurate, I think they would first try to license some of the technology per use, I would think they would probably go that route.
But you never know. I don't know. If they wanted to own it, they certainly have the capital to do it, the question is whether it's for sale and I cannot speak to that, but any company out there is always open to being acquired when it's public because it's not a controlled situation, it's owned by the public shareholders. So that can always occur.
Goldfinger: How do you see Windfall evolving in terms of its business model and how it does contracts with companies? They've done some cash deals, they've done some part cash and part stock in the companies deals, so they have some of the upside in the event that the company does well. How do you see that evolving in the future?
Sheldon Inwentash: Well, from my perspective, I'm not really interested in investing in a service company, fee-for-service. I was involved in another company similar to this where I helped negotiate providing the tool and receiving a royalty, and that was really the vision that I felt would uniquely position such a company to have unlimited upside if you will, based on success. So if the tool works and it results in a discovery, and the only way you negotiate those deals is if someone feels that that's the only way they can get access to the technology.
My understanding is that management does not want to be a fee-for-service company, that they want to participate in the upside and it could occur, not all companies will give up a royalty, so maybe they'll give up shares, but Windfall will have some participation in the upside if in fact this is successful, and it is my understanding that the Windfall team wants to go in that direction. That is what interests me, and that's why I invested because I feel that they would have the leverage and negotiating position to get enhanced deals that do involve sort of equity/royalties to be able to participate in the upside of the companies they are providing targets for and the value they're creating.
Goldfinger: So let's talk about landmines, obviously that is now a new angle for Windfall and they've partnered with Draganfly to advance that side of the business. How big is the opportunity there and what sort of news or key milestones do you see coming up here?
Sheldon Inwentash: This was something that occurred subsequent to really my investment, and upon analysis I am very pleased with this joint research, development, and engineering support between Draganfly (CSE:DFLY) and Windfall for the development of drones and sensor equipment.
I think this is a fantastic opportunity to help save lives where you can take an unmanned drone using technology and then find a landmine without having to risk people's lives in trying to find those landmines. I think it is an amazing discovery, a solution for a problem that takes the lives of many people per day because of the number of landmines that are still in existence in Asia and the mid-East and elsewhere. It needs funding. It needs a sponsor because the cost of defusing a landmine all in is quite high. So to me, this is just another dimension here that I think has tremendous upside. It's very exciting. I'm very pleased to hear about it.
And as for milestones, well, I'm sure now that they've announced that they're doing this, they're going to move it down the field. They've brought on… They've enhanced their management team, I think, which they had to invest in their management team. So they're putting together the pieces here, from my perspective, that will lead to development of this whole new vertical. And I guess we're all waiting to find out what the next steps are to make it a commercial reality. I do think it's doable because of drone technology, more than anything, that is so sophisticated now that this is a real world problem and won't involve the risk of human life. But it needs sponsorship, and in many cases, this would mean dealing with governments, and not-for-profit foundations that are trying to solve this problem that was left over.
And if in fact you could show that this tool, this technology, resulted in that success in limited time and limited drilling costs and preparation costs, then of course you're going to see everyone want to use the technology, because it's really not that expensive considering the materiality of the amount of money that these companies spend before they drill and then drilling. So to me, again, that's really why I invested, because I understand those costs. And they're prohibitive, and that's the reason why there's not as much drilling as there should be, because you're really drilling for a needle in a haystack. So if you can get some further delineation and direction, then if I was in charge of a drilling team to obviously find discoveries, add onto existing discoveries, I would, without question… I mean, I've always been a big believer that this is an industry that is really not advanced with the technological times.
Goldfinger: I believe that you started buying shares in Windfall a couple of months ago. And I believe your average cost basis is in the $.20 per share area. What do you see as the upside potential here?
Sheldon Inwentash: Well, it can be blue sky, I mean, really, because the value of a discovery can be enormous… so the potential for Windfall is as good as the deals they negotiate. If they negotiate participatory agreements, they could have unlimited clients and unlimited success. So the sky could be the limit. And I felt that the stock was cheap and that it just was an orphan and it was something that really fit into what ThreeD Capital does, which is disruptive technologies and junior mining, and it straddled both those fields. So I believe that you're dealing with unlimited upside should this technology pan out as I think it can.
WIN.V (Daily)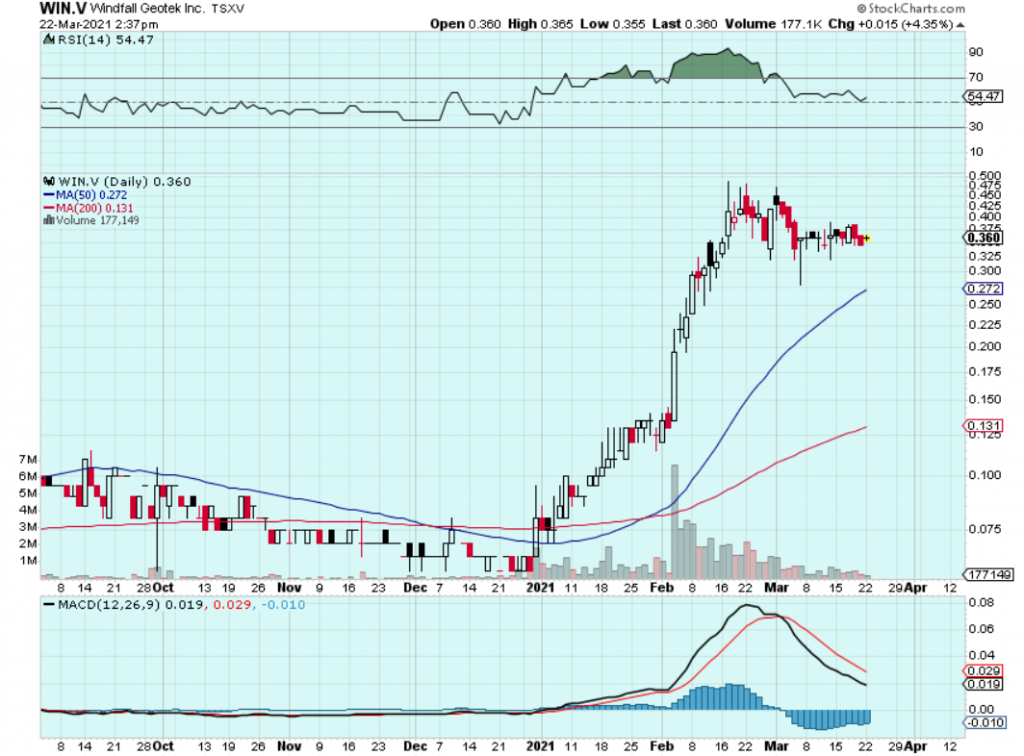 Goldfinger: And now I think you're over 10%. Would you be open to buying more shares in the future if there was a reason to?
Sheldon Inwentash: Absolutely.
Goldfinger: What is your timeframe with your investment in Windfall? Is this a long term investment?
Sheldon Inwentash: Oh yeah, absolutely.
Goldfinger: Since you're a 10% holder and you have to file your buys and sells on SEDI, will you be looking to get a seat on the board?
Sheldon Inwentash: No.
Goldfinger: Windfall's CARDS technology is very good at finding patterns in big data which works exceptionally well with big sulphide deposits. These deposits that can host massive amounts of copper, nickel, and other base/battery metals. Windfall delivered the targets that led to Canada Nickel's Crawford Nickel-Cobalt Sulphide Deposit. It seems to me like there's a big opportunity to find even more clients who are exploring for battery metals like copper and nickel. And I know that Windfall has a client exploring in Norway, Playfair Mining (TSX-V:PLY), that has some very, very exciting cobalt-copper-nickel VMS targets there. I am looking forward to seeing Playfair drill some of these targets soon and hopefully they will be successful and add further validation to CARDS. Do you see battery metals exploration as a high priority opportunity for Windfall to acquire more clients/contracts?
Sheldon Inwentash: Yes, I think that's a great target for Windfall in the types of clients that it's going to go after. It's a very natural use of the technology. And I think as, like you said earlier, as more companies achieve success, more testimonials, those are some of the prime targets, no pun intended, of types of companies looking for those types of deposits, I believe, could be quite prolific for the company.
Goldfinger: Well, thank you for your time, Sheldon. Windfall is an exciting mining technology story that is just beginning a transformational period of growth for the company.
Disclosure: Author owns WIN.V shares at the time of publishing and may choose to buy or sell at any time without notice. 
Disclaimer
The article is for informational purposes only and is neither a solicitation for the purchase of securities nor an offer of securities. Readers of the article are expressly cautioned to seek the advice of a registered investment advisor and other professional advisors, as applicable, regarding the appropriateness of investing in any securities or any investment strategies, including those discussed above. Windfall Geotek Inc. is a high-risk venture stock and not suitable for most investors. Consult Windfall Geotek Inc.'s SEDAR profiles for important risk disclosures.
EnergyandGold has been compensated to cover Windfall Geotek Inc. and so some information may be biased. EnergyandGold.com, EnergyandGold Publishing LTD, its writers and principals are not registered investment advisors and advice you to do your own due diligence with a licensed investment advisor prior to making any investment decisions.
This article contains certain forward-looking information and forward-looking statements within the meaning of applicable securities legislation (collectively "forward-looking statements"). Certain information contained herein constitutes "forward-looking information" under Canadian securities legislation. Generally, forward-looking information can be identified by the use of forward-looking terminology such as "expects", "believes", "aims to", "plans to" or "intends to" or variations of such words and phrases or statements that certain actions, events or results "will" occur. Forward-looking statements are based on the opinions and estimates of management as of the date such statements are made and they are subject to known and unknown risks, uncertainties and other factors that may cause the actual results, level of activity, performance or achievements of the Company to be materially different from those expressed by such forward-looking statements or forward-looking information, standard transaction risks; impact of the transaction on the parties; and risks relating to financings; regulatory approvals; foreign country operations and volatile share prices. Although management of the Company has attempted to identify important factors that could cause actual results to differ materially from those contained in forward-looking statements or forward-looking information, there may be other factors that cause results not to be as anticipated, estimated or intended. There can be no assurance that such statements will prove to be accurate, as actual results and future events could differ materially from those anticipated in such statements. Actual results may differ materially from those currently anticipated in such statements. The views expressed in this publication and on the EnergyandGold website do not necessarily reflect the views of Energy and Gold Publishing LTD, publisher of EnergyandGold.com. Accordingly, readers should not place undue reliance on forward-looking statements and forward looking information. The Company does not undertake to update any forward-looking statements or forward-looking information that are incorporated by reference herein, except as required by applicable securities laws. Always thoroughly do your own due diligence and talk to a licensed investment adviser prior to making any investment decisions. Junior resource companies can easily lose 100% of their value so read company profiles on www.SEDAR.com for important risk disclosures. It's your money and your responsibility.