Interview With New Placer Dome Gold CEO Max Sali
Last week I had the opportunity to speak with New Placer Dome Gold CEO Max Sali. Energy & Gold readers will remember Barrian Mining, a Nevada gold explorer we introduced in April 2019 before it began trading on the TSX-V. One of the bolder mining deals of 2020 was Barrian's acquisition of the Kinsley Mountain Project in northeastern Nevada from Liberty Gold (TSX:LGD). The size of the deal was larger than Barrian's market cap at the time it was announced. However, Barrian CEO Max Sali is not one too shy away from big opportunities. After several months (including the covid-19 crisis in February/March) the deal closed on June 2nd and Barrian became New Placer Dome Gold (TSX-V:NGLD, FSE:BM5). New Placer Dome shares have traded well since June and NGLD is busy carrying out its maiden exploration program at Kinsley Mountain. I decided it was time to get an update from Max as to NGLD's progress and what we can expect from the company for the rest of 2020.
Goldfinger: Max, it's great to speak with you today. The last time we spoke in person was at VRIC in January, you were in the process of raising the money for Kinsley Mountain. A lot has happened since then, both with you and the gold market.
Max Sali: Yeah, that was a long process, but we waited out at least the worst of COVID and kept it halted and then the first week of May we announced our big financing and got it done. We were one of the first guys when the market just started to come back to get a big financing done, especially with our premarket value, a pre-money of C$6.2 million. We raised C$12.5 million and had C$18 million in orders and things have been great since.
Goldfinger: Let's set the stage. You took Barrian public in 2019, you were focused on BOLO. You had Troy Canyon as a side pocket project that you could always explore at a later date, but then this opportunity to get what's now your flagship asset that came about, I guess, at the end of 2019. And you sort of announced that in early 2020, is that correct?
Max: Yeah. We did our IPO in 2019, April 29th. We had BOLO, we did not have Troy yet. We got Troy in September 2019. The market wasn't quite here in terms of retail getting into the gold sector. We drilled BOLO last summer. It was very successful but the market didn't give us too much love at the time. Following the drill results at BOLO in November, we started talking with Liberty Gold and in December we signed the definitive agreement to acquire Kinsley Mountain. This was an asset sitting in Liberty that no one thought was for sale at the time. Got a deal done. Sat dead as you know for months. And then all of a sudden came out with this big financing and closed the deal for Kinsley Mountain which really was a game changer for the company.
It was a game changer because in early 2020, we had no cash. We had no Kinsley, we had no Liberty Gold as our Largest shareholder. We now have some great shareholders including funds managed by Dundee and Sprott. We are cashed up and we have a phenomenal asset that has some extremely high-grade gold numbers and an updated 2020 43-101 resource.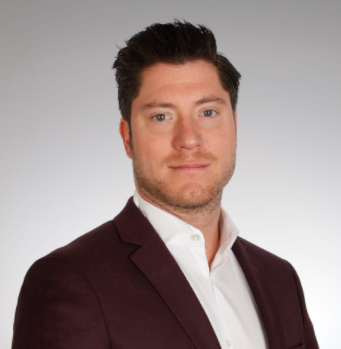 New Placer Dome Gold CEO Max Sali
Goldfinger: That is quite a transformation. There are a few questions that stand out to me. The first one is how did you come up with the new name and then how did Kinsley Mountain become available? How did you make the deal actually happen? And how does a junior, which at the time had a C$6.2 million market cap, manage to pull off such a big acquisition?
Max: Someone said I think you guys need to go big and get big fast. The gold bull market is coming and it's time you obtain something of size to really add value to Barrian. He suggested I approach Liberty Gold and try to get a deal done for Kinsley, as Kinsley back in 2014 was a powerhouse asset that had a peak market value of $250 million in a bear market based on the gold grades they were hitting. As the market came off, Kinsley ended up on the back burner for years and no one really thought it was for sale until we sat down with Liberty and hashed out terms that we agreed on. Gold at this time was US$1500. $500/oz lower than we are today. The purchase price is $US7.5 million in cash and shares for this asset. I guarantee you it would be worth 3x more today given the price of gold and the lack of top tier assets available.
For Liberty they were getting no value out of this asset as the majors are only focused on the size of Black Pine, Liberty's flagship asset which could end up being a big producer for any major down the  line/. These big producers need assets to move the needle and Kinsley is just not the size Black Pine at this time. We hope through our aggressive drill program, now and in the future, that we can get it that size.
So we brought the asset into New Placer Dome, and now we're marked to market and bringing value to Liberty Gold. We issued them 9.9% of our total shares following our 22 cent financing and now the stock is worth 75 cents. Now they're getting value for it, and we are currently drilling, with success we will again bring more value to everyone.
One of our big investors said, "Well, you got a big financing done now you just need a big name to go with it. Why don't you name it Placer Dome? And I said, "well, that's been done." I said, "But what about New Placer Dome?" And he said, "If you can get that name, I'll write you a much bigger check." And we had four investors who said, "If you can get that name, we'll all write you bigger checks because that's an awesome name." And if you remember the original Placer Dome was sold in 2006 to Barrick for, I think it was US$9 billion and Goldcorp threw a billion dollars on that. Brad Telfer, one of our directors, said to his dad, former chairman of Goldcorp "What do you think of this new name, New Placer Dome?" He said, "That's great." And that's kind of how it was. So it's bold, it's cheeky and the new symbol, NGLD stands out.
NGLD.V (Daily)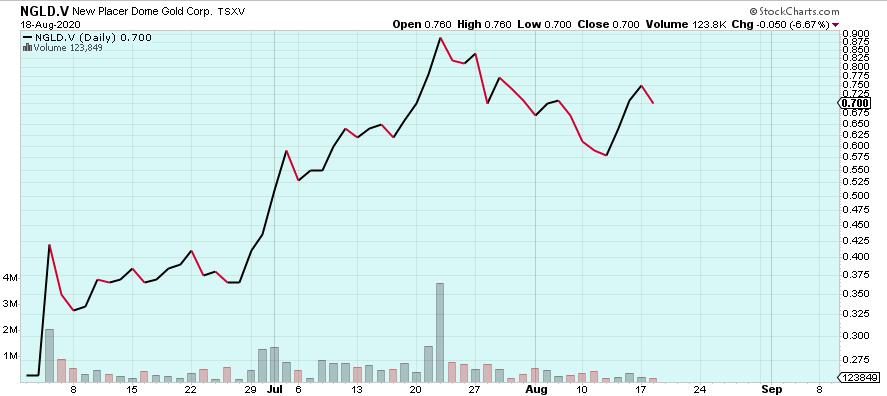 Goldfinger: That's a great story. The name is cheeky. It is bold. It definitely gets attention. So can you tell us a little bit about your shareholder base? So you have Liberty with 9.9%, the management and insiders own about 10%, who are your other shareholders and what kind of shareholder base do you want to attract going forward?
Max:  So there's four funds that participated in our financing, including funds run by Sprott and Dundee out of Toronto. There are also some very high net worth investors who participated . We had some big orders from Haywood, Canaccord, Clarus and some firms in London.. It's been a very good experience. I think we timed it right, brought in great investors and with the heavyweight asset that Kinsley is, we were able to attract significant capital.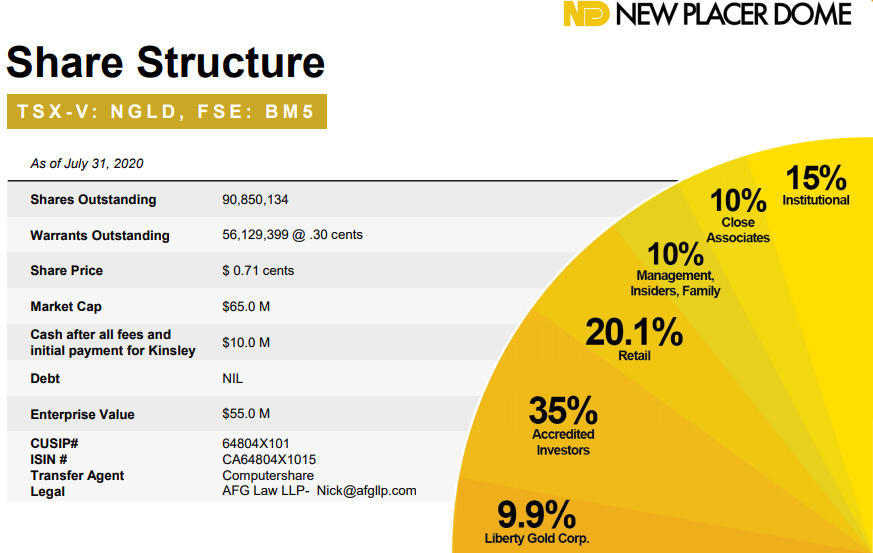 Goldfinger: Tell us about the project. Kinsley Mountain is near the Carlin Trend in the northeastern part of Nevada. What is the possible size that this thing can be? What are the objectives of the current drill program?
Max: So Kinsley mountain is on trend with Long Canyon. Long Canyon was Frontier Gold. It Was bought out by Newmont in 2011 for $2.2 billion. Long Canyon has about three and a half million ounces now. When it got bought out, it had 2.2 million ounces. And what happened is Long Canyon when it was bought out by Frontier, there was a spinout called Pilot Gold, and that was Kinsley Mountain. And so the Liberty team, which used to be Pilot, had that asset. They drilled that asset in 2012, 13, 14, they had some phenomenal grades and it has a resource. So our resource now on Kinsley is about 535,000 ounces, there's a high grade section of about 300,000 ounces at 6.1 grams/tonne gold. And in Nevada, 6.1 g/t gold in a resource is massive. This asset in 2014 was drilling results like 42 meters of 10 g/t gold, 22 meters of 18 g/t gold, 36 meters of 9 g/t gold. Kinsley also had an intersection of 5 meters of 46 grams. And that's why the stock took off at the time. But when the gold price kept on tanking, it was hard to finance and the project sat on the back burner until now. The technical 43-101 report on Kinsley Mountain has all the details about the project and we hope to add to it with our current drill program.
And so for us, we are situated with a few producers in the area. We have Long Canyon, which is owned by Newmont Goldcorp and is in the Barrick JV. We have Bald Mountain, which is on trend also, which is owned by Kinross. We actually brought on a gentleman named Alan Hitchborn, who was the Senior and Chief Geologist for Bald Mountain when it was producing, when it was owned by the original Placer Dome. He is very seasoned in the area, he knows Kinsley, he's been to Kinsley, and he thinks that Kinsley has the same potential as Bald Mountain. So when you asked me how big Kinsley could be, from his standpoint, it could be multi-million ounces. And this year we're doing 20,000 meters of drilling on Kinsley. So the chances of us finding new discoveries on the project are high. And so far everything is going very well. We're hoping to have some results on Kinsley by the end of September.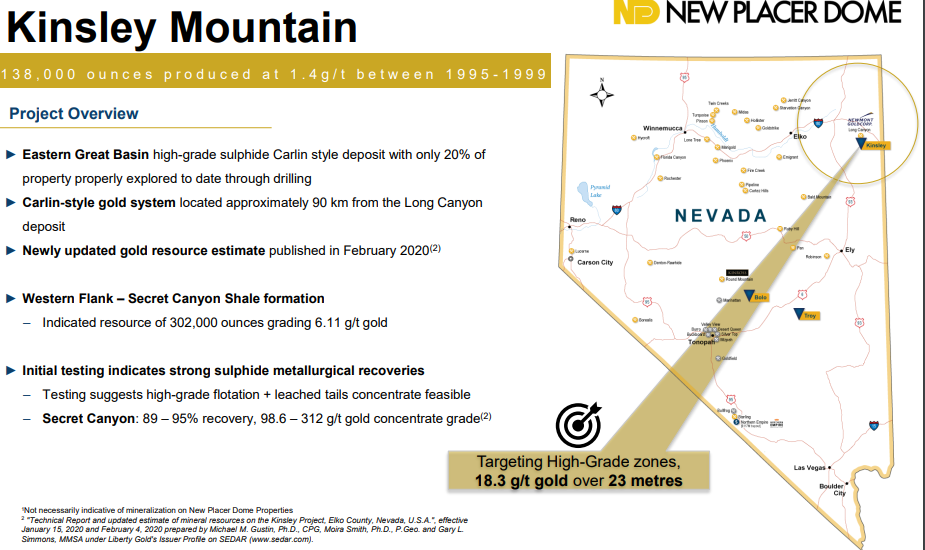 Goldfinger: What does New Placer Dome do with Bolo and Troy Canyon?
Max: So BOLO is being drilled now and started before Kinsley. We have five holes sent to the lab right now on BOLO. As the drill team was off for a few days our crew was at Troy doing grab samples, they even went  into the old mine shaft and took samples and did some general field work. So what we'll do is we'll send all those samples to the lab also and see if we can replicate the previous high grade samples from the project BOLO is looking really good at this point and we might actually increase that drill program because everything so far… Again, it's RC, so you can't tell what you have but we have what's called an XRF gun, and you shoot it at the rock chips, and it shows all the pathfinder elements. Last year when we were hitting at BOLO, everything the XRF gun was telling us is looking the same this year. So I think we have a good chance of hitting at BOLO, it's just what the grade is going to be and how long the intersections are. You are going to see BOLO results starting in September and then Kinsley results starting at the end of September.
Goldfinger: You're actually going to do work at the third project (Troy Canyon) as well. Basically, you're firing on all cylinders. You're carrying out exploration programs at all three projects simultaneously. So, New Placer Dome is going to have a steady flow of news throughout the end of the year?
Max: We're going to have news from September through Christmas because of Kinsley and Bolo. And yes, we have all three assets being worked on. We have money in the till and we're spending that money on drilling. Someone told me many years ago, "The best way to ruin  an exciting mining story is to drill a hole." But all we're doing is getting out the truth machines and we're drilling 20,000 meters at Kinsley. We're drilling 3,500 meters at BOLO and probably increasing that. We are confident in the assets that we have.
Goldfinger: I like that answer.  And can you give us a refresher on how many shares you own and the total amount that insiders own?
Max: Still at 10%. My family participated in the last financing for over C$1 million. . I've been buying stock in the market. You can see my insider filings lately. People have to understand that when I buy stock, it gets put away, period. I'm not in it for a trade, I'm in it to own it.as the CEO, I'm buying stock for the end game. I spend my entire salary pretty much buying stock because if we're hitting on these assets, it's going to make me a lot more money than just taking a salary. Our directors buy stock too. But I think for this kind of market and this kind of valuation I don't know why any CEO wouldn't be buying more of their own stock.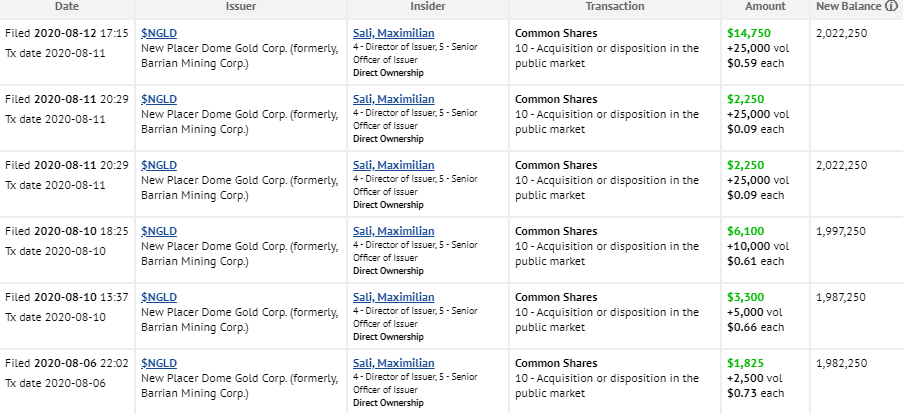 Goldfinger: My final question is what news flow can we expect from you guys through year end 2020?
Max: With the amount of drilling we are doing and three projects being worked on, I think you're going to see news almost weekly into 2021.
Goldfinger: Are you seeing good turnaround times with the lab or are things starting to slow down, down there?
Max: It really depends. I think, right now, from at least what we're hearing, is that the labs are taking about three weeks. They said that to us last year and we were getting results back in 10 days. However, last year is not this year. It's a lot busier. You can't even find a drill rig in Nevada now because everything is taken due to the price of gold and the number of companies that raised cash to go drill. So it may be a bit slower, but we're very optimistic.
Disclaimer:
The article is for informational purposes only and is neither a solicitation for the purchase of securities nor an offer of securities. Readers of the article are expressly cautioned to seek the advice of a registered investment advisor and other professional advisors, as applicable, regarding the appropriateness of investing in any securities or any investment strategies, including those discussed above. New Placer Dome Gold Corp. is a high-risk venture stock and not suitable for most investors. Consult New Placer Dome Gold Corp's SEDAR profiles for important risk disclosures. EnergyandGold has been compensated for marketing & promotional services by New Placer Dome Gold Corp. so some of EnergyandGold.com's coverage could be biased. EnergyandGold.com, EnergyandGold Publishing LTD, its writers and principals are not registered investment advisors and advice you to do your own due diligence with a licensed investment advisor prior to making any investment decisions.
This article contains certain forward-looking information and forward-looking statements within the meaning of applicable securities legislation (collectively "forward-looking statements"). Certain information contained herein constitutes "forward-looking information" under Canadian securities legislation. Generally, forward-looking information can be identified by the use of forward-looking terminology such as "expects", "believes", "aims to", "plans to" or "intends to" or variations of such words and phrases or statements that certain actions, events or results "will" occur. Forward-looking statements are based on the opinions and estimates of management as of the date such statements are made and they are subject to known and unknown risks, uncertainties and other factors that may cause the actual results, level of activity, performance or achievements of the Company to be materially different from those expressed by such forward-looking statements or forward-looking information, standard transaction risks; impact of the transaction on the parties; and risks relating to financings; regulatory approvals; foreign country operations and volatile share prices. Although management of the Company has attempted to identify important factors that could cause actual results to differ materially from those contained in forward-looking statements or forward-looking information, there may be other factors that cause results not to be as anticipated, estimated or intended. There can be no assurance that such statements will prove to be accurate, as actual results and future events could differ materially from those anticipated in such statements. Actual results may differ materially from those currently anticipated in such statements. The views expressed in this publication and on the EnergyandGold website do not necessarily reflect the views of Energy and Gold Publishing LTD, publisher of EnergyandGold.com. Accordingly, readers should not place undue reliance on forward-looking statements and forward looking information. The Company does not undertake to update any forward-looking statements or forward-looking information that are incorporated by reference herein, except as required by applicable securities laws. Always thoroughly do your own due diligence and talk to a licensed investment adviser prior to making any investment decisions. Junior resource companies can easily lose 100% of their value so read company profiles on www.SEDAR.com for important risk disclosures. It's your money and your responsibility.