Epic Bear Trap In The Goldies
After a ~30% rally in the span of less than a month, the gold miners as represented by the GDX have just experienced the first multi-session correction since the rally began on May 30th. At yesterday's close the consensus appeared to be that a gap fill down to the $24 level was imminent:
GDX (Daily Chart As of July 1st Close)
Yesterday's gap lower in the gold miners followed by a close near session lows certainly wasn't inspiring for the bullish camp. However, what it ended up creating was one of the most memorable bear traps i've ever witnessed.
Here is the GDX daily chart after today's 3.95% rally:
GDX (Daily)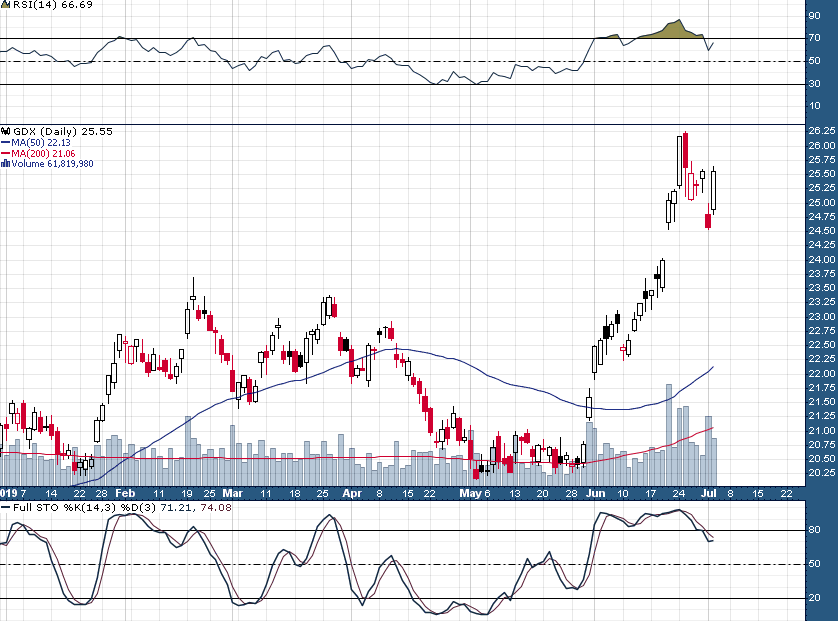 There are a few things worth pointing out after this week's volatility in gold and gold mining shares:
Bull markets climb a wall of worry and corrections are typically violent but short-lived. The brief but violent corrections serve to shake-out traders and investors from the bull market as it climbs ever higher.
The ~6% correction in the GDX since last Monday is characteristic of a bull market correction.
Bears were pointing to the RSI (Relative Strength Index) reaching nearly 90 (on the 14 period daily time frame) at last week's highs as a sign that GDX had reached an extreme overbought condition, it is back to 66.7 as of today's close. This is not even considered to be 'overbought' territory, which means that the recent correction has managed to reset the technical indicators while price hasn't moved much on net.
Using a weekly line chart of the GDX we can see that $25 is the key level on a weekly closing basis:
GDX (Weekly)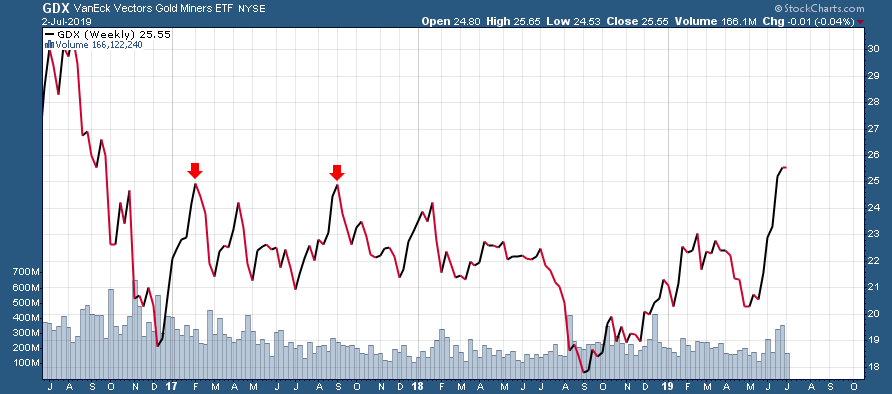 If GDX can close at/or above last week's close the recent volatility will turn out to be nothing more than noise that has served to shake out some bulls and trap some bears.
This recent volatility in gold and the GDX reminded me of a famous quote from legendary trader Jesse Livermore:
"It never was my thinking that made the big money for me. It always was my sitting. Got that? My sitting tight! It is no trick at all to be right on the market. You always find lots of early bulls in bull markets and early bears in bear markets. I've known many men who were right at exactly the right time, and began buying or selling stocks when prices were at the very level which should show the greatest profit. And their experience invariably matched mine–that is, they made no real money out of it. Men who can both be right and sit tight are uncommon." ~ Jesse Livermore (known as "The Boy Plunger" who was famous for making millions from the 1929 market crash)
Can you sit tight and be right in gold and gold mining shares?
DISCLAIMER: The work included in this article is based on current events, technical charts, company news releases, and the author's opinions. It may contain errors, and you shouldn't make any investment decision based solely on what you read here. This publication contains forward-looking statements, including but not limited to comments regarding predictions and projections. Forward-looking statements address future events and conditions and therefore involve inherent risks and uncertainties. Actual results may differ materially from those currently anticipated in such statements. The views expressed in this publication and on the EnergyandGold website do not necessarily reflect the views of Energy and Gold Publishing LTD, publisher of EnergyandGold.com. This publication is provided for informational and entertainment purposes only and is not a recommendation to buy or sell any security. Always thoroughly do your own due diligence and talk to a licensed investment adviser prior to making any investment decisions. Junior resource companies can easily lose 100% of their value so read company profiles on www.SEDAR.com for important risk disclosures. It's your money and your responsibility.