It's been an eventful month geopolitically and across market sectors, so naturally it was time to have our monthly call with 321gold founder Bob Moriarty. Bob and I touched on cryptocurrencies (or 'bitcon' as Bob calls it), the US strike in Syria, precious metals, Novo Resources, and a couple of other stocks that Bob is fond of right now. Without further ado here is Energy & Gold's April 2018 conversation with Bob Moriarty…
CEO Technician: We've had a rally in cryptocurrencies over the last few weeks, Bitcoin hit as high as $9,770 a few days ago and the total crypto market capitalization reached US$435 billion again. Does this change your view at all that cryptos are heading for zero and that Bitcoin will eventually fall back down near $1,000 again?
Bob Moriarty: This is a bear market rally. You're going to see this happen again and again and again. The strange thing is that the whole bitcon environment is the most heavily manipulated market in history. It's the closest thing to fraud that you could possibly get. There is zero intrinsic value. It's FOMO and the only thing you've got is to try to sell to a bigger sucker. Eighty-one percent of coins die quickly and only five percent ever make it to an exchange. It's the ultimate investment for greater fools.
There are 1759 'kleptocurrencies' right now and if 5-10 survive I will be surprised. Does that mean you can't make money? No, you can make money because there will be ups and downs and if you're really fast you can take advantage of the zigs and zags. However, there is no substance to these things and there's an artificial market which could vanish overnight.
CEO Technician: If we agree that this is a bear market now in cryptocurrencies, what should the next downside move look like? Will Bitcoin move below $6,000 in a straight line now?
Bob Moriarty: Nothing moves in a straight line but we will see bitcon eventually fall below $6,000 again and when the final bottom is in place I would be surprised if the total kleptocurrency market cap is US$50 billion. I can't tell you when exactly this will happen but I can tell you that you'll continue to see lower lows and lower highs, and every time it jumps 50% all the fools are going to say "it's time to jump back in the water!" but what they don't understand is that the water is filled with sharks.
Bitcoin (Daily)
CEO Technician: Earlier this week the $105,000/tweet man, John McAfee, put out a tweet stating that "banks will be gone" in 5 years. Is he being wildly optimistic?
Bob Moriarty: He could be right. When McAfee came up with his Bitcoin target price a few months ago, whatever bullshit number that was (editors note: $1,000,000 by 2020), he forgot to tell everyone that he was getting paid $105,000 for each tweet. That's about the best proof of fraud you can get. We're not talking about a 1,000 word article here, we're talking about a Tweet! Also if you're gonna get paid $105,000 per tweet you might as well front run the tweets too.
Here's what we know about the banking system. The banking system collapsed in 2008. It died. Then the Fed pumped air into it so that it would still give all the indications of being alive. But make no mistake, it died ten years ago. We need to bury it and we need to come up with something better. Crony capitalism is clearly a failure.
CEO Technician: The US/UK/France launched a strike on Syrian assets a couple weeks ago and for a brief moment it felt like we were barreling towards World War 3.
Bob Moriarty: The worrisome thing about that strike was that Russia didn't respond. When fools are out doing things and you don't respond you encourage fools to do things that could start World War Three. It was a false-flag operation ("chemical weapons attack") that was probably set up by the Brits and the white helmets, the white helmets are basically a terror organization that was set up by a British spy agency. You would think that if these guys are going to conduct all these false-flag operations that they would be better at it, especially given how many times they've tried to pull them off. It now takes us about five minutes to figure out that it's a false-flag operation and not the real deal.
CEO Technician: The smoke has cleared to some extent from that situation a couple of weeks ago and it seems like the Western response was completely ineffective from a military standpoint, and in fact, it may have even been staged in terms of targeting locations that were completely empty and of no strategic significance. Of course Trump proclaimed that it was "mission accomplished" but it was a paper tiger attack that accomplished zero. And now we have Russia giving the Assad regime in Syria multiple S-300 anti-aircraft weapons systems free of charge, so in fact Assad has come out ahead at the end of the day.
Bob Moriarty: I encourage people to think for themselves. We're lied to so often that we have to develop the ability to think for ourselves. You hit the nail on the head about the Syria strike, Trump proclaimed it was a perfect strike and all the missiles hit their targets. How many did the Russians claim to have shot down?
CEO Technician: I think they claimed to have shot down about 10.
Bob Moriarty: Nope, the Russians said they shot down 71. So the American position is that we fired 103 missiles and 103 missiles hit their targets and the Russian position is that 71 of 103 missiles were shot down. Who's telling the truth and which one is more likely to be telling the truth?
CEO Technician: I'd say neither is telling the truth.
Bob Moriarty: Well, what the Russians are saying is actually more likely. Nothing is ever 100%. If a guy came up to and told you that he's got an investment that will make money with 100% accuracy, what would you do?
CEO Technician: I'd run the other way.
Bob Moriarty: Exactly, nothing is ever 100%. So the American position absolutely could not be true. If they had even said 102 out of 103 had hit their targets that would have been possible. The Russian position is actually much more likely to be true, but the truth is probably somewhere in the middle.
CEO Technician: Moving to precious metals, I published an article a few days ago saying that gold looked like it is on its way to an important test of support near $1300. We have a full moon on the 29th and gold found some support at $1315. Is this a buying opportunity?
Bob Moriarty: I want to see the Daily Sentiment Index for gold and silver get below 10 to have a high degree of confidence a major low is in place. Recently the DSI for gold has been as high as 80 (on 4/11 the day that gold reached $1369 before reversing lower) which is more indicative of a top than a bottom. In general we usually get a major low in June or July so I think it's too early to be talking about a major low in precious metals being in place. I'm comfortable in saying that we could still have another 1-2 months of sideways to lower price action in gold and silver.
CEO Technician: Moving on to the juniors we got an update from Novo Resources (TSX-V:NVO) last week on its first bulk sample from its Comet Well Project in the Pilbara. What did you make of it?
Bob Moriarty: That press release in general was about as useful as half a hard-on.
CEO Technician: (Belly laughs)
Bob Moriarty: Quinton has been too optimistic on how long it would take to get results and he's been getting beaten up for it. I love Quinton, Novo has been my biggest holding for five years and it's still my biggest holding. I've made a ton of money with these guys and I plan to make a ton more. However, they should stop farting around with bulk samples trying to measure something that can't be measured and they should be focused on trial mining.
All they've done so far is proven what I said last November. You want to find out how much gold is there? Go mine it! Every single way they've tried to measure it has failed. They showed us a lot of pretty pictures and there's clearly a lot of gold there. However, we don't know what the grade is even though they're still focused on trying to measure something that can't be measured. They should stop trying to measure it and figure out how to mine it.
CEO Technician: So Novo hasn't taken your advice. How long are they going to continue to try to measure what can't be measured?
Bob Moriarty: Pretty soon they're going to realize that a 50,000 tonne bulk sample is the same damn thing as mining. You cannot measure that gold, it's that simple. When you have nuggety gold you can't measure, you can only mine it.
CEO Technician: You just said you plan to make a lot more money as a Novo shareholder, how do you determine what the company is worth when we can't measure the grade and we don't know how far the gold mineralization extends? We also don't know if it is continuous.
Bob Moriarty: Do you remember what Keith Barron said it would cost to produce an ounce of gold in the Pilbara? He said it would cost $100/ounce to mine. The Hedgeless Horseman is an interesting guy and he thinks that Comet Well alone could have 10 million ounces of gold so the math isn't too complicated in order to figure out that Novo could be worth a heck of a lot more than the stock market is valuing it at now.

Now I don't know how much gold they have, nobody does, but the only way to figure it out is to start mining it. Once Novo shows the Australian government that they've got 20 grams/tonne gold they're going to make it a lot easier to obtain permits for 50,000 tonne bulk samples. Forget about 43-101, scoping studies, pre-feasibility studies. They've got $70 million! If they can't figure out how to start mining down there with $70 million then they should hire me because I sure as hell will find a way to make it happen.
CEO Technician: Moving on, we spoke about NV Gold (TSX-V:NVX) the last time we spoke. What are your thoughts on NVX here?
Bob Moriarty: I got the chance to buy some more at C$.43. I was in the placement at C$.44, I was in the placement at C$.60, and I was buying it in the open market at C$.43. Here's the deal with NV Gold, it's a crap shoot, but it's a crap shoot where the odds are 5-1 and the payoff could be 100-1.
CEO Technician: So if we get a little lucky we could get really lucky.
Bob Moriarty: That's a great way of putting it. They've got assays in the lab now. The odds of them finding gold in the first hole are about 1 in 10, however, what they're really looking for are the pathfinders (mercury, arsenic, etc.) – the pathfinders that you find with all Carlin Trend style deposits. They are in home run country, they could either come up with 100 meters of 2 ounces/tonne gold or they could come up with 10 meters of .2 grams/tonne gold and both would be equally as good.
CEO Technician: That's a great way of explaining it Bob, hence your comment last time that if they even find a "sniff of gold" the stock could take off. I was at a conference in Arizona last week and I met with a guy who runs a company called Metallic Minerals (TSX-V:MMG), I think you know Greg?
Bob Moriarty: Silver and platinum are both extremely cheap right now and I think both metals are going a lot higher over time. Greg Johnson runs Metallic and he also runs a platinum/palladium play called Group Ten Metals (TSX-V:PGE), both companies are going to succeed and you can accumulate either very cheaply right now.

I've been working on a book called "The Idiot's Guide To Investing In Junior Resource Stocks" and of course the idiot would be me. I've made every possible mistake one can make as a junior resource investor. You should buy stocks when they're hard to buy and you should sell stocks when they're easy to sell. Everyone wants to make investing much more complicated than it is. Buy cheap and sell dear and you'll make money over the long run. Platinum and silver are both cheap right now.
Investing is a probabilities game, but unlike Las Vegas the shrewd investor can choose investing opportunities where the payoff could be better than the odds of hitting the payoff, like with NV Gold right now.
CEO Technician: Are there any other stocks that have your attention that you'd like to mention to readers?
Bob Moriarty: The lithium sector has cooled off a lot over the last few months and the best lithium company that i've ever seen is a hard rock lithium play in Arizona called Redzone Resources (TSX-V:REZ).
REZ.V (Daily)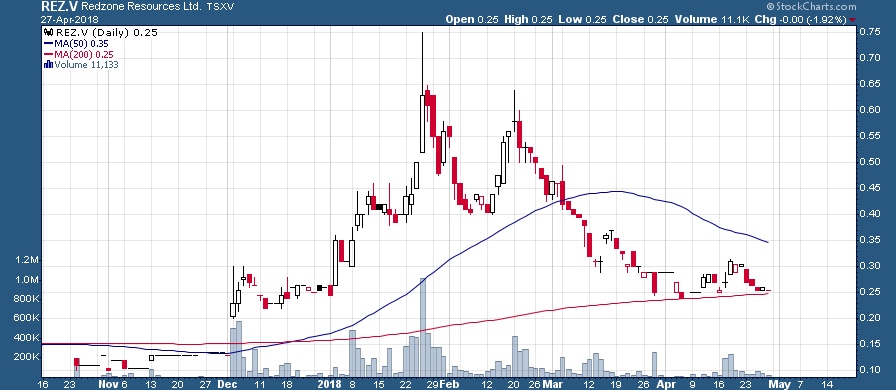 Redzone has some shares coming free trading next week and some of these people are going to sell because they got in at C$.16. I've had a bid in at C$.255 and i'd buy more if the lock-up expiration creates some more short term weakness. Redzone has a great technical team and they're going to be drilling shortly, it's a sleeper and I think this could be a big winner.

Bob has been remarkably accurate in his commentary on cryptocurrencies and it will be interesting to see if the current crypto bounce proves to be of the bear market variety. I also became a shareholder of NV Gold recently so I am eager to see if we do indeed catch a sniff of gold soon. We would like to thank Bob for his candid insights and look forward to his new book on junior resource investing.
Disclaimer:
The article is for informational purposes only and is neither a solicitation for the purchase of securities nor an offer of securities. Readers of the article are expressly cautioned to seek the advice of a registered investment advisor and other professional advisors, as applicable, regarding the appropriateness of investing in any securities or any investment strategies, including those discussed above. Some of the stocks mentioned are high-risk venture stocks and not suitable for most investors. Consult the companies' SEDAR profile for important risk disclosures.
EnergyandGold.com, EnergyandGold Publishing LTD, its writers and principals are not registered investment advisors and advice you to do your own due diligence with a licensed investment advisor prior to making any investment decisions.
This article contains certain forward-looking information and forward-looking statements within the meaning of applicable securities legislation (collectively "forward-looking statements"). Certain information contained herein constitutes "forward-looking information" under Canadian securities legislation. Generally, forward-looking information can be identified by the use of forward-looking terminology such as "expects", "believes", "aims to", "plans to" or "intends to" or variations of such words and phrases or statements that certain actions, events or results "will" occur. Forward-looking statements are based on the opinions and estimates of management as of the date such statements are made and they are subject to known and unknown risks, uncertainties and other factors that may cause the actual results, level of activity, performance or achievements of the Company to be materially different from those expressed by such forward-looking statements or forward-looking information, standard transaction risks; impact of the transaction on the parties; and risks relating to financings; regulatory approvals; foreign country operations and volatile share prices. Although management of the Company has attempted to identify important factors that could cause actual results to differ materially from those contained in forward-looking statements or forward-looking information, there may be other factors that cause results not to be as anticipated, estimated or intended. There can be no assurance that such statements will prove to be accurate, as actual results and future events could differ materially from those anticipated in such statements. Actual results may differ materially from those currently anticipated in such statements. The views expressed in this publication and on the EnergyandGold website do not necessarily reflect the views of Energy and Gold Publishing LTD, publisher of EnergyandGold.com. Accordingly, readers should not place undue reliance on forward-looking statements and forward looking information. The Company does not undertake to update any forward-looking statements or forward-looking information that are incorporated by reference herein, except as required by applicable securities laws. Always thoroughly do your own due diligence and talk to a licensed investment adviser prior to making any investment decisions. Junior resource companies can easily lose 100% of their value so read company profiles on www.SEDAR.com for important risk disclosures. It's your money and your responsibility.