2018 has already been a volatile year across global financial markets and it doesn't look like things are going to calm down anytime soon. In Energy & Gold's March 2018 conversation with 321gold founder Bob Moriarty, Bob emphasizes that now is a time for investors to focus on capital preservation as opposed to rampant risk taking (which we have seen recently in the 'klepto-currency' bubble). Bob also offers us a stock which he has recently purchased which also happens to be located in gold's favorite state, Nevada. Without further ado here is Energy & Gold's March 2018 conversation with Bob Moriarty…
CEO Technician: The market is looking precarious after a rough finish to last week. Do you think there is a risk of a major crash soon?
Bob Moriarty: On Friday we got a sell-signal from Richard Russell's Dow Theory signal. When the market goes down 800 points in a day it says something. Do you know the single biggest thing that made the depression of the 1930s worse?
CEO Technician: The Federal Reserve tightened monetary policy at the wrong time?
Bob Moriarty: No, that's what got it started. What made it worse was the trade war which occurred after Congress passed a law placing tariffs on all goods shipped into America, it was called the Smoot-Hawley Act. A trade war hurts everyone. Donald Trump is negotiating by throwing hand grenades at our trading partners with the pins pulled. This is an absolute disaster and everyone who passed economics 101 understands how dangerous trade wars are. If the stock market was a balloon looking for a pin, Trump just pulled out a sword.
Trump's appointment for Secretary of State, the head of the CIA and his National Security Advisor are all three extremely dangerous. They are determined to start a war with Russia and/or Iran and maybe China.
CEO Technician: It seems that Trump treats negotiations with America's largest trading partner, China, much like a negotiation over a real estate deal in New York City. The problem with this logic is that it's much different and China is a very shrewd counterparty.
Bob Moriarty: You just hit the nail on the head. Donald Trump is a New York City real estate bullshit artist and his way of negotiating is to lie, cheat, and steal – everything he does is strictly short term oriented and everything he says he's willing to turn around and change 15 minutes later. There is nothing of substance to the man. What you're getting is whatever he thinks you want to hear at the time. You can't really call the guy a liar because he doesn't know what the truth is….
CEO Technician: (belly laughs out loud)
Bob Moriarty: Trump's appointment of John Bolton is the scariest thing to ever happen in US history because there are so many aspects involved in this. John Bolton is owned and operated by Sheldon Adelson (Las Vegas/Macau gambling magnate). Trump acted like he was different from the rest of the politicians because he went out and said "I don't need your money, i'm not like the rest of them." – but then he went on to take US$30 million from Sheldon Adelson over the next year. Adelson wanted the capitol of Israel moved to Jerusalem, and sure enough Trump recognized Jerusalem as the new capitol of Israel even though such a decision was contrary to US and international law.
John Bolton wants to nuke Iran under the rationale of stopping an Iranian nuclear weapons program that we know doesn't exist. That's a plan that came from Israel. John Bolton is not operating under the best interests of the United States, he's operating for Israel and Sheldon Adelson. This now means that Sheldon Adelson has bought the Presidency of the United States for $30 million. It's also treason on the part of Adelson, Trump and Bolton.
CEO Technician: Speaking of Trump and the stock market, the President was quite fond of cheerleading the stock market on during his first year in office but since January he has been a lot quieter about the stock market's performance.
Bob Moriarty: What does the office of the Presidency have to do with the stock market?
CEO Technician: Nothing.
Bob Moriarty: Exactly. If he wants to take credit for the stock market and there are people stupid enough to believe him then so be it. But in reality he's got nothing to do with the stock market. Trump is exceptionally vulnerable yet he keeps opening himself up for more.
CEO Technician: We are seeing a very curious situation in silver right now as managed money futures traders (CTAs and hedge funds) have moved to a net short position to the tune of more than US$1 billion net notional. I say it's curious because silver's price action has been lackluster and range-bound, while gold has actually carved out a small uptrend in the last week.
Bob Moriarty: This is a really unusual signal that the CoTs in silver are sending us. You would expect people to be shorting gold as well but we are not seeing that. It's a really unusual situation and we are seeing conflicting signals from various indicators across markets; the sentiment indicator that I look at is indicating that we are actually close to a top in gold, so we have an unusual buy signal in silver at the same time we are getting close to a sell signal in gold. This is one of the more unusual situations in precious metals that i've ever witnessed. There are conflicting signals and I don't think it's a situation in which anyone can say "Hey this is what's going to happen…"
CEO Technician: I have a bit of a theory that i've developed during the last couple of months. Without going into great detail we're seeing a lot of bearish signs that typically accompany a stock market that is about to roll-over hard to the downside. In fact the last time I saw all the things we're seeing now happen at the same time was summer of 2008.
Do you remember which market went into a bubble that popped in summer 2008? That's right, July 2008 crude oil topped out at $147/barrel and proceeded to crash through the floor over the next six months. My theory is that before every major episode of financial market turmoil there is an asset class which moves into a crazy bubble and then that bubble pops a few months before the broader crash happens. The 2018 version of crude oil was Bitcoin and cryptocurrencies. If my theory is correct we should be seeing some major market turmoil across global financial markets before the end of April. I think we've just seen the opening acts of this play since the beginning of February, but it's about to get much worse. This is a theory that I have and I am by no means placing a high degree of probability that this will play out similar to 2008.
Bob Moriarty: 'Klepto-currencies' were the biggest bubble scam ever in world history. These currencies have no fundamental value, they were electronic beanie-babies, magnetic Monopoly money and they are down 70% since we talked about them at the peak three months ago.
CEO Technician: How does one invest against this complicated and irrational investment backdrop?
Bob Moriarty: The answer is that you can't. Investing is putting money into rational investments. The only thing someone can do today is speculate, essentially guessing. Investors should be looking for a cave to hide in when all of these other aspects of the "everything bubble" come crashing down. My opinion is that the best cave to hide-out in is precious metals, because they are real assets and they have stood the test of time. Silver and platinum are probably the best values right now among the precious metals, but of course gold always has a place in my portfolio. Investors need to understand that they need to be trying to preserve wealth right now, it's not a time to be thinking of how to get rich, it's a time to be thinking of how not to become poor. Right now the preservation of wealth is far more important than trying to 'make' money.
CEO Technician: I think you just spoke some real words of wisdom there Bob and readers would do well to reread that paragraph a few times. I want to mention one other thing regarding gold – typically when gold has risen substantially (more than a couple percent) the media starts talking about it and bringing on all sorts of guests to understand "why" gold has risen and might rise further. This time feels a bit different, i'm not seeing the same attempt to understand gold's price movements and from my vantage point the dumb money sentiment on gold seems much more muted. This move we've seen in gold in the last several days feels much more bullish to me.
Bob Moriarty: I wish you were wrong because I'd like to see one more downside shakeout, however, I completely agree with you.
CEO Technician: What was the last stock you bought Bob?
Bob Moriarty: I bought a whole bunch of a stock in Nevada called NV Gold (TSX-V:NVX). Quinton Hennigh is an officer of the company, John Watson is the President of the company and they have drilled what appears to be a Carlin style gold system. If they even have a sniff of gold the stock is going to go to $30/share. If you hit a Carlin deposit you go from a $10 million market cap to a $1 billion market cap overnight.
NVX.V (Daily)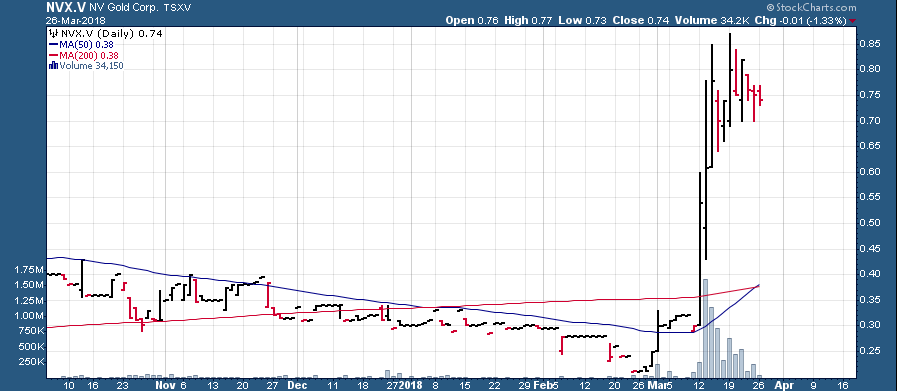 CEO Technician: I feel like we are seeing a renaissance in Nevada gold Bob. I just wrote a piece on another Nevada gold explorer called Northern Empire Resources and I am optimistic that they could have a multi-million ounce project on their hands in one of the lesser known gold trends in Nevada called the Walker Lane Trend. There isn't a better place to have a gold project in North America and I have a feeling we are going to see a whole bunch more M&A in Nevada gold projects before this cycle is over.
Bob Moriarty: I'm very familiar with the Walker Lane Trend. What's happening in Nevada and really around the world is that the majors aren't doing anything and all the exploration work is being done by juniors. The majors have got to replace the ounces they are continually depleting and we are going to see more and more takeovers in the future because they simply have no choice.  The majors are eating their young.
We'd like to thank Bob for his time and insights, including some actionable market advice which I know I am going to pay heed to.
Disclaimer:
The article is for informational purposes only and is neither a solicitation for the purchase of securities nor an offer of securities. Readers of the article are expressly cautioned to seek the advice of a registered investment advisor and other professional advisors, as applicable, regarding the appropriateness of investing in any securities or any investment strategies, including those discussed above. Some of the stocks mentioned are high-risk venture stocks and not suitable for most investors. Consult the companies' SEDAR profile for important risk disclosures.
EnergyandGold.com, EnergyandGold Publishing LTD, its writers and principals are not registered investment advisors and advice you to do your own due diligence with a licensed investment advisor prior to making any investment decisions.
This article contains certain forward-looking information and forward-looking statements within the meaning of applicable securities legislation (collectively "forward-looking statements"). Certain information contained herein constitutes "forward-looking information" under Canadian securities legislation. Generally, forward-looking information can be identified by the use of forward-looking terminology such as "expects", "believes", "aims to", "plans to" or "intends to" or variations of such words and phrases or statements that certain actions, events or results "will" occur. Forward-looking statements are based on the opinions and estimates of management as of the date such statements are made and they are subject to known and unknown risks, uncertainties and other factors that may cause the actual results, level of activity, performance or achievements of the Company to be materially different from those expressed by such forward-looking statements or forward-looking information, standard transaction risks; impact of the transaction on the parties; and risks relating to financings; regulatory approvals; foreign country operations and volatile share prices. Although management of the Company has attempted to identify important factors that could cause actual results to differ materially from those contained in forward-looking statements or forward-looking information, there may be other factors that cause results not to be as anticipated, estimated or intended. There can be no assurance that such statements will prove to be accurate, as actual results and future events could differ materially from those anticipated in such statements. Actual results may differ materially from those currently anticipated in such statements. The views expressed in this publication and on the EnergyandGold website do not necessarily reflect the views of Energy and Gold Publishing LTD, publisher of EnergyandGold.com. Accordingly, readers should not place undue reliance on forward-looking statements and forward looking information. The Company does not undertake to update any forward-looking statements or forward-looking information that are incorporated by reference herein, except as required by applicable securities laws. Always thoroughly do your own due diligence and talk to a licensed investment adviser prior to making any investment decisions. Junior resource companies can easily lose 100% of their value so read company profiles on www.SEDAR.com for important risk disclosures. It's your money and your responsibility.