The Bloodletting Could Be Over For HIVE
After a sensational first couple of months of trading, shares of crypto-miner HIVE Blockchain (TSX-V:HIVE, OTC:HVBTF) have suffered a torturous, but relatively orderly decline since its November 3rd peak at C$6.75 per share (nearly C$2 billion market cap at the time at that share price):
HIVE.V (Daily – Since Inception)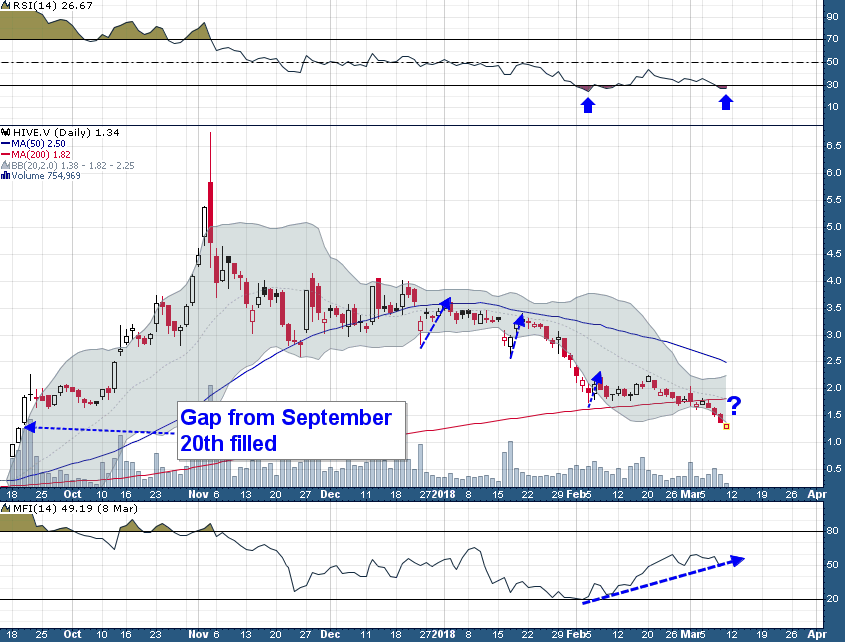 After four months of grinding lower HIVE has returned all the way back to fill the gap it left on the morning of September 20th, 2017 when it gapped higher for its 3rd consecutive trading session (the only downside open gap still remaining is at C$.96).
There are some items worth noting in the chart above: Not only is HIVE extremely oversold, but there is a remarkable bullish divergence in the Money Flow Index (MFI) which indicates that the stock has been under accumulation even as it's declined during the last month. Moreover, every time (3 occasions) that HIVE has fallen below its lower Bollinger Band on the daily chart a snapback rally has taken place (usually 30%+).
The fact that sentiment is downright putrid on the cryptocurrency sector right now only adds to the attractiveness of this potential buying opportunity. I could easily envision a snapback rally to the C$1.80 level from deeply oversold conditions over the coming weeks.
Given the vigorous buying in the first hour of trading during today's session (3/9/2018) we can infer that there is strong support at C$1.30 and below, next areas of potential resistance are near C$1.80 then C$2.00.
The author is long shares of HIVE Blockchain (HIVE.V) at the time of publishing this post and may buy or sell at any time without notice. Do your own due diligence. It's your money and your responsibility. 
DISCLAIMER: The work included in this article is based on current events, technical charts, and the author's opinions. It may contain errors, and you shouldn't make any investment decision based solely on what you read here. This publication contains forward-looking statements, including but not limited to comments regarding predictions and projections. Forward-looking statements address future events and conditions and therefore involve inherent risks and uncertainties. Actual results may differ materially from those currently anticipated in such statements. The views expressed in this publication and on the EnergyandGold website do not necessarily reflect the views of Energy and Gold Publishing LTD, publisher of EnergyandGold.com. This publication is provided for informational and entertainment purposes only and is not a recommendation to buy or sell any security. Always thoroughly do your own due diligence and talk to a licensed investment adviser prior to making any investment decisions. Junior resource companies can easily lose 100% of their value so read company profiles on www.SEDAR.com for important risk disclosures. It's your money and your responsibility.