I can't recall a time in my 15 years in the market in which there was more noise flying at market participants from all directions. Never has it been more important to be selective of what and whom one listens to. Our time is valuable, as is our mental and emotional bandwidth. Spend wisely in all areas of your life.
My latest conversation with Bob Moriarty was concise and hit on some key areas including cryptocurrencies, the stock market, precious metals, and Bob even offered insights into a couple of his favorite stocks right now. Without further ado here is Energy & Gold's February 2018 conversation with 321gold founder, Bob Moriarty…
CEO Technician: We've seen a bounce back in Bitcoin and cryptocurrencies in the last couple of weeks. Is this a dead-cat bounce or have we seen the lows?
Bob Moriarty: From mid-December to the low a little while ago we had a 60% decline. Crashes typically go down 85% to 95% in all commodities. I think this is nothing more than a dead cat bounce. If we start to go lower from here, it's all over but the crying and burying.
Bitcoin (Daily – 7 Months)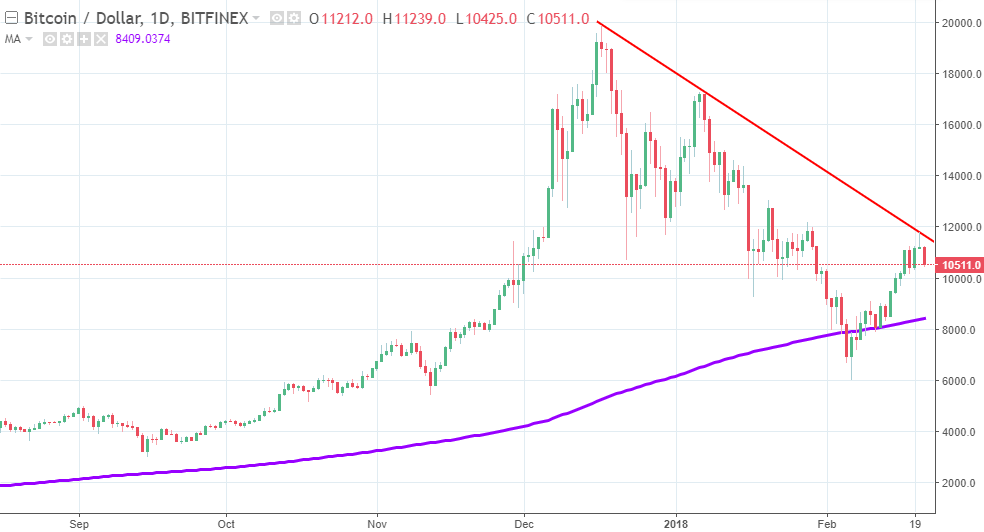 CEO Technician: The stock market has also bounced after falling hard a couple of weeks ago, is this the beginning of a much larger topping process?
Bob Moriarty: Same same. If you go back to my Streetwise piece of January 26th I said 12 commodities were about to swap ends. All 12 did. The bitcon crash may have started the cascade default that we talked about in another interview.
CEO Technician: Bond yields have been soaring higher since the beginning of the year. How much higher can we see yields move before we have a major problem on our hands?
Bob Moriarty: We already have a major problem on our hands. The central banks have painted themselves into a corner. There is no way out for them. Higher interest rates and the system blows up, lower interest rates and the mal-investments get larger and larger until they blow the system up. Basically we are fu#%&@.
CEO Technician: Last week I wrote a blog post titled "Gold: 1978 Redux" in which I drew some parallels between the current situation and the situation in the late 70s which led to gold going parabolic in late 1979 and early 1980. What do you think about this analog and where do you see precious metals going this year?
Bob Moriarty: I'm not good at those kinds of predictions. I will say that gold shares are just about the cheapest they have ever been relative to the price of gold. Silver and platinum are cheap relative to gold. Commodities are cheap relative to everything. I do see all of the metals going parabolic as silver did in 1980 and 2011. I can't predict the time on that but they are going to go into a bubble. And at the top, just as in 2011, GATA and the rest of the perma-bulls will be screaming "buy, buy." They manage to mousetrap their followers in every top.
CEO Technician: You mention the guru problem in your book and it's something that I believe is a major issue in the crypto space. Can you point out some of the pitfalls with listening to "gurus" and making investment decisions based upon someone else's (sometimes far-fetched) predictions?
Bob Moriarty: There are actually some purveyors of really excellent and valuable information around. None of them pretend to be gurus. They provide facts and using logic suggesting various courses of action. I think the DSI, the Daily Sentiment Index is literally priceless. For example all I used in my January 26th piece were facts, the DSI for the 12 commodities and reflection based on how I understand sentiment. Anyone who read my book could do exactly the same thing. I am neither an expert or a guru, I simply look around and ignore all the fools. Bob Hoye provides some really valuable advice, Tom McClellan is brilliant. You do some really good work. None of them pretend to be perfect. None of us are.
CEO Technician: What's happening in Syria right now with the Russian foreign minister telling the US that it must leave its base in southern Syria? And i'm reading that Erdogan is threatening to invade Greece? The olympics appear to have cooled off North Korea, however, i'm sure that won't last long.
Bob Moriarty: The Americans have lost their collective minds. Mueller just indicted 13 Russians for jaywalking while ignoring the very real evidence of collusion between the DNC, FBI, DOJ, HC and the Russians. I have always wondered if the US would end with a bang or a whimper and it appears that it will end in a farce. The US is in Syria illegally on behalf of their masters in Israel. The US has no economic or political interests in Syria and one day soon someone is going to put the  hammer down on those poor troops in Syria and we are going to find the rest of the world feels we brought it on ourselves. There will be peace in the Middle East when Israel realizes they are committing national suicide. How many more American kids need to die fighting wars for Israel? If you are going to die in combat you should die for something, not as someone's pet attack dog. We have a total failure of leadership at the general and admiral level. We need some brass with balls and we have none.
CEO Technician: What was the last stock you bought? Any other names that readers should be following here in the juniors?
Bob Moriarty: Molori Energy (TSX-V:MOL, OTC: MOLOF). I bought some shares today. Before that I think my last purchase was Irving Resources (CSE:IRV, OTC: IRVRF) . Irving is a giant sleeper that is going to explode when they get all their ducks in a row. That will be May/June and I will predict right now that the drill results will blast the shares higher. I've been to the project, I have hammered $26,000 a ton rock and it's one meter down. A blind and drunk monkey could spot drill holes for them.
CEO Technician: What is the market missing about Molori? What are your thoughts on operating in Japan?
Bob Moriarty: Molori has done an exceptionally poor job of communicating one of the very best stories in energy and the stockholders have suffered as a result. Japan is the last frontier. From a financial point of view they are learning the very real difference between Notgeld and Geld.
We'd like to thank Bob once again for his time and insights. Ignore all the fools and carefully select who you choose to listen to. I don't think this advice will ever get old, and it's probably never been more important than it is now.
Disclaimer:
The article is for informational purposes only and is neither a solicitation for the purchase of securities nor an offer of securities. Readers of the article are expressly cautioned to seek the advice of a registered investment advisor and other professional advisors, as applicable, regarding the appropriateness of investing in any securities or any investment strategies, including those discussed above. Some of the stocks mentioned are high-risk venture stocks and not suitable for most investors. Consult the companies' SEDAR profile for important risk disclosures.
EnergyandGold.com, EnergyandGold Publishing LTD, its writers and principals are not registered investment advisors and advice you to do your own due diligence with a licensed investment advisor prior to making any investment decisions.
This article contains certain forward-looking information and forward-looking statements within the meaning of applicable securities legislation (collectively "forward-looking statements"). Certain information contained herein constitutes "forward-looking information" under Canadian securities legislation. Generally, forward-looking information can be identified by the use of forward-looking terminology such as "expects", "believes", "aims to", "plans to" or "intends to" or variations of such words and phrases or statements that certain actions, events or results "will" occur. Forward-looking statements are based on the opinions and estimates of management as of the date such statements are made and they are subject to known and unknown risks, uncertainties and other factors that may cause the actual results, level of activity, performance or achievements of the Company to be materially different from those expressed by such forward-looking statements or forward-looking information, standard transaction risks; impact of the transaction on the parties; and risks relating to financings; regulatory approvals; foreign country operations and volatile share prices. Although management of the Company has attempted to identify important factors that could cause actual results to differ materially from those contained in forward-looking statements or forward-looking information, there may be other factors that cause results not to be as anticipated, estimated or intended. There can be no assurance that such statements will prove to be accurate, as actual results and future events could differ materially from those anticipated in such statements. Actual results may differ materially from those currently anticipated in such statements. The views expressed in this publication and on the EnergyandGold website do not necessarily reflect the views of Energy and Gold Publishing LTD, publisher of EnergyandGold.com. Accordingly, readers should not place undue reliance on forward-looking statements and forward looking information. The Company does not undertake to update any forward-looking statements or forward-looking information that are incorporated by reference herein, except as required by applicable securities laws. Always thoroughly do your own due diligence and talk to a licensed investment adviser prior to making any investment decisions. Junior resource companies can easily lose 100% of their value so read company profiles on www.SEDAR.com for important risk disclosures. It's your money and your responsibility.