During the last month I have spoken to dozens of junior resource investors at events ranging from Vancouver to New Orleans. The topic du jour is definitely Novo Resources and how much gold is really sitting just below the earth down in the Pilbara. Simply stated nobody knows Novo better than Bob Moriarty. He has been writing about Novo since 2012 and hasn't stopped pounding the table since. I also engaged Bob in a brief discussion about who killed Kennedy and he even offered a junior oil pick with which I happen to strongly agree (and in which I also own shares). Without further ado here is Energy & Gold's Halloween 2017 conversation with 321gold founder Bob Moriarty:
CEO Technician: I was just at the New Orleans Investment Conference and the sentiment at that conference felt exactly neutral as I wrote a couple days ago. What's your feel for where we are at in the precious metals sentiment cycle?
Bob Moriarty: I read what you wrote and I always hate it when everyone agrees with me but I believe we could see a short countertrend rally now before the excess bullish sentiment gets washed out. I would like to see a major bottom put in place similar to what we saw in December 2015/January 2016.
There are actually some really scary things on the horizon; there's a coup d'etat against Trump even though all of the evidence points to the collusion with Russia benefiting the Democrats, not Trump. There is a coup d'etat in progress and it is very dangerous because the next step will be a military coup d'etat; in the event of a military coup gold, platinum, and silver should go much higher but first we need to wash out the weak hands.
CEO Technician: There was an interesting conversation in New Orleans about platinum and its relative rarity compared to gold and even palladium. Why does platinum continue to be so weak? The obvious answer is that it's in surplus and a little known fact is that palladium is actually 15x more rare than platinum.
Bob Moriarty: Everybody sees prices move and they want to come up with an explanation but often times there simply is no explanation. All markets go up and all markets go down, and sometimes markets become absurdly overpriced and sometimes they become absurdly underpriced. It's no more complicated than that. Platinum is cheap. You don't need to try to explain, you just need to buy what's cheap and sell what's dear.
Platinum/Gold Ratio (20 years)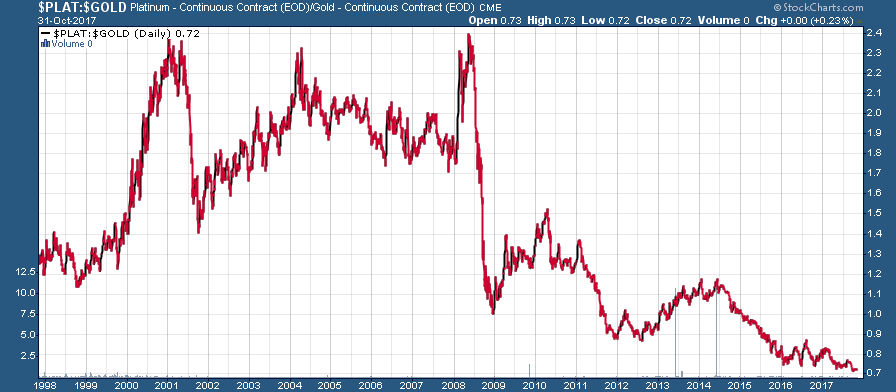 CEO Technician: What do you think about copper here Bob? Is copper still cheap at $3.10/lb as it faces a significant supply shortfall over the coming years?
Bob Moriarty: Is it a surprise to me that copper is cheap in relative terms? No. All commodities are cheap and I expect all commodities to go up. Let me ask you a question, give me 3 things that are absurdly overpriced right now?
CEO Technician: (sighs). The S&P 500, TSLA stock, and maybe Bitcoin.
Bob Moriarty: Bitcoin just split. The main theory behind Bitcoin being valuable was that the supply was limited, but if you keep splitting it then how is it limited? You can only have 21 million Bitcoins, but then you can have Bitcoin Cash and whatever else they split off from it. In relative terms Bitcoin is absurdly overpriced (total TSX-Venture market cap is ~C$22 billion while total Bitcoin market cap is US$110 billion), and clearly the supply is not limited. The S&P 500 is overpriced, Tesla is absurdly overpriced.
CEO Technician: Which one will be the first to crash and correct the overvaluation?
Bob Moriarty: I can't tell you. I just know that I wouldn't be long US large cap stocks or Bitcoin. They could crash tomorrow or a year from now, regardless you don't want to get caught when the crash does come. We're in the "everything bubble" and one day that everything bubble is going to pop.
CEO Technician: At the New Orleans Conference Dennis Gartman's major theme was that interest rates will be going higher for the next couple of decades. In addition, Gartman thinks the yield curve will be inverting in the near future. Do you think a recession and an inverted yield curve will offer a bullish environment to precious metals investors?
Bob Moriarty: Mining shares are now the cheapest they have been relative to gold in more than 15 years. Therefore, this undervaluation of mining shares must correct. I don't know what the catalyst will be, but it will happen.
I am adamant that bitcoin is in a bubble that will blow up violently. The handwriting is on the wall, there is no value to bitcoin. The only reason why people are buying bitcoin is that it's already gone up so much, and this is the mark of a bubble just like tulip bulbs, Florida real estate, and dot com stocks in 1999.
Bitcoin (Daily)
CEO Technician: So it's not different this time?
Bob Moriarty: It's never different. The thing about bubbles is that there's always something that's in a bubble. All you need to do is look around and see what's absurdly overpriced. Right now it's US large cap stocks and Bitcoin.
CEO Technician: When will gold and silver move into a bubble? Was 2011 a bubble in precious metals?
Bob Moriarty: 2011 was not a bubble in precious metals, while they had big moves I would not call that a bubble. The public participation wasn't even close to what we would see in bubble conditions. We would need to see 90% of investors invested in precious metals to get bubble conditions. In a bubble you'll see stocks that are $.50 now go to $50 and they won't have any more in real assets than they do now.
We are starting to see that happen in cryptocurrencies right now; every Tom, Dick, and Harry thinks they are a genius investor because they bought some bitcoin and it's gone up 20% or 30%.
CEO Technician: I was in Vancouver a month ago at the Subscriber Investment Summit and I was asked by no less than ten different people what I thought of Novo Resources (TSX-V:NVO). Then last week I was at the New Orleans Investment Conference and at a dinner on the first night of the conference Novo was once again the big topic of conversation. In Vancouver the sentiment was quite positive on Novo, whereas, in New Orleans there was a lot more skepticism from some well known market professionals.
I know you're a long time bull on Novo, where do you see the stock in terms of the long term investor sentiment cycle? Is the public now involved in a big way? Are we in the greed phase?
Bob Moriarty: John Kaiser aside nobody understands Novo better than I do and i've understood it since 2009. I didn't write about it until 2012 because Quinton Hennigh had to do the deal with Mark Creasy, I was buying shares of Galliard at C$.20 and I still own those shares. When Galliard went public I owned 8% of the shares and when Galliard went public in June of 2012 I wrote "Novo is going to be the spark that ignites the gold market." I wrote that and I'm going to take credit for it. I was absolutely correct and I understood it in 2012 and it's pretty funny that John Kaiser comes along in 2017 and says that Novo has a billion ounces. That's an absurd thing to say considering they have only one assay. However, if you understand the theory it's not quite as absurd; the gold was in saltwater, it precipitated out when the oxygen content of the water changed and it found a home in carbon. When I was there in August I wanted to get some idea of how far the lateral extent was. There were identical nuggets found 125km apart. Most geologists are spring loaded to be skeptical because you can never be wrong by being skeptical. I said this was going to be between a 10x-100x winner and Novo is already well more than a 10-bagger, a 100-bagger is still well within the realm of reason.
There are some interesting things going on because there are 5-6 companies trying to follow along on the Novo train. A lot of these guys are going to screw up because they don't know how to test the conglomerates. As far as i'm concerned Quinton Hennigh is the best geologist in the world and he came to the conclusion that there is a lateral distance of 125km that "SHOULD" be mineralized – if that's the case it will be the biggest gold discovery in history.
CEO Technician: I think there's a great deal of misunderstanding about what Novo has because there's nothing comparable to it anywhere on earth. It's not alluvial, so what is it?
Bob Moriarty: It's not alluvial at all. We are going to have to come up with another name for it. I don't think anyone understands how large Novo's land package is, it's 10,000 square kilometers! Quinton Hennigh has staked more land than there is in Rhode Island and the potential is that the entire package is mineralized.
There is one guy in Toronto who seems to understand what Novo might have. His name is Eric Sprott and he's bought a lot of Novo shares on the open market in the last couple of months. Novo is the story that's going to light the gold mining sector on fire (in a good way).
CEO Technician: How thick is the conglomerate and when do you think the first trenching results will be out?
Bob Moriarty: Quinton is saying those results will be out towards the end of December or the first part of January and I would say that's accurate. The conglomerate is between 4 and 14 meters thick based upon the first dozen drill holes, and it appears to be mineralized throughout although the lower section has more gold than the upper section.
CEO Technician: So the gold got there exactly the same way as it did in the Wits (Witwatersrand, South Africa), but this deposit is more preserved and potentially much larger than the Wits?
Bob Moriarty: The gold precipitated out of the saltwater, however, the prevailing theory on the Wits in recent decades has been that it's either epithermal or placer. The Wits was never preserved the way Pilbara was, so I think Karatha is going to surprise everyone except for maybe me and Eric Sprott.
CEO Technician: What is the deal with this Sheik from Dubai joining the Artemis board (Artemis Resources is Novo's 50/50 partner at Purdy's Reward)?
Bob Moriarty: When a guy is trying to con you he tells you things that are true but meaningless. The Sheik owned 15% of Artemis before he joined the board and I don't think anyone from Artemis is going to be calling him up asking him how they should be testing the conglomerates. Artemis runs the company by press release. You can go back and look at the last thirty press releases and they're all disjointed and don't make any sense. I'm not a fan of any company that's in the gold business, the zinc business, the oil business, the iron business etc. etc. Artemis is going to come to a sad end, it's being run for the benefit of four shareholders at the expense of all the other shareholders. We've seen this a thousand times in Vancouver and Toronto, and Perth is still the Wild West compared to Vancouver and Toronto. The press release was a joke and I sold my Artemis shares on the 23% rally it triggered.
CEO Technician: Who killed Kennedy? (laughs)
Bob Moriarty: Well that's actually a really good question. If you look at one particular photograph you'll see who killed Kennedy. Who was in the car directly behind Kennedy?
CEO Technician: LBJ.
Bob Moriarty: When they turned the corner onto Dealey Plaza LBJ who was in the car behind Kennedy ducked down onto the floor of his vehicle before even the first shot rang out. Nobody profited more from Kennedy's death than LBJ. They also released the autopsy report finally which said that the first shot that struck Kennedy struck him in the throat from the front.
CEO Technician: Are there any other stocks you'd like to mention now to our readers before we wrap up?
Bob Moriarty: I really like Jericho Oil (TSX-V:JCO, OTC: JROOF), an Oklahoma focused oil junior. Jericho has brilliant management that has excellently executed a strategy of picking up distressed fields while the price of crude oil was below $50/barrel. Jericho is refurbishing some of the wells on the properties it has acquired, and now for the first time they are beginning to drill their own wells. I think Jericho is positioned as well as anyone to benefit from a $60 crude oil price environment.
Novo is also a really interesting speculation; we don't have enough data to categorically say that it's a billion ounce deposit. There will be a lot of data out between mid-December through January which could boost the share price. It says a lot that Eric Sprott who is already the largest shareholder continues to buy shares at C$8.00 per share. I also like Kirkland Lake Gold (NYSE:KL, TSX:KL) as a less leveraged way to play Novo.
Bob is adamant that Bitcoin is a bubble, meanwhile the vast majority of the world is adamant that bitcoin is a revolutionary currency invention which has nowhere to go but up. It will be interesting to see how things play out in the cryptocurrency arena. Canadian crypto-mining startup HIVE Blockchain (TSX-V:HIVE) has essentially gone straight up since shares began trading in September and the company now sports a more than C$1 billion market cap despite the fact its business model and profitability are far from clear.
HIVE.V (Daily)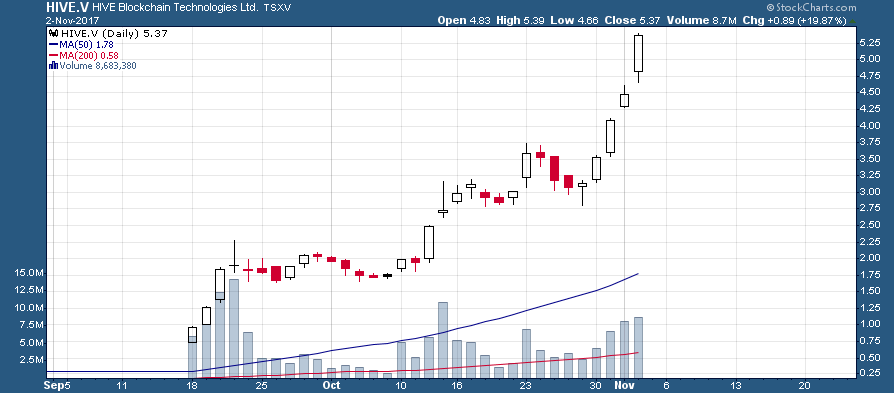 While I don't know if i'd go as far as to call Bitcoin a bubble, I definitely think things have gotten frothy in the crypto space. A deep correction probably isn't far away, however, my instincts tell me this is a sector that is to be bought on big dips.
I am intrigued by Novo Resources (like many others) and as of this article's publishing date I own NVO shares. It looks like Eric Sprott continues to load up on Novo shares with another 50,000 share purchase at C$7.33 on October 27th – it's hard to argue with this level of commitment from one of the most successful mining investors in history. I strongly encourage readers to read through some of Bob's better pieces on Novo (start here and here), nobody has done it better.
Disclaimer:
The article is for informational purposes only and is neither a solicitation for the purchase of securities nor an offer of securities. Readers of the article are expressly cautioned to seek the advice of a registered investment advisor and other professional advisors, as applicable, regarding the appropriateness of investing in any securities or any investment strategies, including those discussed above. Some of the stocks mentioned are high-risk venture stocks and not suitable for most investors. Consult the companies' SEDAR profile for important risk disclosures.
EnergyandGold.com, EnergyandGold Publishing LTD, its writers and principals are not registered investment advisors and advice you to do your own due diligence with a licensed investment advisor prior to making any investment decisions.
This article contains certain forward-looking information and forward-looking statements within the meaning of applicable securities legislation (collectively "forward-looking statements"). Certain information contained herein constitutes "forward-looking information" under Canadian securities legislation. Generally, forward-looking information can be identified by the use of forward-looking terminology such as "expects", "believes", "aims to", "plans to" or "intends to" or variations of such words and phrases or statements that certain actions, events or results "will" occur. Forward-looking statements are based on the opinions and estimates of management as of the date such statements are made and they are subject to known and unknown risks, uncertainties and other factors that may cause the actual results, level of activity, performance or achievements of the Company to be materially different from those expressed by such forward-looking statements or forward-looking information, standard transaction risks; impact of the transaction on the parties; and risks relating to financings; regulatory approvals; foreign country operations and volatile share prices. Although management of the Company has attempted to identify important factors that could cause actual results to differ materially from those contained in forward-looking statements or forward-looking information, there may be other factors that cause results not to be as anticipated, estimated or intended. There can be no assurance that such statements will prove to be accurate, as actual results and future events could differ materially from those anticipated in such statements. Actual results may differ materially from those currently anticipated in such statements. The views expressed in this publication and on the EnergyandGold website do not necessarily reflect the views of Energy and Gold Publishing LTD, publisher of EnergyandGold.com. Accordingly, readers should not place undue reliance on forward-looking statements and forward looking information. The Company does not undertake to update any forward-looking statements or forward-looking information that are incorporated by reference herein, except as required by applicable securities laws. Always thoroughly do your own due diligence and talk to a licensed investment adviser prior to making any investment decisions. Junior resource companies can easily lose 100% of their value so read company profiles on www.SEDAR.com for important risk disclosures. It's your money and your responsibility.