321gold founder Bob Moriarty has been consistent in his bullish view of Novo Resources (TSX-V:NVO, OTC:NSRPF). In fact, a couple of days before the now famous YouTube metal detector videos went viral, Bob was pounding the table on NVO shares while also calling for a tradable low in precious metals and mining shares (which turned out to be timely on many accounts).
NVO.V (Daily – 3 Month)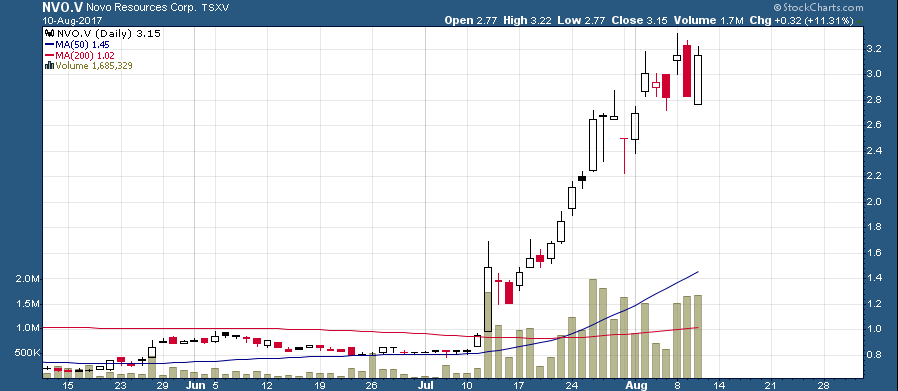 NVO shares caught rocket fuel the week after my last interview with Bob Moriarty when videos of prospectors using metal detectors at Purdy's Reward made the rounds on the internet.
We had the pleasure to catch up with Bob a couple of days ago after he returned from an expedition to Australia to have a look at Novo's latest discovery, Purdy's Reward. After a 300%+ run-up in the span of a month have the shares gotten ahead of themselves? And if not, how much more upside might be available to Novo shareholders?
CEO Technician: I want to start off by saying I am not currently a shareholder of $NVO even though I recently made nearly 100% on a short term trade in the shares (in which Trading Lab subscribers were able to monitor and participate in real time). What has you so interested in Novo Resources right now?
Bob Moriarty: Well, i'd like to start by saying that there is a lot of misinformation out there. There's a lot of bad information and there's a lot of people saying what people want to hear without much substance behind it. I've heard John Kaiser talk about billion ounce potential, other writers talk about 100 million ounce potential, and we've got a piece on 321gold today with a guy from RedCloud saying there is a 10 million ounce "potential." That word potential is the key, every project i've ever seen had a 10 million ounce potential.
The key to understanding it is that the Hamersley basin is an analog of the Witwatersrand Basin; same age, and gold got there the same way. Gold got there through precipitating out of salt water. This was the theory that Quinton Hennigh came up with 24 years ago when he was a doctoral candidate at the Colorado School of Mines. He was working for Newmont and he identified six basins around the world of a similar age and he told me you could go to one of these basins and find a lot of gold.
The way they found the gold at Purdy's Reward was really interesting because it's completely different from Beatons Creek and the type of gold mineralization in the Witwatersrand Basin; it's at surface, it's very high grade, they came out with assays today. Their first bulk sample which they just released had a 67 gram/tonne average. I'll be real candid with you, I think it's going to be a 2 ounce per tonne average across the resource.
CEO Technician: The market was enthused by the release of the first bulk sample results, but my question is how much of this news was already priced in considering how much the stock has run up in recent weeks? And how much can we decipher about the much larger property package from a couple of bulk samples?
Bob Moriarty: We have no idea of how thick the conglomerate area is, we have no idea if the entire conglomerate area is mineralized, we have no idea what the length of the conglomerate is, we have no idea if the conglomerate extends into the basin. However, if you accept Quinton's theory that the gold precipitated out of water and that this is a Witwatersrand analog the answer is that there's a lot of gold and they appear to have found some very high grades. The chances of that first sample being the highest grade sample they'll ever recover is zero; they've been mining that area for 110 years and you have to understand the theory to understand that they're all connected. It's a big deal.
CEO Technician: How does a near surface gold discovery at Purdy's Reward go undiscovered in a country like Australia that has been mining gold for hundreds of years?
Bob Moriarty: That's a really good question. The answer is that because it's nugget gold everybody assumed that it was placer. It looks like placer, however, how the gold got into the rock is a bit confusing. It's not exactly like Witswatersrand, its origin wasn't from a quartz vein, its origin is from the salt water. It's going to take one hundred assays before we can say that we'll have a real feel. But is the potential enormous? Absolutely. I've owned a boatload of shares since 2012, in fact it's been my biggest holding. I am not selling shares up here even though I think there will be a correction at some point soon. It could also just correct through time by moving sideways for a while. The shares are much more tightly held than most realize. Then once more assay results come in the shares could go even higher.
CEO Technician: Is Novo going to begin drilling soon?
Bob Moriarty: They're not drilling yet. They've got an interesting situation because this is the most unusual material to sample, either seen or heard of. They've got to also get their sampling technique down and Quinton has hired a water well drilling machine which they are going to use on the conglomerates at Beatons Creek to make sure it works.
They've got an unusual situation, they've got a 50/50 JV with Artemis (ASX: ARV) on Purdy's Reward and that's why they're working there. It will be another 4-6 weeks before they get their drill permits for Comet Well; Comet Well is probably higher grade and better than Purdy's Reward but they've got the permits to work at Purdy's Reward and that's probably the only reason why they're working there.
I've seen a lot of speculation about Artemis and it's important for Novo shareholders to realize that the Artemis position is about 1% of the total land package than Quinton has put together with Novo. So Artemis is pretty much meaningless in the scheme of things.
CEO Technician: So you wouldn't recommend chasing Artemis shares here then?
Bob Moriarty: I picked up some Artemis shares at $.07 and it got as high as $.19. Artemis is a strange company; they've got coal projects, they've got iron projects, they've got graphite projects, copper projects, etc. I'm not sure anybody actually understands what business Artemis is in. They did identify Purdy's Reward as a Witwatersrand type of project in February but they didn't do anything until Novo came out with the YouTube videos; I don't think they knew what they had until Novo handed it to them on a silver platter.
CEO Technician: What is the situation with the artisanal mining in the area?
Bob Moriarty: The Australian government has an interesting program called 40-E and you apply for a license as a prospector and you can use hand tools and I think you can go down no more than ½ a meter. Essentially artisanal miners can use hand tools and work the very top of the soil, you are not allowed to use any mechanized equipment. There are literally perhaps hundreds of people out there doing that. However, much of the ground that Novo staked was way out in the basin where nobody realized there was gold because it was covered by basalts.
CEO Technician: What are the next steps for Novo?
Bob Moriarty: The real progress will occur when they start drilling. My opinion is that you can't actually measure grade in a system that is this nuggety until you go into production. So what you should do is drill for structure and mine for grade. Pretium had the same problem up in the Yukon. But from a practical point of view does it matter if you have 2 ounces per tonne at surface or 3 ounces per tonne at surface? From a practical point of view it doesn't matter. It will slightly affect your marginal cash costs but you're still going to mine the stuff. Coming up with a 43-101 that's accurate is going to be very difficult but it doesn't make any difference.
CEO Technician: What are your major takeaways from your trip to Australia?
Bob Moriarty: I always want to know what the grade is and what the potential is. We went to the local gold buyer and he showed us gold from a town about 110 km away and you could look at it and tell it was absolutely identical to the gold from Purdy's Reward. That told me that the potential is really enormous. Once they bring a water well drill they'll be doing two assays a day even though they'll only be drilling depths of 50 meters.
I said in 2012 that Novo had the potential to be a 10-bagger and at the time the shares were only C$.45 so they're well on their way to being a 10-bagger, and the potential for being a 100-bagger is absolutely real.
We would like to thank Mr. Moriarty for his insights on Novo Resources and his timely market observations. Novo looks to be a story that is just getting started and is sure to offer astute investors and traders ample opportunities over the coming months/years.
Disclaimer:
The article is for informational purposes only and is neither a solicitation for the purchase of securities nor an offer of securities. Readers of the article are expressly cautioned to seek the advice of a registered investment advisor and other professional advisors, as applicable, regarding the appropriateness of investing in any securities or any investment strategies, including those discussed above. Novo Resources (TSX-V:NVO) is a high-risk venture stock and not suitable for most investors. Consult Novo Resources' SEDAR profile for important risk disclosures.
EnergyandGold.com, EnergyandGold Publishing LTD, its writers and principals are not registered investment advisors and advice you to do your own due diligence with a licensed investment advisor prior to making any investment decisions.
This article contains certain forward-looking information and forward-looking statements within the meaning of applicable securities legislation (collectively "forward-looking statements"). Certain information contained herein constitutes "forward-looking information" under Canadian securities legislation. Generally, forward-looking information can be identified by the use of forward-looking terminology such as "expects", "believes", "aims to", "plans to" or "intends to" or variations of such words and phrases or statements that certain actions, events or results "will" occur. Forward-looking statements are based on the opinions and estimates of management as of the date such statements are made and they are subject to known and unknown risks, uncertainties and other factors that may cause the actual results, level of activity, performance or achievements of the Company to be materially different from those expressed by such forward-looking statements or forward-looking information, standard transaction risks; impact of the transaction on the parties; and risks relating to financings; regulatory approvals; foreign country operations and volatile share prices. Although management of the Company has attempted to identify important factors that could cause actual results to differ materially from those contained in forward-looking statements or forward-looking information, there may be other factors that cause results not to be as anticipated, estimated or intended. There can be no assurance that such statements will prove to be accurate, as actual results and future events could differ materially from those anticipated in such statements. Actual results may differ materially from those currently anticipated in such statements. The views expressed in this publication and on the EnergyandGold website do not necessarily reflect the views of Energy and Gold Publishing LTD, publisher of EnergyandGold.com. Accordingly, readers should not place undue reliance on forward-looking statements and forward looking information. The Company does not undertake to update any forward-looking statements or forward-looking information that are incorporated by reference herein, except as required by applicable securities laws. Always thoroughly do your own due diligence and talk to a licensed investment adviser prior to making any investment decisions. Junior resource companies can easily lose 100% of their value so read company profiles on www.SEDAR.com for important risk disclosures. It's your money and your responsibility.