Precious metals have had a strong rally since reaching the worst sentiment on the sector in more than 20 years in mid-December:
Gold/Platinum/Silver Performance 12/16/2016-2/23/2017

Silver is up 13.51%, gold is up 10.63%, and platinum is up 10.13%. However, the easy part is over and after rallying for more than two months precious metals now find themselves up against much bigger levels of potential resistance.
The good news is that there are no red flags in the charts and the rally from the December lows has been constructive and healthy from a technical vantage point. The bad news is that sentiment has turned quite positive and gold is once again becoming a topic of conversation at cocktail parties (I overheard one such conversation last night at a popular South Florida restaurant).
Lets take a look at the charts:
Gold (Daily)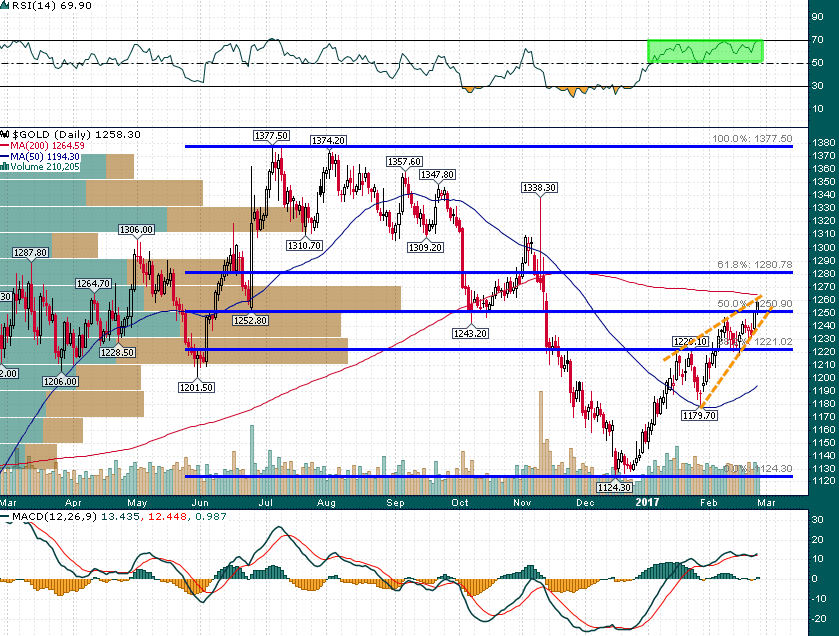 Gold broke above the key $1,250 level last week and its daily RSI(14) has remained in bullish territory (above 50) since the beginning of the year. Even better is the fact that gold's rally has been steady and healthy; rallies have stopped short of getting too overheated and dips have been relatively shallow. Gold now faces a test of significant price memory in the $1260s, in addition to the confluence of the falling 200-day simple moving average and the upper rail of a rising wedge pattern.
As is usually the case during rallies, silver has outperformed gold since the December low:
Silver (Daily)
In addition, the rally has been extremely steady with price confined within a relatively narrow channel. However, there is a band of support/resistance just overhead that could slow the grind higher down a bit.
Of the 3 major precious metals platinum has experienced the 'messiest' price action thus far in 2017. Nevertheless the rally has managed to vault price above a key support/resistance level ($1,020) on a weekly closing basis:
Platinum (Daily)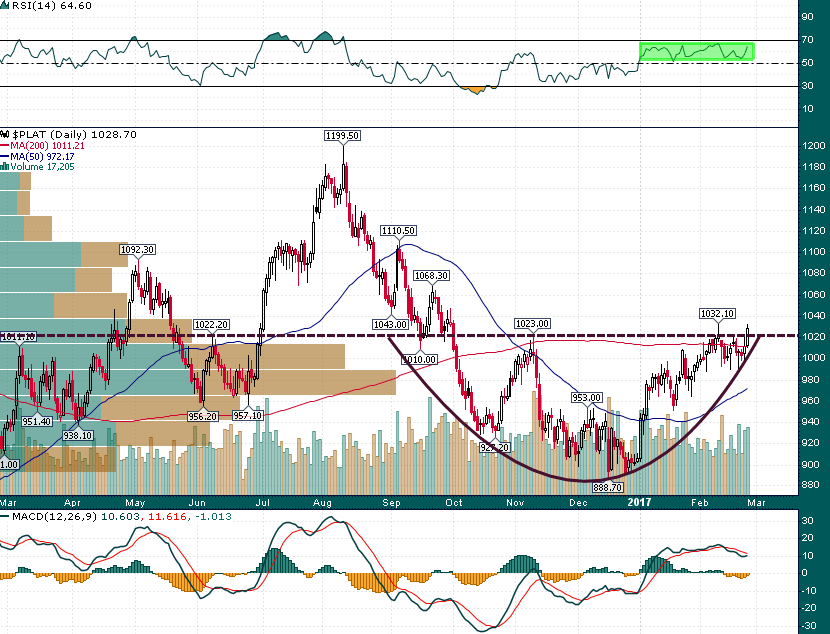 The charts are constructive, the short/medium term trends are bullish, and there is plenty of room for futures speculators to increase net length. However, odds favor some sideways consolidation in precious metals over the near term.
Read Also: Why Are The Gold Miners Stuck In Neutral? 
DISCLAIMER: The work included in this article is based on current events, technical charts, and the author's opinions. It may contain errors, and you shouldn't make any investment decision based solely on what you read here. This publication contains forward-looking statements, including but not limited to comments regarding predictions and projections. Forward-looking statements address future events and conditions and therefore involve inherent risks and uncertainties. Actual results may differ materially from those currently anticipated in such statements. The views expressed in this publication and on the EnergyandGold website do not necessarily reflect the views of Energy and Gold Publishing LTD, publisher of EnergyandGold.com. This publication is provided for informational and entertainment purposes only and is not a recommendation to buy or sell any security. Always thoroughly do your own due diligence and talk to a licensed investment adviser prior to making any investment decisions. Junior resource companies can easily lose 100% of their value so read company profiles on www.SEDAR.com for important risk disclosures. It's your money and your responsibility.