With precious metals and mining shares rallying as Bob Moriarty predicted at the end of December, after the sector reached the worst sentiment in 29 years, we thought it would be a good time get Mr. Moriarty's latest thoughts on things. A wide ranging discussion ensued which included Bob's thoughts on President Trump, a few individual stock picks, and even some timeless investment wisdom. Without further ado here is Energy & Gold's first conversation of 2017 with 321gold editor & founder Bob Moriarty.
CEO Technician: The market's honeymoon with Trump seems to be fading. What do you think about Trump's first 10 days in office?
Bob Moriarty: I'm not a big believer in news causing market moves. Sometimes we can look at a specific news event such as a company releasing big drill results and say "that's why people bought that stock that day!" but there are many more instances in which markets move around a lot and trying to explain the moves is a fool's errand.
Just look at the election night when Trump won everyone was saying gold was going to go up $100 on a Trump victory and gold ended up getting clobbered. Also look at what happened with Mexico, Trump said we're going to build the wall with Mexico and the meeting with the Mexican President got cancelled and the Mexican Peso went up! I don't worry about news.  It's noise, not signal.
I don't know if the Dow and S&P have topped, I'm not seeing the kind of extreme bullish sentiment that we see at major market tops yet. I think the market could go a little bit higher. Meanwhile, in December we had the best sentiment for gold (if you're a contrarian) in 29 years and I think we had a major bottom. Everybody is still talking about how much gold is going to go down, that it's due for a correction, yet we've had a bigger rally this year than we had last year at this time and nobody has noticed.
CEO Technician: That's a great point you make about news. Every time you turn on CNBC the commentators try to have a narrative for everything going on in the market but it's simply just not the case. There are so many factors which move markets and there are a multitude of spurious correlations which the talking heads love to repeat ad nauseum. Longer term trends are the only things which I find to truly be of value.
Bob Moriarty: There is so much random noise in the market. I don't know anyone who can tell you what the market is going to do 10 minutes from now or one day from now. The Fake Stream Media has to come up with a story for why things are moving the way they are but it simply isn't true most of the time.
CEO Technician: Many North American mining companies have operations in Mexico. What are your thoughts on Trump's pledge to renegotiate NAFTA, build a wall, etc.? Are any of the large mining operations in Mexico going to be affected?
Bob Moriarty: I'm going to backtrack for a moment and ask you a question. It's not a trick question, it's a simple question. What do you call the form of government where one person makes all the rules?
CEO Technician: Authoritarianism or totalitarianism.
Bob Moriarty: No, it's a dictatorship. You can have a benevolent dictatorship but in fact 99% of dictatorships are not benevolent, they're actually malevolent. Trump is doing some things that are exceptionally dangerous. Anyone who has fired a weapon knows that there is a blowback, a recoil with every weapon you fire. So if you go out insulting other countries there is going to be blowback. If you tell other countries that their citizens are not welcome in the US then they are going to say "who do you think you are? We can do the same thing."
Now Mexico is a good friend to the United States, they are a large trading partner with the United States, so just because the US doesn't enforce its immigration laws it's not Mexico's fault. Likewise China is a great country, why would you insult them? I think it's exceptionally foolish to tell China what they should do in their backyard.
I'm on record saying that Donald Trump will either be the best President the United States has ever had or the worst President, and I'm honestly not sure which will be the case. Flip a coin.
The good news for mining companies in Mexico is that most of them are Canadian. Canada doesn't go around telling other countries what they should do all the time. But I think it could be very bad overall, there could be a tit for tat. Business in general could become more difficult for American companies as a form of blowback to Trump's policies.
CEO Technician: It seems that Donald Trump didn't really learn economics, particularly in terms of international trade and comparative advantages between countries. Detroit shut down its auto manufacturing for a reason, it was much too high cost and had lost its competitiveness on a global scale. Attempting to reset the global economics 'equation' by force will surely have far reaching consequences right?
Bob Moriarty: What's important to understand about trade is that it's always advantageous to both parties. Trump is acting like he's going to make sure that the U.S. has all the advantages. His career has consisted of being a bully and as a bully he's often been able to get his way. Being a bully or being a dictator is not a good form of government.
CEO Technician: We've seen a rally in precious metals and mining stocks since we reached that 29-year low in sentiment in mid-December. We're now seeing many individual breakouts in junior mining stocks and people are starting to take notice of this sector after wanting to have nothing to do with it in December. Is this the real deal and have we just gotten started?
Bob Moriarty: All throughout November and December I was saying this was going to be the greatest buying opportunity in history and I firmly believe that's true. Sentiment reached a contrarian's dream on December 15th and we have the HUI (Gold Bugs Index) up 33% since then. The rally up until now is better than it was last year at this time and I don't think many people have noticed, and that's always a good thing.
Gold mining shares aren't as cheap as they were a year ago but in relative terms compared to the last 10 or 15 years they are still very cheap. I believe the current rally could last for months before the next major correction.
HUI (Gold Bugs Index – Daily)
CEO Technician: Gold mining shares aren't as cheap on an absolute basis as they were a year ago but in many ways they are in much better shape than they were a year ago. Their balance sheets are much stronger and they have improved their cost structures.
Bob Moriarty: You make a very good point. Although the stocks aren't as cheap, the companies are far healthier. Let me give you an example: Silvercorp (TSX:SVM) was C$.60/share last January and it went all the way to C$4.75, now obviously it's not as cheap as it was last January but the company is far healthier. It's not going to go back to C$.60. That was a once in a lifetime buying opportunity.
There are some great companies and great opportunities out there. There is one company I talked to over the weekend that I won't identify that's got a C$3 million market cap, a 50/50 JV with Goldcorp, and they've got C$2 million in the bank. Now how much risk is there in a stock like that?
There are some extraordinary opportunities out there right now if people would just take the time to look for them.
CEO Technician: What was the last stock that you bought? And you know I love to ask you for a couple of your favorite stock ideas right now.
Bob Moriarty: Did you actually read my book Nobody Knows Anything?
CEO Technician: Yes.
Bob Moriarty: In the book I said that investing is very simple, you buy things when they're cheap and sell them when they're dear. Somebody contacted me a couple weeks ago about a company that has a process for separating lithium, magnesium, and silica from oil waste water. Now a lot of people don't know this but when you pump out a barrel of oil you may pump 10 barrels of water or you may pump 100 barrels of water. That's waste water and you have to do something with it.
So this company developed a way to do something with the water, after all it's nothing but saltwater, it's brine. The company is MGX Minerals (CSE:XMG). They were C$.72/share when I found out about them and I looked at it and said I want to own some of those shares. I ended up buying shares at C$.95 and the stock ended up hitting C$2.75 less than a week later.
XMG (Year-To-Date)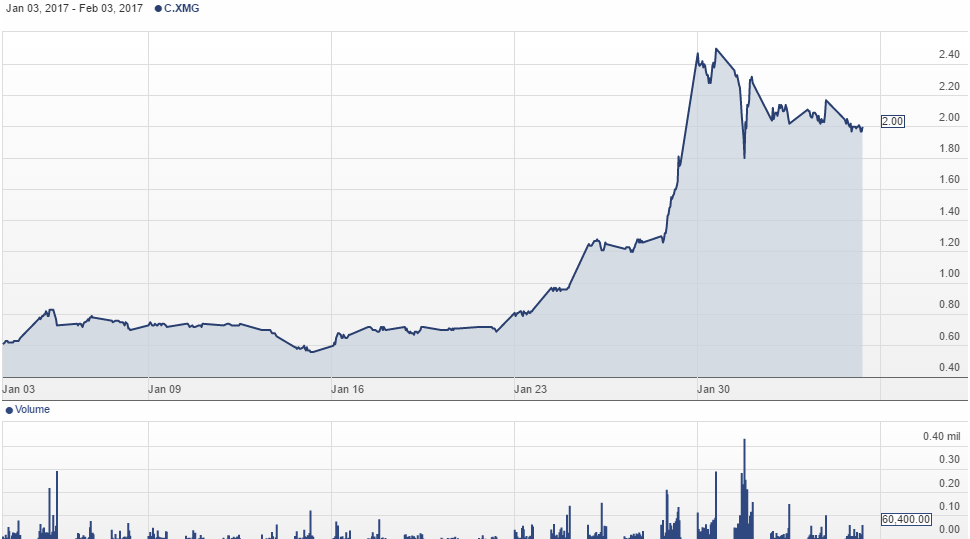 Bob Moriarty: Now if you were staring at a 150% profit in less than a week what would you do?
CEO Technician: Sell at least ½.
Bob Moriarty: I sold the whole thing. I made a 140% profit in less than a week. I was a little early, I sold at $2.35. I'll do that all day long. Now if it goes back to C$1.50 I'll buy twice as much as I did at C$.95 before.
CEO Technician: I recall you mentioned Bonterra (TSX-V:BTR) in our December interview. Do you have any news on that name?
Bob Moriarty: They were C$.22 the last time we talked…. I just wrote about them after some extraordinary drill results recently. The shares shot up to $.345 from $.28 but they were  $.51 back in March of last year. I am pretty sure they are going to go back there and a lot more. Their drill results have been brilliant.

BTR.V (Daily)
Another company which I think is a slam dunk is Rise Resources (CSE:UPP). Rise bought the Idaho Maryland Mine in California which has 2 million ounces of gold for US$2 million. As many problems as California has as far as permitting goes that mine is going to go back into production and that mine has US$2.5 billion of gold and the entire market cap of the company is C$10 million which is chump change.
CEO Technician: What is the most that a long term investor should allocate to a single junior resource investment? Say if someone has $100,000 they want to invest for 20-30 years how much would you put in each stock? How many stocks are too many for a portfolio?
Bob Moriarty: If I was investing for a 30 year period, all I would do is trade the silver/gold and platinum/gold spread entering when we were at a 3 year extreme. I talk about those trades in my book. Resource stocks have to be traded, they have expiration dates. They are all lottery tickets. Buy cheap sell dear and go on to the next big thing.
CEO Technician: Do you pay attention to insider buys/sells? And if so, which site do you go to for the latest insider transactions?
Bob Moriarty: Of course. https://www.canadianinsider.com (Editor's note: CEO.ca also has an excellent #insiders channel with insider transactions updating as soon as they are made public)
CEO Technician: What's the single biggest mistake an investor can make in 2017?
Bob Moriarty: Not spending $3 on my book. It is the single best money an investor could spend. And once they spend the $3 they should buy the paper copy and refer back to it. The book is called Nobody Knows Anything and can be bought on Amazon. Dozens of people have told me it's the single best investment book they have ever read. I think they are right.
CEO Technician: We have covered a junior oil explorer by the name of Jericho Oil (TSX-V:JCO) for the last year and in the last week the stock has finally gotten some attention and staged a technical breakout. What are your thoughts on Jericho?
Bob Moriarty: Jericho is one of the finest run companies I have ever seen. They did everything they said they would and the shares will go much higher as the market gets it. Trump is very good for resources of all sorts.

JCO.V (Daily)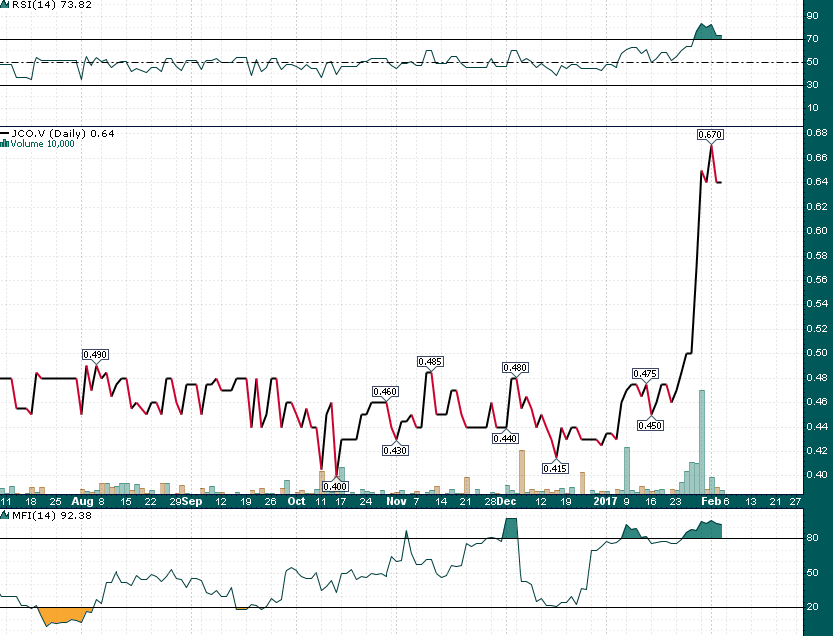 We would like to thank Bob for his time and insights. 2017 is shaping up to be an interesting year filled with opportunity and i'm sure we will talk again soon.

Disclaimer:
The article is for informational purposes only and is neither a solicitation for the purchase of securities nor an offer of securities. Readers of the article are expressly cautioned to seek the advice of a registered investment advisor and other professional advisors, as applicable, regarding the appropriateness of investing in any securities or any investment strategies, including those discussed above. Some of the stocks mentioned are high-risk venture stocks and not suitable for most investors. Consult the companies' SEDAR profile for important risk disclosures.
EnergyandGold.com, EnergyandGold Publishing LTD, its writers and principals are not registered investment advisors and advice you to do your own due diligence with a licensed investment advisor prior to making any investment decisions.
This article contains certain forward-looking information and forward-looking statements within the meaning of applicable securities legislation (collectively "forward-looking statements"). Certain information contained herein constitutes "forward-looking information" under Canadian securities legislation. Generally, forward-looking information can be identified by the use of forward-looking terminology such as "expects", "believes", "aims to", "plans to" or "intends to" or variations of such words and phrases or statements that certain actions, events or results "will" occur. Forward-looking statements are based on the opinions and estimates of management as of the date such statements are made and they are subject to known and unknown risks, uncertainties and other factors that may cause the actual results, level of activity, performance or achievements of the Company to be materially different from those expressed by such forward-looking statements or forward-looking information, standard transaction risks; impact of the transaction on the parties; and risks relating to financings; regulatory approvals; foreign country operations and volatile share prices. Although management of the Company has attempted to identify important factors that could cause actual results to differ materially from those contained in forward-looking statements or forward-looking information, there may be other factors that cause results not to be as anticipated, estimated or intended. There can be no assurance that such statements will prove to be accurate, as actual results and future events could differ materially from those anticipated in such statements. Actual results may differ materially from those currently anticipated in such statements. The views expressed in this publication and on the EnergyandGold website do not necessarily reflect the views of Energy and Gold Publishing LTD, publisher of EnergyandGold.com. Accordingly, readers should not place undue reliance on forward-looking statements and forward looking information. The Company does not undertake to update any forward-looking statements or forward-looking information that are incorporated by reference herein, except as required by applicable securities laws. Always thoroughly do your own due diligence and talk to a licensed investment adviser prior to making any investment decisions. Junior resource companies can easily lose 100% of their value so read company profiles on www.SEDAR.com for important risk disclosures. It's your money and your responsibility.