The uranium sector has been quietly building momentum for weeks but today the uranium story caught the attention of a much larger audience and produced an impressive sector-wide rally: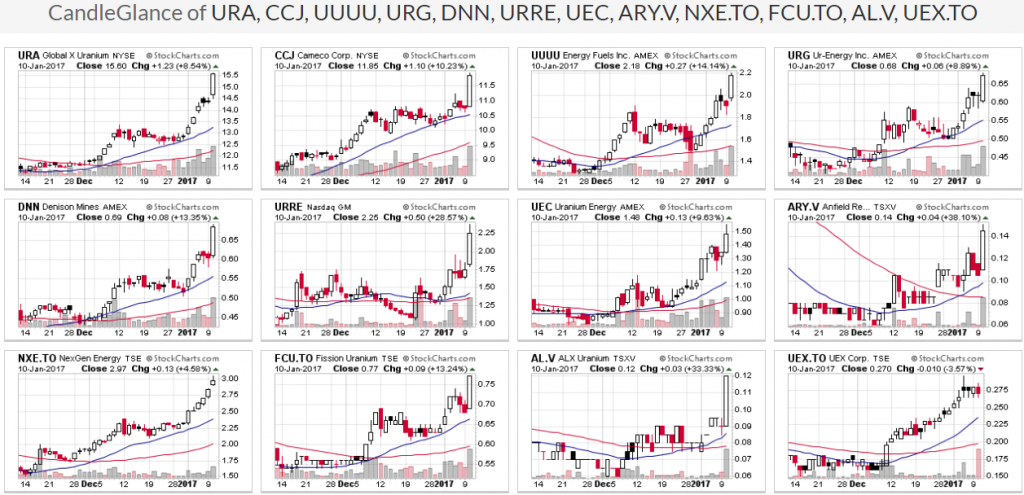 Cameco (NYSE: CCJ, TSX:CCO), the biggest name in the uranium sector produced a 10.23% rally on the highest single day trading volume in nearly three years. Moreover the hottest uranium exploration name, NexGen Energy (TSX: NXE), surged another 10% closing at a new all-time high (C$2.97, C$863 million market cap).
Perhaps the most impressive aspect of today's rally is that it all occurred with uranium spot prices still below $25/lb U3O8, a price that is below the vast majority of uranium miners' marginal breakeven point. This is what can happen when sentiment on a sector undergoes a massive shift from extreme pessimism to a glimmer of optimism.
I can recall speaking with a couple of uranium exploration executives at the New Orleans Investment Conference in late October and while they pointed to a major turn in the sector occurring sometime between 2018 and 2020, they agree there was no bullish catalyst for at least another six months. Little did we know at the time we were one week away from a major turning point bottom for the uranium space.
Nuclear isn't going anywhere anytime soon and China is counting on nuclear as an integral part of its clean energy future. In addition, the European Commission's decision to save Areva is an incremental positive, as is news that the world's largest uranium producing country is cutting uranium production 10%.
While it may not be prudent to chase the uranium stock rally in the short term, looking at long term charts of CCJ or URA illustrates that there is a substantial amount of upside available in this sector over the medium-to-long term.
A couple of our favorite uranium names that may still have plenty of room to run over the longer term are GoviEx Uranium (TSX-V:GXU) and UR-Energy (AMEX: URG).
DISCLAIMER: The work included in this article is based on current events, technical charts, and the author's opinions. It may contain errors, and you shouldn't make any investment decision based solely on what you read here. This publication contains forward-looking statements, including but not limited to comments regarding predictions and projections. Forward-looking statements address future events and conditions and therefore involve inherent risks and uncertainties. Actual results may differ materially from those currently anticipated in such statements. The views expressed in this publication and on the EnergyandGold website do not necessarily reflect the views of Energy and Gold Publishing LTD, publisher of EnergyandGold.com. This publication is provided for informational and entertainment purposes only and is not a recommendation to buy or sell any security. Always thoroughly do your own due diligence and talk to a licensed investment adviser prior to making any investment decisions. Junior resource companies can easily lose 100% of their value so read company profiles on www.SEDAR.com for important risk disclosures. It's your money and your responsibility.