The Gold Mining Sector Could Reach All-Time Highs Next Year
The gold miners as represented by the GDX continue to consolidate within a relatively narrow range just below the largest volume-by-price bar of the year:
GDX (Daily)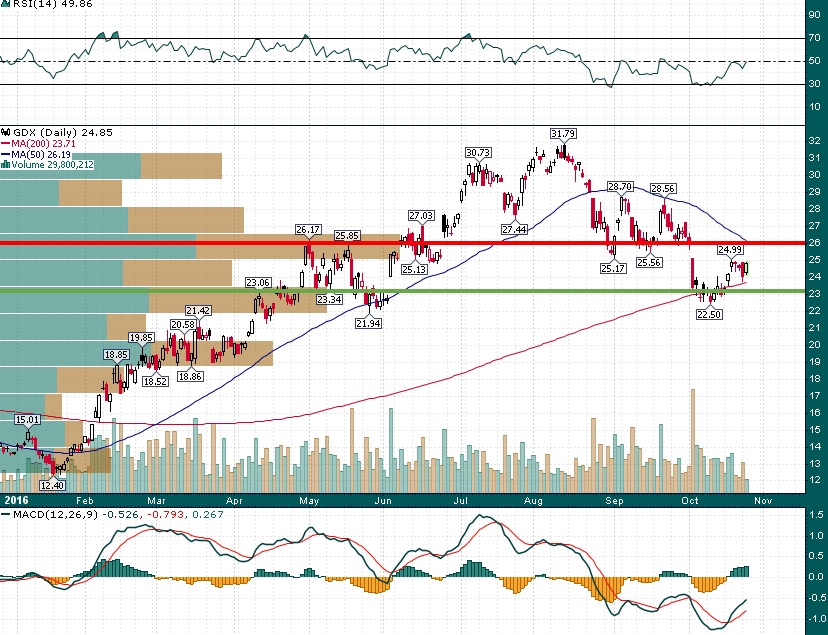 The correction of the last couple of months against the backdrop of a powerful rally during the first 7 months of the year has created a situation in which the falling 50-day moving average is on its way to converge with the rising 200-day moving average. The falling 50-day moving average also happens to line up with important support/resistance and the largest volume-by-price bar of 2016 near ~$26 (horizontal red line). Meanwhile the rising 200-day moving average is currently just above important support near $23 (horizontal green line). As the two most widely used moving averages continue to converge we can expect a resolution to the recent range to occur any day now.
Moreover, considering the trajectory and intensity of the rally from January through August there is a strong possibility that the January low in the gold miners marked a major long term bottom. If that is the case then the sector could be on the verge of embarking on the 3rd wave of a standard 5 wave Elliott Wave sequence: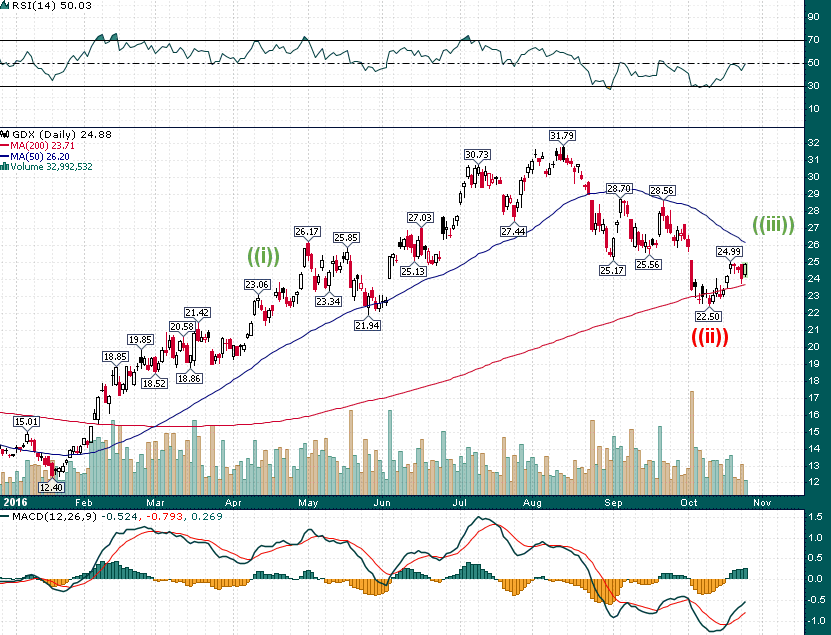 The 3rd impulse wave of a rising 5-wave sequence is typically the longest wave of the 5-wave sequence. This means that if the gold miners are indeed in the midst of a rising 5-wave sequence then this next rally wave will result in all-time highs for the sector, surpassing the 2011 high.
I offer this possibility as food for thought but first GDX gets to breakout above resistance near $26 before we can get too excited about the beginning of a 3rd impulse wave of a rising 5-wave sequence.
DISCLAIMER: The work included in this article is based on current events, technical charts, and the author's opinions. It may contain errors, and you shouldn't make any investment decision based solely on what you read here. This publication contains forward-looking statements, including but not limited to comments regarding predictions and projections. Forward-looking statements address future events and conditions and therefore involve inherent risks and uncertainties. Actual results may differ materially from those currently anticipated in such statements. The views expressed in this publication and on the EnergyandGold website do not necessarily reflect the views of Energy and Gold Publishing LTD, publisher ofEnergyandGold.com. This publication is provided for informational and entertainment purposes only and is not a recommendation to buy or sell any security. Always thoroughly do your own due diligence and talk to a licensed investment adviser prior to making any investment decisions. Junior resource companies can easily lose 100% of their value so read company profiles on www.SEDAR.comfor important risk disclosures. It's your money and your responsibility.