We had the opportunity to catch up with 321gold founder Bob Moriarty and pick his brain on where we are at in the mining cycle, what his favorite investments are right now, and several timely macro topics including the Turkish failed coup. As usual Bob didn't pull any punches and got right to the point…
CEO Technician: We are in what is probably the strongest 5+ month stretch in history for the gold mining sector. Where are we at now and is the sector a bit overheated at this point?
Bob Moriarty: It's absolutely overheated but it could continue to be overheated for a long time. I would not have any problem whatsoever with a pullback, a correction is normal and healthy and it would be a good thing. We are in a long term bull market that began in 2000 and it's going to go a lot higher.
The miners were absolutely crushed from 2011-2015 and of course we have seen phenomenal gains since January but they will go a lot higher over the next 1-2 years.
CEO Technician: So we're not in the crazy euphoria stage yet? There is still substantial upside available to investors from current levels?
Bob Moriarty: We're a long way from a crazy euphoria. There's a lot of hot money and there are a lot of weak hands who have jumped into both silver and gold but the fact is that silver is still cheap, gold is still cheap, platinum is cheap, and the miners are cheap. Trying to catch every squiggle on the chart is a difficult thing to do and we don't know when a correction will take place.
From a geopolitical point of view there's never been a more important time to be invested in real assets.
CEO Technician: What is your take on BREXIT? Will the UK actually leave the EU or is this one of those things that will get dragged out indefinitely by politicians and never actually happen? How does an actual BREXIT affect precious metals and mining shares?
Bob Moriarty: First of all BREXIT is not the disease, it's a symptom. The EU is utterly dysfunctional. There are 12,643 laws regarding milk. There are 50 pages of documents telling you how much water to use in the toilet to flush it. The EU is a bunch of unelected bureaucrats, nobody knows who they are.  They weren't elected and they are not responsible. Throughout the EU people are saying "Hey, wait a minute. These people are making decisions that affect us and we don't have any part of it." The EU is dysfunctional.
The Italian banks are bankrupt, they are talking about a US$350 billion injection into the Italian banking system to keep it afloat which is totally illegal according to the EU regulations. If the Italian banks go under they're going to take Deutsche Bank down too and if Deutsche Bank goes under with its $65-$75 trillion in derivatives then the entire global banking system will collapse.
CEO Technician: Surely that scenario will not be allowed to occur, the central banks will come in and bail out the banks and firewall the bad assets right?
Bob Moriarty: That's what they're trying to do but they're running out of ammunition. Rates are already at zero, the central banks of the world are all bankrupt, and the world is awash in debt. The best scenario is for the most heavily indebted countries (Japan, U.S., Italy, etc.) to go bankrupt. When they fail (not if) you want to be holding real assets and that's what gold and silver are.
Scott Armstrong: What do you still find attractive in the market and where should people be deploying capital?
Bob Moriarty: Just about anything you can find out there in the mining & resource space is better than Greek or French bonds. The problem with me naming individual stocks is that I will be sure to forget or not mention many companies that are top notch and well deserving of praise. I could give you 5 great stocks but there would be 45 other great stocks I would leave out.
Scott Armstrong: Tell us about clean energy and which areas in the clean energy arena investors should be focused on?
Bob Moriarty: Graphite is interesting and there are some interesting applications for it in clean energy. The lithium battery for example requires 9 times more graphite than it does lithium.
I fear that the lithium sector will become like uranium, nickel, gold, the Nasdaq etc. There will be $50 billion crowding into a $5 billion sector and we will see an enormous bubble. That being said I am a big believer in clean energy and there is one company which I will mention, Eguana Technologies (TSX-V: EGT), which makes the control unit that goes in between solar panels and batteries. The high capacity batteries for solar panels are actually decreasing in price faster than solar panels are and Eguana makes the best control units in the world. They signed a whole bunch of deals with companies around the world to manufacture their products; Eguana's products are key in transmitting energy from the solar panels into the energy grid.
CEO Technician: I'm going to push you a little more Bob, among the gold miners there must be a couple of names that really stand out to you?
Bob Moriarty: The safest investments are in the mid-tier gold miners, the guys that are in production and which are marginally profitable even at lower gold and silver prices (US$1100 gold, US$13 silver). Silvercorp (SVM.TO) would be a really good example – we mentioned it back in January when it was trading down near C$.60 and it has gone up nearly 600% since then.
SVM.TO (Daily)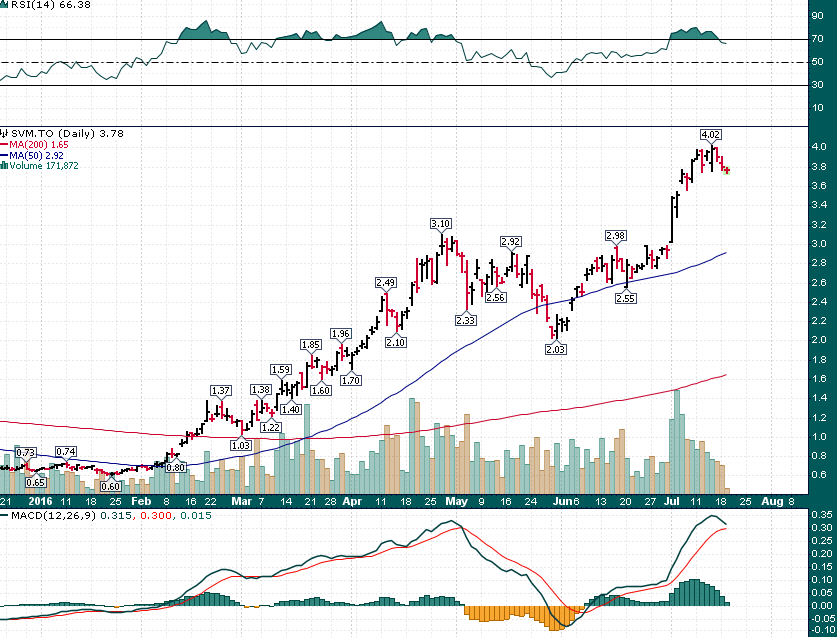 Agnico Eagle (AEM) has always been one of my favorite companies,  they have an excellent management team and they picked up some great projects when times were poor in the sector.
I also just got off the phone with the former president of Cayden Resources, Ivan Bebek, and we spoke about his new company Auryn Resources (AUG.V). Auryn has a project in Nunavut (Canada) and another project in Peru, Ivan is a winner and this is a stock that I see going to double or triple digits.
AUG.V (Daily)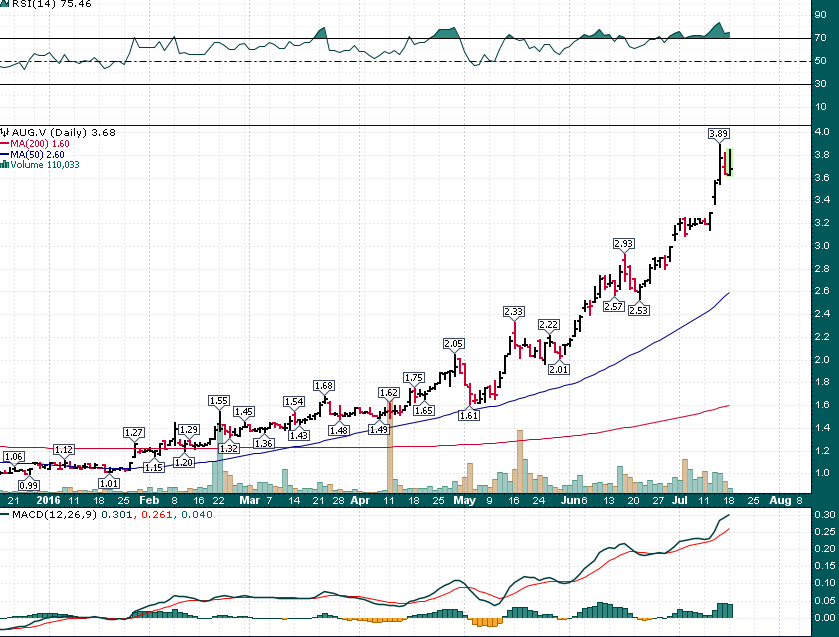 Incredibly impressive chart with textbook bullish price action (stair-step higher with high volume rallies and low volume pullbacks)
CEO Technician: The macro/geopolitical backdrop appears to be treacherous at best, meanwhile, the precious metals sector has seen huge gains during the first half of the year. How does an investor avoid doing something stupid here? What are the pitfalls we should watch out for?
Bob Moriarty: Well first of all I am never a fan of whatever is popular. Do not follow the crowds. I wrote a book a few months ago called Nobody Knows Anything that went to #1 in its category on Amazon. You need to avoid crowds, you need to avoid gurus, you need to avoid seeking out people who will tell you what you want to hear. I am not an expert, i'm just a guy who reads 100 articles a day and talks to company management.
Scott Armstrong: What are your thoughts on Africa from an investment perspective? It's hard to argue that Africa is not the final investment frontier, particularly for resource investors.
Bob Moriarty: Africa has a corruption problem. I prefer projects in safer jurisdictions such as Canada, Peru, Australia, etc. The United States has gone a bit nuts and I fear greatly the election this fall. By and large I shy away from Africa because there are simply better places to invest. There will sometimes be specific situations where I know the management and I know what they've got.
CEO Technician: If your mother handed you $1 million to invest right now what would you do with it? She can't lose it but she also needs it to grow.
Bob Moriarty: I would put half into platinum and half into silver and put it under the bed. Gold is expensive right now relative to platinum and silver.
Platinum/Gold Ratio (30 year chart)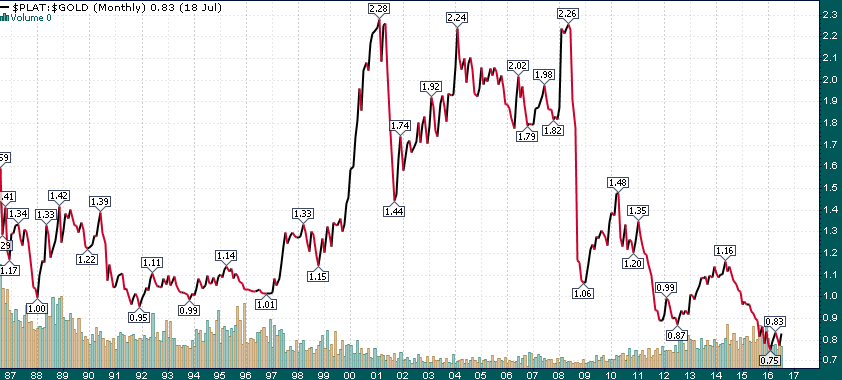 CEO Technician: Are there any platinum miners you would recommend?
Bob Moriarty: Platinum Group Metals (PLG.TO) has some really high grade platinum mines in South Africa, even though I don't really care for South Africa PLG is going to a high degree of mechanization in mining and their mines are low cost. Platinum is a real sleeper right now and if platinum goes up PLG shares should do very well.
PLG.TO (Daily)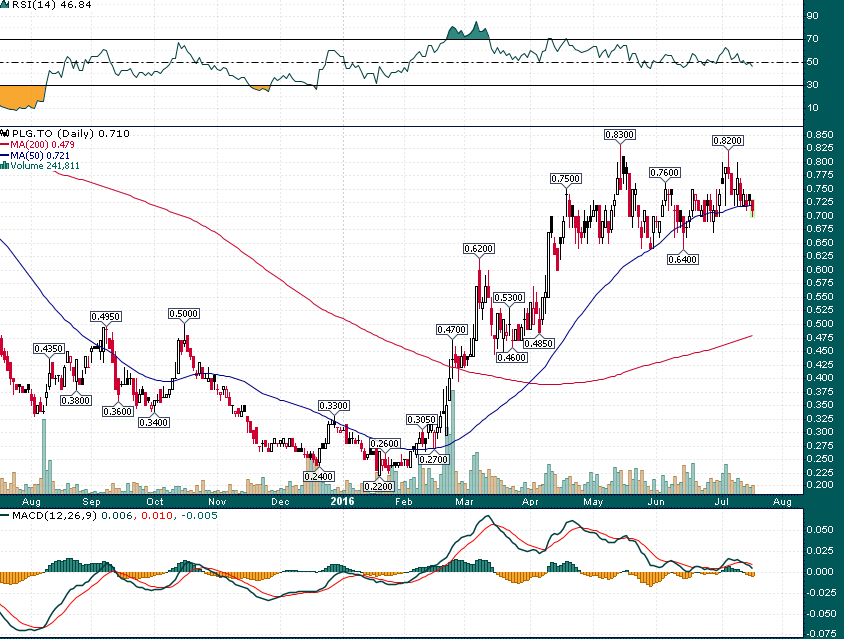 CEO Technician: We have seen what Jeffrey Gundlach calls a "mass psychosis" this year with more than $10 trillion in bonds moving into negative yield territory. What is this negative yield mass psychosis telling us?
Bob Moriarty: Interest rates are a barometer telling us that there are some scary things coming. Gold, silver, platinum, and palladium are real assets in a world with more than $200 trillion in paper assets (debt). I think we will see some scary things very soon and real assets will rise to the top while paper assets will be just that, paper.
CEO Technician: Friday evening there was what appears to have been a coup attempt in Turkey. You've been following Turkey closely and have written extensively about the Syria/Turkey powder keg. What's your take on this latest development?
Bob Moriarty: Over the weekend we watched a pseudo coup in Turkey where the captured soldiers supposedly involved in the attempt had been told it was only an exercise. "Rebel" fighter aircraft could have attacked Erdogan's aircraft but didn't and 2,750 judges were detained after the fact as being part of the coup attempt. It wouldn't even be possible to write down 2,750 names in a single day so obviously the purge list was prepared in advance.  In addition Erdogan arrested 103 senior generals and admirals and removed 8,777 officials and police officers from the Interior Ministry. Either Turkey has the most inept military in history or Erdogan has launched yet another false flag operation.
The Nato air base at Incirlik provides storage for an estimated 50 B61 nuclear bombs. If Erdogan seizes them Turkey will become the 2nd nuclear armed nation in the Middle East and we march one step closer to World War III.
We would like to thank Bob for his time and his investing insights. Eguana was a new name for us and definitely an interesting investment idea worth following. I also think it's more important than ever for investors to avoid gurus and to filter their information sources. Finally, we stood up and took notice when the founder of 321gold favors platinum over gold because it is cheap on a relative basis.
DISCLAIMER: The work included in this article is based on SEDAR filings, current events, interviews, and corporate press releases. It may contain errors, and you shouldn't make any investment decision based solely on what you read here. This publication contains forward-looking statements, including but not limited to comments regarding predictions and projections. Forward-looking statements address future events and conditions and therefore involve inherent risks and uncertainties. Actual results may differ materially from those currently anticipated in such statements. The views expressed in this publication and on the EnergyandGold website do not necessarily reflect the views of Energy and Gold Publishing LTD, publisher of EnergyandGold.com. This publication is provided for informational and entertainment purposes only and is not a recommendation to buy or sell any security. Always thoroughly do your own due diligence and talk to a licensed investment adviser prior to making any investment decisions. Junior resource companies can easily lose 100% of their value so read company profiles on www.SEDAR.com for important risk disclosures. It's your money and your responsibility.