The mining industry has become a major hacking target with major mining firms such as Goldcorp and Detour Gold becoming victims of massive data breaches in the last year. With a sizable chunk of the mining & resource sectors still well behind the curve in terms of cyber security (and technology in general) there lies a significant threat to the industry and to the wealthy billionaires that back them. And most likely, they aren't even aware.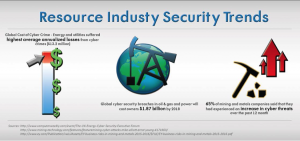 Identillect Technologies Corp. (TSXv: ID) President and CEO Todd Sexton believes that his company has just what the mining & resource industries need right now. A simplified multi-platform solution to keep their valuable information secure called Delivery Trust™. We had the opportunity to connect with Mr. Sexton earlier this week and learn about Identillect and its vision for corporate security:
CEO Technician: It's a pleasure to have you here with us today to share the Identillect story and the exciting opportunity that is available in the corporate cyber security arena. Please tell us about Identillect and the industry trends that have you so excited right now.
Todd Sexton: Email security in general has been clumsy, lacks control, and is challenging to use. The utilization of security in B2B and B2C communication has been challenging due to download requirments, group membership, or cumbersome passwording process.   Running an email security integration company for the five years preceding start of Identillect Technology I saw a void in the market. Delivery Trust was designed for the ultimate B2B experience without all the hassle. Five years ago, we analyzed the security gaps in the market and knew the future would see many data breaches. Identillect focuses on preventing these data breaches.
We developed our technology with the changing security requirements in mind; we have one patent issued and four more in process. Our superior development team with 2 PhD cryptographers makes Identillect a leader in security. The goal of Identillect Technologies is to focus on security while making usability and control our product differentiators.
We commercialized the product a couple of years back and we just went public on the TSX-Venture three weeks ago. From the standpoint of the mining industry, mining is starting to get hit really heavily right now. There was a big story a few weeks back about Goldcorp (NYSE:GG) getting hacked and this is starting to happen more and more in the resource sector. There are two primary reasons for this:
There are hacktivists who are going after companies' international information because they are unhappy with how this industry is conducting business.
Regular data breaches they are experiencing because they have a lot of personal information of high net worth individuals.
We're trying to educate the mining & resource industries about the threats they are facing and inevitably provide a product that allows them to secure their information.
CEO Technician: Can you add some more granularity as to what your plans are for the mining sector? What's your growth plan and do you have any clients in the mining sector currently?
Todd Sexton: We are just presenting our technology to the mining industry now. After I saw the breach Goldcorp experienced Identillect decided to develop a marketing strategy to address the security concerns in the mining industry. The first step is education, which means making the industry aware of the security issue and taking the correct actions to protect their information.
CEO Technician: Why would a major mining company go to Identillect? What do you offer them that they can't do on their own in terms of efficiency and integration?
Todd Sexton: We designed our product for simplicity because most of the people utilizing an email security program   are not going to be the most technologically savvy. What we've done is built a product and made it super simple for the sender and the recipient of the email. .
One unique feature we provide to our users is absolute control; the sender can restrict forwarding, restrict printing, limit the amount of time the email is available, and retract the message at any time.. Some Goldcorp emails were reported to have been taken with mal intent in mind, with a product like Delivery Trust this situation could be combated through the use of email encryption and our retraction feature. The system we've devised is very simple and allows for a seamless integration into a company's existing email infrastructure.
CEO Technician: Cyber security is catching a lot of headlines including in the highest levels of government with the Secretary of State in the U.S. How large is the opportunity available to you on a global scale across industries?
Todd Sexton: It's enormous. They are estimating a growth in cybersecurity from $75 billion in 2015 to $170 billion in 2020. You need to think of email security like you do anti-virus protection. Ten years ago only a fraction of people had anti-virus protection, now you wouldn't boot your computer up without this tool.. We are seeing email security breaches growing exponentially over the past 18-24 months, email encryption is the new anti-virus protection.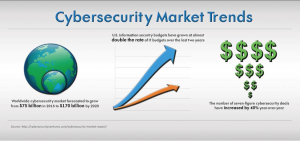 Identillect's flagship technology "Delivery Trust" spans across multiple platforms to accommodate any user requirements. Additionally, Identillect has integrated our "smart scan" technology which scans every email and/or documents to ensure corporate policy enforcement. This allows a company to enforce strict utilization of security across the entire workforce and consequently comply with all regulations.
CEO Technician: How long does it take for you to implement your security technology with a new client? If a major mining company called you tomorrow how long would it take for you to secure their email?
Todd Sexton: I could take a 500 person company and have them set up within a day. Most of the setup is based on company preferences or features the client would desire.The implementation we can do in an hour, that's how easy it is.
CEO Technician: What kind of growth are you targeting in terms of new clients and revenue? What is your revenue break-even point?
Todd Sexton: We'll be breakeven at about 30,000-35,000 users which we will reach towards the end of this year. Within 24 months we are targeting 250,000 users. We are in heavy growth mode right now and we are seeing a lot of growth in our company and in our product right now.
CEO Technician: The opportunity presented to Identillect right now makes a lot of sense to me given the fact that the mining industry isn't liked by the hacktivist community and the industry has also generally been behind in the curve in terms of technology adoption.
Todd Sexton: Absolutely, we haven't ever before seen a cyber security threat like the one we are facing today. We are focused on educating and preparing the mining & resource industry.
It's clear that the mining & resource industries are facing the biggest threats they've ever faced in terms of security of information technology. Identillect Technologies is poised to fill the IT security void in these growing sectors at just the right time. With Identillect reaching breakeven near the end of this year at a time when resource companies will be adopting more robust IT security technology at a record pace there couldn't be a better time for investors to take a look at Identillect shares.
Disclaimer:
The article is for informational purposes only and is neither a solicitation for the purchase of securities nor an offer of securities. Readers of the article are expressly cautioned to seek the advice of a registered investment advisor and other professional advisors, as applicable, regarding the appropriateness of investing in any securities or any investment strategies, including those discussed above. Identillect Technologies is a high-risk venture stock and not suitable for most investors. Consult Identillect Technologies SEDAR profile for important risk disclosures.
This article contains certain forward-looking information and forward-looking statements within the meaning of applicable securities legislation (collectively "forward-looking statements"). Certain information contained herein constitutes "forward-looking information" under Canadian securities legislation. Generally, forward-looking information can be identified by the use of forward-looking terminology such as "expects", "believes", "aims to", "plans to" or "intends to" or variations of such words and phrases or statements that certain actions, events or results "will" occur. Forward-looking statements are based on the opinions and estimates of management as of the date such statements are made and they are subject to known and unknown risks, uncertainties and other factors that may cause the actual results, level of activity, performance or achievements of the Company to be materially different from those expressed by such forward-looking statements or forward-looking information, standard transaction risks; impact of the transaction on the parties; and risks relating to financings; regulatory approvals; foreign country operations and volatile share prices. Although management of the Company has attempted to identify important factors that could cause actual results to differ materially from those contained in forward-looking statements or forward-looking information, there may be other factors that cause results not to be as anticipated, estimated or intended. There can be no assurance that such statements will prove to be accurate, as actual results and future events could differ materially from those anticipated in such statements. Actual results may differ materially from those currently anticipated in such statements. The views expressed in this publication and on the EnergyandGold website do not necessarily reflect the views of Energy and Gold Publishing LTD, publisher of EnergyandGold.com. Accordingly, readers should not place undue reliance on forward-looking statements and forward looking information. The Company does not undertake to update any forward-looking statements or forward-looking information that are incorporated by reference herein, except as required by applicable securities laws. Always thoroughly do your own due diligence and talk to a licensed investment adviser prior to making any investment decisions. Junior resource companies can easily lose 100% of their value so read company profiles on www.SEDAR.com for important risk disclosures. It's your money and your responsibility.