In a recent interview Tesla Founder & CEO Elon Musk provided the following nugget regarding the battery-powered vehicles industry's dependence upon graphite as a crucial input regardless of the fact that its batteries are widely known as lithium-ion batteries:
"The Lithium is actually 2% of the cell mass […] It sounds like it's big because it's called Lithium-Ion but our factory should be called 'Nickel Graphite'."
The clean energy vehicle story is one of the main investment themes of 2016 and with each Tesla vehicle requiring roughly 80 pounds of graphite, demand for graphite is just getting started. Moreover, the global graphite supply/demand dynamic is becoming increasingly tenuous with China accounting for 70% to 80% of the world's graphite supply. Moreover, approximately 70% of Chinese production is fine or amorphous graphite while 30% is flake.
China does produce some large flake graphite but the majority of its flake graphite production is very small in the +200 mesh range. Large flake graphite is the type that is demanded by the electric vehicle industry as a crucial input for lithium-ion batteries. In addition, in order to protect its industry and encourage value added processing at home, China has instituted a 20% export duty on graphite, as well as a 17% VAT, and an export licensing system.
The picture is clear with demand poised to explode higher over the next couple of decades and the vast majority of graphite supply in China's hands North America is desperately in need of new graphite mines in North America: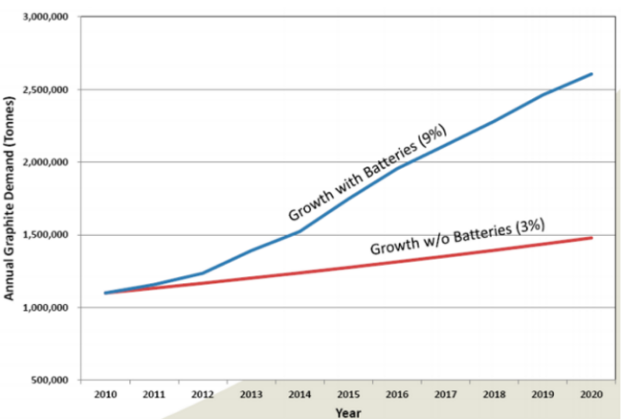 Graphite One (GPH:TSX, GPHOF:OTCQX), the largest American graphite deposit has been advancing their asset and releasing technical results that should garner some attention. The results have been demonstrating that their graphite may be able to produce battery grade graphite on par with synthetic graphite which is what most battery producers use now, paying anywhere from $15,000 to $20,000 per tonne for it. It's a major cost of the battery and securing a consistent supply, of the same battery grade quality for a much lesser price is the holy grail to reduce the cost of "nickel-graphite" batteries.
Considering the size, location and recently announced technical merits of the project, Graphite One may end up being the premium graphite stock out there to leverage the "battery-boom".
DISCLAIMER:
The work included in this article is based on SEDAR filings, current events, interviews, and corporate press releases. It may contain errors, and you shouldn't make any investment decision based solely on what you read here. This publication contains forward-looking statements, including but not limited to comments regarding predictions and projections. Forward-looking statements address future events and conditions and therefore involve inherent risks and uncertainties. Actual results may differ materially from those currently anticipated in such statements. The views expressed in this publication and on the EnergyandGold website do not necessarily reflect the views of Energy and Gold Publishing LTD, publisher of EnergyandGold.com. This publication is provided for informational and entertainment purposes only and is not a recommendation to buy or sell any security. Always thoroughly do your own due diligence and talk to a licensed investment adviser prior to making any investment decisions. Junior resource companies can easily lose 100% of their value so read company profiles on www.SEDAR.com for important risk disclosures. It's your money and your responsibility.