Paradox Basin, Utah
The lithium sector is heating up and there are strong indications that the bull market in this relatively young investment space is just getting underway. The Lithium ETF (NYSE: LIT) has seen a more than 50% surge in net assets under management in just the last couple of months and many of the hottest lithium exploration names have seen their stock prices break-out from well defined bases and surge anywhere from 300% to 1000%.
"If Tesla does what Tesla says it's going to do the world lithium market is in for a shock." STM Director Wayne Tisdale

While many of the hottest junior lithium explorers have spent the last month consolidating their enormous gains the sector is preparing for a summer drilling season which could provide investors with ample fodder to parse through in the fall.
I have compared the lithium investment story to uranium between 2002 and 2007 and speculated that we are probably somewhere around late-2003 or early 2004 in terms of how far along investors are in terms of appreciating the lithium investment story. If this is the case it means that the biggest gains lie ahead over the next couple of years and that there won't just be a handful of winning stocks, there will be dozens of stocks that will become 5, 10, or even 20 baggers during this time frame.
Galaxy Resources CEO Anthony Tse was recently quoted regarding the future path of lithium prices: "One new project needs to come online at 100 percent capacity, every single year, for the next five years, in order to achieve a balance…and that in my view is not going to be happening." Tse estimates a price of $12,000-$13,000 per tonne for lithium products.
In order to find the 10 and 20 baggers investors will need to find some of the diamonds in the rough in the sub-$20 million market cap range before their stories become widely known and appreciated among investors. One such name that is currently weighing in at a roughly C$10 million market cap is Scientific Metals Corp. (STM.V):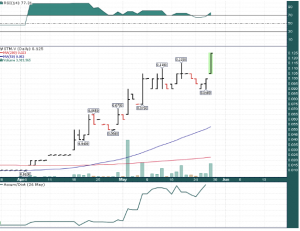 The STM management team is positioned for success with strong leadership from the top down. President Brian Kirwin has made a name for himself through several Junior and Senior mining operations such as Placer Dome, FreePort McMoRan and Cominco. He has over 33 years of mining and exploration experience and has proven his ability to provide the leadership required to take a junior resource company all the way from the early exploration phase to full scale production.
Director Wayne Tisdale is another seasoned veteran running companies in the mining, oil, gas and agriculture. Tisdale has over 40 years of experience and has raised over $2 billion. Mr. Tisdale played an instrumental role in the growth and eventual sale of Rainy River Resources where he grew the value of stock from $0.25 to a high of $13 in 2011 and a market cap of $1.3 Billion. Also in 2011 Mr. Tisdale successfully raised $75 Million at $12.65 per share, Mr Tisdale has established as a man that prides himself on integrity and respect and can raise a few bucks too! Rainy River was later sold to New Gold for $310 Million.
Director Garry Clark has over 30 years of consulting experience as well as currently holding the Executive Director role at Ontario Prospectors Association(OPA), serves on the Ministry of Mines Mining Act Advisory Committee and Ontario Geological Survey Advisory Board. Director Michelle Gahagan was the former President of STM has proven a strong ability to advise companies on navigating international tax driven structures, mergers and acquisitions. Michelle has over 20 years practiced corporate law for 20 years. Independant Director James Welykochy rounds out this great management team bringing with him his 30 years of mining experience as well. James is a professional geologist by trade but also is well versed in the world of institutional sales, corporate finance and investment banking. It is safe to say this group of individuals has come together to form an extremely knowledgeable, seasoned and focused team with a commitment to bringing forward economic lithium assets in North America at a time when the world is at a lithium deficit.
We had the opportunity to connect with STM President Brian Kirwin and Director Wayne Tisdale. We were impressed with Kirwin and Tisdale's vision and the urgency with which they are committed to moving STM forward to identifying and moving forward to production an economic lithium resource.
According to President Brian Kirwin STM's objective is to more clearly identify an economic lithium resource at its Deep Valley lithium resource in Alberta and its newer acquisition in the Paradox Basin in Utah. Deep Valley in Alberta has proven to have some of the highest lithium values (in the range of 140 mg/L PPM) in Alberta that has a well and has great flow rates. It's a great place to start for a Jr like STM. Paradox Basin also has some very favorable conditions, the brines reach the surface under natural pressure of the aquifer and historic wells have produced results up to 1700 mg/L PPM lithium. If we compared these historical results to other operations that's >8x the grade at Silver Peak, Nevada and 3x the average lithium grade at Hombre Muerto, Argentina – a world class lithium deposit in the lithium triangle. Kirwin is confident that STM has the investor backing to build up an impressive portfolio of lithium assets that will not only get the market's attention but also produce lithium at 30%-50% operating margins at a time when the world is thirsting for lithium to feed surging demand.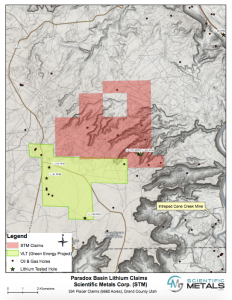 When asked if STM is planning to benefit from a "rising boats" scenario in the lithium space, Tisdale replied that STM is very selective in the lithium assets it is acquiring.
"We are not going to be spending millions of dollars pumping Lithium out of the ground like others are, we pour our Lithium from a tap" STM President Brian Kirwin
From our perch STM is one of the early stage lithium explorers that investors should take a closer look at; with a top notch management team and some exciting resources in its pipeline STM might literally have perfect timing to seize the opportunities created from the coming lithium boom.
Disclaimer:
The article is for informational purposes only and is neither a solicitation for the purchase of securities nor an offer of securities. Readers of the article are expressly cautioned to seek the advice of a registered investment advisor and other professional advisors, as applicable, regarding the appropriateness of investing in any securities or any investment strategies, including those discussed above. Scientific Metals is a high-risk venture stock and not suitable for most investors.. Consult Scientific Metals SEDAR profile for important risk disclosures.
EnergyandGold has been paid to cover Scientific Metals and so some information may be biased. EnergyandGold.com, EnergyandGold Publishing LTD, its writers and principals are not registered investment advisors and advice you to do your own due diligence with a licensed investment advisor prior to making any investment decisions.
This article contains certain forward-looking information and forward-looking statements within the meaning of applicable securities legislation (collectively "forward-looking statements"). Certain information contained herein constitutes "forward-looking information" under Canadian securities legislation. Generally, forward-looking information can be identified by the use of forward-looking terminology such as "expects", "believes", "aims to", "plans to" or "intends to" or variations of such words and phrases or statements that certain actions, events or results "will" occur. Forward-looking statements are based on the opinions and estimates of management as of the date such statements are made and they are subject to known and unknown risks, uncertainties and other factors that may cause the actual results, level of activity, performance or achievements of the Company to be materially different from those expressed by such forward-looking statements or forward-looking information, standard transaction risks; impact of the transaction on the parties; and risks relating to financings; regulatory approvals; foreign country operations and volatile share prices. Although management of the Company has attempted to identify important factors that could cause actual results to differ materially from those contained in forward-looking statements or forward-looking information, there may be other factors that cause results not to be as anticipated, estimated or intended. There can be no assurance that such statements will prove to be accurate, as actual results and future events could differ materially from those anticipated in such statements. Actual results may differ materially from those currently anticipated in such statements. The views expressed in this publication and on the EnergyandGold website do not necessarily reflect the views of Energy and Gold Publishing LTD, publisher of EnergyandGold.com. Accordingly, readers should not place undue reliance on forward-looking statements and forward looking information. The Company does not undertake to update any forward-looking statements or forward-looking information that are incorporated by reference herein, except as required by applicable securities laws. Always thoroughly do your own due diligence and talk to a licensed investment adviser prior to making any investment decisions. Junior resource companies can easily lose 100% of their value so read company profiles on www.SEDAR.com for important risk disclosures. It's your money and your responsibility