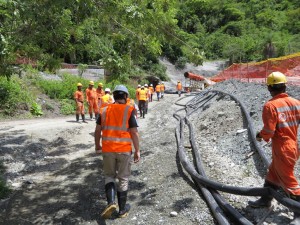 With gold currently around US$1,064 an ounce, the gold mining industry is focused more on survival than M&A.
But as producers mine ore and attempt to grind out a profit as gold moves lower, they are constantly depleting their resource. If they want to stay in business, production pipelines will need to be replenished. And high-grade projects always command more attention.
Continental Gold's Buriticá project in Colombia remains one of the richest undeveloped gold projects and is considered a leading takeout candidate by several mining analysts.
Buriticá contains 4.48 million ounces Au in the M&I categories at average grades of 10.8 grams per tonne and an additional 4.5 million ounces of inferred, according to a June 2015 independent NI 43-101 study by Mining Associates Limited.
Continental already has a 30-year Mining License for Buriticá in hand. The company had hoped to receive its Environmental License – the final permit required to build and operate the Buriticá mine – last summer, but unfortunately summer came and went with no permit.
In September, Continental announced it would be elevating the Environmental application to ANLA, the federal level permitting agency. In late 2013, Buriticá was been deemed a Project of National Strategic Interest for Colombia (Proyectos de Interés Nacional y Estratégicos ("PINES")) and according to the National Development Plan law passed by congress in June 2015, all PINES projects are required to be managed at the federal Level.
In a matter of days, Continental shares dropped from over $3 to under $1.50 on the Toronto Stock Exchange. When it comes to Continental, investors are in a "show-me" mood after the setback.
Continental CEO Ari Sussman has been active purchasing shares in the market, most recently buying 15,000 shares on Dec. 1 at $1.45 to $1.47.
I'd been meaning to get an update from Mr. Sussman, but he politely stalled me until he could get some clarity on the permitting issue.
On November 20, the National Government of Colombia passed Decree 2220, which gave Continental its road map for how to complete environmental permitting under the PINES process. Mr. Sussman agreed to a Skype call to discuss the company's permitting schedule and next steps.
Continental will submit a new permit application next month and hopes to receive its final permit during the summer of 2016, according to Mr. Sussman. The company is updating the permit application to be aligned with the ongoing Feasibility Study.
Buriticá is the second gold project to apply for permitting with ANLA at the federal level. B2Gold and AngloGold Ashanti's Gramalote project just received its Environmental License from ANLA, the federal permitting authority, according to Portafolio.co (in Spanish).
AngloGold and B2Gold applied for the license in February 2015, according to the Portafolio article, but it is unclear whether they will develop the project amid weak metal prices. The proposed Gramalote project has a significantly larger environmental footprint than Buriticá, being an open-pit mine versus underground.
Continental will publish its Feasibility Study for the Buriticá project in H1 2016, ahead of schedule, according to Sussman. He says the company is in the process of extracting a roughly 1500-tonne trial-mining stope from the Upper Yaragua vein package at Buriticá as part of the Feasibility Study.
The trial mining stope, which will see gold doré produced, was developed at commercial scale with 3.5 x 3.5 metre tunnelling. Continental extracted an area of rock that is approximately 30 metres across by 14 metres high measured from sublevel to sublevel. Sussman says the exercise is to give confidence to the selected mining method (mechanized long hole) and confirm the resource estimate tonnes and grades for the selected area of trial mining.
Assays from the trial mining stope will be published in January and Sussman is optimistic the grades will be as good or better than what's in the resource study.
"Given that we've seen positive grade reconciliation in the resource estimates from inferred to indicated to measured, there's no reason to believe we won't see grades similar to the measured ounces, but obviously the final assays will be the determining factor."
Sussman is optimistic Continental can get its momentum back in 2016. As we conclude our call, he says there's never been a gold bear market that lasted more than five years.
"Five full years is summer 2016. Unless we're making history, we're turning sometime between now and then."
Continental Gold trades on the TSX under the symbol CNL. The company has no debt and US$34 million in cash and cash equivalents (including doré inventory). Based on a $1.64 share price and approximately 130 million shares outstanding, Continental has a market capitalization of $213 million.
The company will be presenting at the Subscriber Investment Summit in Toronto, which will be held on March 5, 2016.
Follow CNL in chat.ceo.ca – the investment conference in your pocket.
All figures approximate. All facts are to be checked by the reader. For more information go to www.continentalgold.com and read the company's profile on www.sedar.com for important risk disclosures. Author has a financial interest in Continental Gold. This is not intended to be investment advice of any kind and all readers are encouraged to do their own due diligence and talk to their own licensed investment advisors prior to making any investment decisions.