This Trucking Company is Benefiting From The Weak Canadian Dollar
Titanium Transportation (TTR.V) is a Canadian based trucking & logistics company that is one of the fastest-growing truckers in North America. TTR hauls freight, primarily from Canada to the US, and the company has actually been a net beneficiary of a weak Canadian dollar.
The company has two segments: Trucking (asset-based, ~70%  of revenue) and logistics (asset-lite, ~30% of revenue). TTR has benefited from a weak Canadian dollar because roughly 80% of its revenue is generated from US transborder flow. The US economy is strong relative to Canada and the weaker CAD has helped generate increased southbound trade flow from Canada's largest manufacturing and export province, Ontario (where TTR is based). Moreover, the strong USD/weak CAD dynamic make US based trucks more expensive relative to Canadian based trucks.
While some economists are calling for a recession in Canada one would never know it looking at TTR's recent revenue/EBITDA growth and revenue/EBITDA projections: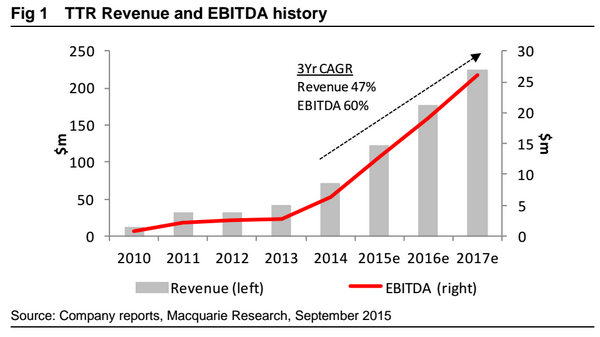 The company currently generates more than C$120 million in annual revenue with more than 350 power units, ~1,100 trailers, and ~410 employees and owner-operators. TTR has a goal of achieving over C$500 million in annual revenue over the next several years through a combination of M&A and organic growth. TTR has an impressive track record of generating organic growth. In particular, the logistics segment has performed exceptionally with 50% average organic growth during the last 5 years and the company is on track to generate 68% organic top-line growth in logistics this year: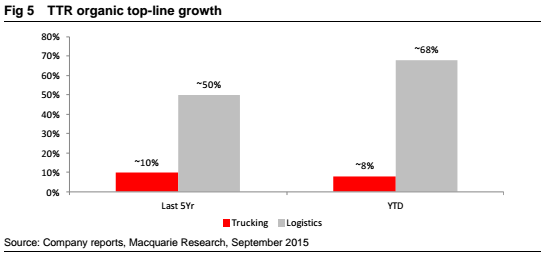 TTR has also made seven acquisitions since 2011 and has a proven track record of acquiring companies and more than doubling the EBITDA margins post acquisition. The freight transportation and logistics space is heating up as evidenced by the acquisition of Con-way Inc. by XPO Logistics announced Wednesday after the market close. XPO is paying a 30%+ premium to the market price in order to get a foothold in the U.S. trucking market. Con-way shares (NYSE:CNW) had been mired in a steady downtrend since the beginning of the year until Wednesday's takeover news: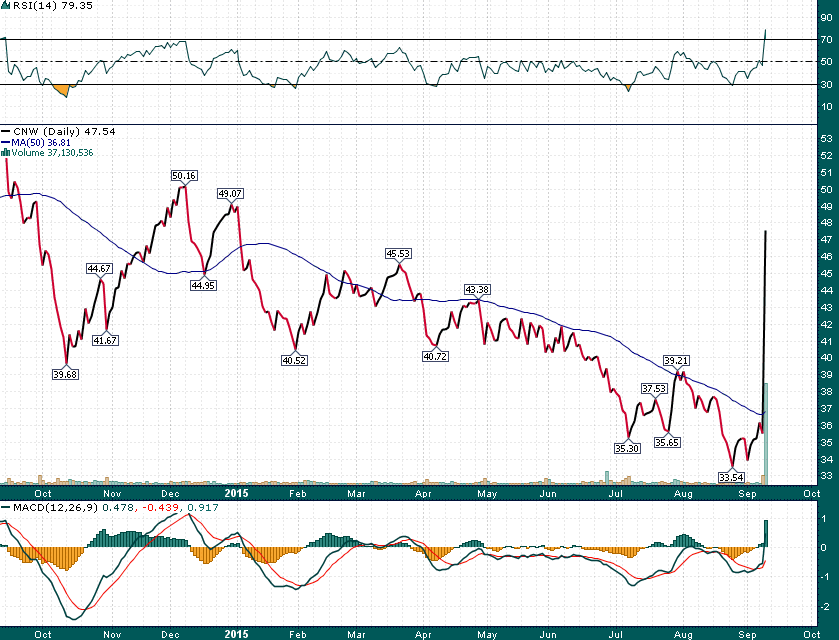 A few things that set TTR apart from its competition and make it an attractive potential takeover candidate down the road:
Market defying organic growth – during a tough year for Canadian trucking & logistics providers TTR is experiencing 8% growth in trucking and 68% growth in logistics.
High driver retention rate – driven by company's financial strength, positive culture, and partnership model (share ownership, benefits, etc.) among other things.
Strong balance sheet (less than 2x net debt/EBITDA).
Top tier management that brings a strong track record of experience and which continues to execute at a very high level despite an otherwise challenging market environment.
Strong insider ownership (management, directors, and employees own ~34% of common shares).
TTR is poised to continue to benefit from strong cross-border fundamentals and favorable exchange rate dynamics, and the company has no oil & gas exposure.
Macquarie Research has a 12-month price target of C$4.50 on TTR shares based on a sum-of-the-parts methodology using a 40 million share fully diluted share count (TTR has 34.5 million shares issued). C$4.50 could be a conservative price target if TTR continues to execute at a high level and the company achieves its C$500 million revenue goal (a double-digit share price would be within reason in such a scenario). TTR is a fast growing company in a relatively overlooked sector that offers investors a way to uniquely benefit from broader macroeconomic trends affecting North America (strong US economy and weakening Canadian dollar etc.).