Some key points courtesy of Cantor Fitzgerald Metals & Mining team:
Kyushu Electric Power Co. has announced that it will resume operations at its Sendai nuclear power plant at 10:30am on August 11 (9:30pm eastern time tonight).
o   Control rods will be removed from the No.1 reactor at that time and nuclear fission will begin.
o   Japan's Nuclear Regulatory Authority ("NRA") has been informed of the schedule.
o   A final inspection by company employees will occur today confirm the control rods are operating properly.
o   The reactor is expected to reach criticality approximately 12 hrs after the control rods are removed and become self-sustaining.
o   Power is expected to be generated and transmitted on August 14 and normal operating levels are expected in early September.
o   The No.2 reactor is expected to restart in mid-October.
Japan's Institute of Energy Economics estimates that 11 reactors could be back online by March 2016. Here's more from Cantor regarding the uranium price outlook and a looming uranium supply shortfall:
"Cantor Fitzgerald Canada Research continues to hold the view that a violent upward move in the price of uranium is inevitable based on an unavoidable supply deficit occurring in 2020 where uranium supply from all sources (mine level and secondary) does not meet increased demand (particularly China)…….With primary supply at the mine level already notably below current demand levels (145M lbs. vs. 172M lbs. in 2014), few new mines coming online within the next five years, long term all-in sustaining costs at US$80/lbs., and about 15%-20% of global requirements becoming uncovered in 2016-2017, we believe uranium will need to undergo dramatic price increases to incentivize supply to meet demand – otherwise the world will have inactive nuclear reactors and an electricity shortage."
Cameco (CCJ) continues to be our top pick in the uranium space based upon the stock's extremely attractive valuation (1.3x book value and 13x 2016 EPS estimates) and potential for tremendous upside in the event that Cantor's uranium forecasts prove to be prescient over the coming years. CCJ shares could easily double from current levels and still not be expensive compared to where they have traded historically.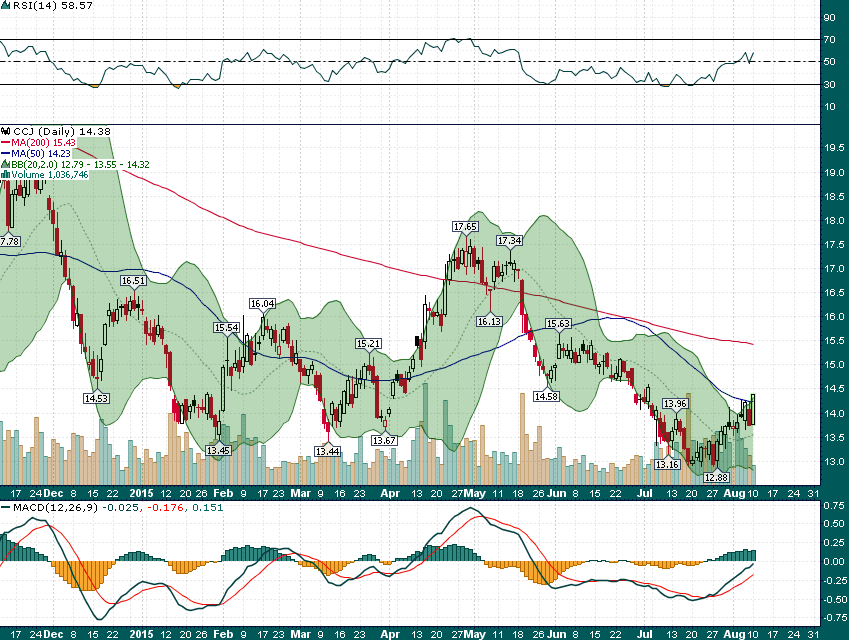 CCJ shares recently traded down to levels not seen since the 2008 Global Financial Crisis. From a technical standpoint the recent sell-off was notable because it took place on relatively low volume which indicates that the stock fell simply due to a lack of buying interest as opposed to strong conviction among sellers. Meanwhile, there have been signs of accumulation during the last couple of weeks and today's rally takes on added significance because it is the first move above the flattening 50-day simple moving average since May. We are bullish on CCJ and see a return to the $17 level before year end.
Among the junior uranium explorers our top pick is Nexgen Energy (NXE.V) due to two primary reasons: NXE's strong chart and price action, and the company's excellent cost containment and remarkable drilling success.