It might be hard to believe but WTI crude has rallied nearly 50% since March 17th. While crude's recent rally has certainly taken the crowd by surprise (as illustrated by tremendous short covering in the exchange traded fund USO) there's ample reason to believe that crude oil's upside move may have just come to an end. Here are 4 reasons to expect a pullback in crude oil over the near term:
WTI printed a shooting star candlestick off the 38.2% Fibonacci retracement of the decline since September 30th (when the oil sell-off really got underway) – shooting stars have been especially bearish recently with at least the last 4 shooting stars on the daily time frame all resulting in multi-day declines over the subsequent days. 
The crude futures market is convinced that $65/barrel is the ceiling for some time to come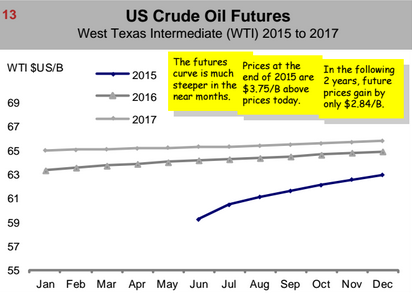 The December 2016 WTI crude contract saw brisk trading as it closed down $.42 today at $65.08

This is the flattest the crude futures curve has been since last year, just before the big crude crash.
Storage levels remain at record extremes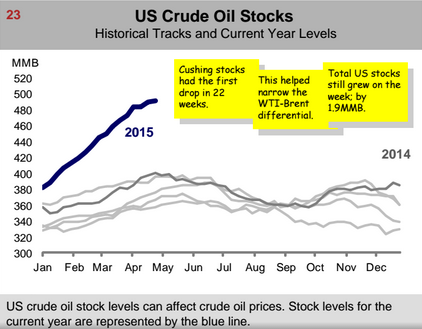 It will require an intense summer driving season to work off a substantial enough amount of the current crude supply glut. Any sign that consumer gasoline demand isn't brisk will weigh heavily on crude prices. 
Producers have been hedging aggressively in recent months and $65/barrel is a key price level that makes even some of the highest cost wells profitable, expect producers to accelerate their hedging activities at $60+