A Simple Yet Meaningful Chart
I posted the following tweet yesterday and was surprised at the amount of attention which it received: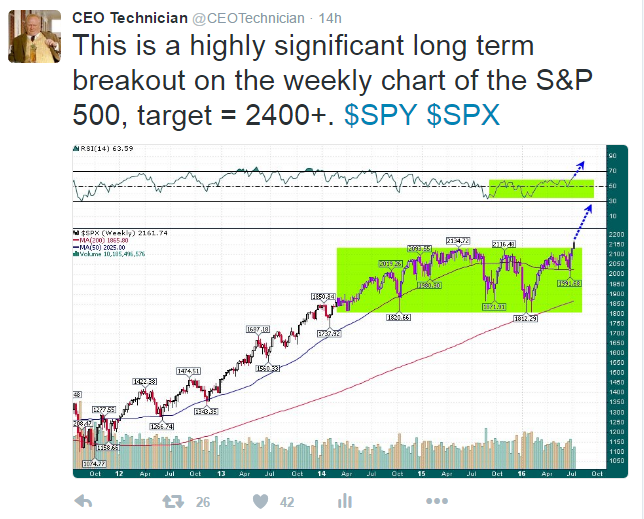 I can't recall the last time I received 26 retweets and 42 likes on a tweet. However, when I say "highly significant" there is a good reason. Considering that the S&P 500 has been mired within a roughly 15% range for the last 2 1/2 years, last week's breakout above previous resistance near 2130 simply cannot be ignored.
The contrast of the above long term chart breakout laid against the backdrop of BREXIT, weak economic growth, plunging bond yields, Turkish coup attempts, etc. etc. is really quite remarkable. If you ever needed more evidence of how meaningless pundits' opinions are, or another reminder of how important it is for market participants to eliminate noise and focus on price action the above chart and the events of the last few weeks will be indelibly imprinted in my memory.
DISCLAIMER: The work included in this article is based on current events, technical charts, and the author's opinions. It may contain errors, and you shouldn't make any investment decision based solely on what you read here. This publication contains forward-looking statements, including but not limited to comments regarding predictions and projections. Forward-looking statements address future events and conditions and therefore involve inherent risks and uncertainties. Actual results may differ materially from those currently anticipated in such statements. The views expressed in this publication and on the EnergyandGold website do not necessarily reflect the views of Energy and Gold Publishing LTD, publisher ofEnergyandGold.com. This publication is provided for informational and entertainment purposes only and is not a recommendation to buy or sell any security. Always thoroughly do your own due diligence and talk to a licensed investment adviser prior to making any investment decisions. Junior resource companies can easily lose 100% of their value so read company profiles on www.SEDAR.comfor important risk disclosures. It's your money and your responsibility.