Gold Turns Constructive After Third Week of Correction
Gold found support exactly where it was supposed to this morning:
Gold (Daily)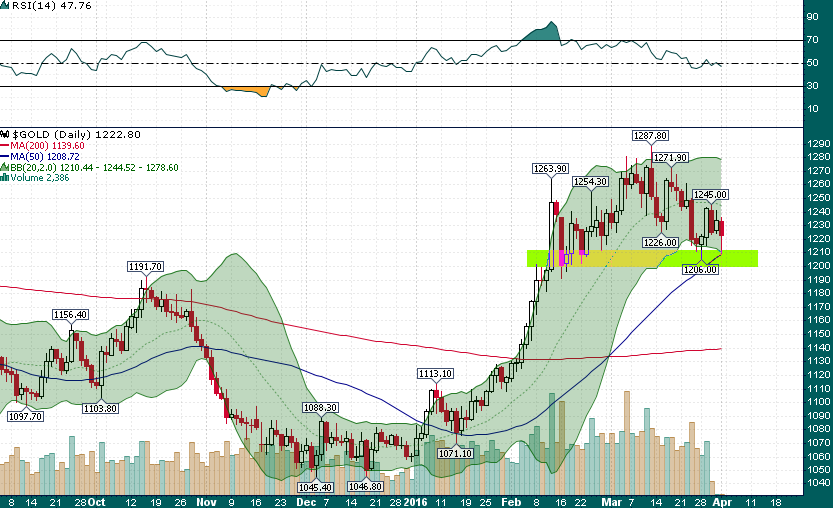 The confluence of the rising 50-day simple moving average, the lower 2-standard deviation Bollinger Band, a key pivot point ($1212), and good old fashioned support turned out to be enough to turn the tide after gold was down ~2% at the lows this morning.
After today's session gold bulls have some positive things to work with heading into next week:
Clear evidence that there is solid support between $1200 and $1210
Gold has spent the last three weeks 'correcting' by both time and price (~6%) and any of the overbought conditions that existed in February and early March have fully dissipated
The US Dollar Index is hanging on by a thread; even after today's relatively strong U.S. monthly employment data the dollar couldn't muster much of a rally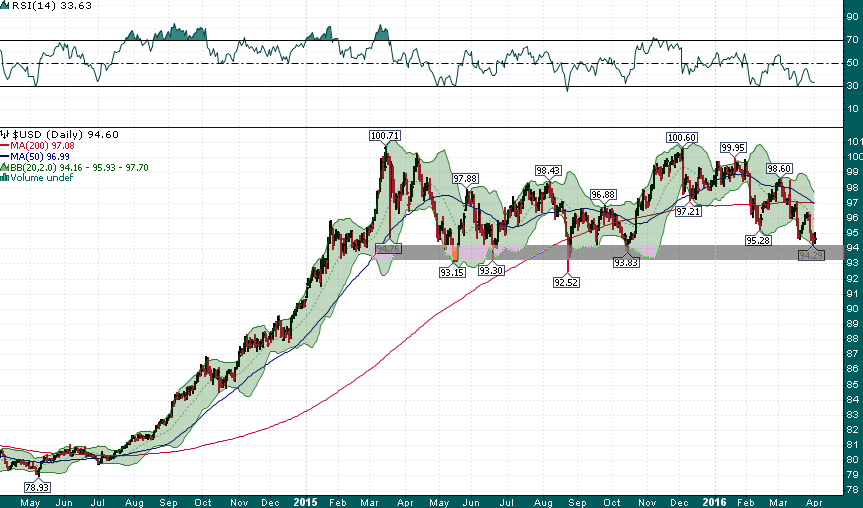 Below ~93 the dollar could fall very far, very fast. 
The Commitments of Traders data is beginning to offer a bullish flavor despite being at relatively extreme levels of speculative net length and commercial net shorts
While it's not great news for bulls that gold futures speculators are at multi-year highs in net length while commercials are on the other side of this trade, the fact is that gold has digested this relatively extreme positioning in a constructive manner for the last month. Moreover, high levels of speculative length/commercial shorts are characteristic of longer term bullish trends in gold. Supported by the weight of significantly bullish technical factors there is a good chance that we are seeing the initial stages of a bullish paradigm shift in gold futures positioning.
In the 'Trading Lab' at CEO.CA we initiated a trading long position in GLD near the lows this morning:
To follow this trade and get all of our other alerts, signals, and market analysis you can subscribe to CEO Technician Premium today using the button below!