Yesterday the S&P 500 closed at an all-time high above 2100:
However, the most interesting aspect of the recent advance is the fact that many gauges of sentiment are far from frothy while others are only just beginning to reach overheated territory:
Sentrade has a proprietary sentiment gauge that has proven to be fairly timely over the years. Sentrade's gauge is essentially indicating that retail investors are not heavily invested in the current rally.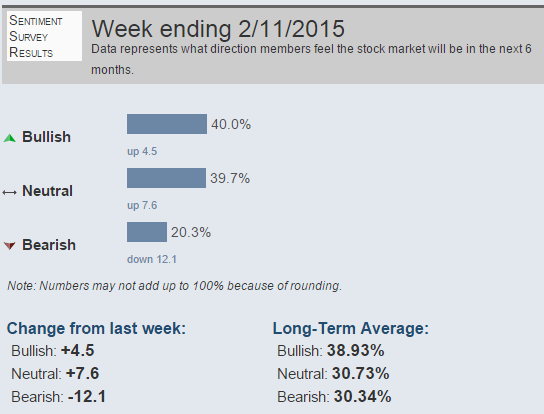 The controversial AAII Sentiment Survey is no where close to extreme levels and there is a well above average number of neutral respondents.
Meanwhile, the NAAIM Exposure Index is not even at its high for 2015!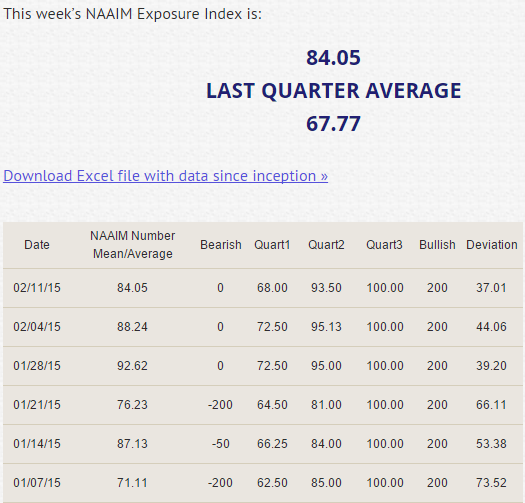 The CNN Money Fear & Greed Index is the only survey that I follow which is currently in "extreme" territory and this probably has a lot to do with the fact that this index incorporates quantitative market data such as the VIX and demand for junk bonds: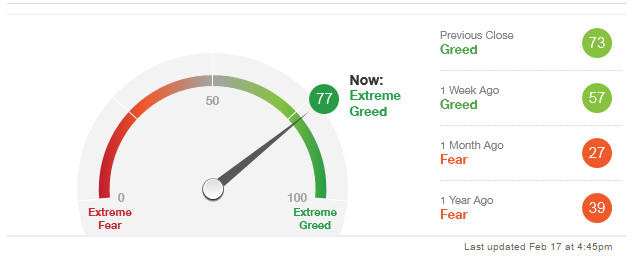 Typically rallies that transpire steadily with relatively muted sentiment are more bullish and longer lasting than violent, emotional rallies. The perfect scenario for the bulls would be for a 2-3 day consolidation to cool sentiment even further before launching into the next leg higher.