Last week in Vancouver I had the pleasure of spending some time with Banyan Gold CEO Tara Christie. Banyan has been successful in recent drilling at its Aurex-Mcquesten Project in the Mayo Mining District of the Yukon, an emerging mining district in a Canadian territory with an impressive mineral endowment. Without further ado here is my conversation with Tara Christie from the AME Round Up last Wednesday, January 22nd…
Goldfinger: I'm here with Tara Christie, the CEO of Banyan Gold (TSX-V:BYN), at the AME Round Up in Vancouver. Tell us about what Banyan has been doing recently and what your plans are for 2020?
Tara Christie: Well it was a great year in 2019. We started the year going out to our Aurex-Mcquesten Project ("AurMac") in the Yukon to test our geological model at the "Airstrip Zone". Then we thought we'd apply to an area further to the south where there are some geochemical anomalies. So we went out and drilled and got some amazing intercepts including ~100 meters of .74 grams/tonne gold.
Goldfinger: Let me stop you for a second because I believe this is important. 100 meter intersections are a big deal because when it's mineralized throughout, it represents a lot of tonnage. The grades may not be eye popping, but when you're talking about a project that could be a near surface open-pit heap leach operation, 100 meter intercepts of ¾ of a gram gold are pure gravy.
Tara Christie: That's right. True widths are also about 90% and we have indications that we can see the mineralization all the way down to 350 meters depth. We're focused on drilling out the near surface portion (< 200 meters depth) at 50 meter spacing so we can put together a resource estimate and better understand the volume of what's there. In future phases of drilling we can definitely drill to greater depths to continue to explore what's there. It's open at depth and it's also open both to the east and west.
To the east at Airstrip we have a historic hole that we can't directly correlate but we know it's there and it's 100 meters to the east and it hit similar mineralization. To the west we are really encouraged by some of the higher grades.
At the Powerline Zone, which is an exciting new zone, we really have an opportunity to add a lot of ounces. You saw that intersection of 25 meters of 1.34 grams/tonne gold, which gives us the opportunity to add some higher grade areas. Powerline is open in all directions and at depth. So far we only have a small 250 meter by 250 meter grid into Powerline. That's not the only thing that's exciting, we have these two new zones but we also have a geological and geochemical model that is also applicable elsewhere on the property. We've been looking at some of the other historic results and drill holes from other companies that have worked in the area in the past and we're really encouraged that there are some other areas that are exciting.
Goldfinger: How large is the total land package at Aurex-Mcquesten and how much of it has seen modern exploration?
Tara Christie: It is 92 square kilometers and roughly 15% of that has seen modern exploration work. Probably about 30% of the land package hasn't even seen soil sampling so it's completely virgin territory. Part of the problem is much of that area is covered by glacial/fluvial till, and that's been enough to preclude people from doing exploration. Powerline has 8-10 meters of cover and that's why it was untouched until recently despite being only 50 meters from a highway.
Goldfinger: I think this is such an important point that people need to understand about AurMac, this is a project that has road access right to site and power lines literally running through the property. So many projects in the Yukon need to use helicopters in order to access them and move drills and drillers around – all of that raises the costs a lot. Banyan was able to conduct a nearly 4,000 meter drill program for less than C$200 per meter. That's an extremely cost effective drill program for the Yukon.
Another important point to make is that there are two mines within 20 kilometers of this project, one owned by Victoria Gold and the other by Alexco Resources. Both of these companies also happen to be significant shareholders of Banyan Gold. Banyan is well positioned to benefit from the emergence of the Mayo Mining District as one of the best mining districts in Canada.
Tara Christie: Our location gives us a tremendous advantage. We also have all the existing infrastructure of Alexco and we get to use their camp when we are conducting exploration work. We even have cell phone coverage at site which is a rarity in the Yukon. Between Powerline and Airstrip there is government maintained year-round highway which was what enabled us to drill in November at less than C$200 per meter all-in.
Whatever we find at AurMac, whether it's heap-leachable or we find some higher grade stuff that needs to be milled, we have plenty of optionality with a heap leach operation (Victoria Gold's Eagle Gold Mine) in one direction, and a mill (Alexco) in the other direction. This could also be a stand-alone operation considering the size of the property and the fact that it's relatively under-explored.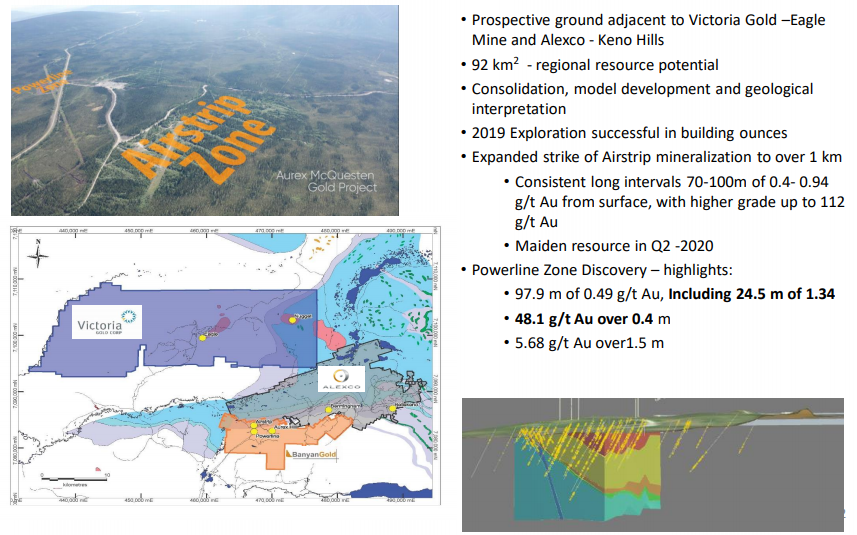 Banyan's 92 square kilometer AurMac project footprint in orange
Goldfinger: Let's talk about 2020 and what you plan to be doing over the next several months.
Tara Christie: We put out those last results from Powerline (January 17th) so we're still continuing to evaluate them and prioritize drill targets, this takes a little bit of time. We're also looking at the overall results and we've committed to doing a resource by Q2 2020 so we're doing some of those internal calculations now and getting all the data ready for that. We're also contemplating getting back out there drilling because some of the area will still be frozen in March and April – we were really encouraged by that northern Powerline area where we saw some of that higher grade mineralization as well as the area to the west of Airstrip. We'd like to follow up there and it's exciting to think we still have the cash in the bank (C$900,000 in the treasury) to go back out there.
Goldfinger: Is it easier to drill some of these areas when it's still frozen?
Tara Christie: In some of the swampier areas it's actually easier because we can drive out on the snow and drill some holes. There's no reclamation required and it's right near a highway so it's not like the weather is a big issue. We also put in a well so we don't have any water issues at AurMac. We've set ourselves up for year round drilling there.
Goldfinger: Thank you for the update Tara and I know that i'm as excited for Banyan as i've ever been. Great progress being made and I wish you great success in 2020!
BYN.V (Daily – One Year)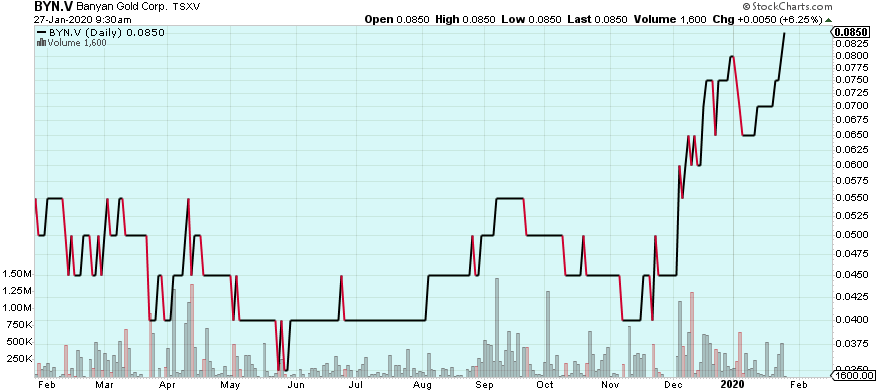 Disclaimer
The article is for informational purposes only and is neither a solicitation for the purchase of securities nor an offer of securities. Readers of the article are expressly cautioned to seek the advice of a registered investment advisor and other professional advisors, as applicable, regarding the appropriateness of investing in any securities or any investment strategies, including those discussed above. Banyan Gold Corp. is a high-risk venture stock and not suitable for most investors. Consult Banyan Gold Corp's SEDAR profile for important risk disclosures.
EnergyandGold has been compensated to cover Banyan Gold Corp. and so some information may be biased. EnergyandGold.com, EnergyandGold Publishing LTD, its writers and principals are not registered investment advisors and advice you to do your own due diligence with a licensed investment advisor prior to making any investment decisions.
This article contains certain forward-looking information and forward-looking statements within the meaning of applicable securities legislation (collectively "forward-looking statements"). Certain information contained herein constitutes "forward-looking information" under Canadian securities legislation. Generally, forward-looking information can be identified by the use of forward-looking terminology such as "expects", "believes", "aims to", "plans to" or "intends to" or variations of such words and phrases or statements that certain actions, events or results "will" occur. Forward-looking statements are based on the opinions and estimates of management as of the date such statements are made and they are subject to known and unknown risks, uncertainties and other factors that may cause the actual results, level of activity, performance or achievements of the Company to be materially different from those expressed by such forward-looking statements or forward-looking information, standard transaction risks; impact of the transaction on the parties; and risks relating to financings; regulatory approvals; foreign country operations and volatile share prices. Although management of the Company has attempted to identify important factors that could cause actual results to differ materially from those contained in forward-looking statements or forward-looking information, there may be other factors that cause results not to be as anticipated, estimated or intended. There can be no assurance that such statements will prove to be accurate, as actual results and future events could differ materially from those anticipated in such statements. Actual results may differ materially from those currently anticipated in such statements. The views expressed in this publication and on the EnergyandGold website do not necessarily reflect the views of Energy and Gold Publishing LTD, publisher of EnergyandGold.com. Accordingly, readers should not place undue reliance on forward-looking statements and forward looking information. The Company does not undertake to update any forward-looking statements or forward-looking information that are incorporated by reference herein, except as required by applicable securities laws. Always thoroughly do your own due diligence and talk to a licensed investment adviser prior to making any investment decisions. Junior resource companies can easily lose 100% of their value so read company profiles on www.SEDAR.com for important risk disclosures. It's your money and your responsibility.