NexGen Energy (NXE.TO) is consistently one of the most chatted about stocks on CEO.CA on a daily basis. Since well before its parabolic rise earlier this year popular CEO.CA posters have been all over $NXE. @PamplonaTrader among many other chat regulars were pounding the table to get into $NXE before it launched skyward, rallying nearly 200% between early March and mid-April:
NXE.TO (January-April 2016)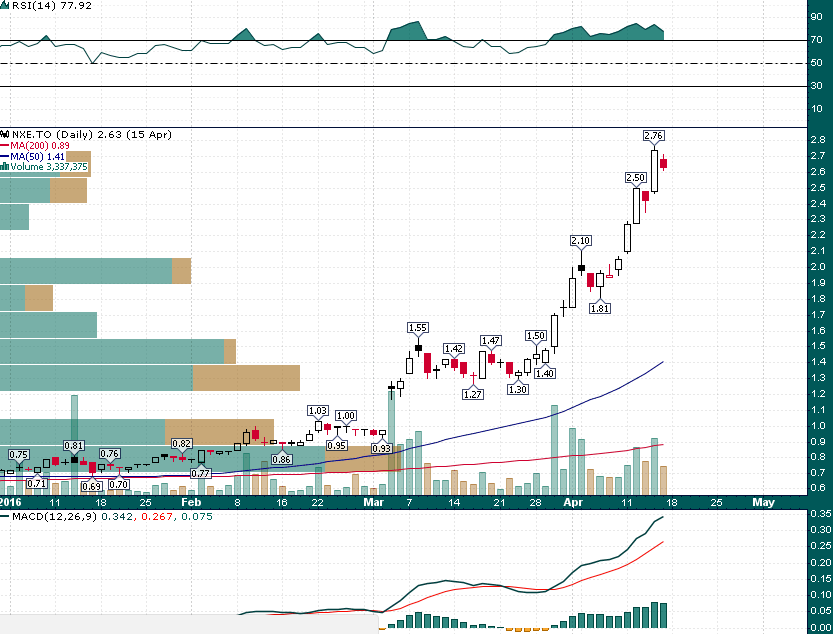 After peaking in early June $NXE began drifting lower eventually suffering a major break of technical support in September. When the technical picture began to deteriorate considerably I made it no secret I was not a fan of holding a long position in NXE with posts here and here.
After being halved in a five month time span $NXE hit a low of C$1.42 on November 4th amid multiple bullish technical divergences. I had the stock on my eye for a couple of weeks prior to the November 4th low and I pointed out the divergences on the CEO.CA stream a couple of times:
On October 28th @Ty shared a couple of nice charts confirming that he also saw a bottom brewing.
Things got much more interesting last week, on November 10th, after a tangible bottom had begun to form:
@ylr began to make a series of posts in which he identified the tide turning to the upside and accumulated a long position in real time on the stream.
Then on November 16th I pointed out the breakout potential above C$1.66 while @ylr kept pounding the table on his bullish thesis: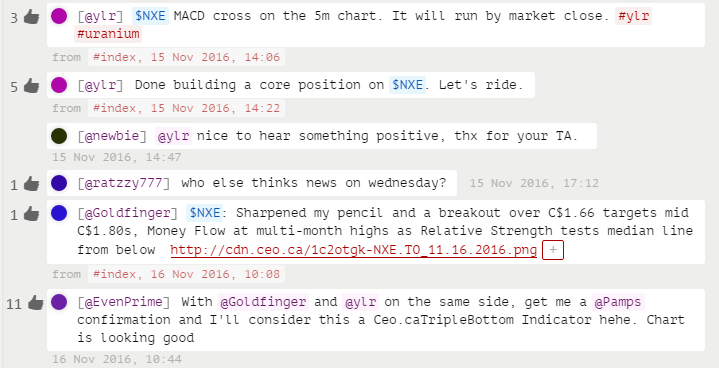 @EvenPrime made a poignant observation about the potential for a CEO.CA Triple Bottom. And then @PamplonaTrader chimed in…
@BDMinefinder also indicated that he was accumulating $NXE shares and not being shy about it.
Then on Thursday November 17th things got very interesting with $NXE charging higher out of the gate followed by relentless, actually accelerating, buying throughout the trading session:
NXE.TO (5-minute November 17th)
The $NXE stream was the most active individual stock stream of the day and there were many insightful chats including this one from @BDMinefinder:
After $NXE had posted a 13.5% rally on more than 10x average daily trading volume @EvenPrime put the cherry on top of a brilliant day for $NXE shareholders and the CEO.CA stream:
The man is correct of course; when we get to know different chat commentators we can add context to their posts. The fact that myself, @PamplonaTrader, @ylr, @highroi and many other experienced traders from the stream were on the same side of $NXE and seeing a uniquely bullish setup added a lot of weight. A positive sort of confirmation bias if you will.
I can honestly say that seeing posts from @Ty, @ylr, @BDMinefinder, @PamplonaTrader, and others helped to add confidence to my $NXE trade. As I posted today I exited my trading position for a 20%+ profit while holding on to a core investment position. The situation in $NXE now becomes quite intriguing simply due to the ferocity of today's rally combined with the important levels of potential resistance just overhead:
NXE.TO (Daily – 1 Year)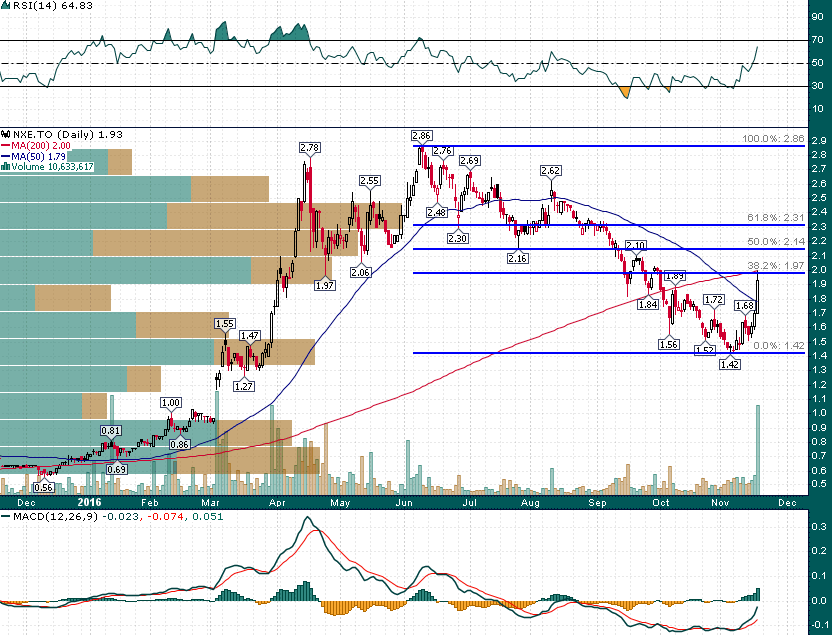 The rally temporarily paused at the 38.2% Fibonacci retracement of the June-November decline, however, a much bigger level exists up at ~C$2.15 which represents previous support and the 50% retrace of the entire decline.
My 20% return was just a short term trade. CEO.CA is equally indispensable for long term investors. It was the first publication to write about NexGen's discovery in 2014 when shares were under 40 cents. CEO.CA was the first web site to publish a site visit report, and it was a bullish one. When NexGen's Arrow discovery got real the company's largest investor, as well as the former chief engineer at Canada's largest uranium miner, shared their bullish views on NexGen with CEO.CA readers. No other publication came close in profit generating coverage. It's not an exaggeration to say that CEO.CA has nailed NexGen every step of the way including during the stock's painful summer correction.
I have been a regular CEO.CA chat user for more than a year and I can honestly state that the value of the stream has increased exponentially in the last few months. I use it for hours a day and I have actually come to prefer CEO.CA to my Twitter stream, today's value added and timely $NXE chats only serves to further confirm this.
DISCLAIMER: The work included in this article is based on current events, technical charts, and the author's opinions. It may contain errors, and you shouldn't make any investment decision based solely on what you read here. This publication contains forward-looking statements, including but not limited to comments regarding predictions and projections. The author was long NXE shares at the time of writing. Forward-looking statements address future events and conditions and therefore involve inherent risks and uncertainties. Actual results may differ materially from those currently anticipated in such statements. The views expressed in this publication and on the EnergyandGold website do not necessarily reflect the views of Energy and Gold Publishing LTD, publisher of EnergyandGold.com. This publication is provided for informational and entertainment purposes only and is not a recommendation to buy or sell any security. Always thoroughly do your own due diligence and talk to a licensed investment adviser prior to making any investment decisions. Junior resource companies can easily lose 100% of their value so read company profiles on www.SEDAR.com for important risk disclosures. It's your money and your responsibility.