Commercial speculators have amassed a more than $38 billion net notional short position in gold futures which is the largest short position by the commercials since September 2012: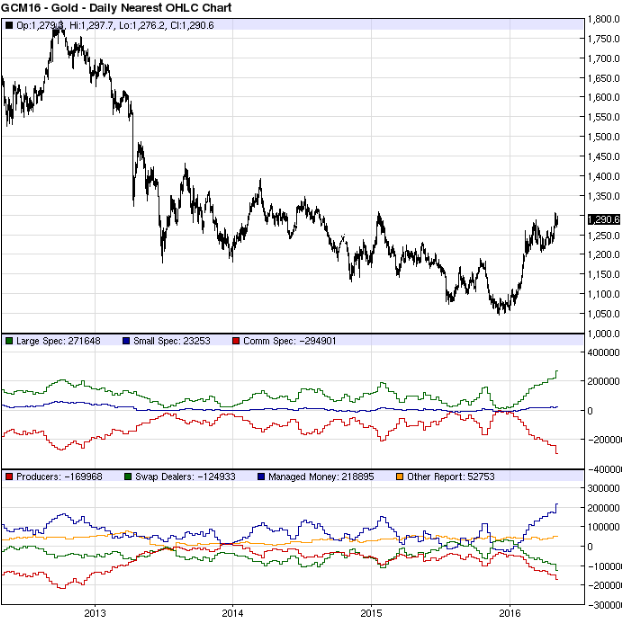 While the $38 billion short position is impressive it is still less than the notional dollar amount of the short position amassed by commercials in September 2012 ($40 billion+). However, the weekly increase of more than $7 billion is a record and indicates just how far offside the commercials continue to be.
The current dynamic in precious metals futures can be described quite simply as hedge funds and CTAs piling on longs aggressively while producers and swap dealers sell into the strength of the managed money (hedge funds, CTAs, etc.) buying. As I explained a couple of weeks ago hedge funds are the marginal buyers, and sellers, in virtually every market on the planet. Therefore, when hedge funds reach an extended long position in a particular market or asset class it is a warning sign because the potential energy of that market then turns to the downside as the hedge fund longs represent future marginal sellers.
Jordan Roy-Byrne over at The Daily Gold has an excellent and insightful post up which explains some of the misreading of CoT data which has taken place recently. We agree with his commentary regarding looking at the CoT data in terms of % of open interest, however, there are also some other more nuanced observations that can be made about some of the recent price action relative to the CoTs and fundamental macro backdrop :
Price was not able to break above the double-top from January 2015 ($1308) despite the huge speculative buying
Gold did not close above $1300 despite the weak U.S. employment report
Gold has continued to form momentum divergences as price has made marginal new highs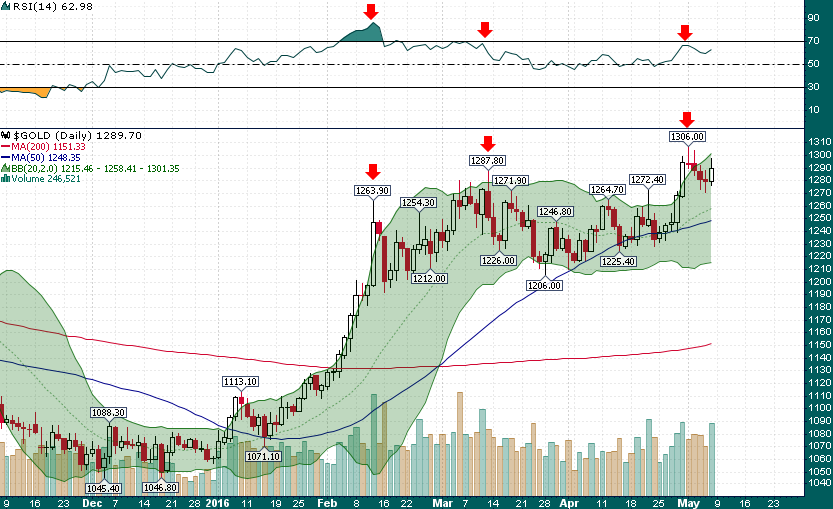 And perhaps my most poignant observation is that Jose Canseco appears to be as bullish as ever on gold

In summary gold has resumed its long term secular bull market but don't be shocked when the summer shake-out takes place; a $100+ correction will serve to shake loose the levered longs and give the commercials an opportunity to cover some of the enormous short position they have accumulated. $1270 represents the closest significant support level while $1308 is still the upside nut to crack.