A fresh piece of research from RBC titled "Crude Storage – Darkest Before Dawn" makes the case that crude oil is in the darkness before the "dawn" (spring refinery runs and summer driving season). Crude oil storage capacity utilization has also been overstated; true U.S. storage utilization is ~73% once crude in transit, lease and pipes stocks have been stripped out. According to RBC there is nearly 200 million barrels of storage capacity still remaining with the gulf region accounting for the lion's share of untapped capacity: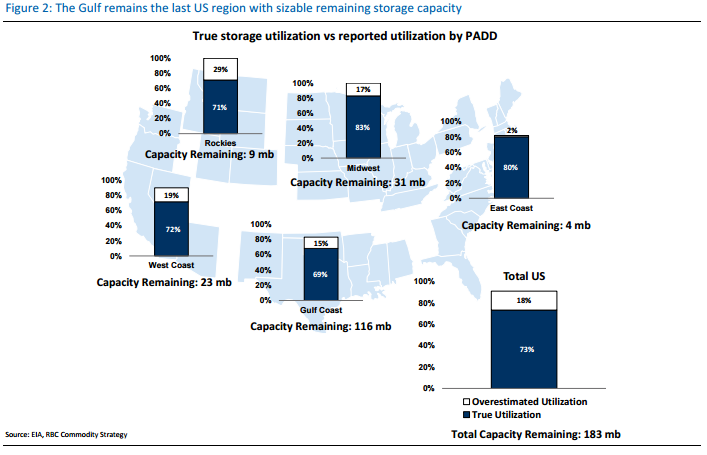 The following chart illustrates everything one needs to know about the global crude oil market for the last few years:
Before crude prices are able to return to equilibrium levels the tremendous global storage glut will need to be normalized. According to RBC this process will take at least a couple of years which means that $30-$40 WTI is likely to be the new normal for oil.
Meanwhile, WTI has formed a chart pattern double-bottom near $26/barrel: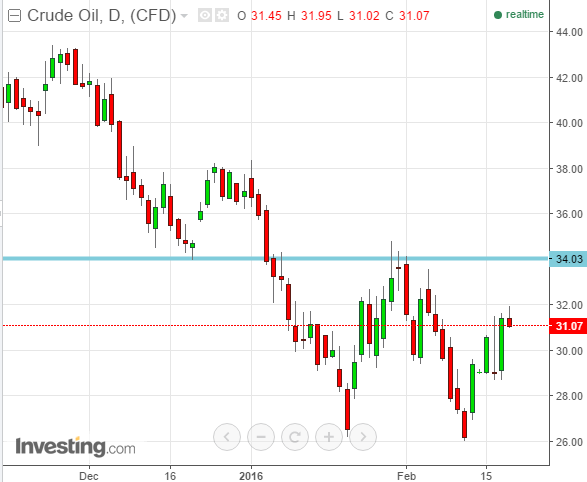 We need to see a decisive move above $34 to have real confidence that the bottom is in. Another test back down to $28 or below before spring refinery runs begin is a more likely scenario.