A Tool to Revolutionize the Junior Resource Market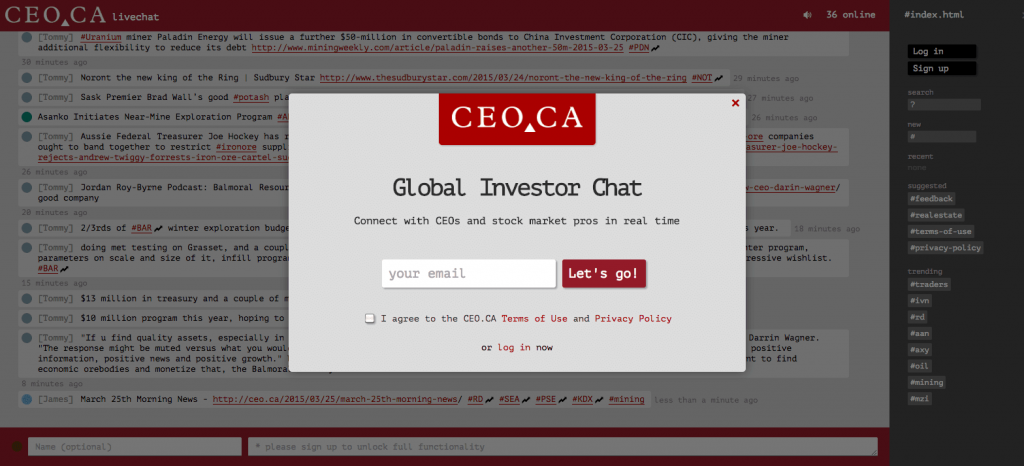 Our partner site CEO.CA has brought forth a chat app called chat.ceo.ca which is revolutionizing the way that investors share news and discuss junior resource investments. Tommy Humphreys, co-founder of Energy and Gold.com and founder of CEO.CA, is the visionary behind chat.ceo.ca. Tommy saw the value in allowing investors to discuss news and ideas in real time, even in the thinner and less traded junior resource markets.
This morning Tommy shared what he's seeing in his new chat app and why he's so excited about it:
"Okay, I don't know if that's true. But I am about 100x more prolific in our new investors app, chat.ceo.ca, than I am on this blog.
Here are a couple of examples from the past 24 hours:
Just got off the phone with Glen Kuntz, CEO of Mega Precious Metals #MGP. Here are my notes: Multi-asset Canadian gold, tungsten and copper exploration company. About 3 million ounces at approx 1.5 g/t Au + Tungsten credits in Manitoba at district-scale camp called Monument Bay. 3.5% NSR on Twin Lakes for first 1 million ounces, then 4.5% to Franco Nevada, Kinross…."
I invite everyone who has any interest in resource markets or real-time trade ideas to check out chat.ceo.ca and join in on the conversation which is always happening.