Conversation With Angold CEO Adrian Rothwell
Last week I introduced newly TSX-V listed gold junior Angold Resources (TSX-V:AAU). Angold has four exploration stage gold projects located in Canada (Uchi), Chile (Cordillera, Dorado) and the US (Iron Butte). The company is currently drilling its Dorado Project in Chile's Maricunga Belt. I spoke with Adrian about Dorado, Iron Butte, Angold's management team, and we delved into some more detail regarding Angold's plans for 2021.
Goldfinger: It's good to speak with you today Adrian. Let's talk about Angold Resources and the opportunity that investors have in front of them with Angold. Tell us a little bit about Angold and how the company was formed?
Adrian Rothwell: Angold is a new listing. The assets were accumulated by our team and the project company. They've spent probably two years accumulating these assets from a very wide opportunity list of assets. So, this isn't a case where we just had one asset, one opportunity, and we're taking it public. They've been carefully selected. And I think the first level of thinking on this was look, we are interested in building a company, we want to discover multiple millions of ounces, and be able to demonstrate exploration upside on the property as well.
And hence, since I've been involved, we have not only acquired these projects, but we've been staking additional land. So, to build this company, we've accumulated land in well-known districts in friendly mining jurisdictions.
We believe that multiple assets are required to create as many opportunities as possible. And that's what Angold has. And we can get into the fact that they're in both hemispheres, so we can explore all year. We liked sticking to the Americas. It's a place where we're all comfortable working and our management team and board are very familiar with working in these districts.
Goldfinger: I know Angold has four projects right now, but let's talk about your flagship project in Chile. So, you have a project in the Maricunga Gold & Copper Belt of Chile. Can you tell us a little bit about this area and the Dorado Project?
Adrian Rothwell: Sure. Well, the area is in Northern Chile in the Andes and at workable elevations, anywhere from 3,000 to 4,500 meters, 5,000 meters. So it can be quite high, but this area has some of the largest gold porphyry deposits in the world, and gold copper porphyry deposits in the world. Caspiche, Cerro Casale being the Norte Abierto joint venture between Newmont-Goldcorp and Barrick is probably the most notable recent one, but Kinross has been there for a long time. Maricunga (Refugio) has been mined since the early 2000's and it still has 6 million ounces in it. And they've also got La Coipa and Lobo-Marte which they're looking to advance and develop in the coming year or two, in fact, already deployed investments to La Coipa. We have two projects in the Maricunga, Dorado (our flagship) and Cordillera. Cordillera is a bit of a smaller land claim, and earlier stage, but I don't want to discount it. A total of 486 m of drilling in 1990 encountered up to 6.4 g/t. 13 chip samples in 1994 from outcrop yielded up to 10.32 g/t Au and 51 g/t Ag. Geophysics has identified multiple targets under cover for further exploration.
It's about halfway between Maricunga and Caspiche it's in a great area. It is under explored because it's mostly undercover, and from what we see warrants more work.
We own a hundred percent of both of the Dorado and Cordillera projects and, as I said before,  we've staked additional ground around the historic resource in the center of the Dorado project. So we've got about 14,000 Ha, which is unusual and difficult to get in this environment, as a lot of ground is staked already by competitors. So we've been able to snatch that up. The historic resource on the Dorado project is around a half million ounces and we've planned a drill program to expand that. I can go into that a little more if you want.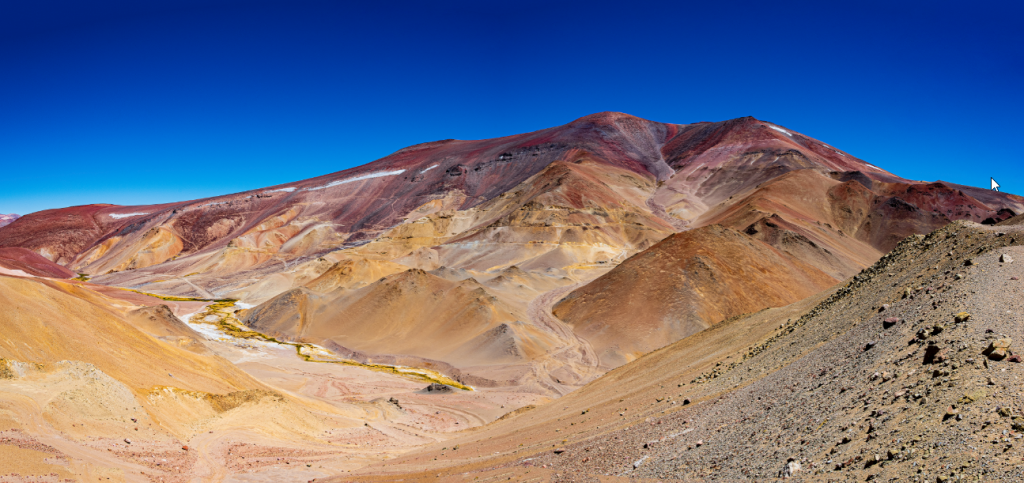 Angold's Dorado Project, Chile
Goldfinger: So, out of the gate, you guys are drilling two primary projects, one in the US and one in South America, that you were just talking about. So it's not a one project company, it's a story that actually spans across four projects, two that you'll be exploring right out the gate. So, tell us a little bit about what shareholders can expect, in early 2021 in terms of news flow, and what could be actionable catalysts for Angold shareholders?
Adrian Rothwell: So, as you mentioned, we're looking to drill two projects right out of the gate. First Dorado, and we've started engagement of camps for deployment to the Dorado site. So first of all, I would expect that news to come out very shortly and probably concurrent with listing. And once they start drilling, the drill program would be around about three and a half months. We'll have two drills, we're drilling around 5,000 meters, but maybe more depending on results. And the initial results we're looking to both confirm and expand historic mineralization in the resource area. So, we want to confirm the oxide resource that we have, and we're going to step out of debt in the first few holes. So, we would be releasing those holes to the market as soon as they would become available, which I would anticipate would be around January.
And we're talking about grades that are very favorable for this district, because the deposits are so large you don't need 5, 10 grams per ton material to make these extremely profitable. Most of the deposits are under or around 0.5 grams per ton. But what we're seeing historically, and this will be what we try to confirm. First of all, is multiple hundreds of meters, that 1 gram per ton, 0.9 grams per ton, one of the historic results is 261 meters at 0.9 grams per ton. And a lot of these holes ended in mineralization. So, in terms of excitement, I think there's a lot there.
And then of course, stepping out laterally as well in the oxide zone. So we've got drill holes planned for that as well.
Yeah, so in terms of Iron Butte we are looking to drill that in Q1, and that is something that we have started planning now, we've actually undertaken a three week regional geological reconnaissance mapping program on the core of the Iron Butte, and our additional staked claims, as well. And so those results will go into our planning for drilling. It's looking good, we're looking like we see extensive alteration that hasn't been tested before, but the initial drilling will highlight the resource area and how we redefine some of the structure on that resource area. And there's a historic resource, by the way, of around 600,000 ounces on that. And I think that's going to be our target to expand, hopefully shows us a million ounces on that. That'll be news later in the year. I mean, we're just looking at drilling plans now.
Iron Butte Project – Nevada, USA 
Goldfinger: Let's talk about the Angold's management team and something that really stood out to me as I was researching the company and understanding the opportunity here. Can you tell us a little bit about your background and some of the key team members?
Adrian Rothwell:  Well first of all, from my background I've been in the resource sector for about 26 years, 27 years now. Most recently, if I was to say what's my expertise? It's doing exactly what we're doing here. So it's starting companies, getting quality assets, and putting them to market. My last company I founded was a company called KORE Mining. That came out of some assets that were dormant in Goldcorp. I like the assets that haven't been heavily marketed before, Iron Butte and Dorado are definitely two of those types of assets as well, very similar.
Although I was with Goldcorp for about four years just in their strategy function and helping them out there as an executive, most of my background is really in the juniors. And that's what I worked with previously for almost 20 years before that. I'm a CPA by training, although it would be dangerous to put me in that category nowadays. Then, I think to highlight would be our advisory team. We've got advisors in Craig Parry on the technical side and Doug Ramshaw, who's experience definitely comes into play when we start talking about our Canadian projects. Michael Konnert as well, successful CEO for Vizsla and very marketing savvy. And then on the board, we've got Brandon Bonifacio, someone I worked with at Goldcorp and he's very familiar with Chile, and that's why we were in Chile as well. So both him and Rony Zimerman, Rony is a well-known lawyer out of Santiago, Chile. Brandon worked on the Norte Abierto project, so he knows the region well, knows how to operate in that part of the world. Galen McNamara, CEO of Summa Silver, and a very well-recognized and established geologist provides us with a bit of a technical oversight on the projects as well. And then in terms of team, we've started building the team with Gavin Cooper as our CFO, very experienced in the public realm, and Mr David Smith is our VP of Exploration, and he's really the one driving the technical and scientific side of our projects. Dave is based in the United States, is an experienced geologist he's been doing this for over 35 years, and he comes from a geological family with his father Clyde Smith, who has made multiple discoveries in the US and Mexico. We also have a local Chilean team. As I mentioned previously we have Rony in Santiago and recently hired a senior geologist in Chile. He's experienced in operating in the Maricunga. Early days, but I think we're setting up really well to execute.
Goldfinger: Something I always ask junior mining CEOs is about management skin in the game. So, can you tell us a little bit about Angold management team and your skin in the game? And then the second part of that question is how do you view your job as the CEO of Angold in terms of generating shareholder value over time? You know you have four projects, maybe you'll even add projects in the future. How do you effectively explore that many projects while also keeping an eye on the share structure and shareholder value?
Adrian Rothwell: Good question. First of all, skin in the game, management and advisors all own large positions. We've just completed a subscription receipt financing of $8 million concurrent with closing of our RTO and we all participated in that.
Management and advisors, after listing and combining the two companies, will own about 18% of the company. Personally, I will own ~5% of the company. We have participated in every level of financing to date and our intention is definitely to do that going forward. And I think this is extremely, extremely important. We want management to be aligned, not by pulling huge salaries, but with shareholders. So my job as CEO, and to be aligned with shareholders, by the way, you need to own stock, and you need to own a significant amount of stock for the long term.
So when we start talking about balancing shareholder needs, multiple projects, you are wearing a lot of hats, juggling a lot of tasks. And partly, yes you also have to think about short term shareholders that want to hold for the short term and make sure that you provide liquidity to them on that front.
My shares are escrowed too, so I'm also very aligned with long-term interests, and to do that I have to build a company, whether we end up developing a project or whether we end up selling that is always something you've got to consider as a junior mining CEO, and building a really good team so that you can manage multiple projects. I wouldn't say that four projects is necessarily a distraction from any one particular flagship. We have a team in Chile and they're really responsible for two projects.
Dorado, they know what they need to do there. Cordillera, they know that it's a little earlier stage, but we'll be drilling that in 2021-22 drill season, the drill seasons up there run counter to ours. And that also helps. So this summer, and drill seasons go from around October through to March/April and that works really well for us in that we can now change focus in Q1 next year. While we're executing on drilling in Chile we can change focus to Nevada, and doing some drilling there. So, and then of course, we've got our Ontario project. So, when the snow is melted there, then there's lots of work for us to do on that too.
Goldfinger: So let's sort of summarize the Angold story. We have a top tier management team, with a great deal of experience across the many aspects of junior mining, from the technical aspects to understanding the countries that you're operating in, and permitting etc., and all those little details. You have a team with a great deal of expertise and experience. You also have people with expertise in the marketing aspect, which is so important to having a liquid market for your shares and making sure investors are aware of the company and its progress.
And then you have projects that span all the seasonal factors. You have news flow coming year round, and it's not a one trick pony like a lot of juniors. You have four different projects that on their own could warrant being a flagship project for a company. So, there's many different ways to win, a lot of skin in the game from management, and a lot of experience and a strong track record of shareholder value being realized in the junior mining sector. So, it's a very exciting story and fingers crossed that the timing is good in terms of the different cycles in the sector and good luck in 2021.
Adrian Rothwell: And I do think timing is it. We've been in a gold bull market for a couple of years. Yeah. I remember building KORE and bringing that public in 2018 and that was tough. So, maybe it's a little less than two years, but I think there's a long way to go. And especially when you see COVID and fiscal stimulus associated with that and infrastructure getting thrown about by governments. I think that we're going to see a very healthy commodity market. And when it comes to those bull runs, we've already seen the uptick in seniors and producers, and I think the quality assets like Angold's assets they're next in line. So you're still early too on that front.
Disclosure: Author is long AAU.V shares at the time of publishing and may choose to buy or sell at any time without notice. 
Disclaimer:
The article is for informational purposes only and is neither a solicitation for the purchase of securities nor an offer of securities. Readers of the article are expressly cautioned to seek the advice of a registered investment advisor and other professional advisors, as applicable, regarding the appropriateness of investing in any securities or any investment strategies, including those discussed above. Angold Resources Ltd. is a high-risk venture stock and not suitable for most investors. Consult Angold Resources Ltd.'s SEDAR profile for important risk disclosures.
EnergyandGold has been compensated for marketing & promotional services by Angold Resources Ltd. so some of EnergyandGold.com's coverage could be biased. EnergyandGold.com, EnergyandGold Publishing LTD, its writers and principals are not registered investment advisors and advice you to do your own due diligence with a licensed investment advisor prior to making any investment decisions.
This article contains certain forward-looking information and forward-looking statements within the meaning of applicable securities legislation (collectively "forward-looking statements"). Certain information contained herein constitutes "forward-looking information" under Canadian securities legislation. Generally, forward-looking information can be identified by the use of forward-looking terminology such as "expects", "believes", "aims to", "plans to" or "intends to" or variations of such words and phrases or statements that certain actions, events or results "will" occur. Forward-looking statements are based on the opinions and estimates of management as of the date such statements are made and they are subject to known and unknown risks, uncertainties and other factors that may cause the actual results, level of activity, performance or achievements of the Company to be materially different from those expressed by such forward-looking statements or forward-looking information, standard transaction risks; impact of the transaction on the parties; and risks relating to financings; regulatory approvals; foreign country operations and volatile share prices. Although management of the Company has attempted to identify important factors that could cause actual results to differ materially from those contained in forward-looking statements or forward-looking information, there may be other factors that cause results not to be as anticipated, estimated or intended. There can be no assurance that such statements will prove to be accurate, as actual results and future events could differ materially from those anticipated in such statements. Actual results may differ materially from those currently anticipated in such statements. The views expressed in this publication and on the EnergyandGold website do not necessarily reflect the views of Energy and Gold Publishing LTD, publisher of EnergyandGold.com. Accordingly, readers should not place undue reliance on forward-looking statements and forward looking information. The Company does not undertake to update any forward-looking statements or forward-looking information that are incorporated by reference herein, except as required by applicable securities laws. Always thoroughly do your own due diligence and talk to a licensed investment adviser prior to making any investment decisions. Junior resource companies can easily lose 100% of their value so read company profiles on www.SEDAR.com for important risk disclosures. It's your money and your responsibility.