Last week we had the pleasure of speaking with one of the young up and coming CEOs of the junior gold mining sector, Barrian Mining CEO Max Sali. Barrian has recently begun drilling at its flagship Bolo Project in the Tonopah Gold District of Nevada and the company released an NR stating that it had completed two priority 1 holes at Bolo and expects assays for the first three holes of the program back by early October. After speaking with him it became clear that Mr. Sali is focused on Barrian and driven to creating a successful gold junior in this emerging gold bull market. His purchases of Barrian shares on the open market in the last few months are a testament to his commitment. Without further ado here is Energy & Gold's inaugural conversation with Barrian Mining CEO Max Sali….
Scott Armstrong: Max, thanks for this opportunity to speak with you today. Please tell us a bit about yourself and what motivated you to start Barrian.
Max Sali: Thanks Scott. Barrian was an idea I had with Brad Telfer not too long ago in about April of 2018. We got the name Barrian, after my father Barrie and his father Ian. To us, it was an opportunity to create something new and exciting in the junior gold space. The mining sector for years has just been devastated. You saw all these other things happening. Lithium, marijuana, blockchain, and you know… for a lot of the millennial guys that have probably done very, very well in those spaces and myself included, you know I think looking at the long term… we had, the longest bull market in history and I just felt that things were coming to an end, whether it's with debt, whether it's trade tensions, whether it's Iran or the Hong Kong protests a lot of things are happening that makes the world a scary place right now.
But for me I really just thought that, you know, we've had a ten-year run and it's been so tremendous. But at the end of the day, everything takes a break and cycles return and you know, last weekend in The Financial Times, in the first two pages of the weekend edition, I saw the word recession used more times than I have, probably since 2012. And the word recession has been coming up a lot more lately on TV and the radio and it just that alone, in the last few months, you've seen gold go from I think 1400 in June to 1545, I think was the high last week. And it's all retail. You know, I think the institutional holdings of mining companies in gold, well, actually never really changed over the last number of years. But it's the retail guys that came in there and said, "Damn, you know I think it's time to put some money in something safer or buy gold."
And that's why we started Barrian. And a year ago, when I signed Bolo, the following month in August, gold bottomed out at 1188, and it just hit 1545. That's a 30 percent increase in a year, and a year ago people thought I was crazy trying to do a gold deal. So you know, I just think that gold was overdue, and maybe guys thought it would happen earlier. If you look at the charts like you had from 2010 up, and then you look at 2016, we had that run. And then you look at the charts now, and it just looks like it's ready to go. And so, I think we're going to go into September in the Fall, with a really good gold market. And a lot of wind at our backs because the retail guys are starting to really start to notice the what is happening in the world.
You look at the number of money pouring into these gold ETFs is record, record levels in years. So, you know I think starting Barrian was something that… you just don't go and you start a gold company because you think that's going to be hot. I just think, I always felt that gold was a store of value in something safe. And you know, one I think the time was right for Barrian. You know, we're drilling as gold hits pretty much new six-year highs. And so, it really comes down to timing. You know, you can't… I think now there's a lot of guys trying to jump into let's do gold, let's do gold. Well I think trying to pick up assets now at this valuation for gold, you're not going to be able to get it for what I paid for Bolo. And the best thing is we got the cash in the bank, and we will be starting to drill almost immediately.
Goldfinger: Yeah, that's a good background. So, what qualifies you to be the CEO of this company? And what skills do you bring to the table that maybe someone else may not?
Max Sali: I think that's a great question. And to me, it's like 4 legs on a table. You know, I'm very good at bringing together the right people to do the job. I've been in business for years. I've managed a lot of family assets in the markets. This is my second time as CEO. The first time was a smaller company, Defense Metals. But that was kind of more of a stepping stone into something like this. You know, I have a very good network of people and I'm good at getting things done and executing.
From going public less than four months to drilling is… on any standard for a junior exploration company, phenomenally fast. You know, I've got the best, young securities lawyers that are very, very smart and work really hard. I've got a great energetic CFO. And you know what, what qualifies me to do this is the ability to bring the right people together. I have the best geological team, Apex Geosciences that is handling all the operations and Kris Raffle, who is my director and our P.Geo, and the Principle at Apex has a lot experience in Nevada. They did a lot of work for Gold Standard Venture's, Benchmark Metals, some work for Fiore. Some work for Auryn Resources and so, you get the right people into a company, and we kind of… we all get along like friends and you work hard together. And it's never one person that runs the show. And so, I think I've been able to put together a good network of people that really work together, have some synergies, and that's what's going to make our company successful.
Goldfinger: All right, that's a good answer. So tell us a little bit about your team.
Max Sali:   Well I built this company with Brad Telfer, who's the son of Ian Telfer, one of the most successful gold mining individuals in the world. And we have a very good relationship together. And, you know, I think having his knowledge and his network to be able to give me advice has been tremendous. Jordan Trimble, CEO of Skyharbour resources, who has been involved in the markets for over a decade as well, sold his first gold company he was working for to New Gold in 2010. He is also on a number of boards such as Rock Resources, which has some fantastic Copper assets. So he's been in it for a while. He's a CFA. He's an MBA and he is just a really hard working individual that I'm glad to have on my board.
Jim Greig, who does our corporate development, is the President of Benchmark Metals. A high-grade gold and silver project in the Golden Triangle. BNCH is the symbol. If you look at them today, you will see they keep putting out fantastic news and I think the market will start rewarding them very soon. Barrian and Benchmark have a lot of the same people involved.
Toby Pierce is a former investment banker who worked for GMP in London for 10 years and he's now the CEO of a producing oil and gas company and also sits on the board of Benchmark Metals. You then need a super strong technical team and a good person to manage our operations, which is Kris Raffle our P.Geo, and his experience in Nevada is absolutely tremendous. I think Gold Standard Ventures' market cap is about 350 million dollars right now and Apex his company did a lot of work with them. Another Nevada gold company called Fiore, which is producing gold in Nevada, has also used Apex for a number of technical services. You need to have guys like that, that really makes our team strong.
We also have a very good shareholder base, a very tight shareholder base with some very successful and strategic investors, and as the stock has been coming off a bit with some escrow releases coming, trading those same shareholders have been slowly picking away.
Goldfinger: So, what's your goal here? You know, if you could paint a picture of how things are going to play out over the next two to three years, what would you like to see happen? And then how do you make it happen?
Max Sali:  I read a book in college and it was talking about how a big company has to start out thinking like a big company. You can't start off thinking small. You've got to start off thinking big, and my goal would be to prove up Bolo, acquire some other high-grade assets in the area that are strategic for us. Bring in a major. Bring in a big investor. Show everyone that we know how to execute on strategies and operations. And eventually, have a major take us out. You know, I think every junior exploration CEO goes in there with the idea that you will find millions of ounces of gold and someone's going to take you out or put you into production.
And you know, I think the way… with the market's going, and all of this consolidation, is all these big companies, even though the balance sheets are going to be doing fantastic because gold is above $1500, they have to deploy cash into these juniors. And I think when they see a junior that's working as hard as we are, and has good assets and good results, they're going to come to us, fund us, let us do the nitty gritty work, come help with the resources, and then they'll make us an offer. So, I'm thinking if we get two years of a gold market here, that I can work hard enough and acquire some great assets. And you know, the goal for Barrian is to be taken out in the next couple years.
Scott Armstrong: So, could you tell us a little bit more about the Bolo drilling program? And what's your overall objective and how will we know it will be successful?
Max Sali: On page 15 here on our presentation, we actually have our priority targets. Priority one and priority two holes. So, the game plan with Bolo is we shot the geo-physics. It shows a lot of anomalies, and that it is very, very open at depth. What we're planning on doing is we're going to go where we know there's gold. So, our best hole, the 152 meters of 1.3. If you look here on slide 14, you'll see the geo-physics, and potential drill holes. But what we're going to do, is we're going to go inside that… the best hole. And we're going to go down to 300 meters. And we're going to be able to say, you know, not only does that hole have the same kind of grade, but it didn't just stop where it was.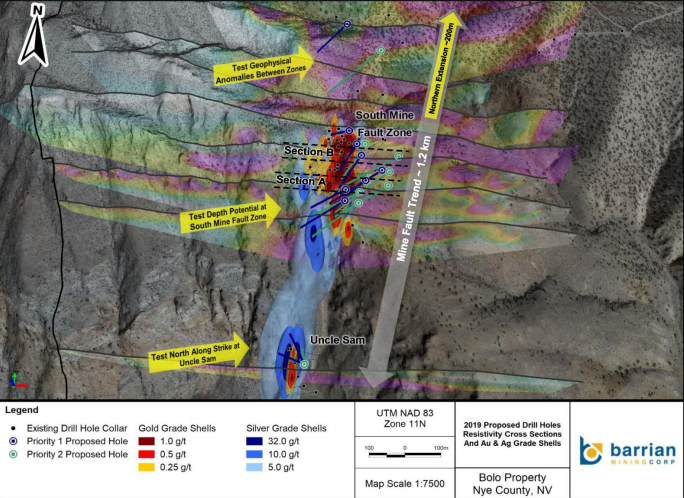 You know, when this was drilled by the previous drill company, they just stopped. They didn't have a reason to stop. They had a small budget, and the hole ended in mineralization. So, based on the geo-physics, one could suggest that it goes down a lot farther. So, if we can hit the same kind of grade, and go down 300-plus meters, that hole would be an absolute game changer for our company.
We're also going to try to connect the Uncle Sam Zone, which is a small, previous producer. And the South Mine Fault, which is where all the high-grade gold has come from. So it's 1800 meters, you know it really depends how deep we go on the holes to tell you how many holes. If our technical team feels we should keep going deeper as the chip samples come out and they examine them, then we're going to keep going. If one hole ends up at 400 meters, and one hole ends up at 300 or 200, then it's really all dependent on that. And you know what? If the rig's down there, and gold's doing well, and we can drill another hole that we think we will do well, then we'll do it. We have more than enough targets to cover our required spend for this initial drill program in the area that are permitted. But currently, this is about an 18-day program or roughly 100 meters a day is the estimate, but you always add a couple more days because nothing in the mining business goes exactly on schedule. And then the lab, which is in Reno, a four hour drive away, their average turn around is time is about 18 days, too. So, I mean, in a perfect world, if we can get our big holes out in a couple weeks, or let's say 10 days, and get those right to the lab, we should have results end of September, early October. Which would be perfect timing for us. And you know, obviously on the back of that, we would be doing a financing to top off the till here.
Goldfinger: Okay. And you know, I think something what people have noticed is that you've been buying shares in the open market. Can you tell us why you've been doing that, and I mean, are you going to keep buying shares?
Max Sali: Yeah, you know I've bought about 500,000 shares total in the market. I have my sedi filings to prove all that. I actually just exercised some options at five cents, that I just turned into stock. But, I'm not selling the stock. You know, I've actually spent more of my salary on buying stock, and I will continue to do that. I've talked to a lot of successful guys in this business, and working… running a company for a salary, there's no point. You want to own stock in your deal. You want to show, "Hey, this is what I'm doing. I'm putting my money where my mouth is and I'm taking a risk. I think that kind of is Barrian's motto being young, driven and aggressive. You see a lot of lifestyle companies where guys just take a salary, don't buy any stock, and really don't do a lot to improve the company. That's not Barrian and that's not me. I make money when the stock goes up along with our investors.
No one made any money without taking a risk. So, I will continue to buy stock and support my company. Because at the end of the day, if I think we can get a good take out, why would I rather… why would I want to not own more stock, essentially?
And, I think that's the most important thing. Is showing investors that, "Hey, the stock's come off. But guess what? Here I am buying in the market."
Goldfinger: All right. Is there anything else that you'd like to add, Max?
Max Sali: I think with the things that are happening in the world today, you just need one big incident to get the price of gold up another 100 bucks. So, I think the world's pretty fragile, and you know, obviously no one wants to see war, and no one likes a recession. But you know, being in the junior gold space, or whether it's gold bullion or gold ETFs, I think that anything bad is good for our industry because gold is where people go when they are scared. Its physical, you can store it and its value tends to increase in situations like this.
Goldfinger: Yeah, and you know it's kind of interesting because gold juniors have actually been lagging the gold move so far. It's almost like, you know, investors don't think the gold price is going to stay up that high. You know, I think there's a real opportunity. When they switch and they're like, "Ah, gold is really going to stay up above 1500. In fact it's going to go even higher." I think we could see a stampede into some of these tiny market caps companies like with Barrian, it's what, a five-million-dollar market cap?
Max Sali: Yeah. It's like five and a half million. We actually have the same market cap as our partner Allegiant gold right now, which we have the earn in options from. The values we are getting now are insanely low compared to values you saw in the previous gold cycle but we are just at the beginning of this one, so you can see the opportunity we have here. If any fund wanted to take a sizable position, it would cost them almost nothing at these valuations for a piece of a real opportunity. You always see juniors lag the mid tier and big cap producers in when the gold price runs as the producers see huge quarter over quarter revenue increases along with reserve values instantly jump. For us, though, it's good as these majors have to keep finding more ounces as they deplete their reserves, so then they start looking at guys like us that investment is small for them, but massive for someone like Barrian.
Goldfinger: Thanks for your time today Max, best of luck with the drilling and I look forward to the first assays in early October.
BARI.V (Daily)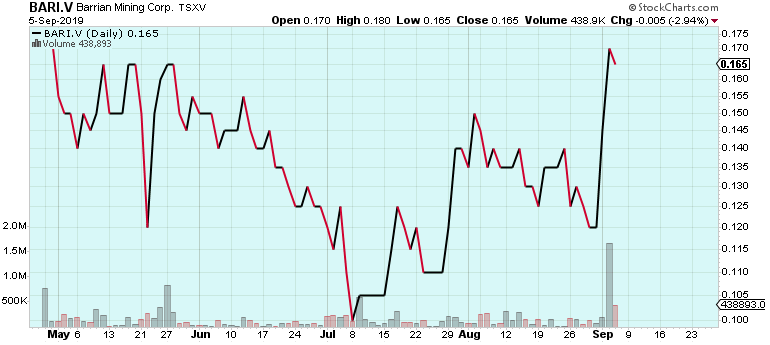 Disclosure: Author owns BARI.V shares and may choose to buy or sell at any time without notice. 

Disclaimer:
The article is for informational purposes only and is neither a solicitation for the purchase of securities nor an offer of securities. Readers of the article are expressly cautioned to seek the advice of a registered investment advisor and other professional advisors, as applicable, regarding the appropriateness of investing in any securities or any investment strategies, including those discussed above. Barrian Mining Corp. is a high-risk venture stock and not suitable for most investors. Consult Barrian Mining Corp's SEDAR profile for important risk disclosures.
EnergyandGold has been compensated for marketing & promotional services by Barrian Mining Corp. so some of EnergyandGold.com's coverage could be biased. EnergyandGold.com, EnergyandGold Publishing LTD, its writers and principals are not registered investment advisors and advice you to do your own due diligence with a licensed investment advisor prior to making any investment decisions.
This article contains certain forward-looking information and forward-looking statements within the meaning of applicable securities legislation (collectively "forward-looking statements"). Certain information contained herein constitutes "forward-looking information" under Canadian securities legislation. Generally, forward-looking information can be identified by the use of forward-looking terminology such as "expects", "believes", "aims to", "plans to" or "intends to" or variations of such words and phrases or statements that certain actions, events or results "will" occur. Forward-looking statements are based on the opinions and estimates of management as of the date such statements are made and they are subject to known and unknown risks, uncertainties and other factors that may cause the actual results, level of activity, performance or achievements of the Company to be materially different from those expressed by such forward-looking statements or forward-looking information, standard transaction risks; impact of the transaction on the parties; and risks relating to financings; regulatory approvals; foreign country operations and volatile share prices. Although management of the Company has attempted to identify important factors that could cause actual results to differ materially from those contained in forward-looking statements or forward-looking information, there may be other factors that cause results not to be as anticipated, estimated or intended. There can be no assurance that such statements will prove to be accurate, as actual results and future events could differ materially from those anticipated in such statements. Actual results may differ materially from those currently anticipated in such statements. The views expressed in this publication and on the EnergyandGold website do not necessarily reflect the views of Energy and Gold Publishing LTD, publisher of EnergyandGold.com. Accordingly, readers should not place undue reliance on forward-looking statements and forward looking information. The Company does not undertake to update any forward-looking statements or forward-looking information that are incorporated by reference herein, except as required by applicable securities laws. Always thoroughly do your own due diligence and talk to a licensed investment adviser prior to making any investment decisions. Junior resource companies can easily lose 100% of their value so read company profiles on www.SEDAR.com for important risk disclosures. It's your money and your responsibility.