It's not often that a young CEO takes the helm of a junior mining company and saves it from the brink of bankruptcy, then proceeds to get the market's attention to the tune of a ~500% share price increase. Well this is exactly what Blackrock Gold CEO Andrew Pollard has managed to accomplish since taking the helm of Blackrock just three months ago.
BRC.V (Daily – One Year)
This stunning turnaround has to have Pollard in the running for junior mining CEO of the year, however, how Blackrock finishes the year will make all the difference.
When I first spoke to Andrew soon after he became CEO in May his energy made an impression upon me. Here was a guy who had taken a role that most mining execs would have run from, and not only was he happy to be Blackrock's new CEO but he was relishing the role with an unusual level of optimism and commitment. As Pollard's game plan for Blackrock began to take shape throughout the summer it started to remind me of a situation I had highlighted early last year, which went on to become a ten-bagger within six months.
Last April, I came across a sleepy Vancouver-based junior that was exploring something called the Spences Bridge Gold Belt in southern British Columbia. The company had a C$8.5 million market cap and even though the management team was impressive, including a Canadian Mining Hall of Famer as Chairman and CEO, nobody seemed to care. The company was called Westhaven Ventures (TSX-V:WHN)  and it soon became one of the biggest stories of 2018 in the junior mining sector. In fact, Westhaven was the best performing stock of 2018 in the entire TSX-Venture, rising more than 850%!
WHN.V (Daily – 2018)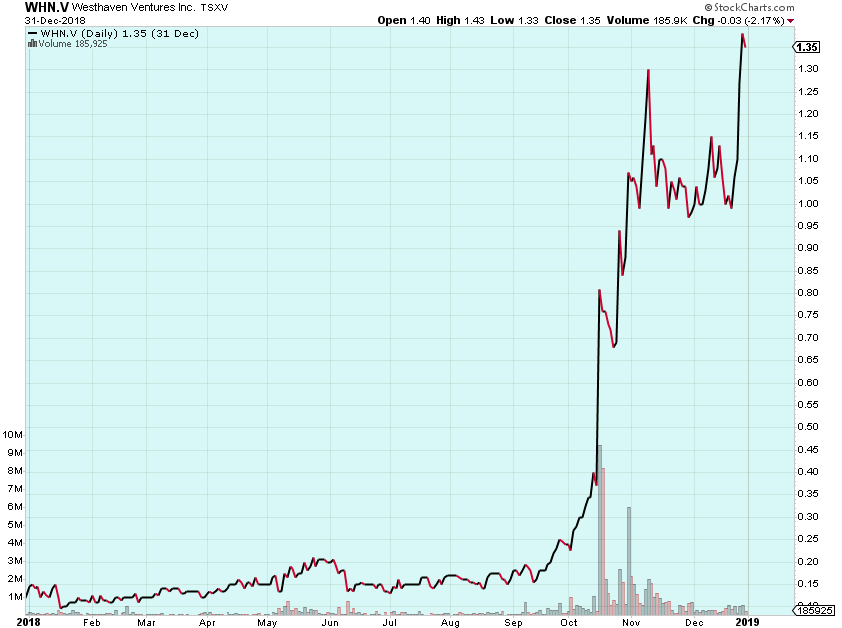 In early 2018, Westhaven was an under-the-radar junior explorer that had managed to survive the bear market by being tight with the purse strings (total G&A of less than C$300,000 per year) and conservative with their exploration programs when they felt the market wasn't rewarding good drill results. Westhaven's prudence had managed to help the company maintain a fairly tight share structure (~60 million shares at the time I wrote my first featured story on Westhaven in April 2018), which became extremely important when the company did finally deliver extraordinary drill results later that year.
My first introduction to Westhaven was through Shaun Pollard, Westhaven's long time CFO and a founding director. Shaun emphasized all the key points that later became quite notable when Westhaven had drilling success and the market began to appreciate the size of Westhaven's property package, which consists of four carefully selected projects in what is known as the Spences Bridge Gold Belt. Westhaven's flagship Shovelnose Project is an epithermal gold deposit, which can now boast numerous stunning drill intercepts including 17.77 meters grading 24.50 grams/tonne gold and 107.92 grams/tonne silver, 46.2 meters grading 8.95 grams/tonne gold and 65.47 grams/tonne silver, and 2.98 meters grading 176.33 grams/tonne gold and 131.43 grams/tonne silver.
Shaun has a younger brother who happens to be Andrew Pollard, now CEO of Blackrock Gold (TSX-V:BRC), which has an epithermal gold project of its own called Silver Cloud in Nevada. While Westhaven is remarkable in its own right, it now has a C$79 million market cap, which means the market is beginning to appreciate some of Westhaven's recent success.
The important thing to understand from an investor perspective is that the trip from a C$8 million market cap to a C$80 million market cap (a "ten-bagger") generates the same percentage gain as the trip from a C$80 million market cap to a C$800 million market cap. However, from my experience, it's much harder to find the C$80 million market cap stocks that become C$800 million market caps than it is to find a tiny C$8 million market cap explorer that hits big with the drill and becomes a C$80 million market cap company.
Blackrock's similarities to where Westhaven was at 16 months ago are unmistakable and in fact, they're now even run out of the same office. Blackrock's flagship Silver Cloud Project is an epithermal gold deposit just like Westhaven's Shovelnose Project, and Blackrock's current market cap is almost identical to Westhaven's when I first wrote about Westhaven last April. Another striking similarity between Blackrock and Westhaven is how both company's flagship projects (Shovelnose for Westhaven and Silver Cloud for Blackrock) have sat under the radar for so long. In Westaven's case, Shovelnose saw its first drilling in 2011, and in Silver Cloud's case, it was first drilled in 2001.
Westhaven conducted relatively small drill programs at Shovelnose up until last year when it drilled the discovery holes at the Shovelnose South Zone. In terms of total meters drilled, at Silver Cloud Blackrock is right about where Westhaven was before last September when discovery holes SN18-12, SN18-14, and SN18-15 were drilled at Shovelnose. Silver Cloud has tremendous potential considering that both Teck and Placer Dome drilled impressive gold intercepts between 2001 and 2003; Teck drilled a bonanza grade intercept grading 157.7 grams/tonne gold over 1.5 meters, and in 2002, Placer Dome drilled 12.2 meters grading 5.53 grams/tonne gold.
Those are impressive intercepts that begs the question: Why didn't Placer Dome continue exploration drilling at Silver Cloud?
There are two answers to this question: 1. Placer Dome had the wrong geological model for Silver Cloud; all previous drilling was done under the impression that the system ran North/South, meaning the Teck discovery and the Placer discovery were both treated as two separate systems. Blackrock believes they are part of the same system, and now get to pick up right where two majors left off. 2. Silver Cloud was a non-core project for Placer Dome and exploration budget cuts meant that Silver Cloud was put on the backburner. This was in the era of $275 gold, when most majors made large cuts to generative exploration. Within a year, Placer Dome was acquired by Barrick for more than US$10 billion. What would have moved the needle for them is far different than what would move the needle for BRC!
Blackrock Gold Chairman Bill Howald, who was the former head of exploration in the Americas for Placer Dome has developed a new geologic interpretation for Silver Cloud that suggests 2 kilometers of high-grade strike potential with veins running in an East/West orientation.
A selenium in soils heat map helps to confirm this East/West trend interpretation:
Blackrock has drill permits in hand and fully funded to begin a 2,000 meter drill program in September at Silver Cloud. This will be the first time that the high-grade intercepts from both Teck and Placer have been followed up on since Howald himself was head of exploration for Placer Dome in 2003.
It's also important to note that Blackrock has a 40 square kilometer land package and Silver Cloud is located in what I call "The Land of Giants" in the Northern Nevada Rift – directly adjacent to Hecla's Hollister Mine and a stone's throw to Hecla's Midas Mine.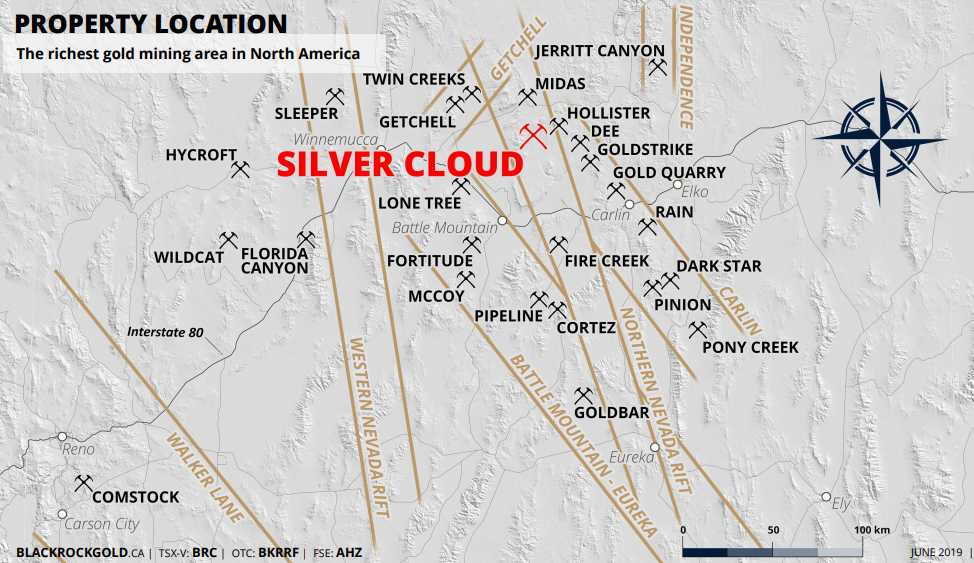 Not only is Blackrock focused on confirming an exciting new geologic theory about the direction of the vein trends at Silver Cloud, the company has also identified a new drill-ready anomaly on the northeastern portion of the property. This anomaly was identified by both geophysics and geochem, with an outcropped vein at surface, which confirms multiple vein systems run throughout the Silver Cloud property.
This means that Blackrock shareholders can win a few different ways at Silver Cloud. Blackrock has about C$400,000 in its treasury right now, which will increase to ~C$1.3 million once the current private placement is completed. Another important thing to note is that there are roughly C$2.5 million worth of warrants outstanding with exercise prices between C$.10 and C$.20. Many of these warrants have forced conversion provisions which means that with any success in Blackrock's initial drill program should allow for the drills to keep turning through the end of the year. Blackrock's largest shareholder Belgravia Capital recently exercised C$150,000 worth of C$.10 warrants, taking its position in BRC shares up to nearly 10,000,000 shares:
Blackrock is an exciting story led by a charismatic young CEO who is committed to making this company a big success. One of the things an investor in the junior mining sector should look for is skin in the game and clues as to the commitment level of a company's management. Blackrock CEO Andrew Pollard now owns ~2.5 million shares of which more than 1 million has been purchased on the open market since Pollard took the helm in May. In addition, Blackrock Chairman Bill Howald has purchased 570,000 shares on the open market since being appointed Chairman in May:
Blackrock checks all of my boxes as potential ten-bagger material:
Strong management team with a clear focus on this company (CEO Pollard is solely focused on Blackrock).

Excellent project in one of the best gold mining jurisdictions in the world (Nevada).

Tight & clean share structure – 50 million shares outstanding with no cheap or free shares out there.

More than one way in which shareholders can win with significant upside potential considering BRC only has a C$8.3 million market cap.

Consistent insider buying and strong insider ownership.
I own Blackrock Gold shares that I purchased on the open market and I view the risk vs. reward as particularly attractive especially considering there will be actionable and steady news flow from now through year end.
Blackrock Gold (TSX-V:BRC, OTC:BKRRF, FSE:AHZ)
Shares Issued – 49,242,518
Warrants Issued – 12,455,000
Options Granted – 4,640,000
Fully Diluted Share Count – 66,337,518
Fully Diluted Market Cap at C$.165 Share Price: C$11 million
Cash – C$400,000
Disclosure: Author owns shares in BRC.V and WHN.V at the time of publishing and may choose to buy or sell at any time without notice. 

Disclaimer:
The article is for informational purposes only and is neither a solicitation for the purchase of securities nor an offer of securities. Readers of the article are expressly cautioned to seek the advice of a registered investment advisor and other professional advisors, as applicable, regarding the appropriateness of investing in any securities or any investment strategies, including those discussed above. Westhaven Ventures Inc. and Blackrock Gold Corp. are high-risk venture stocks and not suitable for most investors. Consult Westhaven Ventures Inc. and Blackrock Gold Corp's SEDAR profile for important risk disclosures.
EnergyandGold has been compensated for marketing & promotional services by Westhaven Ventures Inc. and Blackrock Gold Corp. so some of EnergyandGold.com's coverage could be biased. EnergyandGold.com, EnergyandGold Publishing LTD, its writers and principals are not registered investment advisors and advice you to do your own due diligence with a licensed investment advisor prior to making any investment decisions.
This article contains certain forward-looking information and forward-looking statements within the meaning of applicable securities legislation (collectively "forward-looking statements"). Certain information contained herein constitutes "forward-looking information" under Canadian securities legislation. Generally, forward-looking information can be identified by the use of forward-looking terminology such as "expects", "believes", "aims to", "plans to" or "intends to" or variations of such words and phrases or statements that certain actions, events or results "will" occur. Forward-looking statements are based on the opinions and estimates of management as of the date such statements are made and they are subject to known and unknown risks, uncertainties and other factors that may cause the actual results, level of activity, performance or achievements of the Company to be materially different from those expressed by such forward-looking statements or forward-looking information, standard transaction risks; impact of the transaction on the parties; and risks relating to financings; regulatory approvals; foreign country operations and volatile share prices. Although management of the Company has attempted to identify important factors that could cause actual results to differ materially from those contained in forward-looking statements or forward-looking information, there may be other factors that cause results not to be as anticipated, estimated or intended. There can be no assurance that such statements will prove to be accurate, as actual results and future events could differ materially from those anticipated in such statements. Actual results may differ materially from those currently anticipated in such statements. The views expressed in this publication and on the EnergyandGold website do not necessarily reflect the views of Energy and Gold Publishing LTD, publisher of EnergyandGold.com. Accordingly, readers should not place undue reliance on forward-looking statements and forward looking information. The Company does not undertake to update any forward-looking statements or forward-looking information that are incorporated by reference herein, except as required by applicable securities laws. Always thoroughly do your own due diligence and talk to a licensed investment adviser prior to making any investment decisions. Junior resource companies can easily lose 100% of their value so read company profiles on www.SEDAR.com for important risk disclosures. It's your money and your responsibility.