In my latest conversation with 321gold founder Bob Moriarty we explored a wide variety of topics ranging from Iran, China and the US/China trade negotiations, to Trump and why Bob doesn't think the U.S. will have elections in 2020. We also delve into Bob's recent trip to Japan to visit Irving Resources and why Irving is about to become a producer after receiving a mining permit. Without further ado here is Energy & Gold's July 2019 conversation with the always animated, and rarely dull, Bob Moriarty….
Goldfinger: It's been almost two months since we last spoke Bob and a lot has happened since early June. What are your observations right now and are we in the early stages of a big precious metals bull cycle?
Bob Moriarty:  What I wrote about in Basic Investing in Resource Stocks is coming true. The "everything bubble" is bursting as we speak; the Chinese financial system is blowing up, Iran and the UK are playing tit for tat in the Persian Gulf, Deutsche Bank is in big trouble. The "everything bubble" is blowing up. I see a major top in the market put in place by the end of September and that will be followed by a crash at some point in October.
Goldfinger: So a crash in the broader equity market in October, where does that leave gold miners? Will they also crash in a repeat of October 2008 OR will we see gold and precious metals miners prove to be resilient in the face of broader market turmoil?
Bob Moriarty: I don't think we will see a really powerful upside move in precious metals until the Fed takes us deeper into QE-infinity. We will probably get a violent correction in metals and mining shares at the same time the broader market crashes in October. However, that will be the time to load the boat and buy every crappy junior mining stock you can get your hands on.
We are going to have a liquidity crisis soon that will make 2008 look like a garden party.
Goldfinger: I heard you've been traveling a bit lately Bob. Where have you been?
Bob Moriarty: I went to Japan to visit Irving Resources (TSX-V:IRV) and the trip was absolutely brilliant. Irving will be shipping ore beginning in August. The ore is at surface and it's easy to mine. Irving received a mining permit and that's a really big deal considering this is Japan and a foreign firm has not been issued a mining permit in a very long time.
Goldfinger: Is this a full scale mining permit? What does this allow Irving to do?
Bob Moriarty: They are going to be shipping a silica rich ore. This is the same thing that Hishikari does. So Irving will be shipping a silica rich ore to smelters for use as flux. They will be paid US$100/tonne for the silica and they get paid for 95% of the silver and gold. Irving doesn't need a mill. They will never need a mill. They are still in the early stages of exploration at the Omu Sinter but will have income from mining starting in September.
Goldfinger: That's very interesting Bob. So how is the drilling going for Irving? I know we got some partial results already but I also imagine there are several holes still with assays pending.
Bob Moriarty: Irving has literally had to reinvent the wheel in order to drill. The drilling is going ok, however, the splitting and logging of the core is relatively slow. They have drilled 7 holes and they are still awaiting assays on those holes.
Goldfinger: Are you as confident as you've ever been on Irving?
Bob Moriarty: Actually more so than ever. I was there a few weeks ago and I saw rock that is valued at $25,000/tonne and they are going to be shipping 1,500 tonnes of that rock per ship load starting in September. You don't need a whole lot of that type of ultra high-grade rock to get your average grade up to a very high number. I think Quinton could end up with roughly ½ an ounce material on average (~15 grams/tonne gold). It could go higher.
Goldfinger: What about Lion One (TSX-V:LIO) and Novo Resources (TSX-V:NVO)? Is there anything new with those two which I know are also among your favorite junior mining stocks?
Bob Moriarty: Lion One is still drilling and there will be results coming out steadily over the next few months. Novo is evaluating the Egina Project and they are also trying to pick up land. Novo has been deliberately quiet because the last thing they want to do is make all of their neighbors rich. Both LIO and NVO are on track and we should be getting a lot of news very soon from both of these companies.
Goldfinger: Are there any other companies you are following these days that you think readers should know about?
Bob Moriarty: There is a company called Ethos (TSX-V:ECC) that has been taken over by Craig Roberts and I find the story to be very interesting. Ethos has 3-4 company making projects. They have a Carlin Trend Project in Nevada that Quinton wanted to drill 30 years ago and it is literally the last untested target in the Carlin. They also have a copper/gold porphyry in British Columbia, they've got an oxide gold project in Mexico with really good grades, and then finally they've got 8% of a private company that's drilling in Nevada at another Carlin-style deposit.
Ethos has a market cap of about C$15 million and that's simply too cheap. It's absurd.
Have we ever talked about Liberty Gold (TSX:LGD)?
Goldfinger: No, we haven't but I do know Liberty has projects in Utah and Idaho.
Bob Moriarty: That's right. This is a Mark O'Dea company and they have good management and lots of cash on hand. They had two projects in Turkey that they've been trying to monetize because they've been wanting to pull out of Turkey. Liberty has sold one of its Turkish projects and they will be collecting US$14 million in the next couple of weeks. So they will be fully funded for the next two or three years and they're making great progress at Goldstrike in Utah and Black Pine in Idaho.
LGD.TO (Daily – One Year)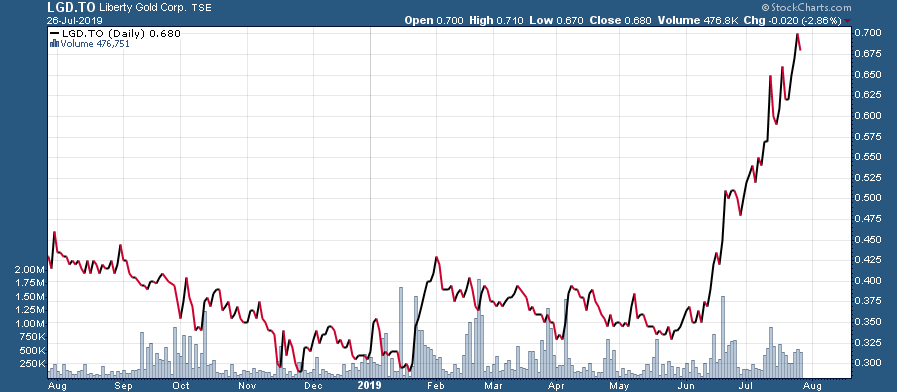 Goldfinger: Let's talk macro. There's a lot of jostling going on with Iran and almost every other day it feels like we're on the brink of a military confrontation with Iran.
Bob Moriarty: John Bolton should be charged for war crimes once this is all over. Iran is not a threat to anyone. The United States, France, and Great Britain have put sanctions on Iran which is actually an act of war. The British actually pirated an Iranian vessel and Iran said that they are perfectly capable of defending themselves.
We need to get this Middle East bullshit sorted out. The US keeps sticking its nose in places where there is nothing to gain from it. The US is risking World War 3.
Goldfinger:  Before this administration it was unthinkable for a sitting President to make comments critical of the Federal Reserve. Just as he has done with so many historical precedents, Trump has thrown that out of the window and regularly speaks critically of Powell and the Fed.
Trump also recently nominated Judy Shelton to the FOMC (pending Senate confirmation) and she is an advocate of a return to the gold standard. In addition, she has been vocal that rates should be lower.
What do you think Trump is planning here? Can he replace Powell?
Bob Moriarty: Donald Trump is a blithering idiot who is so far out of his league that it's obscene. The only good thing I can say about Donald Trump is that he's not Hillary Clinton. His knowledge of economics is abysmal, his knowledge of international politics and warfare is absurd.
Let me give you an example. Today he said that he could destroy Afghanistan in ten days but he didn't want to kill ten million people. We've been at war in Afghanistan for eighteen years now and it's a loser's game. We are losing in Afghanistan. We had no business getting involved in the first place. If you go into a bar and get in a fight and you're still fighting eighteen years later, well, then you've lost. Killing people has nothing at all to do with winning wars.
Trump telling Powell what he should do with interest rates is laughable, however, it doesn't really matter because the entire system needs to collapse anyway. The sooner the collapse happens the better it will be in the long run. We're still in the "Weekend At Bernie's" financial system, and the economy and all the big banks are Bernie. They're all being propped up on hot air and life support but the patient doesn't have a pulse. You can see with Deutsche Bank that some of the world's largest banks are nothing more than zombie banks.
Goldfinger: Do you think Trump will get reelected?
Bob Moriarty:  I don't think we'll have elections in 2020. Do you know what percentage of democrats see a civil war happening?
Goldfinger: You don't think we're going to have elections?
Bob Moriarty: No. Why would we?
Goldfinger: Because we always have elections. It's the law isn't it?
Bob Moriarty: No! Why do we need elections? We have the CIA, the FBI, and the NSA. Why do we need elections?
Goldfinger: (laughs)
Bob Moriarty: What percentage of Democrats believe we will have a civil war?
Goldfinger: I don't know.
Bob Moriarty: 91%
Goldfinger: An armed conflict? I find that hard to believe.
Bob Moriarty: For the democrats to say that there's going to be a civil war tells you where their heads are. I wouldn't be surprised if it was 91% of Republicans who think there will be a civil war, however, it's the Democrats who think that ANTIFA are a nice community association. Only 61% of the Republicans see a civil war coming.
The Democrats have the most bizarre group of idiots and simpletons running for public office that i've ever seen. The consistent theme among the democratic candidates is that we're going to have everything for free. Free student loans, free medical care, free monthly stipend, free everything. Yet not a single one of those blithering fools has a credible plan for how to pay for any of it.
Goldfinger: What about this China trade deal? Is this just completely dead in the water or is there any chance of a deal getting done?
Bob Moriarty: You gotta be kidding me. Nobody wins in any war, whether it's a trade war or a shooting war. Trump is a bully, he doesn't negotiate. His idea of asking a girl on a date is to grab her by the P***y. Now how do you negotiate with a guy who thinks that is a good way to introduce himself? It's End of Empire for the US and that's when all the crap floats to the top of the bowl. We are just getting what we well deserve.
China has taken advantage of the U.S. for too long and good for Trump to stand up to them but there's no chance of a deal getting done anytime soon.
Goldfinger: Atlantic Gold was recently taken out in a C$800 million acquisition by an Australian mining company. The Australian gold miners seem to be flush with cash due to their relatively weak currency, what are the next juniors or mid-tier producers that are going to get bought out? Is Novo an M&A target?
Bob Moriarty: It's not just the Aussies. Gold has been hitting a record high price in almost all currencies other than the US Dollar. Central Banks have been buying gold with both hands since 2010. "The Manipulation/Conspiracy, Everything is Suppressed" crowd has been ignoring it because it hardly fits into their "Central Banks are Suppressing Gold" mantra but in fact all of the elements are in place for some major moves in gold, silver and platinum. I can think of no segment of investing as ignored today as junior resource companies. The Majors have been consuming their young and must replace those produced ounces. I see a lot of mergers and acquisitions in the future. There is a lot of low hanging fruit out there and I'm not the only one to see it.
Goldfinger: Thank you for your time and insights Bob. As always it's been interesting and there is certainly a lot to think about given the complexity of the current global/macro backdrop.
Disclaimer:
ECC, IRV, LGD, LIO, and NVO are sponsors of 321gold.com and have no affiliation with EnergyandGold.com or EnergyandGold Publishing LTD.
The article is for informational purposes only and is neither a solicitation for the purchase of securities nor an offer of securities. Readers of the article are expressly cautioned to seek the advice of a registered investment advisor and other professional advisors, as applicable, regarding the appropriateness of investing in any securities or any investment strategies, including those discussed above. Some of the stocks mentioned are high-risk venture stocks and not suitable for most investors. Consult the companies' SEDAR profile for important risk disclosures.
EnergyandGold.com, EnergyandGold Publishing LTD, its writers and principals are not registered investment advisors and advice you to do your own due diligence with a licensed investment advisor prior to making any investment decisions.
This article contains certain forward-looking information and forward-looking statements within the meaning of applicable securities legislation (collectively "forward-looking statements"). Certain information contained herein constitutes "forward-looking information" under Canadian securities legislation. Generally, forward-looking information can be identified by the use of forward-looking terminology such as "expects", "believes", "aims to", "plans to" or "intends to" or variations of such words and phrases or statements that certain actions, events or results "will" occur. Forward-looking statements are based on the opinions and estimates of management as of the date such statements are made and they are subject to known and unknown risks, uncertainties and other factors that may cause the actual results, level of activity, performance or achievements of the Company to be materially different from those expressed by such forward-looking statements or forward-looking information, standard transaction risks; impact of the transaction on the parties; and risks relating to financings; regulatory approvals; foreign country operations and volatile share prices. Although management of the Company has attempted to identify important factors that could cause actual results to differ materially from those contained in forward-looking statements or forward-looking information, there may be other factors that cause results not to be as anticipated, estimated or intended. There can be no assurance that such statements will prove to be accurate, as actual results and future events could differ materially from those anticipated in such statements. Actual results may differ materially from those currently anticipated in such statements. The views expressed in this publication and on the EnergyandGold website do not necessarily reflect the views of Energy and Gold Publishing LTD, publisher of EnergyandGold.com. Accordingly, readers should not place undue reliance on forward-looking statements and forward looking information. The Company does not undertake to update any forward-looking statements or forward-looking information that are incorporated by reference herein, except as required by applicable securities laws. Always thoroughly do your own due diligence and talk to a licensed investment adviser prior to making any investment decisions. Junior resource companies can easily lose 100% of their value so read company profiles on www.SEDAR.com for important risk disclosures. It's your money and your responsibility.