An Underappreciated Copper/Gold Explorer That is Generating Cash Flow
Altiplano Minerals (TSX-V:APN, OTC: ALTPF) is one of the most unique stories I have come across among the hundreds of junior resource companies I have delved into researching over the years. Since I began following the company in May of last year Altiplano has quickly become one of my favorite stories to follow. In addition, since kicking things into high gear in October the company has consistently exceeded my expectations.
Led by CEO John Williamson, in January 2017 Altiplano managed to scoop up a 50/50 interest in two highly prospective Chilean copper properties from Australian explorer Comet Exploration Ltd. Mr. Williamson is a professional geologist registered with the Association of Professional Engineers, Geologists and Geophysicists of Alberta (APEGGA). He is also a Fellow of the Geological Association of Canada and Member of the Society of Economic Geologists. He has more than thirty years of global experience, including twenty-three in the management, development and governance of public companies conducting worldwide mineral exploration and mining. Some of Williamson's biggest successes were North Country Gold (sold to Auryn Resources in 2015), Brilliant Mining (returned over C$60 million to shareholders), and Kaminak Gold (co-founder, sold to Goldcorp in 2016 for C$520 million).
Comet wasn't doing much with the Farellon and Maria Luisa projects and after looking at many different projects Altiplano managed to negotiate a 50/50 JV interest in return for funding US$2 million in exploration on the projects. Altiplano reached the US$2 million expenditure level in November 2017 and proceeded to acquire the remaining 50% interest in the two projects from Comet in December of 2017 in return for 7.5 million shares of APN, in addition to Comet retaining a 10% net profits interest in the projects, until Comet has been paid C$1.5 million.
Altiplano has achieved tremendous success in its exploration efforts at Farellon including sample material grading as high as 5.58% copper, in addition to an average grade of 2.36% across the entire 2,000 tonne bulk sample.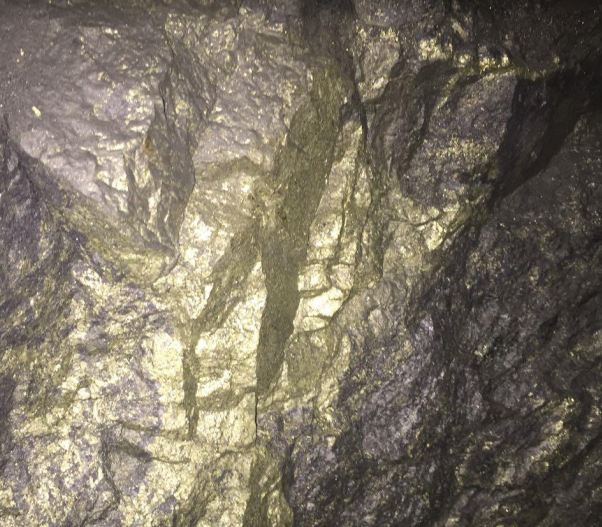 Due to the fact that APN does not have a compliant 43-101 resource estimate the company cannot make public statements about mining or future production forecasts. Instead, APN can report on toll milling which has taken place and is factual. So far APN has embarked upon a 2,000 tonne initial bulk sampling program of which 600 tonnes has been shipped for processing and the company expects to continue shipping 50-100 tonnes of ore per day until the 2,000 tonne program is complete.
At Farellon APN is following a decline underground with the intention of eventually reaching 500 meters depth:
APN intersected the Farellon vein between 95 meters and 341 meters along the decline. So far APN has sent slightly more than 1,000 tonnes to the mill for processing and intends to move up to a 5,000 tonne bulk sample once the current 2,000 tonnes has been shipped for processing.
With the 5,000 tonne bulk sample Altiplano will be looking for optimization of grade control, minimizing mining dilution in order to complete an independent resource report which the company expects to have completed within a few months.
Toll milling has given Altiplano considerable flexibility at Farellon, however, there is a good possibility that Altiplano will build its own mill at some point down the road. With the potential to not only expand Farellon but to also begin processing ore from Maria Luisa, building a mill makes more long term economic sense than continuing to toll mill.
So far Altiplano has proven that 2000 tonnes/month of ~2.3% Cu ore is easily achievable, however, the key for Altiplano will be able to scale up to 5000 tonnes per month with the same success in terms of grade.
Here are some monthly revenue estimates (these are my estimates and could prove to be optimistic/pessimistic depending upon results on the ground) using 5,000 tonnes/month at an average grade of 2.3%:
5,000 t/mth x 2.3% Cu (50 lbs) = 250,000 lbs Cu per month
250,000 lbs x US$3.00/lb = US$750,000 per month
Costs are estimated to be US$17/tonne
6,000 x $17 = US$102,000
Not giving any credit for the gold component at Farellon and we still get potentially ~US$650,000 in monthly revenue.
US$650,000 of monthly revenue with the potential for 2+ years of ore at Farellon is an enticing proposition for a company which currently has a C$27 million (US$21.5 million) market cap and more than C$1 million in the bank.
Altiplano is in a unique position of being an exploration company that is able to fund its exploration from cash flow generated from within (Farellon), as opposed to regularly diluting its share structure in order to raise capital. In fact some of the revenue from Farellon is being put to use to explore APN's 2nd project, Maria Luisa.
The mineralization at Maria Luisa is different, and bit more complicated, compared to Farellon; there are 3-4 different phases of mineralization (some copper/gold, some only gold, some only copper) with copper grades up to 5% and gold grades up to 25 g/t. Altiplano is currently working on rehabilitating the underground adit at Maria Luisa (clearing out 3-4 drill cuttings) and plans to begin drilling in a tighter spaced pattern within the next month in order to get a better estimate of what they have at Maria Luisa.
Williamson estimates that for between C$100,000 and C$150,000 worth of exploration work Altiplano will be able to determine if they will be doing a 2,000 tonne bulk sample (similar to Farellon) at Maria Luisa. Williamson also estimates that they will be at the bulk sample stage by the middle of the year (the exploration work during the first half of the year will determine whether they go ahead with the bulk sample).
Altiplano Minerals shares are cheap and the current market cap ($C27 million based upon C$.50 share price and 54.3 million shares outstanding) only reflects a fraction of the success the company has had to date at its Chilean projects.
APN.V (August 2017 – February 2018)
The market just began to catch on to the Altiplano story last month and news flow of the company's progress over the coming months could see APN shares double from current levels. My short term (3-6 months) price target is C$1.00 for APN and I could see this target being exceeded in the event of exploration success at Maria Luisa which would give Altiplano two cash flow positive toll milling projects. This scenario would also set the company up for constructing its own mill to process ore from Farellon, Maria Luisa, and potentially other projects in the area. If a company's track record is any indication of the future I expect Altiplano to exceed expectations just as it has done in the last year.
Disclosure: Author is long APN shares at the time of publishing and may buy or sell at any time without notice. 
Do your own due diligence. It's your money and your responsibility. 
Disclaimer:
The article is for informational purposes only and is neither a solicitation for the purchase of securities nor an offer of securities. Readers of the article are expressly cautioned to seek the advice of a registered investment advisor and other professional advisors, as applicable, regarding the appropriateness of investing in any securities or any investment strategies, including those discussed above. Some of the stocks mentioned are high-risk venture stocks and not suitable for most investors. Consult the companies' SEDAR profile for important risk disclosures.
EnergyandGold.com, EnergyandGold Publishing LTD, its writers and principals are not registered investment advisors and advice you to do your own due diligence with a licensed investment advisor prior to making any investment decisions.
This article contains certain forward-looking information and forward-looking statements within the meaning of applicable securities legislation (collectively "forward-looking statements"). Certain information contained herein constitutes "forward-looking information" under Canadian securities legislation. Generally, forward-looking information can be identified by the use of forward-looking terminology such as "expects", "believes", "aims to", "plans to" or "intends to" or variations of such words and phrases or statements that certain actions, events or results "will" occur. Forward-looking statements are based on the opinions and estimates of management as of the date such statements are made and they are subject to known and unknown risks, uncertainties and other factors that may cause the actual results, level of activity, performance or achievements of the Company to be materially different from those expressed by such forward-looking statements or forward-looking information, standard transaction risks; impact of the transaction on the parties; and risks relating to financings; regulatory approvals; foreign country operations and volatile share prices. Although management of the Company has attempted to identify important factors that could cause actual results to differ materially from those contained in forward-looking statements or forward-looking information, there may be other factors that cause results not to be as anticipated, estimated or intended. There can be no assurance that such statements will prove to be accurate, as actual results and future events could differ materially from those anticipated in such statements. Actual results may differ materially from those currently anticipated in such statements. The views expressed in this publication and on the EnergyandGold website do not necessarily reflect the views of Energy and Gold Publishing LTD, publisher of EnergyandGold.com. Accordingly, readers should not place undue reliance on forward-looking statements and forward looking information. The Company does not undertake to update any forward-looking statements or forward-looking information that are incorporated by reference herein, except as required by applicable securities laws. Always thoroughly do your own due diligence and talk to a licensed investment adviser prior to making any investment decisions. Junior resource companies can easily lose 100% of their value so read company profiles on www.SEDAR.com for important risk disclosures. It's your money and your responsibility.