HIVE Has Big First Week of Trading, Briefly Tops C$500 Million Market Cap
HIVE Blockchain (TSX-V:HIVE) was the big news of the week in the Canadian small cap space last week. HIVE opened Monday morning at C$.74 after having completed a financing at C$.30 the week before. HIVE proceeded to rally as high as C$2.27 before pulling back a bit on Friday and ending the week at C$1.82, up more than 500% for the week:
HIVE.V (Daily)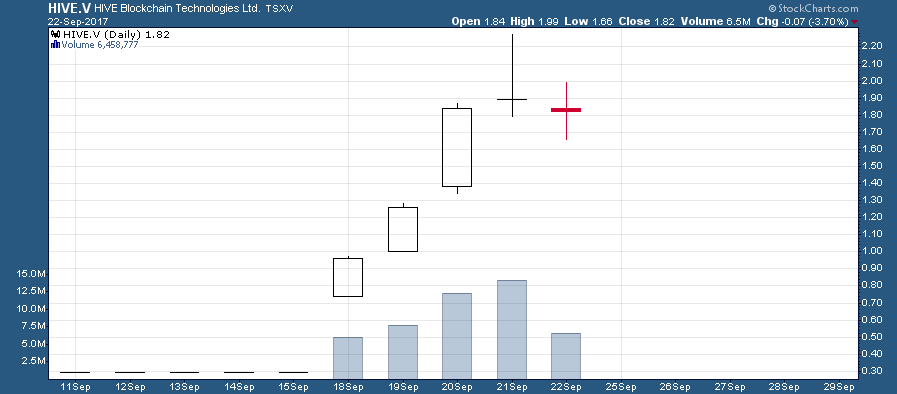 HIVE now sports a more than C$400 million market cap and just announced the acquisition of a second data centre for $C5 million and 2,000,000 shares of HIVE common stock. There is no doubt that HIVE is committed to rapid growth, and the partnership/synergies with Genesis Mining helps to make the company's lofty growth plans a very real possibility. While it's difficult to justify a C$412 million market cap based upon the company's current revenues/profits, markets are always willing to pay up for high rates of growth and that seems to be exactly what is happening with HIVE.
Zooming into a five day, 5-minute chart, we can see that the C$1.65-C$1.70 area should offer solid support, whereas C$2.00 followed by C$2.27 (Thursday's high) are resistance:
HIVE.V (5-minute)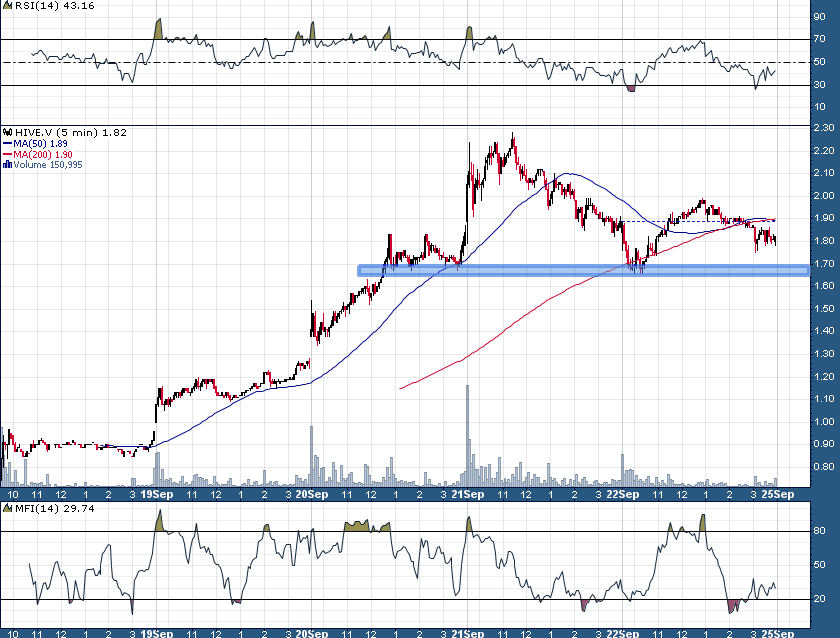 Since investors have so little data and company history with which to construct some sort of model for future growth & earnings, valuing a company such as HIVE is exceedingly difficult. From my vantage point I could see HIVE being worth anywhere from C$200 million to C$1 billion; earnings/revenue growth rates, the growth of the cryptocurrency space, and ultimately the valuation multiples which investors are willing to pay for HIVE will be critical, yet exceedingly difficult to gauge at this point.
DISCLAIMER: The work included in this article is based on current events, technical charts, and the author's opinions. It may contain errors, and you shouldn't make any investment decision based solely on what you read here. This publication contains forward-looking statements, including but not limited to comments regarding predictions and projections. Forward-looking statements address future events and conditions and therefore involve inherent risks and uncertainties. Actual results may differ materially from those currently anticipated in such statements. The views expressed in this publication and on the EnergyandGold website do not necessarily reflect the views of Energy and Gold Publishing LTD, publisher of EnergyandGold.com. This publication is provided for informational and entertainment purposes only and is not a recommendation to buy or sell any security. Always thoroughly do your own due diligence and talk to a licensed investment adviser prior to making any investment decisions. Junior resource companies can easily lose 100% of their value so read company profiles on www.SEDAR.com for important risk disclosures. It's your money and your responsibility.