Sabina Ready To Move Forward With Permitting And Build A World Class Mine
"I have been in the industry for 30 years and I have never seen a project with as much indigenous support as Sabina's back river project." ~ Sabina CEO Bruce McLeod
Sabina Gold & Silver (SBB.TO) is a straightforward and compelling story. Sabina's Back River Project in Nunavut, Canada is a large and robust resource in an excellent mining jurisdiction. Back River offers impressive economics which few other resources globally can match:
Back River is envisioned to largely be an open-pit mining operation with the open pit portion grading an impressive 6+ grams per tonne.
There is no doubt that Back River is a world class project, however, the company hit a big speed bump in June when NIRB (Nunavut Impact Review Board) recommended to the Minister of Nunavut that the Back River Project not be allowed to move forward.
According to CEO Bruce McLeod this recommendation set Sabina back 12 months even if NIRB changed its recommendation tomorrow. Sabina is currently awaiting the Minister's decision regarding NIRB's recommendation. McLeod expects this decision to come before year end but admitted that he expects it "sooner rather than later."
McLeod also added that "Any clarity on the timeline for $SBB and I expect a revaluation (upward) in our shares."
From my vantage point $SBB shares appear to be pricing in about 50/50 odds on what the Minister's decision will be and/or a longer timeline to mine construction (3 years or more). A positive decision from the Minister and a shorter path through permitting appear to be the catalysts on the horizon to send SBB's share price back up to fill the June gap and potentially to rise above C$2/share.
SBB.TO (Daily)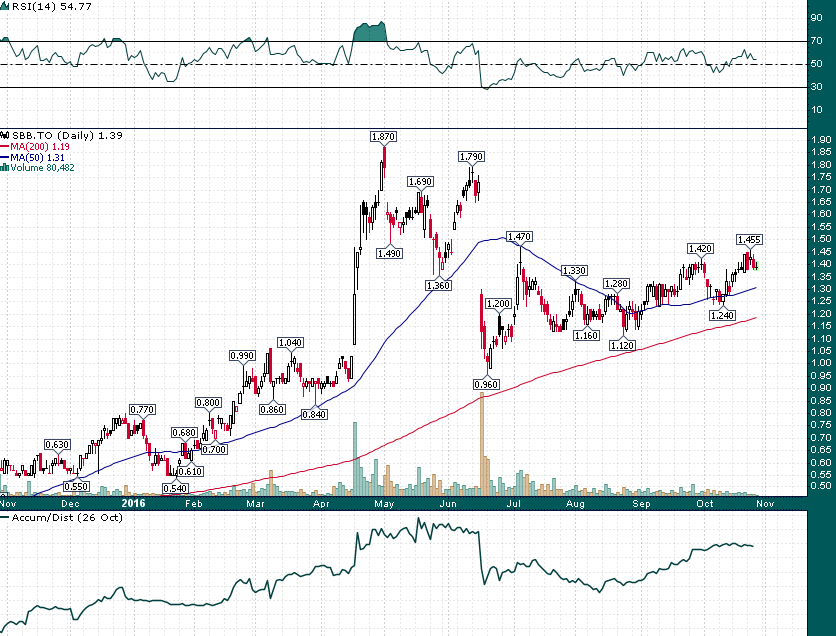 Read also: Insiders Love This Gold Explorer That Could Be Ripe For A Rally
DISCLAIMER: The work included in this article is based on current events, technical charts, and the author's opinions. It may contain errors, and you shouldn't make any investment decision based solely on what you read here. The author of this article does not have a position in SBB shares at the time of writing this article and the author was not compensated in any way by Sabina Gold & Silver to write this article. This publication contains forward-looking statements, including but not limited to comments regarding predictions and projections. Forward-looking statements address future events and conditions and therefore involve inherent risks and uncertainties. Actual results may differ materially from those currently anticipated in such statements. The views expressed in this publication and on the EnergyandGold website do not necessarily reflect the views of Energy and Gold Publishing LTD, publisher of EnergyandGold.com. This publication is provided for informational and entertainment purposes only and is not a recommendation to buy or sell any security. Always thoroughly do your own due diligence and talk to a licensed investment adviser prior to making any investment decisions. Junior resource companies can easily lose 100% of their value so read company profiles on www.SEDAR.comfor important risk disclosures. It's your money and your responsibility.