Gold Miners Enter Most Bullish Period of the Year
The gold miners as measured by GDX are up nearly 120% year to date as they enter what is the best two month period of the year for the sector historically. Using the NYSE/Arca Gold Bugs Index (HUI) we can see that the goldies have been up six consecutive years in the month of August for an average monthly gain of 7.0%:
Quite a streak and one that clearly stands out relative to the rest of the year. Moreover, going back 20 years we can see that August/September also stands out as the strongest two month period of the year with an average two month gain of 8.6%, and once again it's easy to see that August stands out as an exceptionally bullish month:
After suffering a ~10% correction earlier in July the gold miners are poised to finish the month strong with a large bullish engulfing candlestick on the weekly chart:
GDX (Weekly)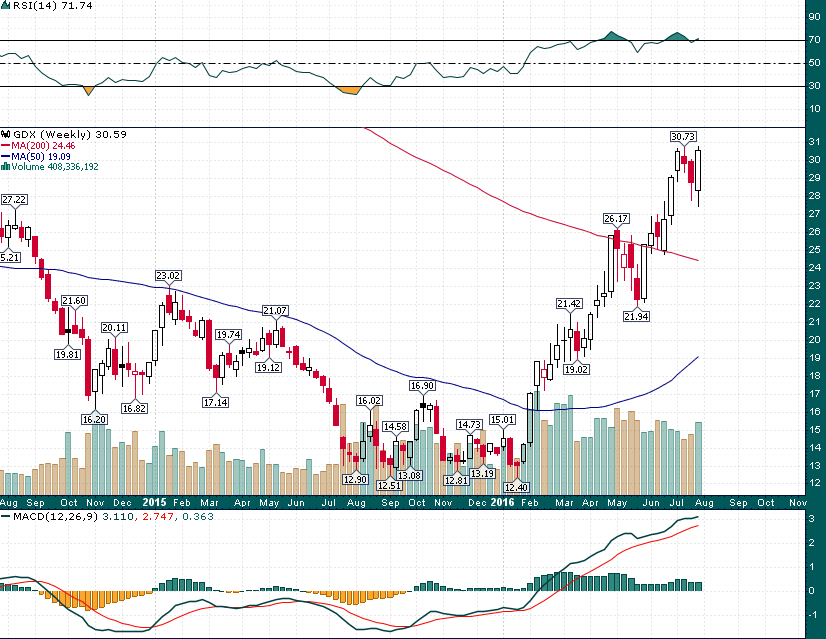 The trajectory of the 2016 gold miners rally is simply impressive and although dips have been short lived, there have been dips which have served to shake out longs and build the wall of worry. Will this August make it 7 years in a row or are gold bulls in for a disappointment?
To receive our daily morning market email and learn how we are trading the gold miners as well as many other stocks and ETFs in real time you can subscribe to CEO Technician Premium using the PayPal button below!
DISCLAIMER: The work included in this article is based on current events, technical charts, and the author's opinions. It may contain errors, and you shouldn't make any investment decision based solely on what you read here. This publication contains forward-looking statements, including but not limited to comments regarding predictions and projections. Forward-looking statements address future events and conditions and therefore involve inherent risks and uncertainties. Actual results may differ materially from those currently anticipated in such statements. The views expressed in this publication and on the EnergyandGold website do not necessarily reflect the views of Energy and Gold Publishing LTD, publisher ofEnergyandGold.com. This publication is provided for informational and entertainment purposes only and is not a recommendation to buy or sell any security. Always thoroughly do your own due diligence and talk to a licensed investment adviser prior to making any investment decisions. Junior resource companies can easily lose 100% of their value so read company profiles on www.SEDAR.comfor important risk disclosures. It's your money and your responsibility.